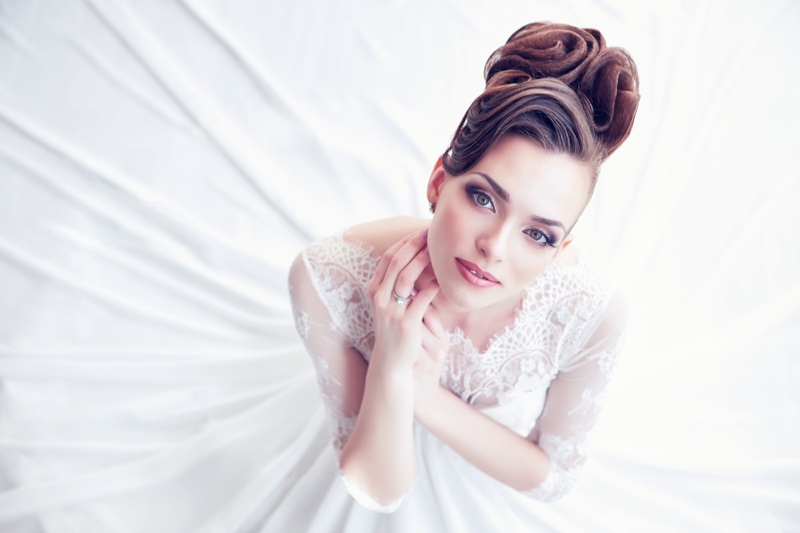 What's a Solitaire Ring?
In the fine jewelry world, the word solitaire simply means a gemstone set alone. Solitaire rings are by far the most popular ring choice for engagement rings, wedding rings, and anniversary gifts.
The best solitaire ring features one beautiful gemstone as the focal point of the ring, set in a gold or silver band.
This sets the solitaire ring apart from other engagement ring types, like the halo ring or bridal set, which feature more diamonds and gemstones.
Since there are fewer stones to catch the eye, the gem set in the solitaire ring is meant to be show-stopping.
Why solitaire engagement rings are the most popular on the market? There's good reason:
They're budget-friendly
Since a solitaire ring features just one stone, it can be a more budget-friendly choice than a halo ring or 3 stone ring, which feature multiple gemstone focal points.
But the solitaire is no less stunning
A single gemstone immediately catches the eye and allows you to focus on two important elements: cut and color.
Need more budgeting advice? Consult our free budget guide for all our best tips and tricks.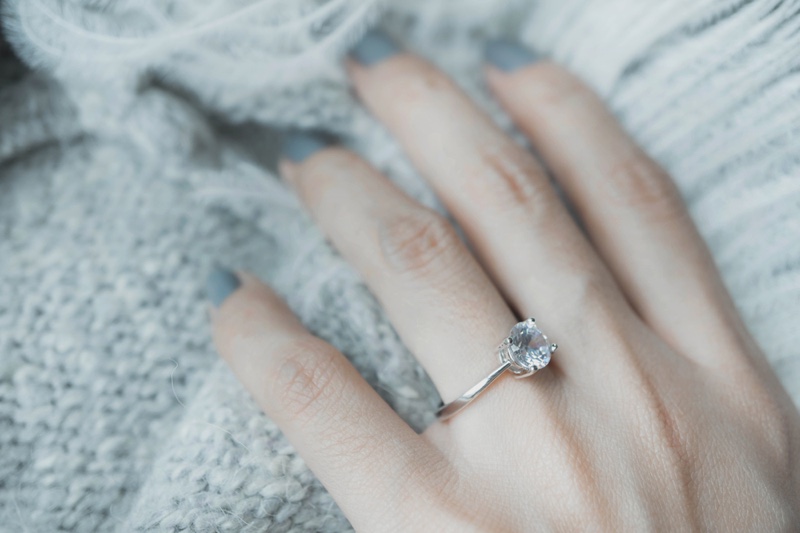 They're great for active couples
We love to admire big bling, but sometimes it's just impractical for your lifestyle. If you're an active couple who enjoys spending time outdoors or traveling to different countries, the solitaire ring is the perfect way to say "I love you" without risking an untimely catch on fabric or sports equipment.
They're timeless
When you think of the heirloom ring passed down from your great-grandmother, you probably think of a solitaire engagement ring. This ring style has been more accessible for couples in years past and has been worn by women for centuries.
If you want to continue the legacy of your parents and pass on something special to future generations, this could be the ring for you.
Our Top 9 Solitaire Engagement Rings for Brides in 2021
Looking to propose with the best solitaire engagement ring?
We're here to help you sort through the overwhelming number of different styles and settings that are trendy in 2021. We've gathered our favorites for every personality—from spunky to chic.
The Vintage Solitaire Ring
A solitaire ring doesn't have to be boring—and vintage is in.
Add a vintage touch to your engagement ring by including detailed architectural lines and patterns in the band.
This will compliment the gemstone you choose without overshadowing its brilliance. For vintage inspiration, check out this list of engagement rings through the years.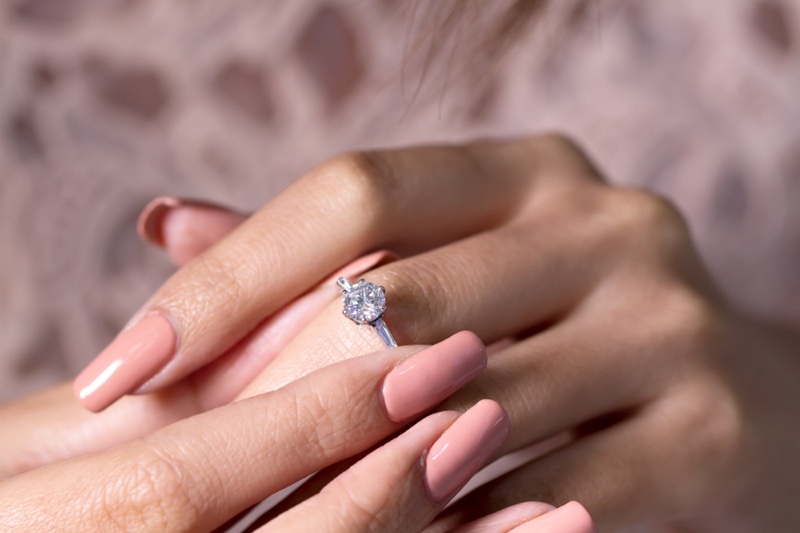 The Classic Ring
You can't go wrong with a classic. For us, the classic solitaire ring is a shimmering circle or oval cut diamond with a white or yellow gold band.
It's reminiscent of the minimalist trend in the 1990s. A high-quality gemstone or diamond should be your top priority when choosing this ring because it will be the predominant feature.
The Modern Ring
Today, big love is shown with a big stone.
What better way to show off that flawless gemstone than with a solitaire engagement ring? Stay unique with an oval or pear-cut engagement ring—two of the most popular ring cuts of 2021.
The Princess Cut
Ah, the princess cut. Everyone knows the princess cut for its unique name and time in the spotlight during the early 2000s.
As you shop for the perfect engagement ring for your future fiance, we highly recommend browsing this cut alongside its side-kick sister: the emerald cut.
The Birthstone Solitaire Ring
Featuring her birthstone can add special meaning to her engagement ring. Check out this birthstone guide to find the stone that matches her birth month.
Then choose the cut, setting, precious metal, and engravement to make it totally hers.
Marquise-Cut Solitaire Ring
The marquise cut diverts only slightly from the pear and oval-cut ring trends we're seeing. This ring is one-of-a-kind and trendy at the same time. It's also got a bit of a vintage flair to it, which we love.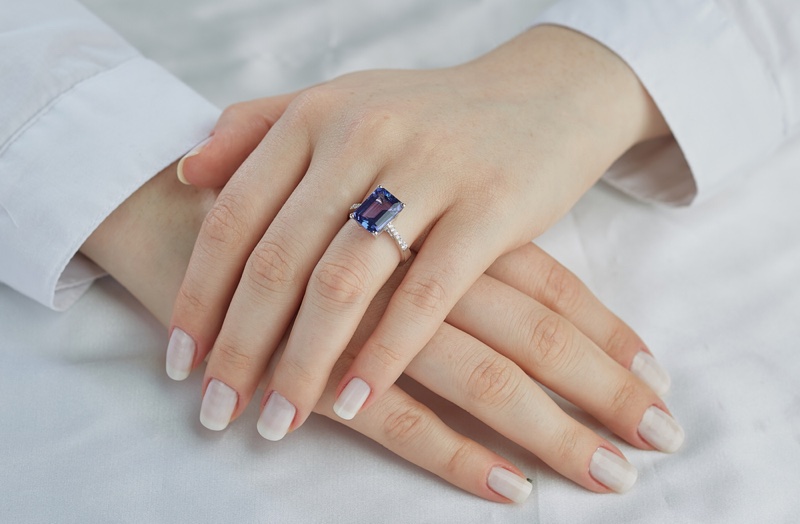 The Sapphire Ring
The diamond has remained the gemstone of choice for decades. But modern women refuse to be predictable—and they're trading in the old-fashioned diamond for more colorful precious stones, like emeralds and sapphires. A less precious stone comes with perks, too.
If you want more bling for your buck, a semi-precious stone will allow you to choose a larger cut for the same price as a smaller diamond stone.
The Black Diamond
A black diamond engagement ring is the perfect mix of classic stone and unique color.
And it matches everything.
We all know the girl whose closet is hundreds of different varieties of black. If this is your girlfriend, then the black diamond solitaire engagement ring could be the ring of her dreams.
The Custom Solitaire Engagement Ring
A custom engagement ring is the ultimate way to say, "I know who you are and what you love."
So romantic.
With a custom solitaire, you can add any element—from gemstone to engraving. A custom ring is also a great way to incorporate sentimentality.
We love the idea of including part of her mother or grandmother's ring in the band or design—so she can always have part of them with her.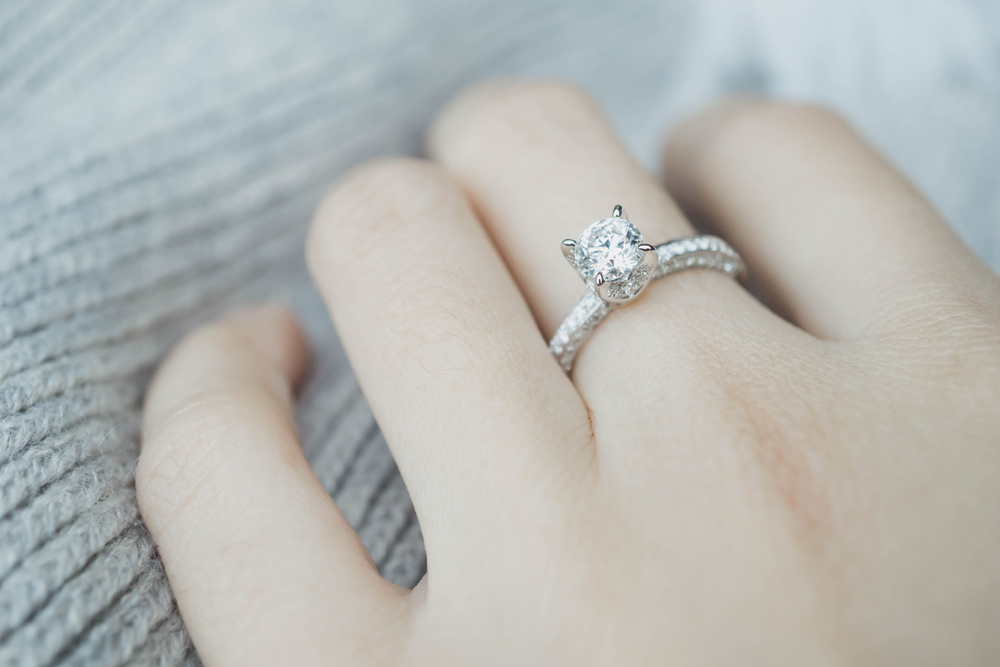 Celebrity Inspired Solitaire Rings
We love a little celebrity inspiration—and these celebs don't disappoint with their stunning solitaire engagement rings.
Scarlett Johansson's ring from Ryan Reynolds is the perfect example of the classic solitaire engagement ring. It's elegant and practical enough not to get in the way when fighting Thanos.
Katherine Heigl has been happily married to her husband Josh Kelley since 2007. The engagement ring he gifted to her is made from part of her mother's engagement ring.
Jasmine Tookes is the recipient of one of the most stunning oval cut solitaire engagement rings we've ever seen. The ring was designed specifically for Jasmine and features a 7 carat diamond.
Ready to Find the Engagement Ring of Her Dreams?
We suggest you begin with just three of the above solitaire engagement ring ideas and write them down. Keep a list of your favorite types and which match your future fiance's style and taste. Then, narrow your favorites down until you find her perfect engagement ring.
Have questions about how to style your custom jewelry? Check out our all-inclusive guide of styling tips every woman should know.