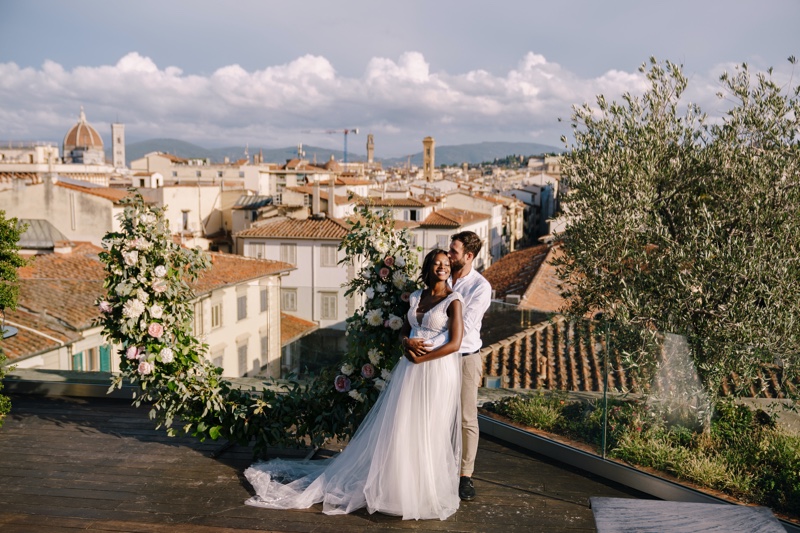 A getaway is not primarily a place but an atmosphere, especially when considering outdoor wedding ideas. While a lavish banquet hall in the city might seem appealing, the success of a celebration hinges more on the ambiance and the rapport among guests.
Even the grandest venue can fall flat if attendees don't connect or find themselves bored. Organizing a wedding is a multifaceted endeavor, with many details, including costs, influenced by the chosen location. Given this, it's no surprise that many newlyweds are increasingly drawn to outdoor ceremonies, particularly during the warmer seasons.
You can celebrate the most important day of your life in various settings, from the rooftop of a New York City building to a beach in an exotic location like one of the beautiful wedding venues in Greece. Choosing a corner for the event is necessary based on the time of year and the number of guests.
However, be prepared that such a celebration will require a lot of effort and time to organize, but the results will justify all the efforts spent. How do you organize a wedding outside of banquet halls and hotels? Where can it be done? Read on to read about great ideas.
Outdoor Wedding Ideas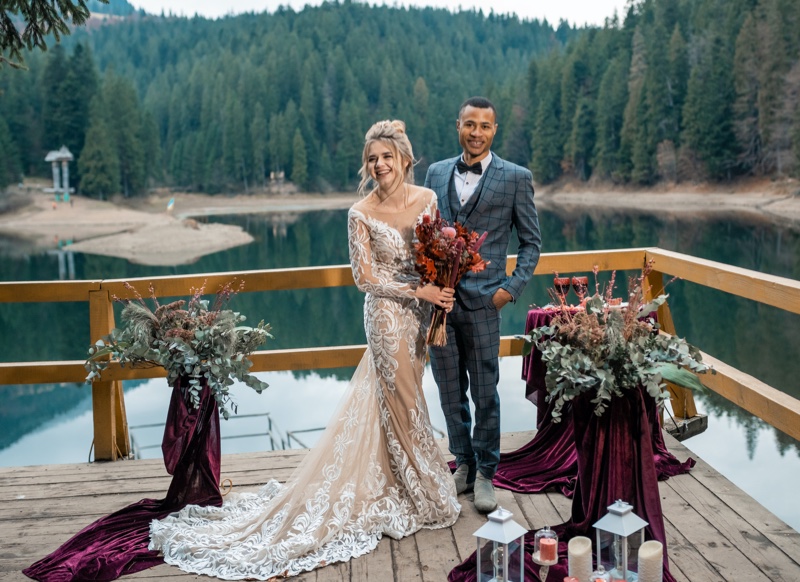 Nature is one of the most formidable competitors to all other wedding ceremony locations, especially in the summer when the array of picturesque spots is limitless. You can celebrate your wedding even in the most unconventional places.
For instance, football enthusiasts might exchange vows on a rented football field, while sea lovers could do so on the deck of a yacht or ship. True romantics might even consider tying the knot on a restaurant's rooftop.
A distinct advantage of this format is that the open space accommodates various wedding scenarios. Some couples choose to conduct both the formal ceremony and the reception in one natural setting. Others opt for an official registration first, followed by a picnic-style celebration.
Moreover, symbolic outdoor ceremonies on the wedding day have recently gained popularity. This signifies that the couple is already officially married by the time of the celebration.
Wedding on the Beach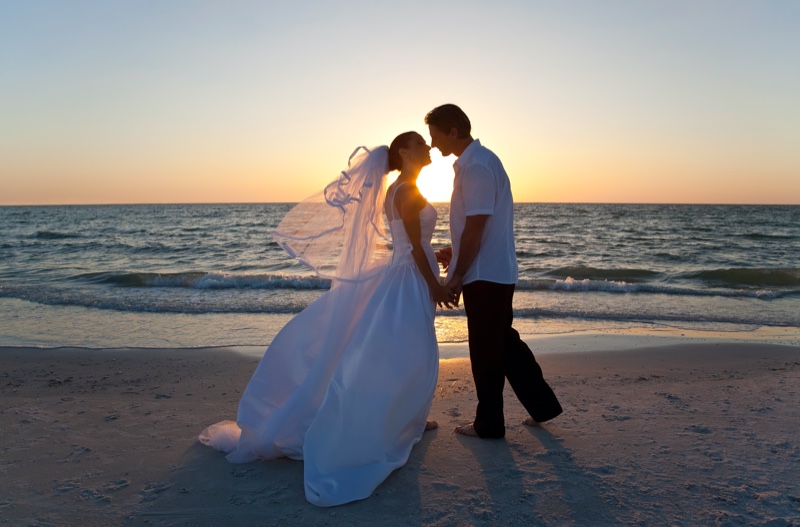 A seaside wedding is suitable for romantic people who dream of hearing words of love on the seashore or ocean to the sound of waves and the cries of seagulls. To ensure that the ceremony brings only positive emotions, we recommend that you consider the following details:
It is necessary to choose the wedding date carefully and consider the region's climate characteristics.
It is better to hold the official part of the celebration either early in the morning or late in the evening, since at noon, under the scorching sun, the only thought will be to quickly escape to a cool place.
In addition, it is worth considering that it will be challenging for a photographer to capture this exciting moment due to the lighting conditions.
Transportation for guests who do not have their own car should be carefully considered. And for those who travel alone, it would be a good idea to prepare maps with a detailed description of the route and organize a parking space.
Since such weddings are held during the hot season, you must stock up on plenty of mineral water, juices, fruit drinks, and cold, non-alcoholic cocktails.
For beach wedding ideas, prepare a large number of starfish, shells, and ship-in-a-bottle decorations.
For ceremonies by the sea or ocean, live music is preferred.
To protect guests from the summer heat and sudden rain, you will need to install a tent and awnings.
From the color range, special attention should be paid to such shades as turquoise, red, sand, blue, blue, white, and bottle green.
In the Park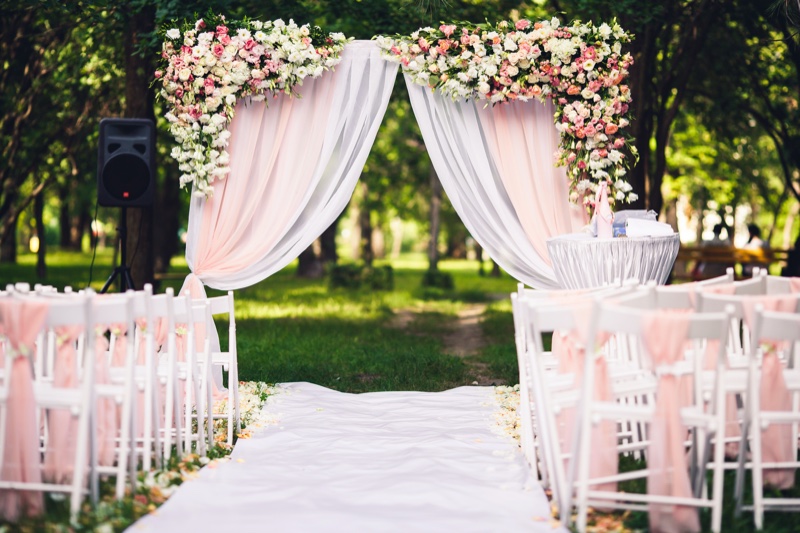 A well-maintained park in the city center can seriously rival country hotels and private backyards. Cozy nooks, abundant greenery, unique sculptures, and children's playgrounds will provide an excellent backdrop for the event's formal segment and the subsequent party.
Consider incorporating shades of pink, green, crimson, and red in the decor to fit with the natural landscape. To ensure evening lighting, one should stock up on numerous lanterns, adding an air of mystery and romance to the celebration.
On the Summer Veranda
The outdoor area of ​​a family restaurant can be an excellent place for a summer or early fall wedding. It is recommended to choose establishments that are protected by a hedge or wall from prying eyes. Terraces are worth considering as they often offer both high-quality service and a delightful atmosphere.
Rooftop Wedding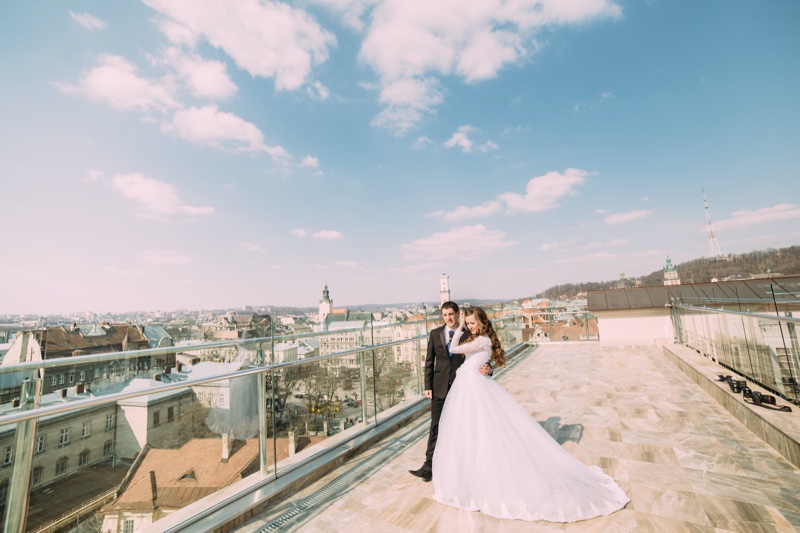 A wedding at an elevated location can be a real adventure for young couples and their guests. When selecting a venue for the celebration, consider the rooftops of restaurants and business centers. Before making a reservation, ensure that the venue meets all safety standards.
It's also essential to confirm that the building has a functional freight elevator, as transporting decor, equipment, food, and more to the rooftop will be necessary. Without an elevator, this task becomes challenging.
It's advisable to set up canopies ahead of time to protect against unexpected rain that might disrupt the festivities. If the venue has a space for a helicopter, consider incorporating it into the event or design. The couple's arrival in a helicopter would surely surprise and delight all attendees.
Consider using white, gold, gray, and black colors when decorating a rooftop wedding. In any case, consulting with professional wedding planners is advisable.
For the guests' convenience, consider creating separate areas with sofas. Additionally, organizing a candy bar and a buffet table would be beneficial. This allows guests to refuel during spirited dances and mingle over a glass of sparkling champagne.
In a Country Hotel
A country hotel is an ideal venue for hosting an outdoor wedding because it provides all the essential amenities. These include top-notch service, ample space for all guests, and the option to house attendees in their rooms after the festivities conclude. Additionally, many country hotels offer discounts for weddings held on their premises.
On a Yacht or Boat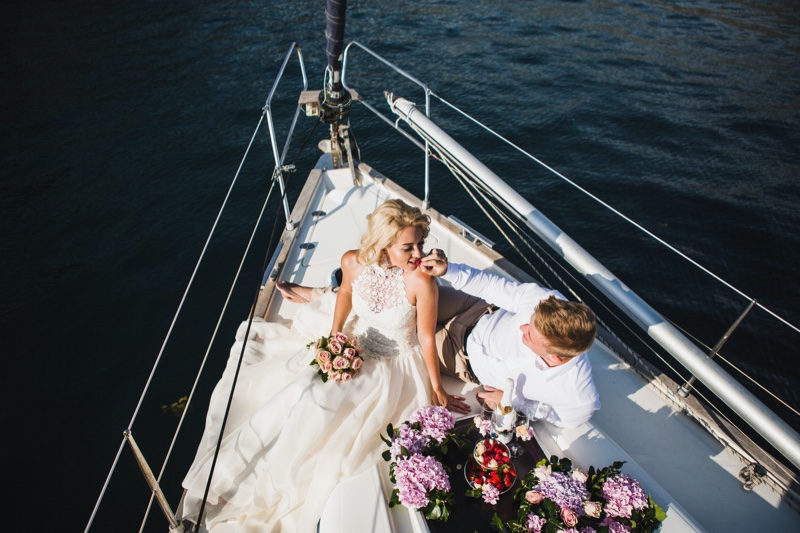 A wedding on a ship or yacht is romantic, luxurious, and unique. Guests can savor the cool sea breeze, ever-changing scenery, and engaging conversations in a relaxed ambiance. To ensure the celebration is top-notch, planning the entertainment program meticulously is crucial.
Additionally, it's essential to accurately estimate the quantity of food and drinks, as there won't be an opportunity to reorder later.
Clothing Ideas for Outdoor Ceremonies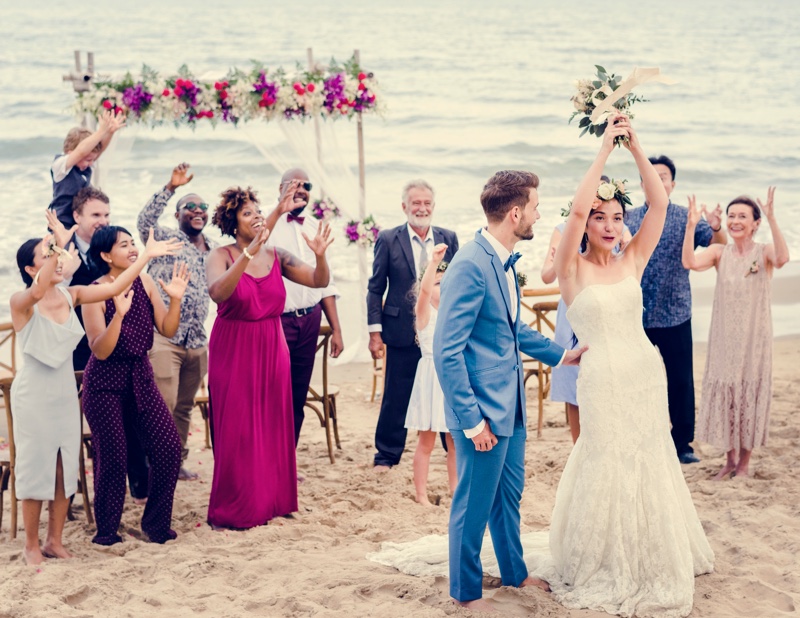 An outdoor wedding necessitates a particular approach to attire for both the couple and the guests. For instance, ball gowns, heavy jackets, and high heels that sink into the sand at a seaside ceremony would be entirely out of place.
Comfortable shoes and dresses made of natural fabrics are ideal for such an occasion. Men might opt for light trousers, a shirt, and a vest. If the celebration is on a veranda or terrace, light dresses in pastel shades with floral patterns would be most fitting for women.
For a wedding at a country location, women might choose short, simple dresses or sundresses, while men could don comfortable polo shirts and light trousers.
The Beauty of Nature
These outdoor wedding ideas offer an undeniable perk: the abundance of greenery provides a unique backdrop for wedding photos and videos. The lack of walls, the whisper of leaves in the trees, and birds chirping all contribute to a setting where guests feel at ease and relaxed.