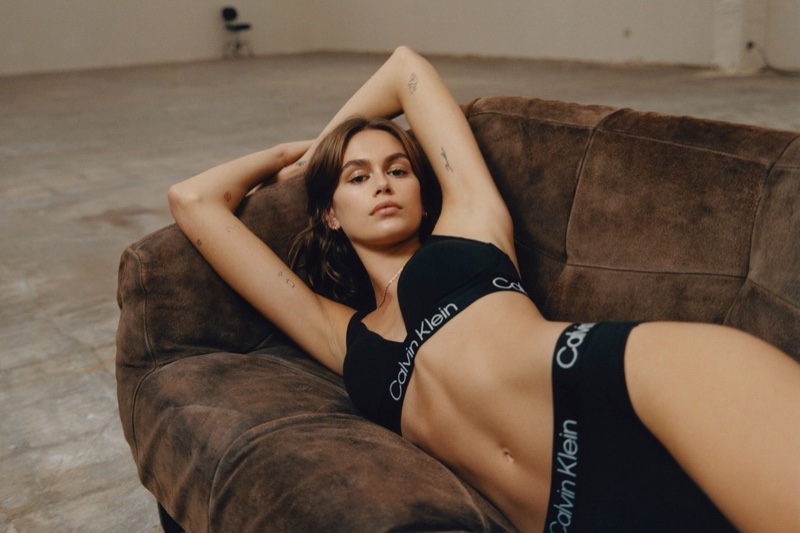 Modeling for Calvin Klein since 2018, Kaia Gerber returns as one of the faces of the American brand's fall 2021 campaign called The Language of Calvin Klein. Photographed by Renell Madrano, she poses in a series of laid-back portraits. Alastair McKimm also styles the shoot where Kaia shows off branded underwear, socks, and sweatshirt designs.
The brunette wears the Modern Structure Lightly Lined Triangle Bralette and Modern Structure Hipster with a gold necklace in two shots. Kaia also appears in a short film where she performs a monologue in a bodega. "I'm freaking out. I'm like, do I call her? Do I not call her?" she says in the video.
Related: Kaia Gerber is Ready for Summer With Louis Vuitton 'Twist' Campaign
"Photographers Renell Medrano and Hong Jang Hyun and director duo, rubberband captured an international cast of artists, creatives and thinkers. Vignettes of each talent capture individual expressions of language in the real world: reciting routines, daydreaming out loud, putting pen to paper, talking to yourself, letting it out to a stranger, pausing to think, poetry, storytelling," the press release states.
Calvin Klein 'The Language of Calvin Klein' Fall 2021 Campaign