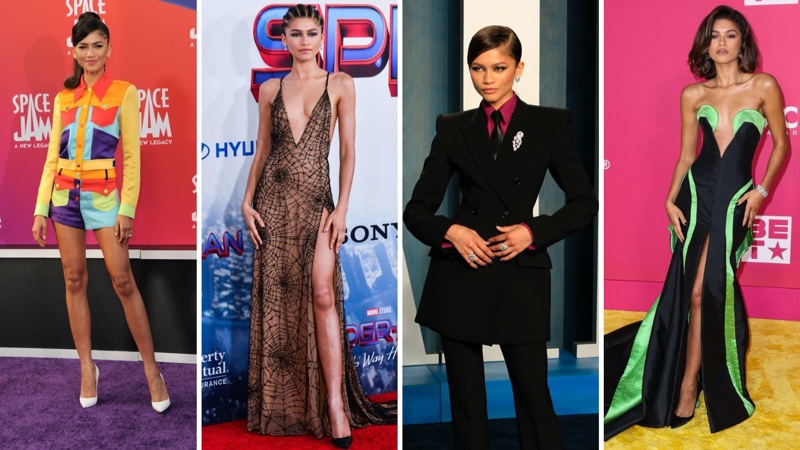 Only a few stars leave the world in awe over their style. And when it comes to Zendaya's red carpet looks, she owns the scene. The Dune star is a Gen Z fashion icon, no doubt. Working with stylist Law Roach, she's been a force of change, effortlessly shifting between vintage elegance and modern edge.
From showstopping looks like her Atelier Versace gown at the 2023 NAACP Awards to powerful brand partnerships with Louis Vuitton and amazing hairstyles, the actress turns every appearance into a statement. Let's look at Zendaya's best red carpet looks.
Zendaya Red Carpet Looks
Black & Green Atelier Versace Dress at 2023 NAACP Awards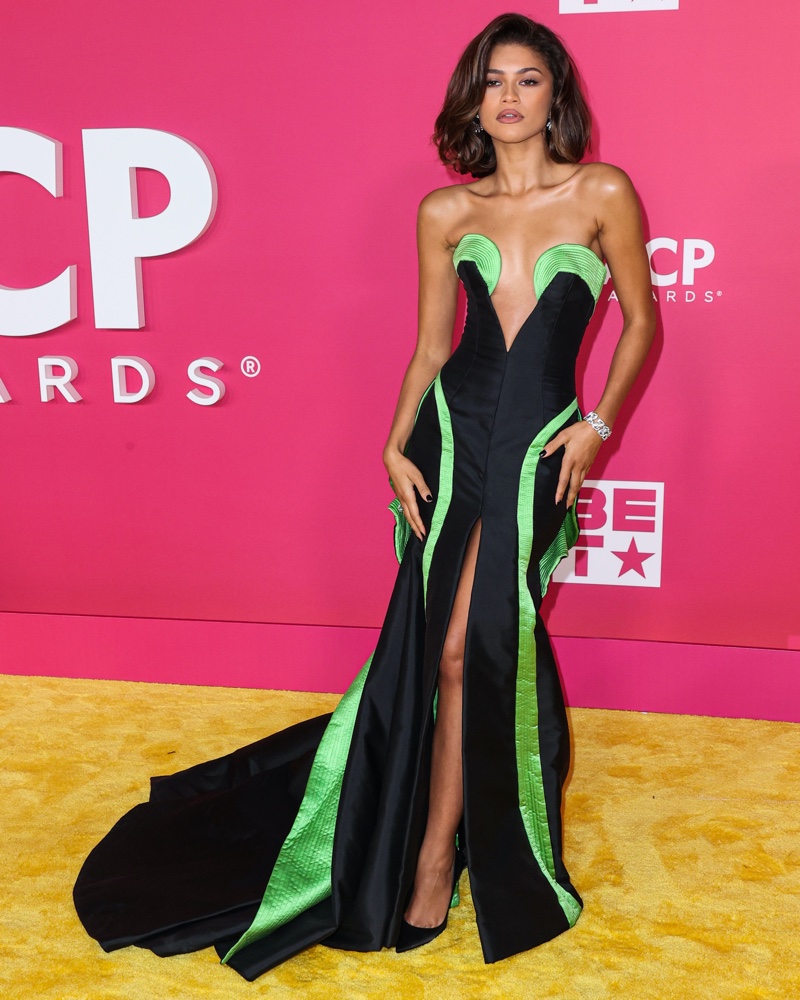 In a striking 2002 Atelier Versace creation, Zendaya commanded attention at the 2023 NAACP Image Awards. A vision in green and black, the gown signaled a nod to fashion history while highlighting the actress's own trailblazing style. Bold color contrast met meticulous design with a plunging neckline and high slit in the middle.
Brown Versace Dress at CinemaCon 2023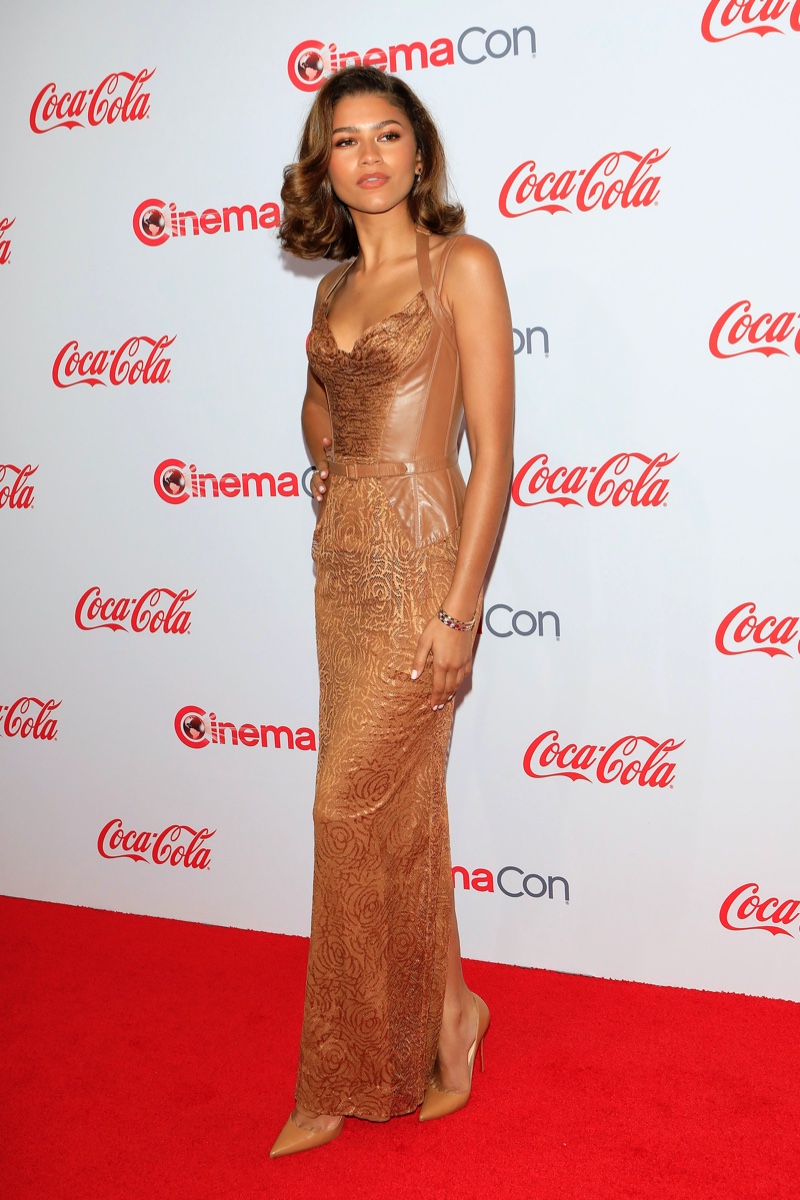 The brunette actress also wore vintage Versace at CinemaCon 2023 in Las Vegas. She accepted the Star of the Year Award while rocking another vintage Versace look while picking up the Star of the Year Award.
Her long brown dress was a mix of lace and leather, complete with a unique hooded neckline. The outfit was a showstopper from Versace's Fall-Winter 2001 collection.
Valentino Outfit at 2022 Oscars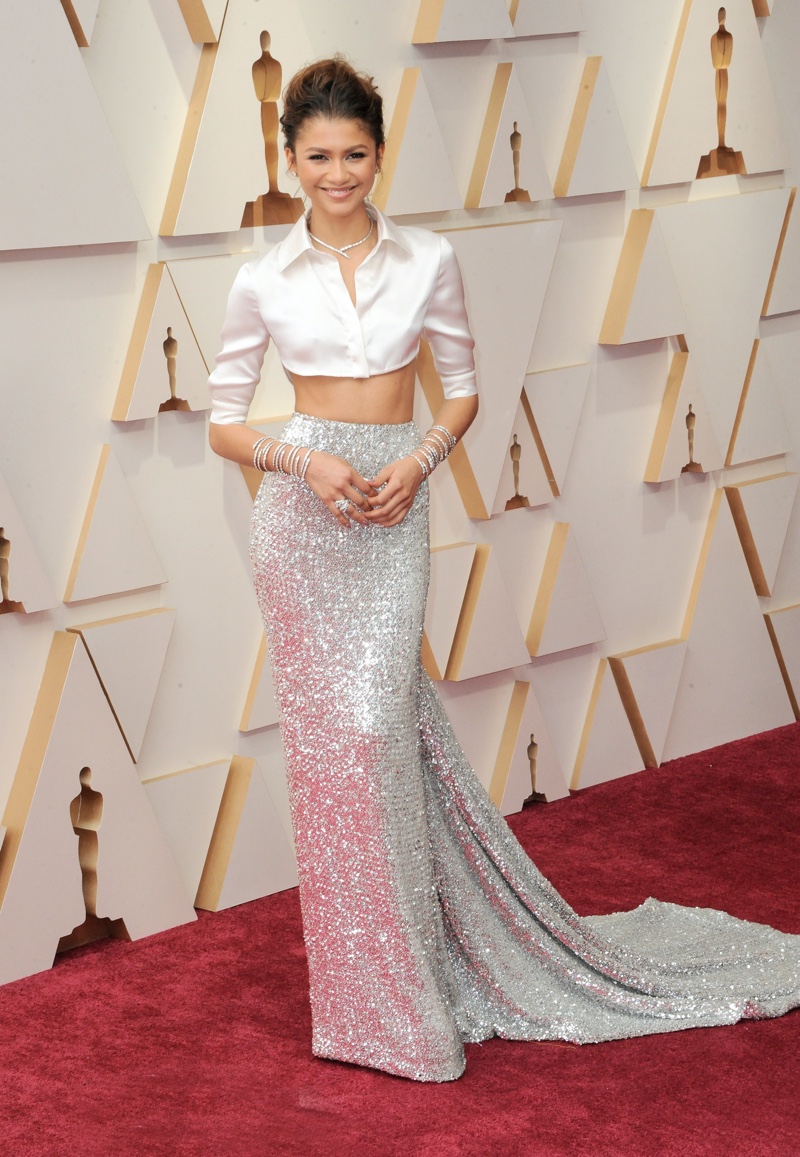 At the 2022 Oscars, the star of Euphoria turned heads in a custom Valentino outfit. The look featured a cropped white satin top paired with a sequined skirt and an elegant train. Social media quickly drew parallels to Sharon Stone's iconic 1998 Oscars outfit, which combined a Gap shirt with a Vera Wang skirt.
However, Zendaya's version took it a step further, elevating the ensemble with diamond-adorned Bulgari high jewelry, infusing the look with a modern sense of luxury.
Sportmax Suit at the 2022 Vanity Fair Oscars Party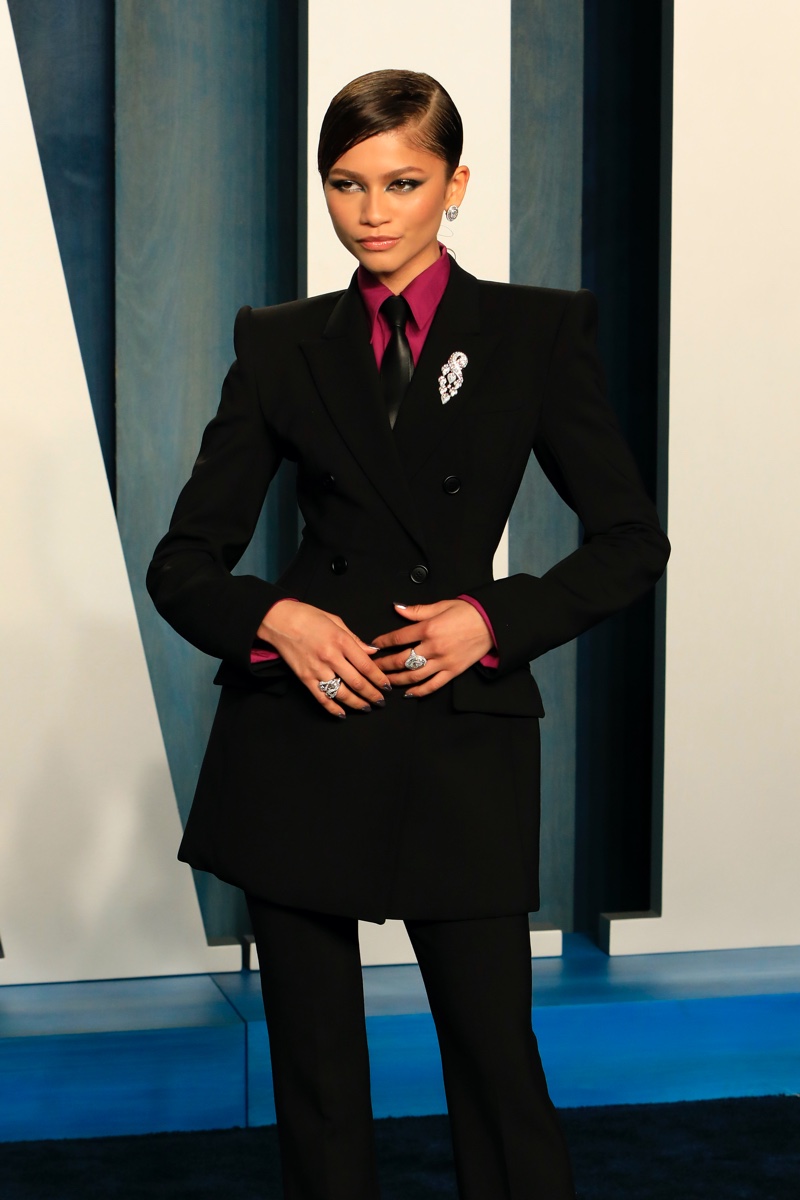 Zendaya certainly knows how to wear a suit. And at the 2022 Vanity Fair Oscars Party, she showed off a tailored Sportmax suit with a slicked-back hairstyle. The double-breasted silhouette came in an hourglass shape with broad shoulders for a seriously dapper outfit.
Moschino Outfit at Space Jam: A New Legacy Premiere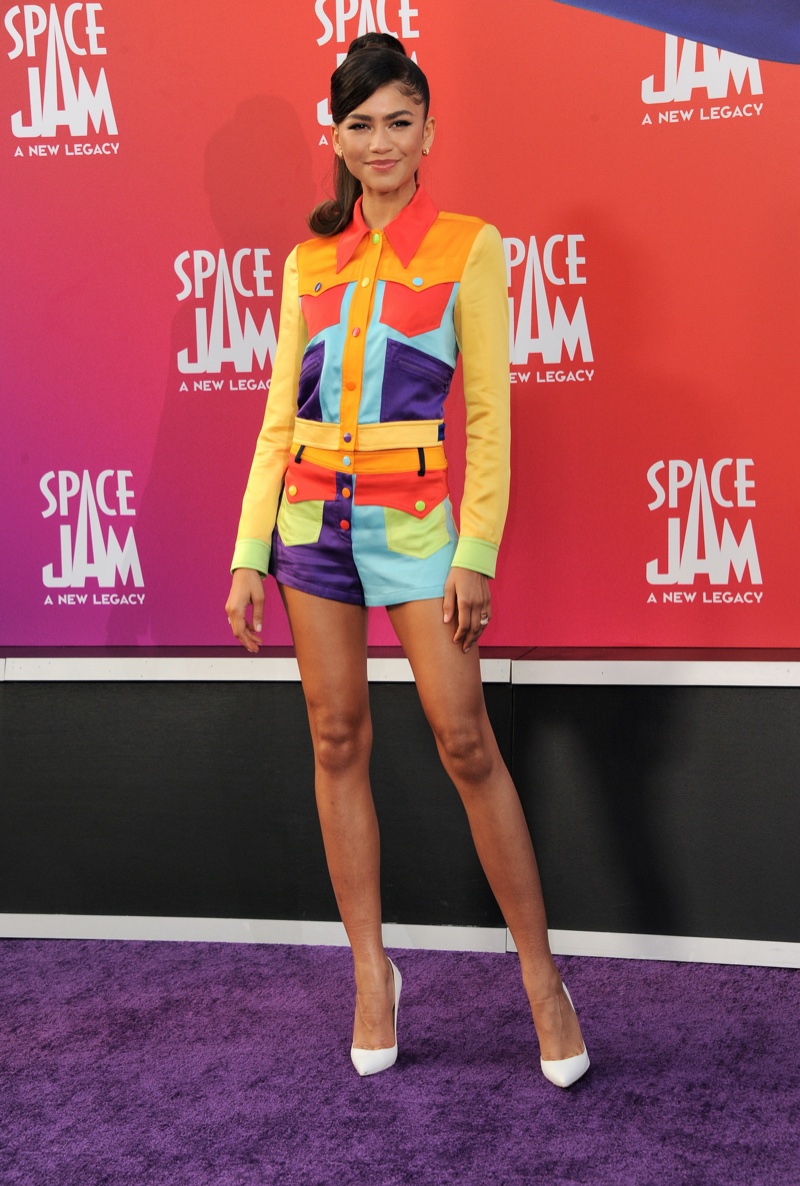 Zendaya paid tribute to her role as Lola Bunny in the film Space Jam: A New Legacy at the movie's premiere. She rocked a colorful Moschino jacket and shorts featuring bold color blocking. A nod to early 90s style, the talented brunette paired the ensemble with white Christian Louboutin pumps.
Valentino Couture Gown at Spider-Man: No Way Home Premiere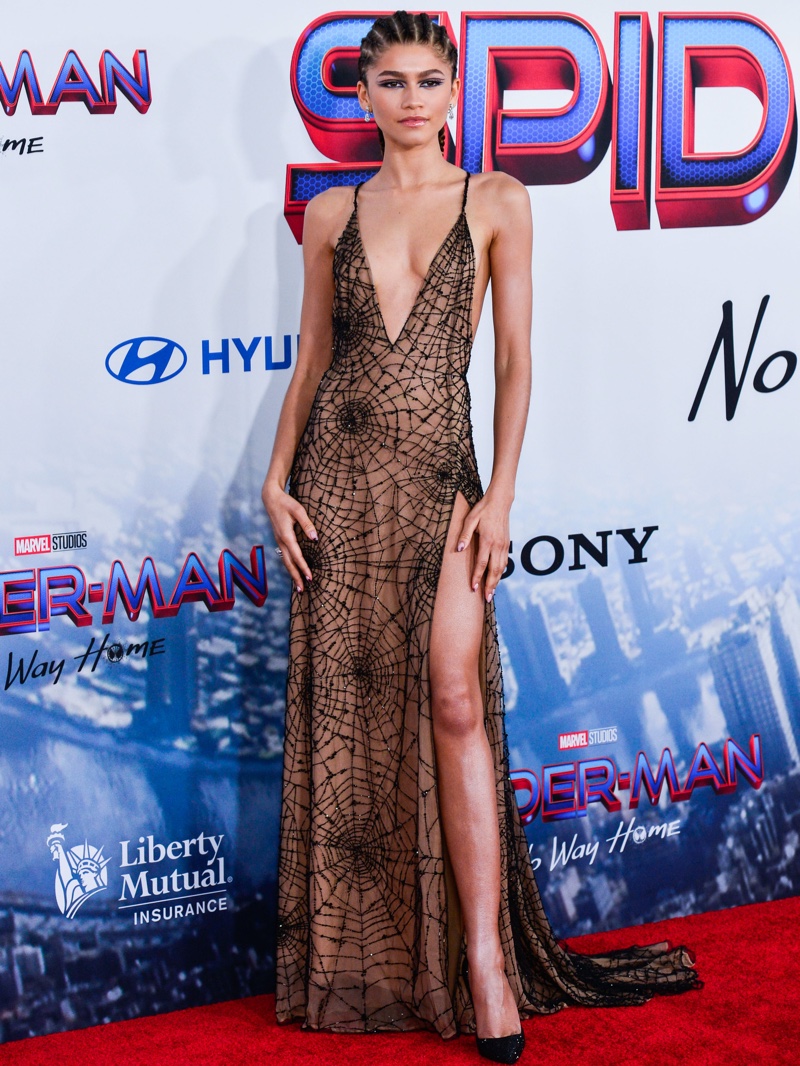 At the 2021 Spider-Man: No Way Home premiere, the actress who plays MJ in the series stunned in a custom Valentino look. Taking on the theme, she wore a couture gown with black crystals that mimic a spider's web. With a plunging neckline and high slit, the sultry look is undoubtedly one of her most memorable.
Pink Tom Ford Outfit at Critics Choice Awards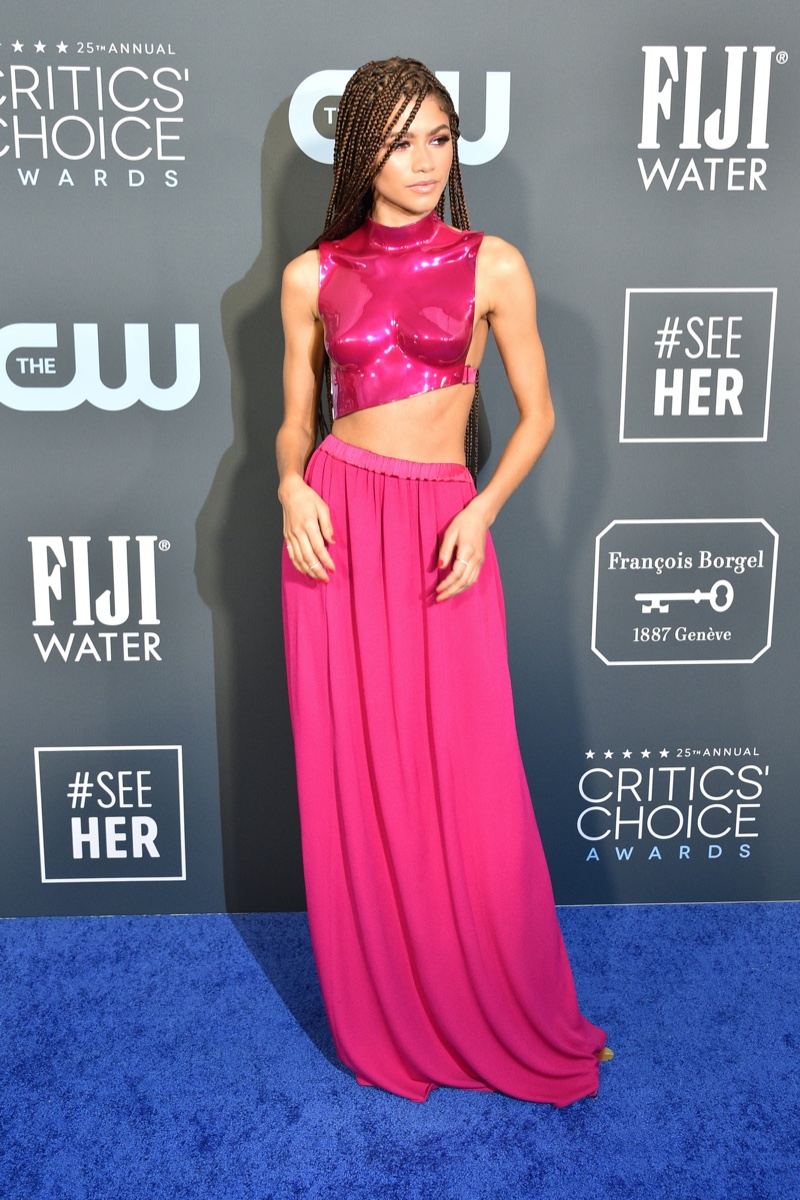 Attending the 2020 Critics' Choice Awards, Zendaya was a vision in pink. A daring chromed breastplate top paired with a matching evening skirt brought warrior chic to the red carpet. The star paired the look with long box braids for a chic finish.
Black Christopher Esber Dress at People's Choice Awards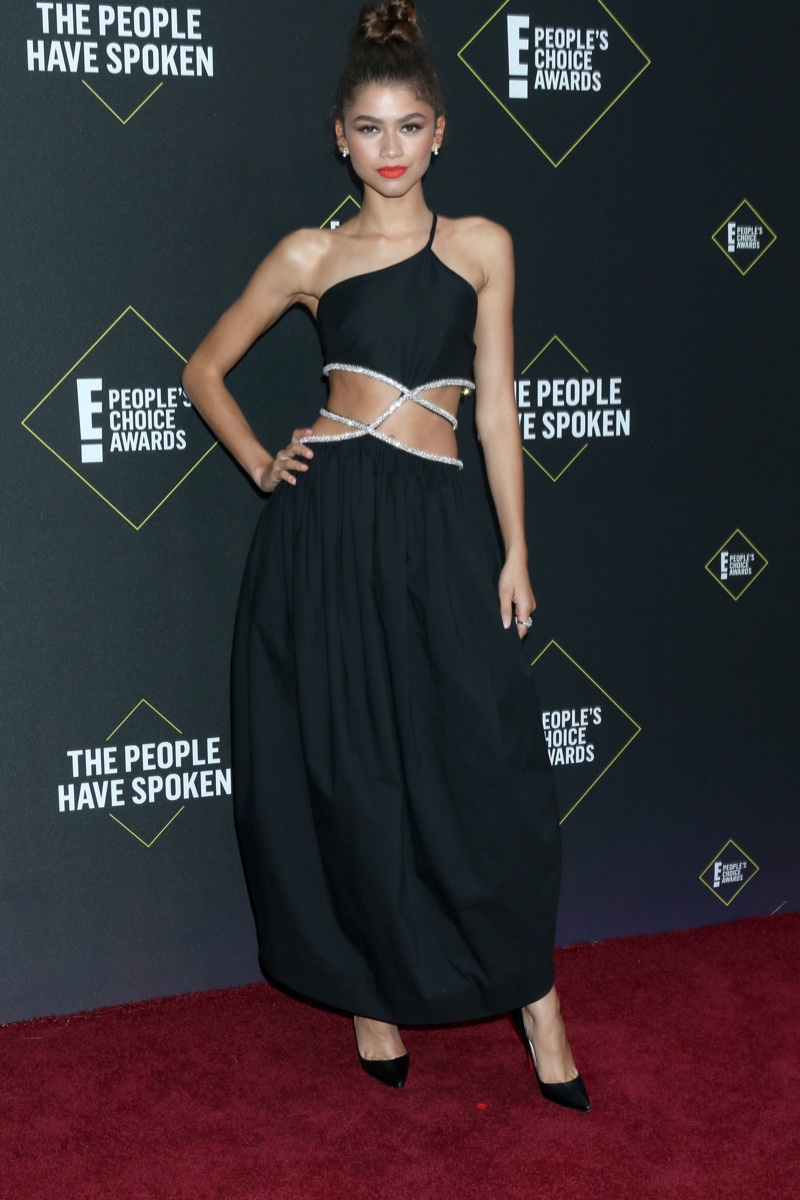 Who said a black dress had to be boring? At the 2019 People's Choice Awards, Zendaya showed some ab in a black Christopher Esber gown. The dress featured crystal embellished cut-outs at the midsection with an asymmetrical neckline. A pair of Christian Louboutin heels, diamond-adorned Nadine earrings, and a ring completed the ensemble.
Armani Privé Gown at Spider-Man: Far From Home Premiere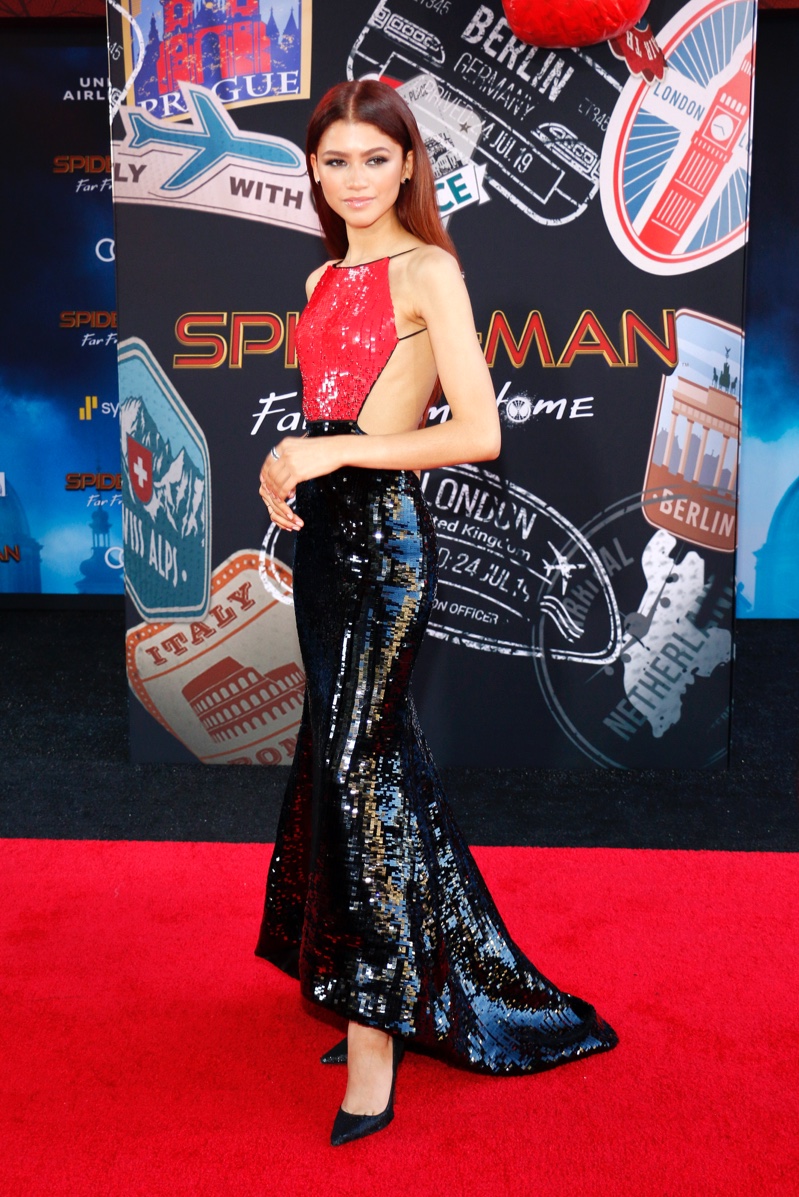 Stylist Law Roach declared on Instagram, "If she was Spider-Man, this would be her suit." Underscoring the intention behind Zendaya's look for the Spider-Man: Far From Home premiere in 2019.
Wearing a backless Armani Privé gown embellished with sequins, she paid homage to the film's hero in fashionable style. A red top with a black skirt channeled the theme, while black Louboutin heels punctuated the look.
Alexandre Vauthier Floral Dress at HBO Post-Emmy Party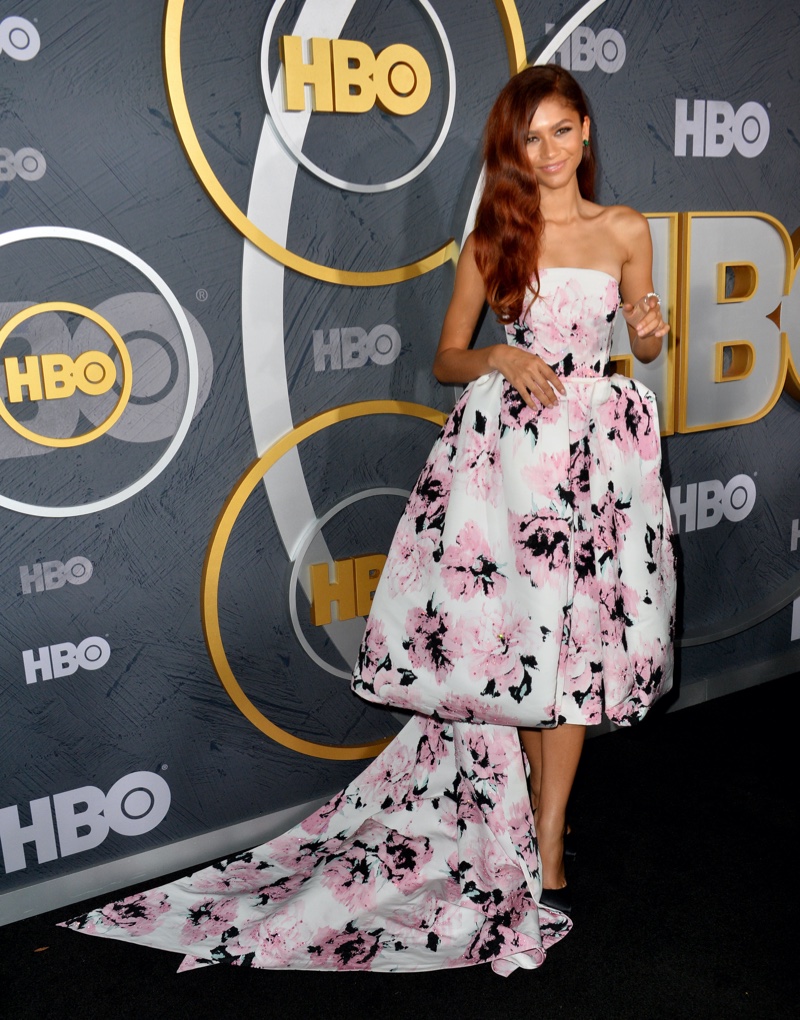 On the red carpet, Zendaya isn't shy about embracing print. At a 2019 HBO post-Emmy event, she turned heads in an Alexandre Vauthier floral dress featuring a strapless top and playful bubble skirt.
The outfit conjured the glamour of 1950s silhouettes, further amplified by her choice of red tresses for the occasion. It perfectly blended vintage inspiration with modern flair.
Brown August Getty Dress at MTV Movie & TV Awards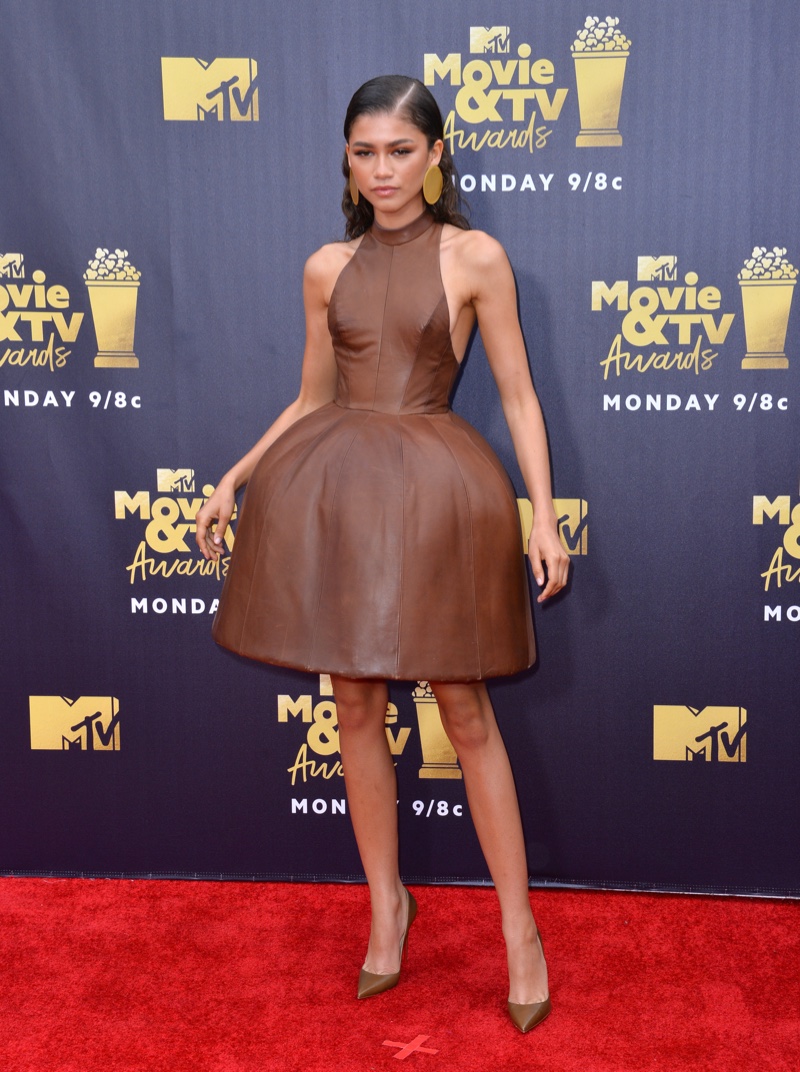 At the 2018 MTV Movie & TV Awards, Zendaya opted for a daring silhouette that was impossible to ignore. Clad in an August Getty brown dress, the design included a fitted top and a dramatic bell-shaped skirt for maximum impact. Brown Christian Louboutin heels and circular earrings tied the ensemble together, creating a cohesive and modern look.
Pink Ralph & Russo Gown at Spider-Man: Homecoming Premiere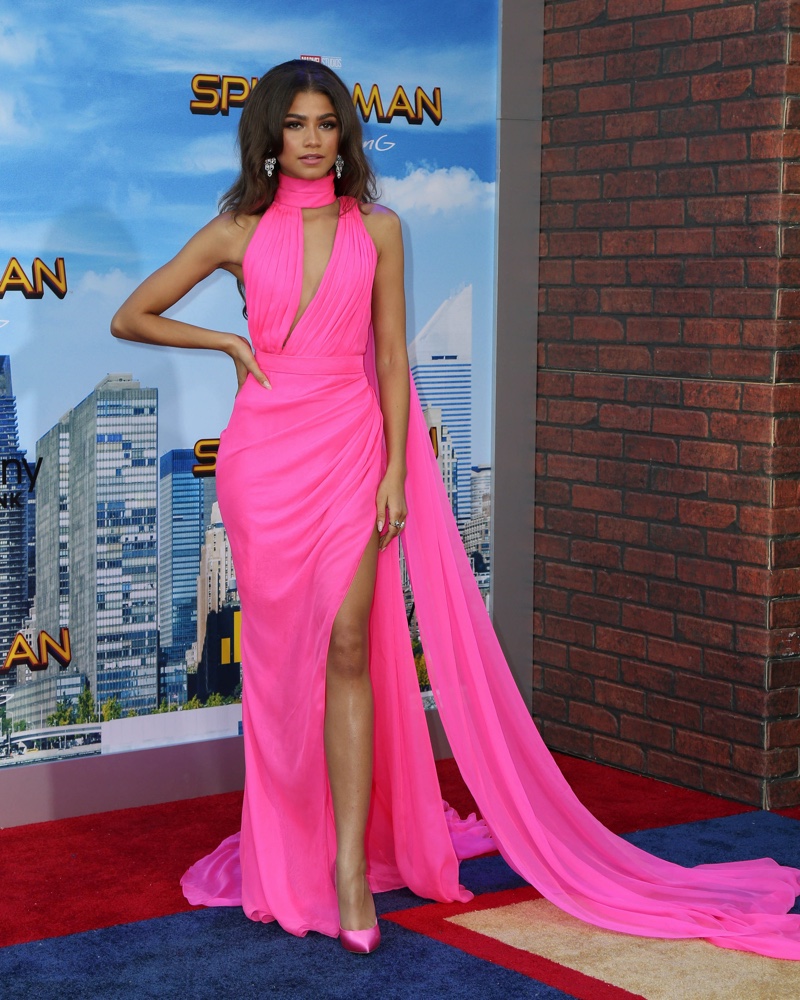 Zendaya made a statement in pink at the 2017 premiere of Spider-Man: Homecoming. She chose a Ralph & Russo gown that featured a statement neckpiece, an asymmetrical cut-out, and a side slit.
The draped fabric added the drama of a train. Completing the vision were pink stilettos, lending the entire ensemble a Barbie-inspired aesthetic.
Rani Zakhem Outfit at Confirmation Premiere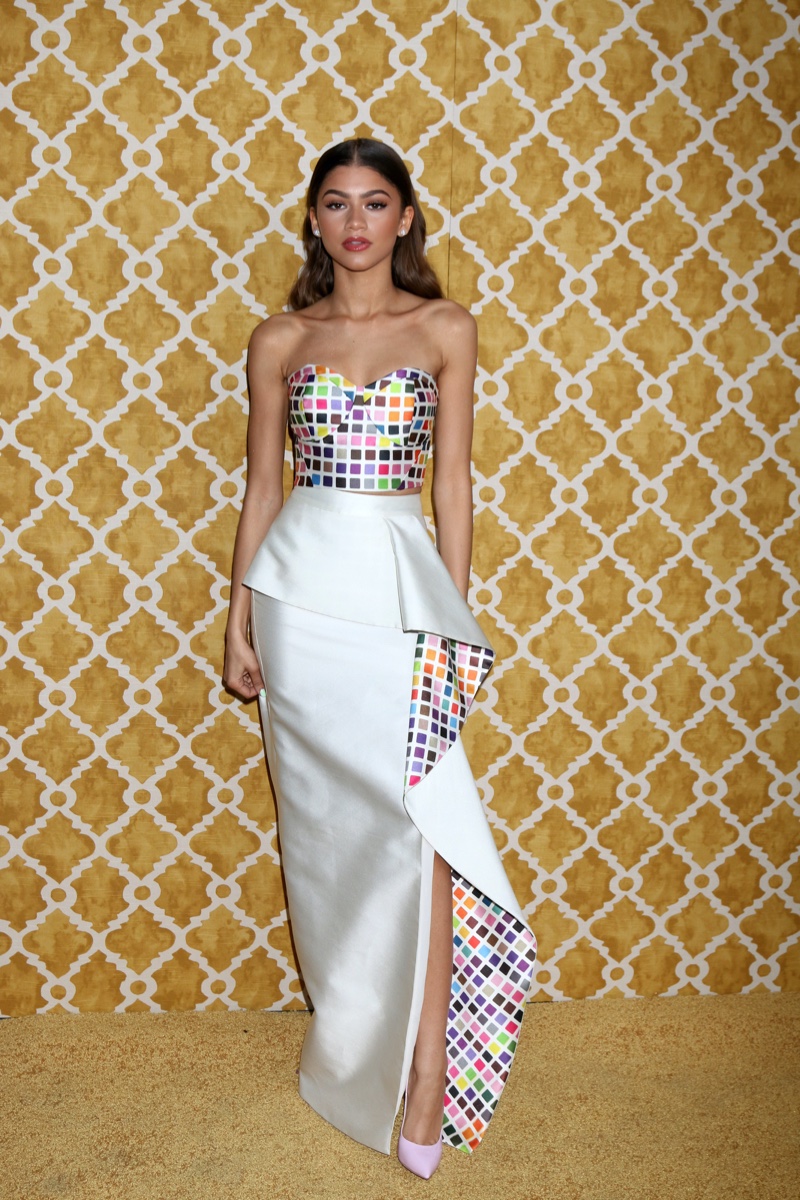 Zendaya made a splash at the 2016 premiere of Confirmation, stepping out in a two-piece ensemble by Lebanese designer Rani Zakhem. The outfit included a strapless top and a skirt featuring a unique paint-swatch-inspired print. A subtle peplum detail at the waist added texture, and a cleverly concealed side slit revealed itself through the draping.
Zendaya's Fashion & Beauty Endorsements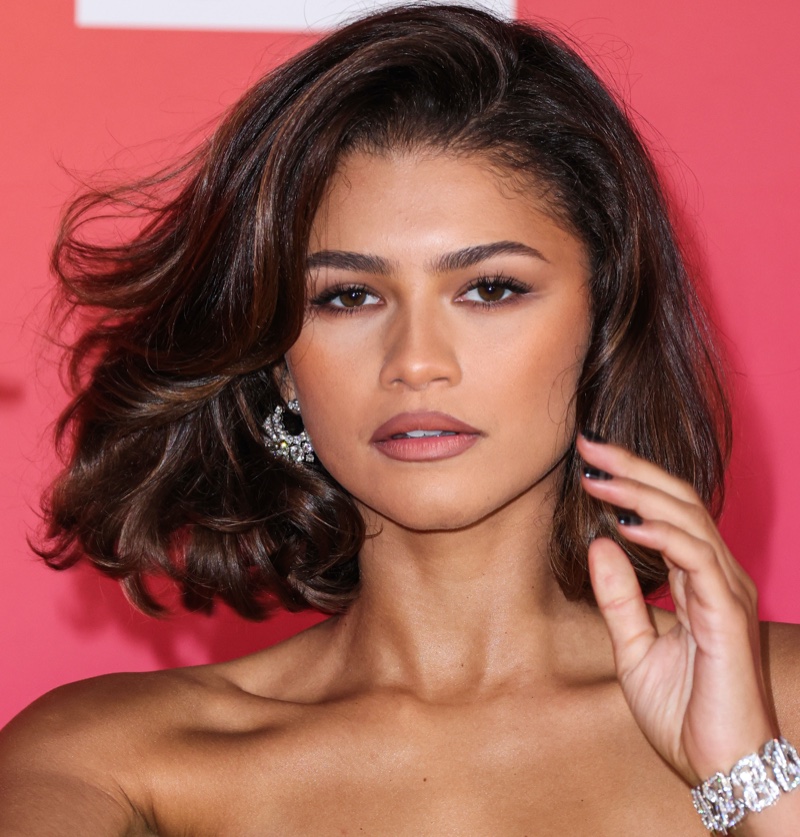 Zendaya's influence goes way beyond just looking great on the red carpet. She's teamed up with some of the biggest names in fashion and beauty, adding her unique style and voice to their storied reputations. Let's look at a few brands she has worked as an ambassador for.
Take Louis Vuitton—she's brought a fresh look to a brand known for its long history. Announced as an ambassador in 2023, she slayed with an ad featuring the Capucines bag.
With Lancôme, a top-tier beauty brand, she's not just the face of their campaigns but also an advocate for making beauty more inclusive for everyone. She is even the star of its Idole perfume.
And let's not forget Bulgari, the luxury Italian jewelry brand where she brings a mix of elegance and modern cool. Before these endorsements, she also worked with Valentino, combining her energetic style with their high-fashion glamour.