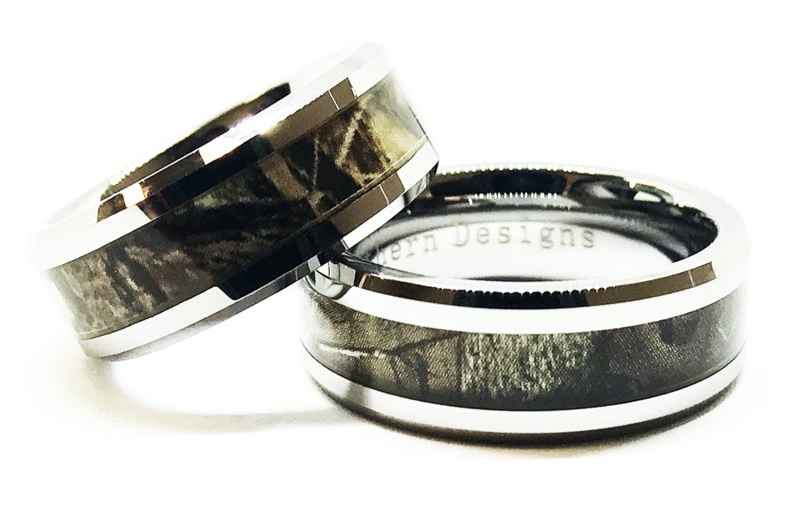 Style; when we hear or see the word 'style' all sorts of beautiful, unique, fashionable and creative ideas and looks come to mind. Usually; especially when deciding on matters that represent our personality and likes, and we prefer to go for items that we feel are part of us, in other words; our style. Style plays a significant role, even when settling on wedding bands.
You have gone through the beautiful stage of dating, and she or he finally said yes! The chase is not over yet because you are now on the journey of finding your perfect wedding rings to show your commitment. Wedding bands come in a variety of colours, shapes, materials, even design. Gone are the days when people settle for traditional plain metal or diamond-encrusted bands. Today, people are versatile, and style and personality take the stage in terms of what keeps the bride or groom elated. Newer diverse styles, such as custom rings and different metals, are available. Such are Camo Wedding Rings.
Camo wedding bands are a real pleasure, ideal for couples who enjoy nature; not to mention their durability. These rings are made from different contemporary metals like Titanium, Cobalt, Stainless Steel or Zirconium. Camo wedding rings also have a variety of patterns from Realtree Camo, Mossy Oak Camo, Kings' Mountain Camo, hammered metal to Black diamonds; you cannot miss something that will genuinely move you. Camouflage for wedding bands are usually inlaid in the interior of your ring or on the sleeve of the exterior of your ring; the choice is yours.
Camo Wedding rings also come in different pallets as described below: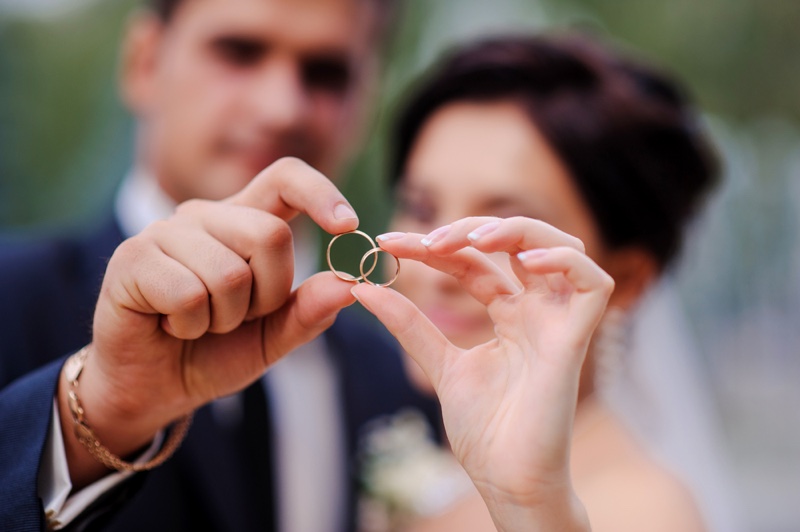 Hunting Camouflage
Explicitly used by hunters to match their hunting environment, Hunting Camouflage is made by an undelaying earth tone then overlaying it with branches, leaves and other kinds of vegetation, so it appears to have brown tones and green color tones. Hunting Camouflage is present for happier shades such as pink, orange, red and purple. These exciting shades are not only beautiful but are an excellent choice for the ladies.
Military Camouflage
Unlike their Hunting Camouflage counterparts, Military Camouflage hides the wearer. This camouflage has detailed colours and patterns of vegetation.
Army Camo
Army Camo is what the US Army adorns. This camo is from either woodland camo or digital camo.
Realtree Camo
From the hunting camouflage family, Realtree Camo is unique for its three-dimensional patterns that blend into different landscapes.
Predator Camo
Also, from the Hunting Camouflage family. The significant difference between Realtree camo and Predator camo is that Realtree camo uses 3D. In contrast, Predator camo made with open pattern technology that portrays bolder leaves layered irregularly for a more different look and style.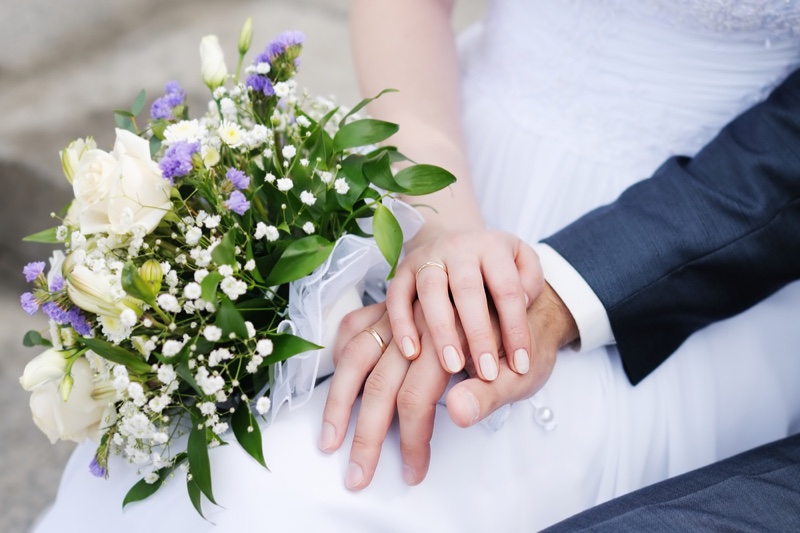 Pink Camo
Pink Camo may look feminine but also edgy and elegant. Almost all camo patterns come in pink with 3D Realtree designs of leacolorson.
Digital Camo
This digital camo is pixeled in appearance and mostly found in grey though it is possible to spot it in other colours such as green or blue.
Desert Camo
Also referred to as chocolate chip design, Desert camo is a mixture of tan, brown, black and white
shades layered to form a rocky landscape.
Woodland Camo
Utilizing earthy neutral shades such as sand, brown, green and black woodland camo is famous and was in use for a long time in the US Army from 1981 to 2006. Woodland camo is highly disruptive and contrasting.
Urban Camo
With similar high contrast disruptive pattern of Woodland Camo, Urban Camo is designed with different shades of grey to blend in urban regions.
Tiger Stripe Camo
During the Vietnam war, this was the main camo used. Tiger Stripe Camo mimics thick bushes representing a dense jungle in green, brown and black.
Snow Camo
As opposed to the usual green or brown landscape, Snow Camo is derived from snow landscape that uses a white backdrop, sparsely populates with leaves, branches or sage.
You can order your camouflage wedding bands from your comfort online or walk into any wedding rings stores near you and find what suits you. If you don't find any bands that particularly match your taste and style, Camo wedding rings are also custom made, so, do not be shy to explain and request what you are looking for to the attendant and find out whether they can custom make a pair for you.