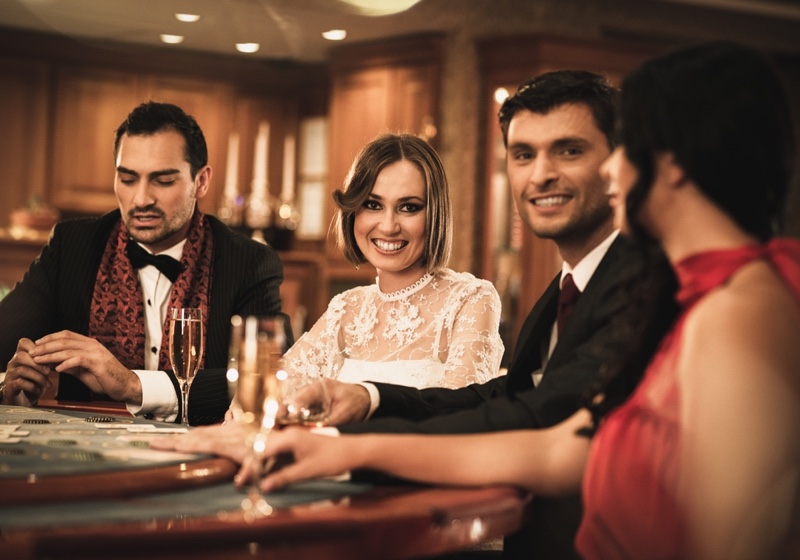 Going to the casino is a cool experience during which you may want to flaunt your love for cocktail dresses, colorful ornaments, and sparkling accessories. Each Casino has a dress code and theme but there are some basics that should be followed.
This guide focuses on stylish clothes that you can wear when visiting a Casino, ranging from semi-formal, casual to the glittering choices for those who love them.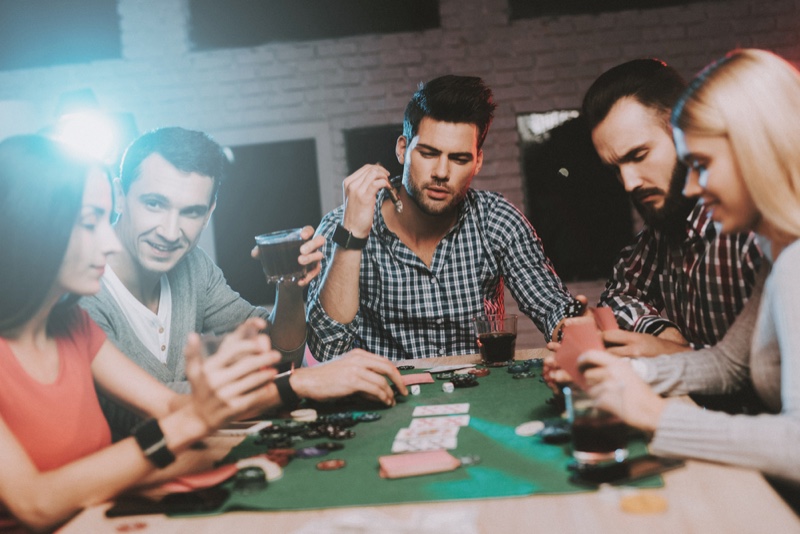 The Best Casual Clothes Before you Hit the Casino
For Men
The easiest and the most comfortable casual clothes that you can choose while not embarrassing those fashion perfectionists is a plain, collared t-shirt combined with light blue jeans. It is the most comfortable wear that most men choose and yet feel good walking around the pool tables or making bets.
For example, according to Lucian Marinescu at Online Casino Gems, a casino is a place where people can dress in a cacophony of styles. He says: "If you walk a casino floor, you'll notice a complete cacophony of styles. From the young people wearing ragged t-shirts and shorts to the high-rollers who wear a suit and tie, you will notice everyone on the spectrum. And you know what? That's ok. Casinos are places where everyone should enjoy themselves."
Keeping things suave and macho is the addition of a blazer over the t-shirt. Be it a leather jacket in brown color or a black blazer, it will give you that casual look. The collared t-shirt will help you with the rest of the semi-formal appearance that you are trying to establish.
Men can also go with,
• Button-down casual shirt
• A plain t-shirt, cargo pants or Bermuda shorts
• Blue jeans are an all-time favorite and so are khaki pants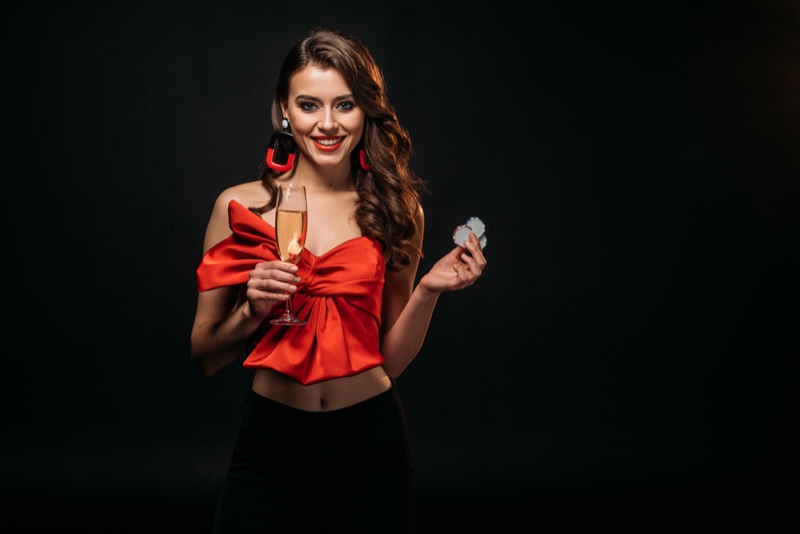 For Women
Here's a quick pick of some of the best casual wear that women can choose for their next big night out in the play zone.
• A sundress is a great fit or a long skirt
• Blue jeans, khakis or shorts if it is summer
• Go with a turtleneck or a plain t-shirt but avoid having slogans on them that might make the wrong impact
• A button-down blouse if you are comfortable with it
What Kind of Business Casuals Should You Choose?
Dressing up for a party night is fun but if you are expected to be in business casuals, the requirements may sound slightly complicated for both men and women.
When visiting a casino or any other party that has specified a semi-formal dress code, men can consider choosing a dark business suit that is complemented with a matching vest and a formal tie. You should consider accompanying it with leather shoes to achieve that informal yet business-like looks along with a pair of dark dress socks.
Women looking for business casuals which are usually reserved for casino visits and events that take place in the venue before noon can consider a cocktail dress. This type of dress falls somewhere in between perfectly casual and too formal. Other options that a lady could go for are long skirts combined with an appropriately colored top or separates. The black dresses of all types are also considered semi-formal if you would like to save time and give your fashion-conscious brain a break for the day.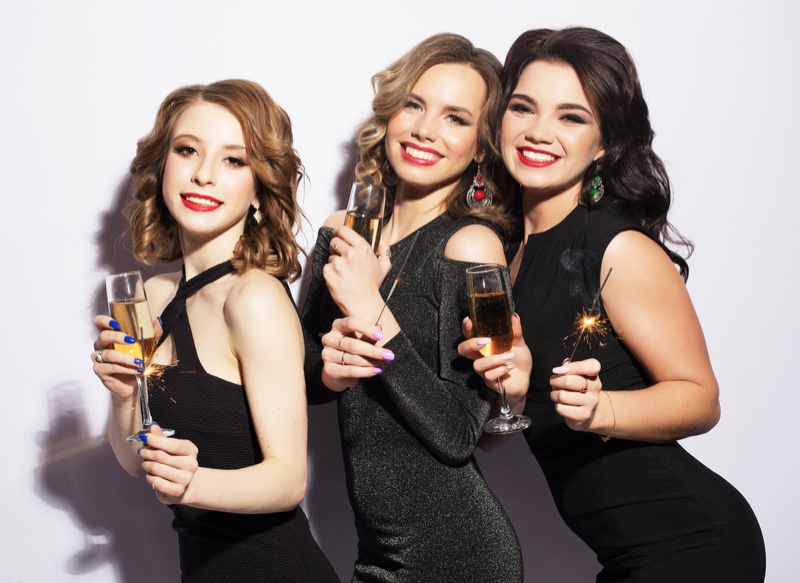 Cocktail Inspired Looks for Women
Here comes the best part of visiting a casino! After all, when you see Las Vegas in the movies or those exotic entry scenes of stars, there is always glitz and glamour with a touch of sparkling stars all over. Cocktail inspired clothes are a perfect fit for women who would love to unwind throughout the night, play poker and maybe flirt with that handsome-looking gentleman.
An off-shoulder dress is the most exotic pick for most women. Choose to pair it with a necklace, use a sling bag and opt for high heels but make sure they are comfortable to move around. You are set for the night!
The term cocktail dresses refer to the kind of clothes that allows you to be slightly revealing and glamorous but not cross the borders. If you wear a black-tie gown, it can be considered formal but at the same time going for a long gown that touches the floor in green or red colors will immediately bring in that informal look. According to Marina Turea at GamblersDailyDigest, women should also shy away from too short dresses as they can be more casual. She writes: "There is little difference in these requirements from the Black Tie dress code. The only difference is that cocktail dresses are more widely accepted provided that the hemline is not too short."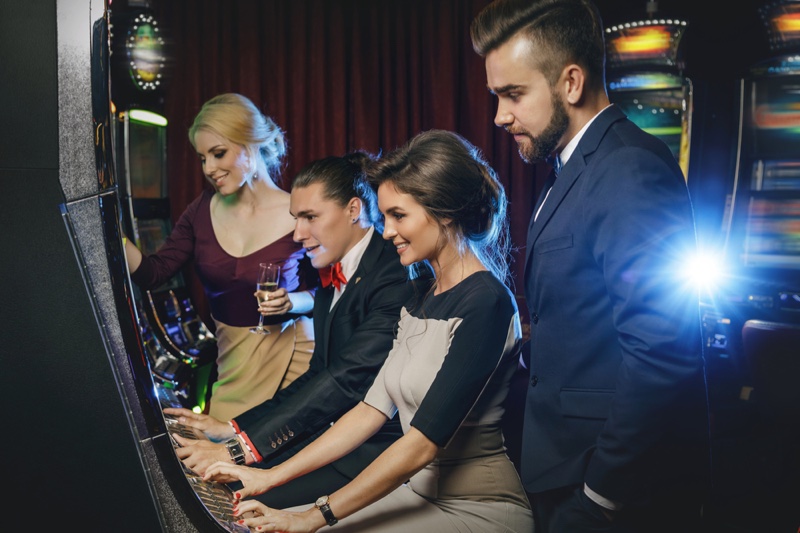 Cocktail Looks for Men
For men, life is much easier at the casino because if it is a casual or a semi-formal occasion, one may always grab a pair of jeans and pair it with an appropriate shirt. The key to looking good in parties and events conducted in a casino is achieved when you can balance the comfort with classy looks.
Types of Accessories and Footwear to Use
Once you have decided to go all-out in your next visit, cocktail dresses that sparkle the most combined with some of these handpicked accessories will do it for you. The majority of these are for women as men don't fit in much in terms of accessories.
Go with sparkly jewelry, bracelets, and rings that might turn the attention of the crowd if you are comfortable with it. An evening clutch with glittery studs on top of it, metallic elements and sparkling earrings all go well with the cocktail dress of your choice. These won't suit casual t-shirts or khaki pants. So it would be wise to skip them if you are not going to pair it up with the right clothing.
Men can showcase their mood for the night by going for a shimmer fabric on their coat similar to how the Leto Joker wears in Suicide Squad. If you want to be in a jazzy mood, go for a green jacket with a purple buttoned-down shirt and sparkling boots. Always opt for dark shoes as they make a mark and accentuate the overall style of the clothes you are wearing.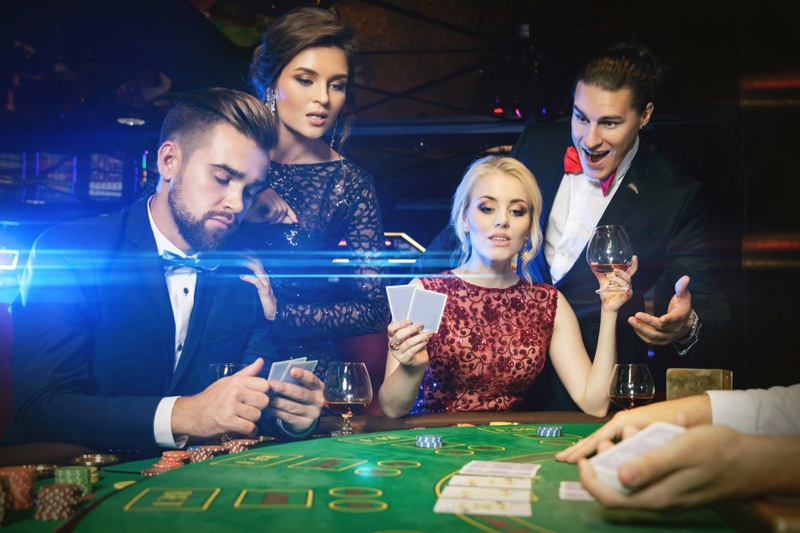 3 Most Important Clothing Advice for Frequent Visitors
The purpose of visiting a casino can be anything from visiting a friend, attending an event, relaxing or to play the roulette table. And when playing blackjack says Adam Mace of GamblingNewsMagazine.com, you may want to tip your dealer. He writes, "Most dealers will be working on minimum wage and living off of the tips – it doesn't have to be much – you just have to show your appreciation." People who really love to visit the casinos to gamble and win big should follow these dress codes and etiquette in order to make things more comfortable.
1. Both men and women should always keep a pair of blue jeans, khaki pants ready as they go with any kind of shirt, collared t-shirt allowing them to drop at any time with a casual look. They are also comfortable to wear for long hours
2. Avoid wearing sandals and keep loafers ready to ensure you are not denied entry based on dress code
3. When women choose cocktail dresses that are a bit more revealing, it is safe to have a pullover design or an additional layer that you can add. It helps handle the temperature and change into a new outfit if the party extends to a different venue
A night out in the casino is a great time to showcase your wardrobe, meet new people and make an impression with your fashion sense. Make the most out of it and have fun while you are at it!