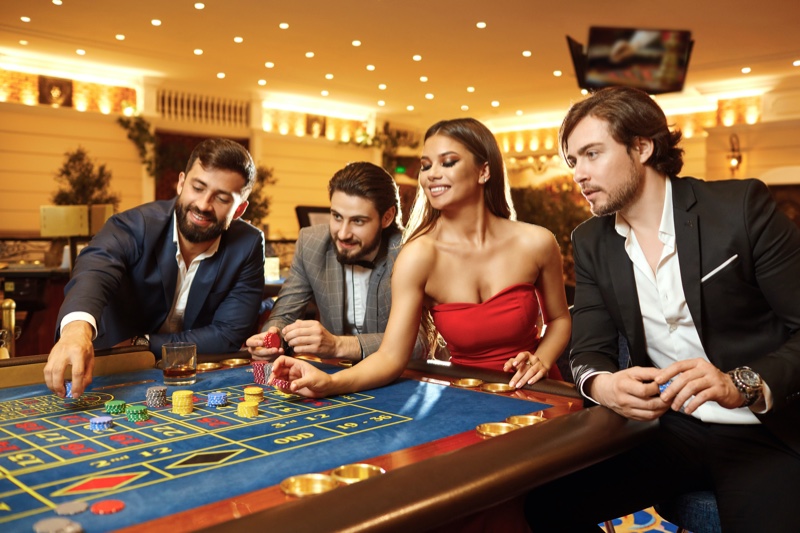 If you're game for online gambling, we have some exciting ideas for your next party. Have you heard about a casino celebration?
Talk about experiencing Vegas at home!
Whether you're planning a birthday party, a bachelorette, a wedding anniversary, or even a Christmas party, you can always recreate the casino atmosphere. There's a lot you can do for a casino party, right from decorations, to activities, the unique dress code, and the food and drinks.
Let's jump right in and explore some ideas for the ultimate casino-themed party.

How to Make an Awesome Casino-Themed Party
Creating the perfect casino atmosphere might sound daunting at first. However, you needn't worry—we've broken down the most critical aspects for you.
Nail the Decorations
What are the first colors that come to your mind when you think of a casino? The classic red, black, and white color scheme is definitely a safe option. In fact, throw in a little green too.
You can look for table covers, confetti, and balloons in these colors. Neon signs, glow sticks, and LED lights are also great for decoration.
At the entrance, lay down a red carpet and surround it with velvet ropes on either side for a lavish welcome.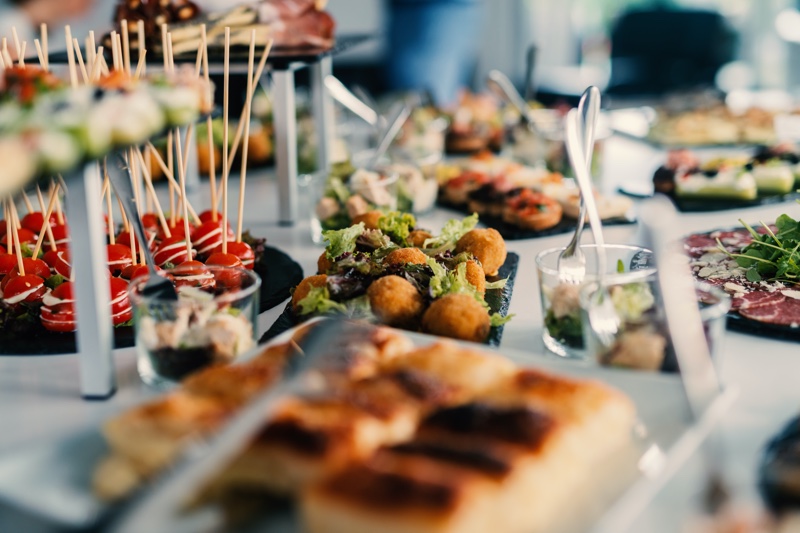 Food for the Mood
The main dishes are not going to be very important at a themed casino party. Think of a couple of main dishes and then move on to planning the crucial part.
Yes, we're talking about finger food.
Present some unique but sophisticated bite-sized delights to your guests while they're busy trying their luck at games. Ideally, they should be items that can be eaten quickly without any mess because nobody wants greasy fingers while playing poker.
Here are a few finger food ideas that adhere to the color theme as well:
Cream Cheese With Red Pepper Strips
Strawberries and Blueberries
Black Olive and Tomato Tarts
Chilli With Black Beans
Red and Black Candy
Red Velvet Cake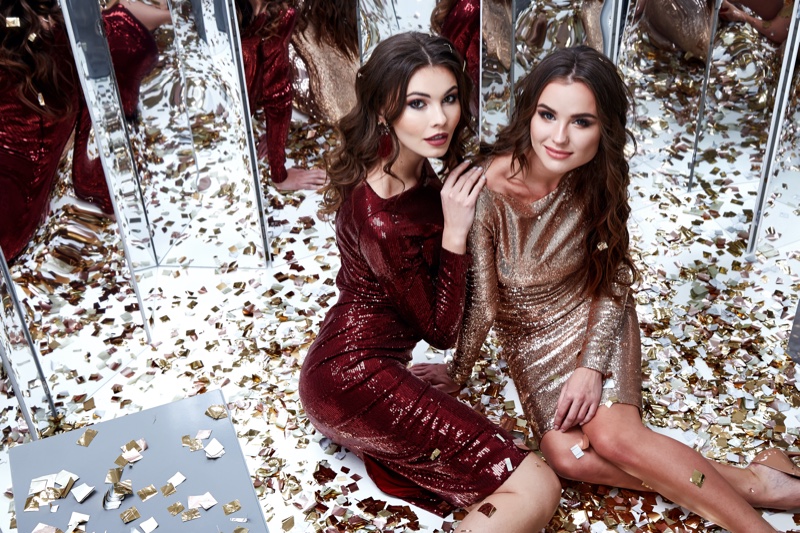 Dress the Part
A common casino dress code is just the thing you need to tie the whole party together. At a casino party, you can consider two dress codes.
The first option is keeping it casual, fostering an underground vibe. We're talking about jeans, leather jackets, and costume jewelry. It is a good idea if you want to keep a chill atmosphere.
If you want a touch of glamour and elegance, formal attire is the way to go. Tuxes and floor-length gowns are perfect to set the casino mood.
Cocktail O'Clock
Themed drinks spark fun and luxury. Craft drinks and name them to suit your casino event. How does a Queen of Heart Bloody Mary Sound? Or would you be more interested in a Poker Face Mojito? Let's not miss the Jell-O shots.
Classics like a margarita or an old-fashioned are bound to be crowd-pleasers. However, don't forget to include some non-alcoholic drinks for your sober guests.
Casino-Themed Party Activities
Now that the atmosphere is set—let's move on to the activities.
Here are some exciting things you can arrange for your guests to ensure the complete Atlantic City experience!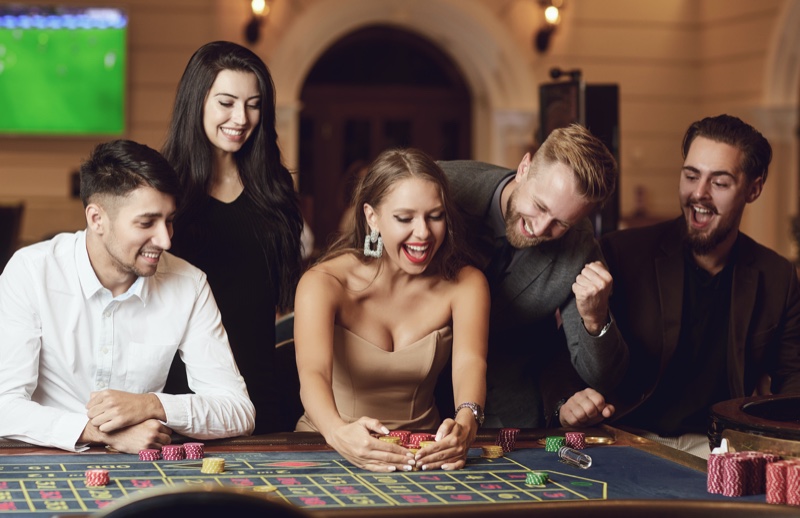 Play Roulette
What's a casino-themed party without roulette? Ensure that you've arranged enough tables for people to gather around and get playing.
You are going to need a long table with a roulette wheel at one end. There's also a ball and a dropbox. Lastly, you need a dealer to get things going.
If you want to skip all that hassle, you can, of course, check out online options.
Remember to keep some incredible prizes for your guests. Think of something along the lines of gift cards or spa coupons.
Have a Photo Booth
There's probably no better time to click pictures than when everyone's in the same dress code, and there are themed decorations all around.
Set up a photo booth to capture these glamorous moments and cherish them for life.
You can either hire someone or take charge yourself to create casino-themed props. The possibilities are endless!
Host a Poker Card Tournament
If you're hosting a casino party, you can't miss out on the card tournament.
You need the following things to host a successful tournament.
Plastic laminated cards
A flat and spacious playing surface
Poker chips
A timer
Here's how you can get going with the tournament.
Start the blind at about 10 or 20 and raise them every 15 minutes.
Set a reasonable buy-in.
Decide the payout structure beforehand to avoid any unpleasant moments.
Play Some Light-Hearted Games
While craps and roulettes are fun, some people might want to play something a little more lowkey but entertaining.
A few rounds of bingo are perfect for relaxing the mood. Moreover, bingo allows you to add a touch of personalization.
Dominoes are also a good idea. They are a fun activity to slip in between games so that people can cool off for a while.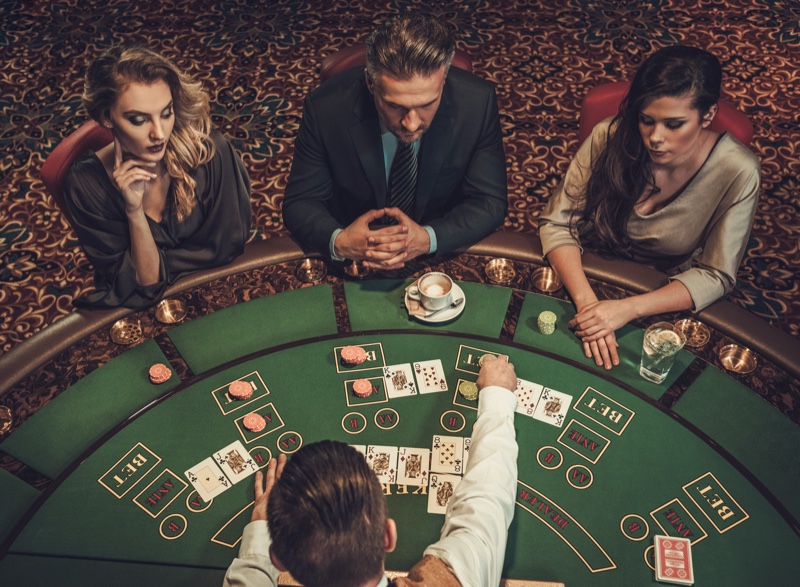 Explore Online Casinos
If you want to skip all the gaming preparations and take a more straightforward route, check out free online pokies and slot games.
There are several online casinos that you can sign up for and play free games. You can even try your luck with jackpots and longer tournaments.
While you can get a few online deals for free, you might have to pay up for others. However, you don't need to worry about it since the minimum deposit can be pretty low.
In some cases, the casinos allow you to play after depositing as little as a dollar.
Closing Notes
With proper planning and coordination, you can pull off a themed casino party successfully.
If you want your party to make people feel like being in Atlantic City or Vegas, don't just focus on the gambling part. Setting the theme is equally important.
Right from your invitations to the party favors, maintain the casino theme.
You could go the extra mile and set some showpieces around the floor, such as giant dice or wheels. In fact, you could make it more interesting by challenging people to build a tower of cards!