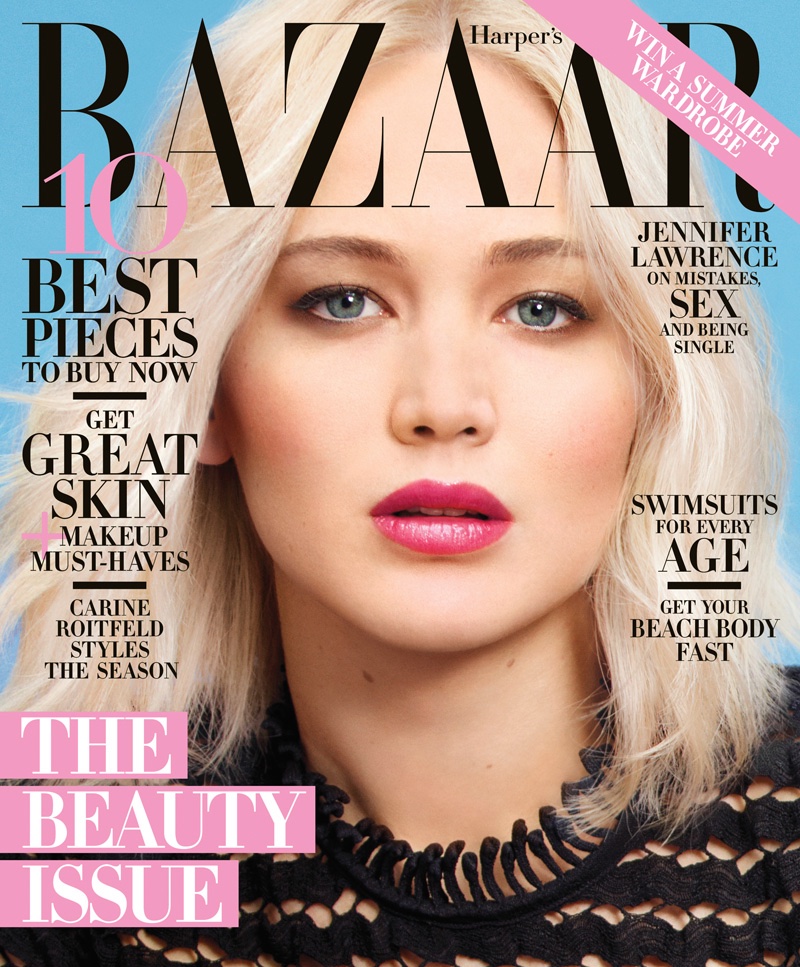 Oscar-winning actress Jennifer Lawrence takes the spotlight once again on the May 2016 cover of Harper's Bazaar. Photographed by Mario Sorrenti, the blonde wears a bold pink lip color as well as Dior Haute Couture top in black. Inside the magazine, Jennifer wears even more styles from Dior Haute Couture including a ruffle adorned dress and top where she flaunts some cleavage.
Related: See Jennifer Lawrence's Hairstyle Transformation
In her interview, Jennifer opens up about feminism, her taking Hollywood to task for the gender pay gap and more. About being called 'curvy' in Hollywood, she says, "I would like us to make a new normal-body type. Everybody says, 'We love that there is somebody with a normal body!' And I'm like, 'I don't feel like I have a normal body.' I do Pilates every day. I eat, but I work out a lot more than a normal person."
Jennifer Lawrence – Harper's Bazaar US May 2016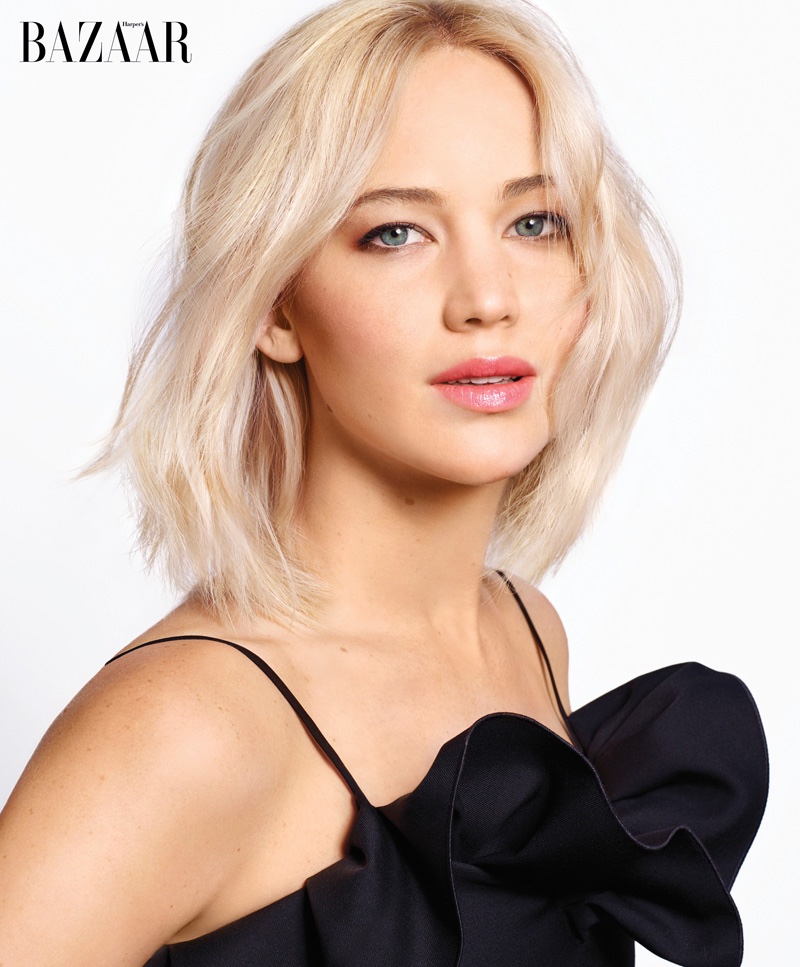 Jennifer continues, "I think we've gotten so used to underweight that when you are a normal weight it's like, 'Oh, my God, she's curvy.' Which is crazy. The bare minimum, just for me, would be to up the ante. At least so I don't feel like the fattest one."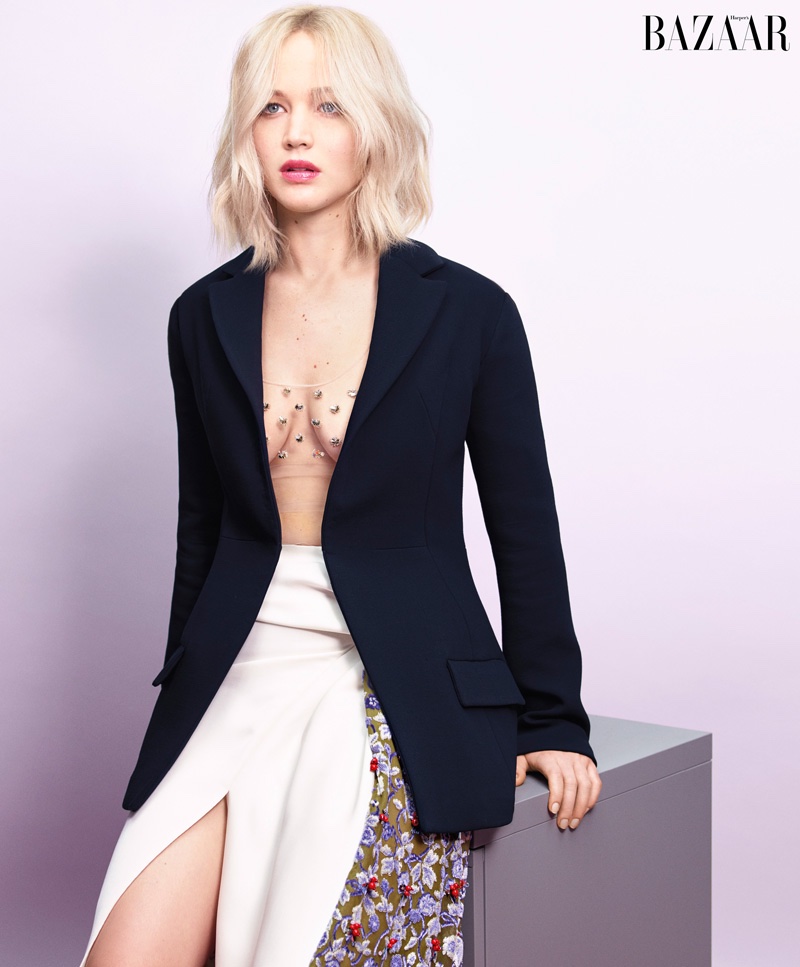 Photos: Harper's Bazaar US/Mario Sorrenti
Jennifer Lawrence – Dior Makeup Ads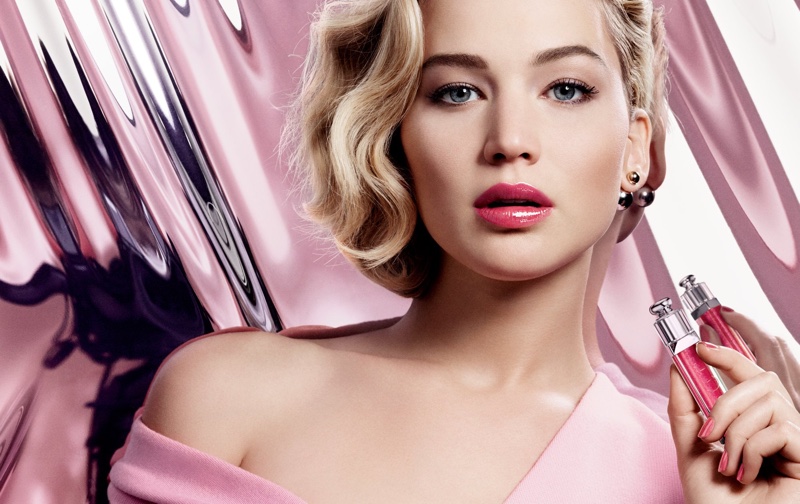 Earlier this year, Dior unveiled its new Dior Addict Ultra Gloss campaign starring Jennifer Lawrence. A brand ambassador for Dior since 2013, Jennifer turned up the glam in a pink sheath dress for the advertisements. With a bold pink lip color, the actress also sported her hair in polished waves for the photo session.