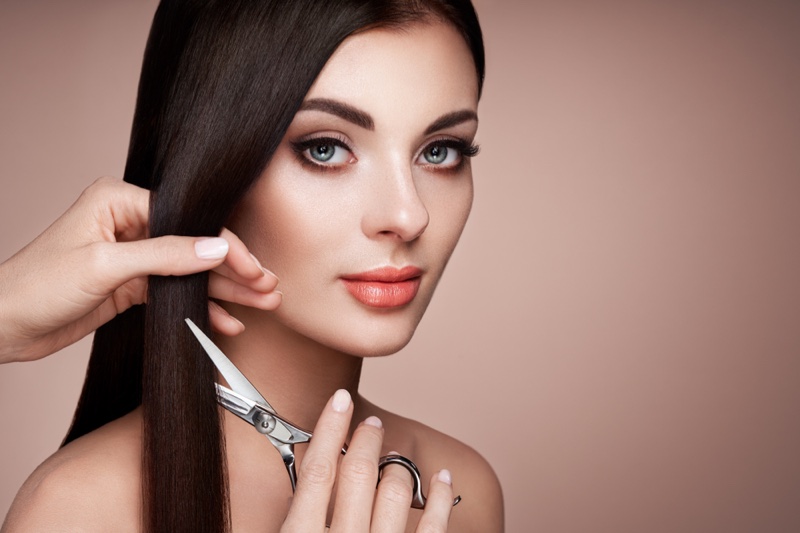 The salon is an interesting convergence of tools, techniques, and fashion. Want to have a makeover? Head to a salon! Have you ever noticed that the most versatile tool among all is the scissors? Be it for trimming your hair or shaping your brows, they come handy everywhere.
What catches everyone's fancy is their sharpness and shine. The scissors that we usually have in our house get rusty after some time.
So what do these salons do so special? It is their dedication to the tools that set them apart.
Salons rely on reputed brands of scissors. It is because they have precision-made blades, perfect alignment, and rust-proof surfaces. Brands like Scissor Tech are known to manufacture both left-handed and right-handed scissors. This makes it comfortable for both types of hair-dressers. After all, these scissors are a hairdresser's magic wand! And this profession is recession-proof. People will get a hair-cut no matter what! This ever-bubbling business needs the best investment on your part.
Scissors are not merely tools for trimming hair. If you thoroughly notice the hair designing process, you will notice that a hairdresser uses at least 5-6 types of scissors. Each one is meant for a particular use. This exclusiveness of the tools developed over time. You cannot use clippers for styling bangs! This exclusiveness ensures maximum efficiency in the whole hair cutting process.
Technology has entered the salon too. The hair steamer, hairdryers, and electric razors are now an integral part. However, there isn't anything like hand-held manual scissors. They still rule the salons. That is because it gives immense control to the hairdresser. You can develop precision only with practice.
The hairdressing business is a serious affair. Clients pay handsomely for unique looks. Electric razors kind of gives a common look. The perfectly cut borders make it look robotic. However, hair cut with scissors has grace. Even today, the first requirement to be an experienced hair-dresser is to be comfortable with the scissors. You should know which one to use for which style. Just like you do not use stationary scissors for cutting veggies, you should not use trimming scissors for making army cut.
Here we will decode the mystery behind the perfect salon scissors. Let us begin by throwing some light on the issues that they face. If you're looking for professional scissors, you can visit www.JapanScissors.com.au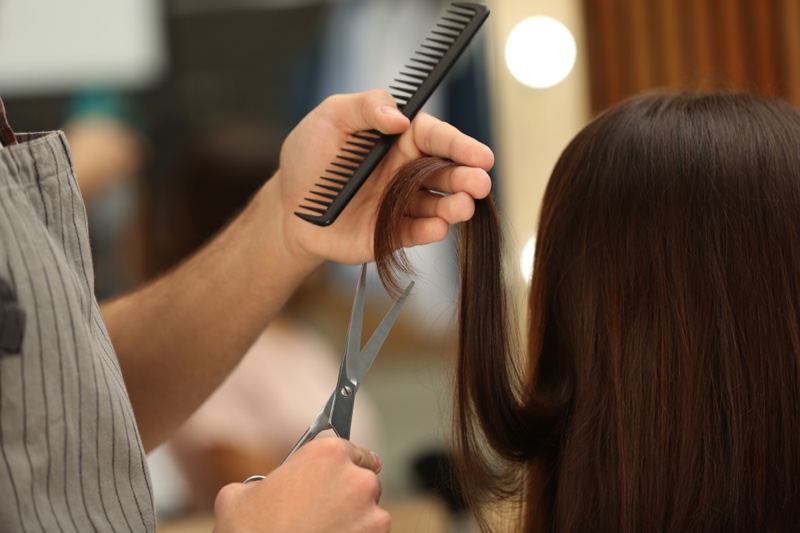 What are the common issues with salon scissors?
Most of the salon scissors are made from stainless steel. They too face extreme heat, moisture, and rough use. Some of the most common issues are:
1. Extreme conditions: When you get a haircut, the dresser moistens your hair. The scissors follow next. This moisture stays on the scissor's surface for long and continuous periods. This is the perfect breeding ground for rust. You may wonder how the rust can take place as dressers usually wipe the blade.
However, merely wiping is not enough. Water particles stay in the joints. Also, many hairdressers heat up the blades and then cut the hair for particular designs. This direct contact with heat makes the ends blunt. So, extreme conditions like prolonged exposure to moisture and heat are a big issue which deteriorates its sharpness.
2. Rough handling: Every hairdresser has a different style of handling the scissors. Some handle it with care but some handle it roughly. Many times, in rush hours, the hair-dresser is forced to use them in a hurry. When the blades move fast, it puts pressure on them. This leads to a loss of sharpness slowly.
Also, hairdressers tend to place the blades open. This exposes the surface to heat and moisture. If the blades are open and hair treatment is going there, the chemical will land on the blade. It may react and make the scissors blunt.
3. Different types of hair texture: No two people on earth have the same hair texture. Some have extremely soft hair while some have rough. When scissors are used on soft hair, it does not put much pressure on the blades. But when it is used on rough and frizzy hair, blades do extra work.
You must have seen in popular videos that hairdressers opt for hair spa before giving a cut. It is because softer hair is easy on scissors. However, giving a hair spa is costly. Salons skip this step to make their rates cost-effective. They only wet the hair. This does not prove to be in the scissors' favor. However, established salons do not compromise with their tools. They make a hair wash an integral part of the hair cut.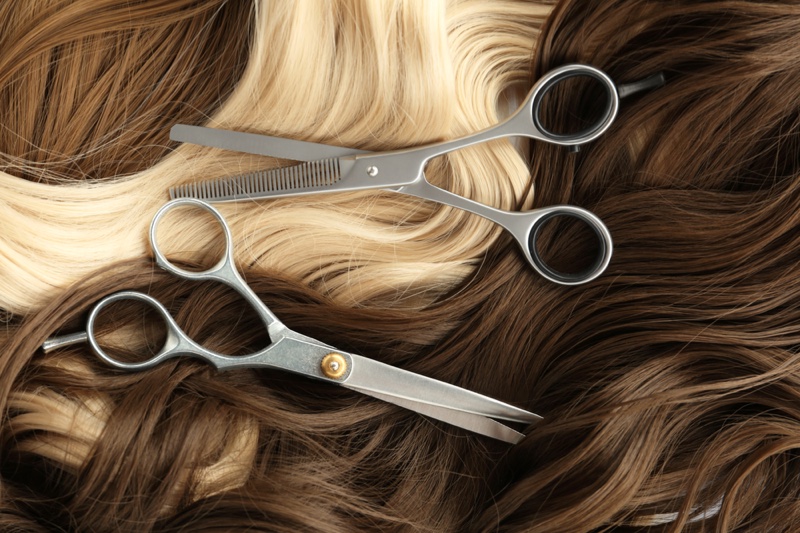 How to care and maintain the salon scissors?
We have discussed the primary causes of the deteriorating scissors in the salons. The tricky part is that these factors are part and parcel of the hair-dressing business. How can a salon shy away from a client just because they have rough hair? Salons need their primary tool to be sharp and efficient every single day. This requires the utmost care and maintenance. If you are wondering how to do that, we are here to help you out.
Here are the best tips for care and maintenance of the salon scissors:
1. Clean scissors frequently: Every time you trim someone's hair, do not forget to clean the scissors thoroughly. Wipe the blades after every use. After the work hours, use a soft brush to bring out any hair stuck in the corners. Thin scissors and those with combed blades lodge more fine hair. Brushing softly will bring them out. Do not use a rough brush. It will put marks and may blunt the blade.
After you brush out the fine hair, soak the scissors in warm soapy water. Thoroughly clean it. Pay attention to the pivot joints and inner sides. Use soft cotton to wipe them clean. Finish your daily maintenance routine with doing it properly.
Leaving the oil overnight keeps it working perfectly. Always use the scissor's oil only. Any other oil tends to form a film over the surface. It gets sticky in the morning. Scissors oil makes the tool smooth without getting messy. You get a clean and easy going scissors the next morning.
Having sharp scissors are important for the perfect hair cut. If you fail to provide this to your customers, your business will deteriorate. Blunt scissors tear through the hair fibers. This may not be visible in the beginning. However, as soon as the hair will grow, it will have split ends. It will not take long for your clients to figure out that this problem is because of your scissors. Also, the salon business is all about the care and maintenance of the human body. If you cannot take care of your tools, how can you claim to have a good salon?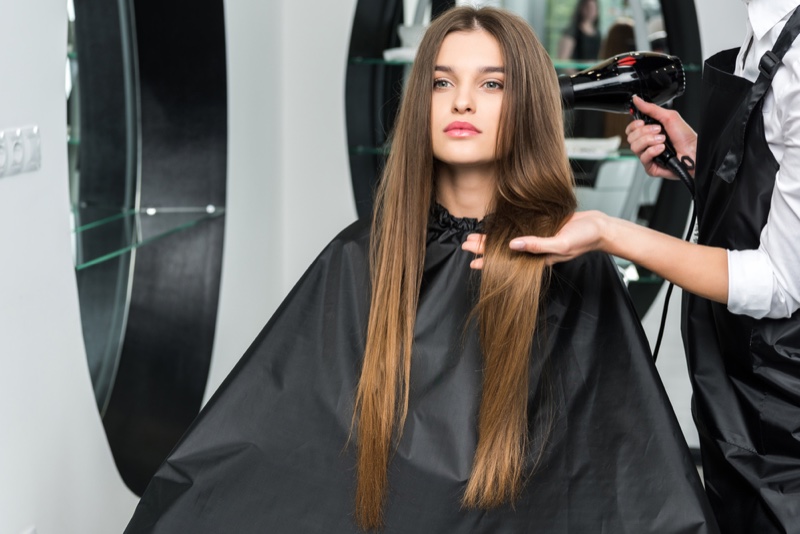 2. The storage: What most salon owners miss is that scissors need to be perfectly aligned. Many simply end up storing it on dressing counters horizontally or vertically in stands. You need to keep this in mind; scissors are tools that should be stored with proper alignment. Even a slight misalignment can result in improper cuts.
Always store your scissors in the designated pouches or boxes. Moat professional scissors come with that box. Make a pouch out of cotton or soft cloth if you do not have such a box.
If you ever happen to drop them accidentally, always check their alignment. The perfect way to check it is by holding the scissors vertically by the thumb loop. Now run the scissors multiple times and let go of the finger loop. If it falls halfway between the other blades, then the alignment is perfect.
If you notice even minute deviation, go to an experienced scissors maker. Do not take any risk by trying to mend it on your own. Professional scissors are expensive. Moreover, if you are not a pro at aligning the blades, you may end up losing whatever you have. So it is best to consult a specialist.
3. Sharpening the blades: Usually, the haircutting scissors need to be sharpened every 3-6 months depending upon the frequency of use. You should use the trying service of an experienced sharpener. He/she should have a proven record of dealing with salon scissors and should have proper tools. In the absence of expertise or tools, your scissors will become useless.
There are several DIY suggestions and videos on the internet that claim to be 100% effective for sharpening the salon scissors. Do not fall into that trap. Saving a few bucks might cost you your most important tool.
4. Proper use: A salon is an interesting place. Someone needs a haircut while someone needs their brows to be shaped. Not to forget constant use of cutting paper sheets for various uses. Do not use the same scissors for all of these. Keep separate ones for each. The thickness of hair fiber is greater than that of the eyebrows. If you need thin scissors for small bangs, get a different one. When you cut different surfaces with the same scissors, it tends to deteriorate the blade.
Now let us move to the 'pressure cutting.' It is the term used to denote the cutting of thick hair segments. You need to put pressure on the thumb loop to cut through the surface. This causes blades to go blunt. Always cut with thin segments. It will ensure the longevity of the blades.
5. Sharing: If you run a salon with multiple hairdressers, give a separate tool-set to each one of them. Do not let them share their tools. Everyone has a different way of using the tools.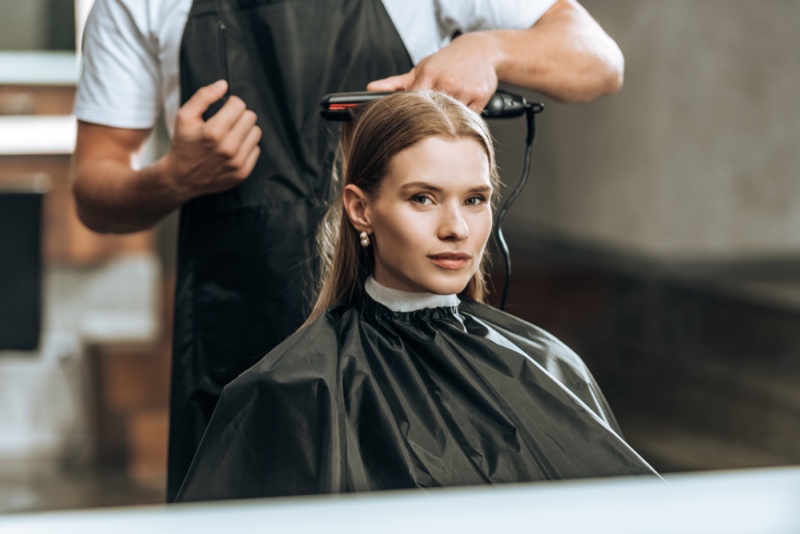 Some use it with soft hands. Some use it with tough hands. They align their scissors accordingly. If someone with soft hands handles tools of the tough-handed one, they may find the scissors too loose. On the other hand, if a tough handed one uses scissors of a soft- handed hairdresser, they may end up loosening up the pivot joints. In either case, the efficiency of the tool is lost. So, it is best to never share the tools.
6. Constant checking: Your tools make up your salon. Be on a constant look-out for wear and tear. If you notice even a slight misalignment or damage, then get it repaired. Do not use damaged scissors on clients.
An unsatisfied customer can cost you your business. Most salon tools are made up of stainless steel or corrosion-resistant metal. So, you can be sure of not getting them rusted. However, you use a variety of chemicals in the salon. Hair colors, perms, dyes, waxes, etc., contain various chemicals. These can corrode steel as well.
Since your salon is the lab for all these chemicals, you need to constantly lookout for any damage. Make it a habit to give your tools a thorough check every week.
Quick tips and tricks:
Clean rust with a cotton ball soaked in white vinegar.

Remove glue from blades with a cotton ball soaked in acetone nail polish remover.

Use a cotton ball soaked in alcohol to remove finger smudges.

Store scissors with blades closed. It prevents rusting.

Use cotton gloves while using scissors. It will prevent your fingers from slipping due to sweat.

Always apply oil while holding the blades at 45°.
Conclusion:
The constant clipping sound of the scissors reminds us that they are the ultimate tools for a salon. Keeping them in good condition is important to keep your job perfect. A well-maintained pair of scissors last a lifetime. All you need to do is keep them in good shape.
For that, you should follow the discussed rituals. Make it your habit. Ask your co-workers to do the same. If you have invested in these tools, you need to invest their maintenance too. Once you develop this habit, your tools will stay like new. This may seem trivial but the latest US statistics reveal that this sector is expected to grow by 13% between 2016 & 2026.
If you plan on opening a salon, be sure to invest in good tools. Not only that, a proper maintenance regime will help you in saving big on buying new scissors.