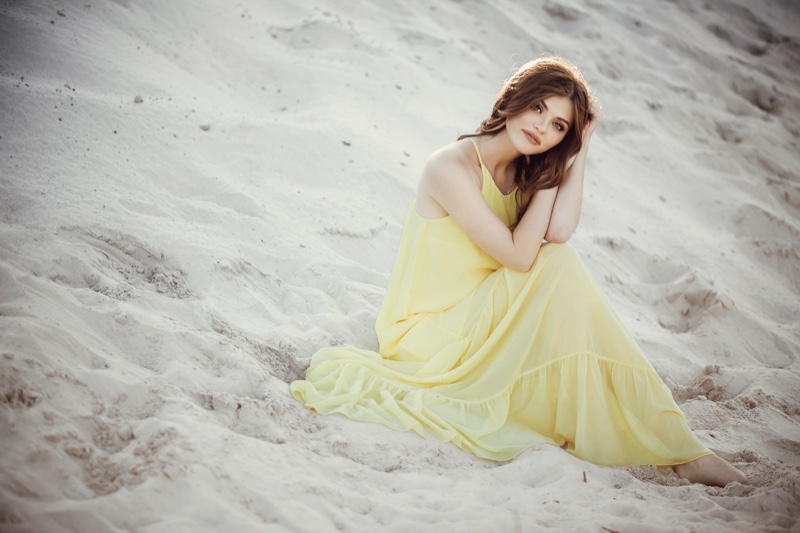 Fashion is one of the most rapidly changing aspects of the world, as new trends emerge every day. If you're wondering if there are different types of fashion, we can distinguish between slow fashion, ethical fashion, and sustainable fashion, as well as various brands that support these fashion choices. Our primary concern in this article is ethical fashion as one of the most influential fashion trends, and there are a couple of distinguishing features about it. Because of its principles, ethical style is one of the most significant pillars at the moment, and hence there is immense importance in producing and implementing ethical fashion pieces; and here is why.
What is Ethical Fashion?
Fashion is volatile, and there is a constant fluctuation of trends within this industry; this is a never-ending process that takes different courses. The majority of people do not bother with some high-end pieces because they consider it a waste of money. Many people form their wardrobes with a couple of affordable pieces of clothing used in different ways.
Additionally, we build houses that have room-sized wardrobes full of "disposable" clothing like never before. Unfortunately, fast fashion has become not only a social but also an environmental issue, and ethical fashion is the most effective solution to this problem.
Different social groups have different definitions of ethical fashion, but in its very essence, it highly depends on our personal ethics, values, and varying models. According to its meaning, the term ethical fashion refers to the type of fashion that aims to reduce the negative impact on people. Since fashion demands design, materials, and labor, in contrast to this, ethical fashion tends to form a kind approach to the planet, people, and animals at every step of production, starting from the seed to the final output.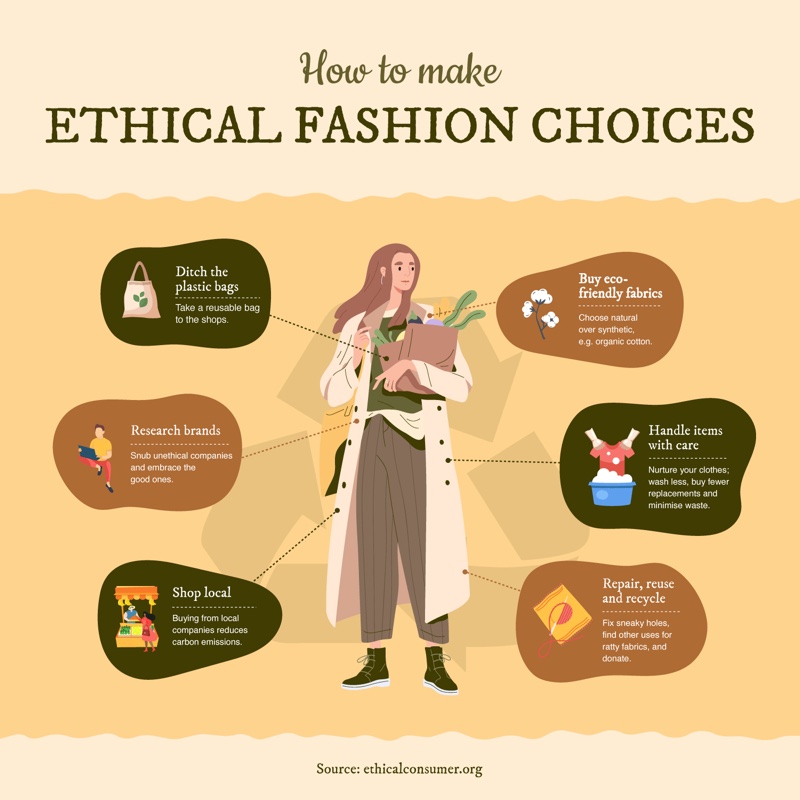 How to Make Ethical Fashion Choices?
This infographic by Compare The Market business insurance helps us establish the pillars of ethical fashion choices.
A shorter audience's attention span eventually led to the development of some marketing tools that share ethical ideas with the target audiences more effectively. Hence, this is one of the essential parts of ethical fashion, and this is usually conducted through six major elements used in everyday life. It might sound unusual, but ditching some things such as plastic bags is one of the small steps you can take. Instead, you can take reusable bags or fabric bags that are much more responsible choices for the environment. The second thing you can add to the list is educating yourself on the brands that do not practice ethical fashion choices and stick to those that have it as a part of their mission statement.
The third thing you should consider when implementing ethical fashion choices is the eco-friendly fabrics and going for some organic options that are grown in conditions reasonable for workers. With this in mind, it would be great to handle your items with great care and increase their life span and find local manufacturers and shop locally. In the end, it is essential to be aware that recycling and reusing is something that will help you get the best out of your items.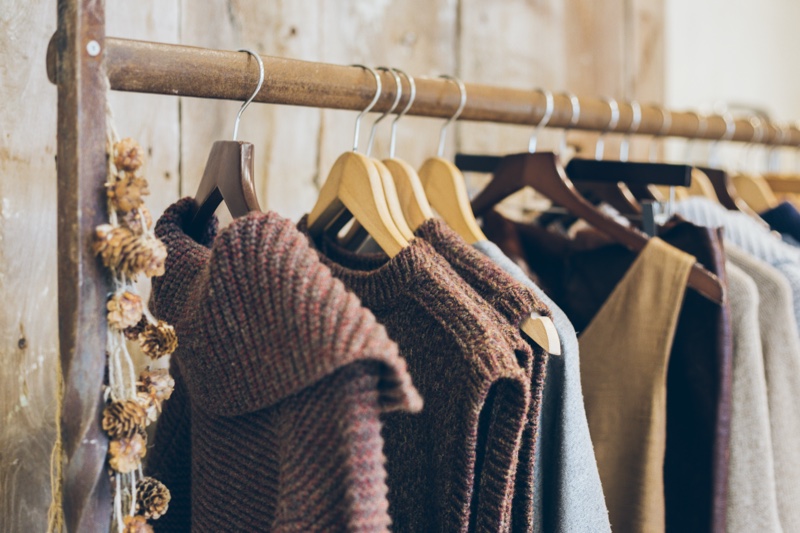 Why Is It Important to Implement Fashion Pieces Into Our Wardrobes and How to Promote the Production?
When producing ethical pieces of clothing, three very important factors in the very production are materials, dyes, and labor. To explain the question that arose, we will provide arguments on why ethical fashion is not only a choice but a necessity. Let us start with the production of the fabric. Whenever we take a piece of clothing, we can say that it is made of materials such as cotton, linen, polyester, denim, and some other fabrics that have different effects on us and our environment.
But where do these materials come from? To explain this thoroughly, let's talk about cotton harvesting and point out that there is fair and controversial cotton production. Some cotton farms employ people who are paid a couple of dollars for twelve-hour working days, and most of them are dealing with accusations of child labor. To support the fact, over 25,000 cotton farmers have taken their lives in the last fifteen years, which unlocks the depth of the issue.
The second premise is dying, and the problem with fast fashion is that most brands use chemicals and pollutants to achieve perfect shades of specific colors. Some companies do not manage to dispose of the waste properly they generate along the way, causing significant harm to the environment and people who are exposed to these toxic substances. On the other hand, ethical fashion manages to implement natural colors, recycled dyes, and closed-loop systems that are both beneficial to the environment and are not dangerous to stuff dealing with this. So ethical fashion is focused on the safety of consumers, workers, and the environment in the final line.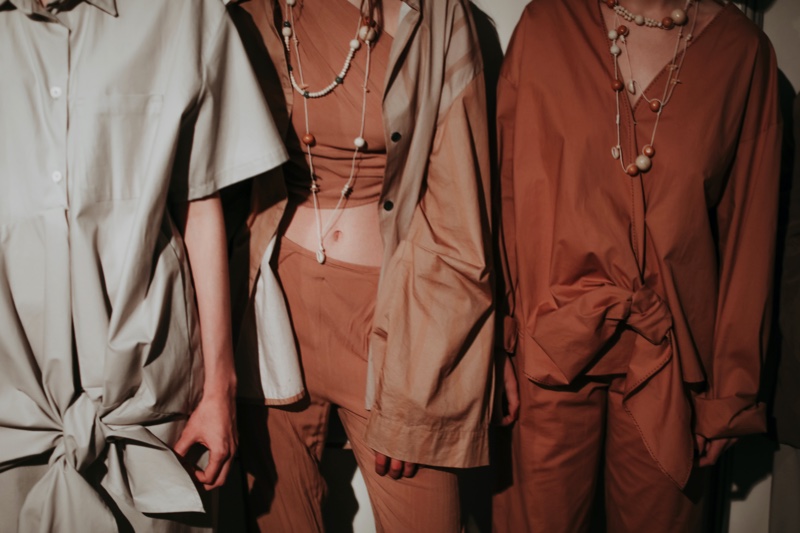 The third premise of the list refers to labor. The fact is that 1 out of 6 people working in the fashion industry earns less than $3 a day. The situation is critical when it comes to secondary staff such as producers, growers, makers, and packers, who are usually underpaid and work in inhumane conditions. Most of them do not even get a single meal during working hours or a chance to have a gulp of clean water, so the issue does not refer to a working system but more to worker exploitation.
Ethical fashion adheres to the ideals that all employees in the fashion business are regarded equally. It seeks to reduce the impact of evil in the industry by including all individuals, not only underpaid workers and overworked models. By buying any of these products, you will show support for the ethical principles of the industry.
Ethical fashion is one of the most groundbreaking fashion facets that aims to present some of the growing problems in the fashion industry. This is used to raise awareness and spread healthier fashion options than the current ones.