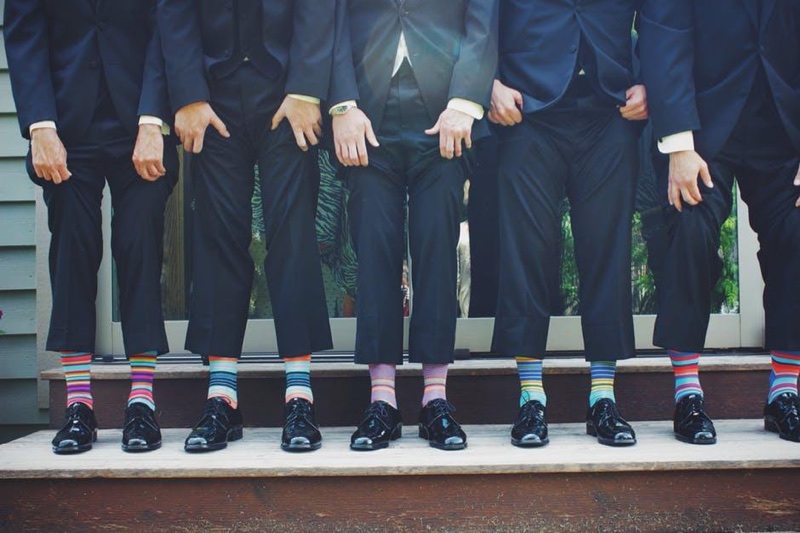 For a long time, the brides and the bridesmaids rule the fashion side of weddings. The bride's gown is more of a big deal than that of the groom's. In fact, the groom often chooses his attire to complement the bride's. Even the classic tradition of "something old, something borrowed, something new, something blue, a sixpence in your shoe" is more geared towards the bride who carries four objects as good luck charms.
Times are changing, however, as more and more trends come up to cater for the grooms and groomsmen. Whether it is about fashion or gift-giving, these trends add more flavor to the wedding.
Go for Casual
Weddings always seem to be too formal. It gives little room for a laidback theme, unless the venue is on a beach or a garden. But for men who want to forego the tuxedos and don a more comfortable outfit without the coat and the tie, then a casual look can do the trick. Many grooms opt for light colored slacks and button downs made of lighter material. This can be perfect on summer weddings. Others add accents to make it look more chic, such as vests and tweed jackets. Bow ties are also occurring more often.
When grooms go for the casual look, it is expected that groomsmen should follow. Some groomsmen wear khaki pants or blue jeans. They even skip the jacket and roll up their sleeves. Tie and suspenders can spice up informal outfits too.
Make the Shoes Fun
Traditional leather is the norm but it does not mean you should follow it. Some try two-tone patent shoes. Others even go as far as comfortable sneakers. Just remember that although outfits do not always have to match your shoes, they should go together too. Choose something rustic for footwear but avoid being outrageous.
Mismatch Won't Hurt
Another trend nowadays is the advent of mismatched outfits. Bridesmaids have been doing this for a while, but boys are catching up. Groomsmen can go together with the groom's laidback look by rolling up their sleeves and adding suspenders. They can wear different styles of suits in complimenting shades. This is very suitable in faraway weddings where the groom's entourage cannot find the time to buy or rent a suit together. It is wiser if they use what they own already. Some groomsmen even wear tops in different colors that still somehow go together.
Put Creativity in Gifts
The era of generic thank you gifts for groomsmen is over. Now a groom have so many options to choose from to let his entourage know how much he appreciates their presence and support. There are the customized caricatures that can bring great friends together or better yet, add more fun to liquor flasks and get them unique groomsmen caricature flasks. Others try to match the personality of the groomsmen to their gifts. Give bookworm Mike the newest edition of his favorite book series. Or a combat duffel bag for your adventurous buddy.
Traditional does not have to be boring. Mixing and matching outfits can make the special day more fun and unforgettable by not looking like everyone else's wedding. Grooms and groomsmen can be as relaxed or adventurous as they like, from outfits to gift-giving.