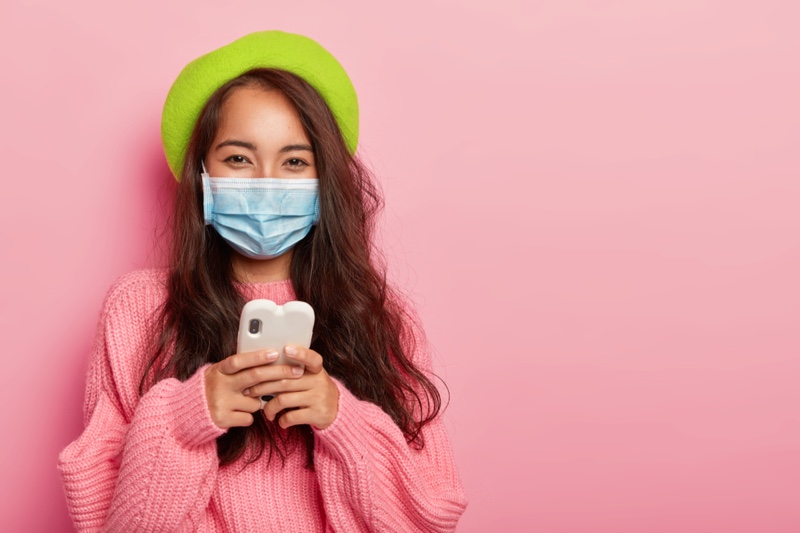 There is only so much online casino a person can take. You want to get back to business. Making some sales. Making some money. Even the dance that goes with sales.  Even if you don't actually make the sale. You miss it. I miss it. Everybody misses it. Everybody just wants life to get back to pre-coronavirus "normal".
Unfortunately, the per-coronavirus "normal" is 18 months away (after there is a vaccine). Until that point, there is going to have to be a middle ground. Somewhere in between businesses staying closed and businesses in full swing of their per-coronavirus days.
From a health and safety standpoint, that means face masks and face shields. Ugh. Who wants to walk around in a medical disposable face mask? Do I really have to wear one?
Yes, you do have to wear a face mask (especially if you work with customers and clients).  But no, it does not have to be one of those disposable medical face masks. There are other options – and fashionable ones at that.
But just to state the obvious ….
Unless the face mask says otherwise, you must assume that these face masks are consumer-grade, not medical grade. The difference between the consumer-grade and the medical-grade is that the consumer-grade version is one that is designed for interaction with people who are generally healthy, but there may be the occasional person who does not yet know they are infected or right after an illness. It is designed for wearing during your commute to and from work, while shopping in the grocery store, etc.
If you are in contact with somebody who you know is sick or you work in the medical field, then you are going to need a medical-grade face mask. But you can wear a medical-grade face mask directly on your face and then one of these fashionable face masks over it.  But obviously, double check with your healthcare provider.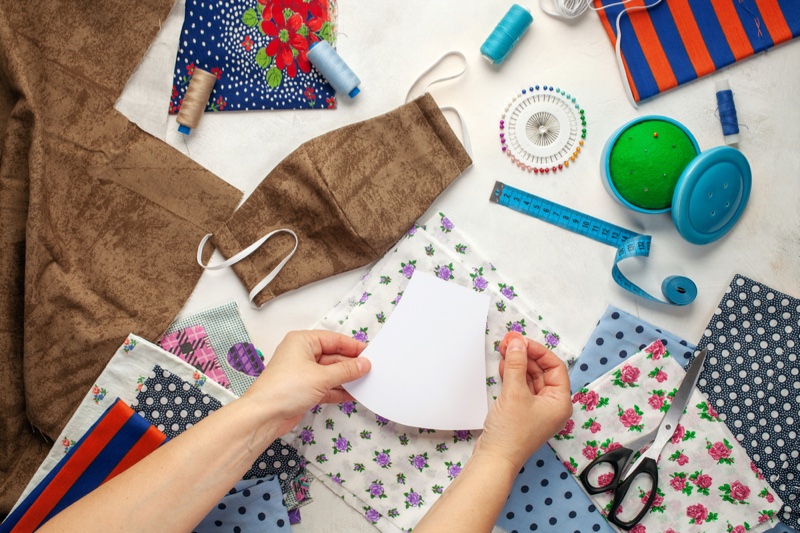 A reminder of the rules for wearing a face mask
A lot of communities are requiring that people wear a face mask whenever they go out in public (NYC requires it). Assume this is going to be true for the next 18 months until a vaccine is developed and approved by the US FDA.
If you are walking down the street, and nobody else is around, then you can just pull the face mask down. But you should pull it up if there are other people around: on a train, on a bus, waiting at a crosswalk, walking around in a store, and definitely when talking to somebody else, for example, a cashier or sales clerk in a store.
Temperature of your employees and customers
As for employees, if you are healthy (no fever for 24 hours, no diarrhea for 24 hours, don't feel sick, and you can breathe fine) – if you healthy and nobody is in the store, then you can pull the face mask down until a customer comes in.
Also, in some communities, they require that an employer takes each employee's temperature at the start of the business day. Anybody with a fever or looks sick is sent home. Inferred thermometers can cost $90. For a regular oral digital thermometer, you should expect to pay $12.00 – $15.00. A classic mercury-free thermometer that is not digital will cost around $8 – $9.
If you think that you are going to have to measure the temperature of customers coming in the door, you are going to need an inferred thermometer. If you have just a couple of people in your office, you can either buy a thermometer for each employee or use an inferred thermometer.
As long as you calibrate the inferred one, either one is fine. Calibrate means that you confirm that the temperature on the display is the actual temperature. Take a person's temperature with a traditional non-digital thermometer. Then take it with the inferred one. The two numbers should be the same.
If they are not, test it again with 2 other people. 2 out of three times the temperature should be the same or else the difference between the two should be the same. If the difference is consistent, then you just have to adjust the number on the inferred one to get the correct reading.
A non-digital oral thermometer will always be the most accurate.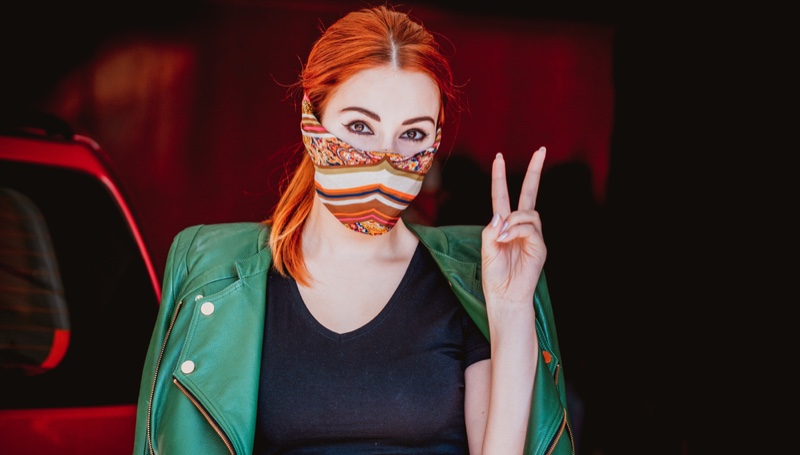 Reusable Face Mask Bandana
This style of face mask looks like a tube that you pull over your head. When you want to cover your face, you just pull it up.
You can get ones that are plain, and you can get ones that humorous or you can get ones that are fashionable. The choice is yours.
If you are in a field where fashion is important (sales, customer service, etc.), then this is probably the style you will want. It will provide you with protection while at the same time provide the professionalism that one expects salespeople and customer service people to have.
Most of these are made with the kind of material that you would expect in a T-Shirt or leggings.
Wearing this face mask up or wearing it down, it will still look very fashionable.
Reusable Face Mask Shield (no seam down the middle)
As with the Reusable Face Mask Bandanna, the material is going to be the type of material that you would expect in a T-Shirt or leggings.
This face is of the style of a disposable face mask, except that it is made with reusable material. There are two straps that go over the ears. In this style, there is no seam that does down the middle of the face mask. Some of these have adjustments for the part that goes over the ear, while others do not. I personally own one that does not have adjustments, and the fit was fine.
I own this style, and I can pull it down, but it does not look very fashionable when it is pulled down. In terms of comfort, it is fine. I can see wearing it all day and being fine with using it.  Just an FYI: The mask I brought seemed a bit big for my 7-year-old. It was a generic no-name brand version. So these are not always a one size fits all.
Reusable Face Mask Shield (seam down the middle)
These seem to have more of a heavier material and a more fitted design.
I have not personally tried one of these, so I don't know how they will feel pulled down. It does not look like it will be very comfortable when it is pulled down.
I am not sure if the protection is better.
Does a face mask even help?
From the health.com website:
A recent study led by Scott Segal, MD, chair of anesthesiology at Wake Forest Baptist Health in Winston-Salem, North Carolina.  He tested a wide range of cloth materials to see how effective they would be for facemasks.  This is what he found out:
One piece of cloth filtered only 1% of particles, while another filtered 79%, which is more than a surgical mask.

Surgical masks can filter between 62%-65% of particles.

Thicker higher-grade cotton fabrics performed better than those with lower thread counts and more open ease.

Hold the fabric up to light to see how thick it is.  If light easily filters through, the filtration is likely not as good.  If it blocks more light, it will perform better.

Quilting cotton was generally much better than printed fabrics found in discount fabric stores.

Thicker, heavier yarn

Higher thread count

Tighter weave

Low grade cotton can be used on the outside layer, if flannel is used on the inside layer.

Two layer masks perform better than one layer.  This is because the small particles would have to find their way through both layers to through the mask.

Make sure you can breathe through the mask.  No matter how good the mask is, if you cannot breathe, you are not going to keep the mask on your face.

No mask can replace social distancing and good hygiene.
If you do have to use lower-end cotton on the outside, Dr. Segal suggests using flannel as an inner layer. "Two-layer masks performed better than single layer masks," he says. "This is probably because the small particles would have to find their way through both layers to pass through the mask. In our hands, cloth, single-layer masks did not perform well."
Just as important as filtration is breathability. Remember, you need to wear this thing. "If you can't comfortably breathe through the material for several minutes, it won't make a good mask, no matter how effective it is in filtering," adds Dr. Segal.
Never think a mask gives you immunity against the coronavirus. It's crucial to continue to follow all other guidelines. "No mask is as good as social distancing and good hygiene," advises Dr. Segal. "That's still the number one way to protect yourself and others."
How to clean a face mask
I would recommend just filling a small bowl with warm to hot water and a little liquid dish detergent, let it soak for the 5 minutes, rinse, and then hang to dry. Ideally, you should wash the face mask every day.
Summary
Until a vaccine is created, we are all going to have to take common-sense steps to help protect ourselves, our families, our friends, and our business associates. But luckily you don't have to choose between fashion and being healthy.
Even if your government does not require you to wear a face-covering for health reasons, if you work in a field where you are constantly interacting with different people every day (sales or in-person customer service), wearing a face mask will put you at ease, it will put your customers at ease, and it will convey the message to your customers that you care not only about yourself but your customers as well.