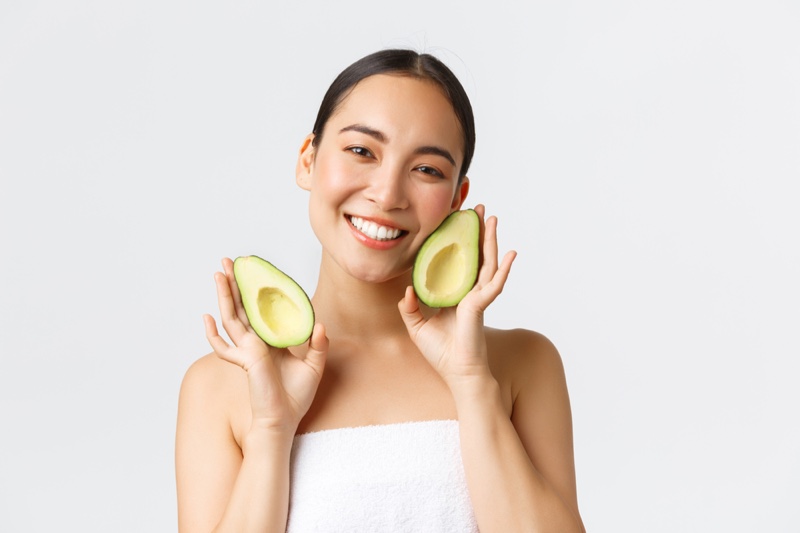 You might have heard that old saying, "you are what you eat", but it is also true when it comes to skin. If you regularly eat processed foods or foods high in sugar and fat, this can manifest in the form of dull skin, possibly along with other problems such as dryness, oiliness, acne or dark circles under the eyes.
Luckily, just like comfort foods can cause breakouts and eating sugar can lead to premature aging, certain foods can have the opposite effect on skin health. Here are the top eight foods that not only aid in getting that youthful-looking skin but also promote a healthy, balanced lifestyle and help you look radiant from the inside and out.
Avocados
Not only avocados can benefit many functions in your body, but they are also exceptionally useful for your skin. Avocados are a perfect source of monounsaturated fatty acids, which are essential for keeping skin flexible and moisturized. A 2010 study involving over 700 women showed that a high intake of total fat, especially the types of healthy fats found in these fruits, was associated with improved skin elasticity and more springy skin.
What's more, this fruit contains compounds that can help protect your skin from UV damage, which can contribute to wrinkles, fine lines and other signs of aging. They are also loaded with vitamins like vitamin E and vitamin C, which possess antioxidant properties that help protect the skin from harmful oxidative damage.
Blueberries
Antioxidants are referred to be one of the most important compounds in maintaining beautiful skin. They help fight and neutralize free radicals, which are known to damage collagen and skin cells, causing dry skin, wrinkles, uneven skin tone and other skin aging factors.
Eating delicious blueberries is one of the easiest ways to receive antioxidants and protect your skin's health. In fact, they are thought to have one of the highest antioxidant levels of all common vegetables and fruits. Also, one cup of blueberries provides 24% of the recommended daily allowance of vitamin C, which can improve collagen's production to smooth wrinkles and improve overall skin texture.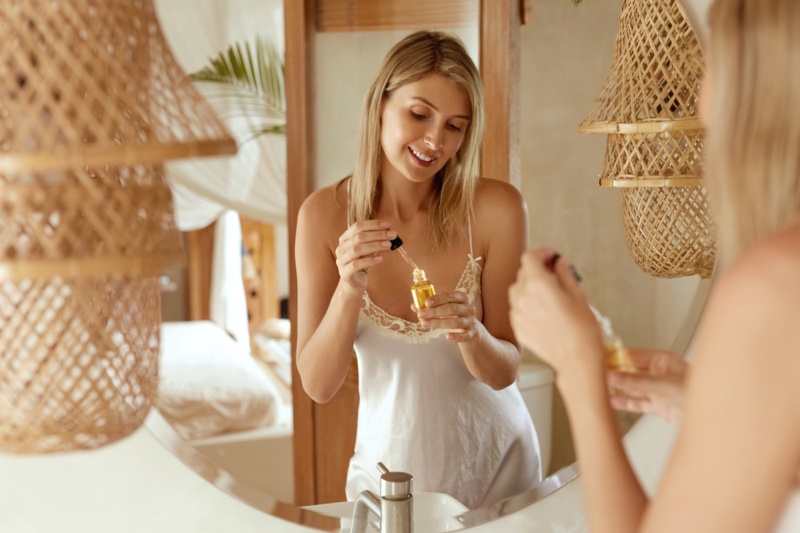 CBD Oil
Whether in the form of CBD vape juice, capsules, oils, or edibles like gummies, this unique, naturally occurring compound can be a useful addition to your daily routine. Cannabidiol (commonly known as CBD) possess anti-inflammatory, antioxidant, antibacterial and antifungal effects, which can help in relieving symptoms in numerous skin conditions, preventing the appearance of skin aging and treating different skin infections.
Additionally, cannabidiol can have a positive impact on human sebocytes, the cells that stimulate sebum, which is a waxy, oily substance secreted by your body's sebaceous glands. A 2014 study found that CBD can prevent sebocytes from generating too much sebum, which is one of the common causes of acne.
Green Tea
The potent compounds found in green tea, catechins, are believed to improve the health of your skin in several ways. Like some other antioxidant foods, green tea helps protect the skin from sun damage.
One study involving 60 women found that daily intake of green tea could lower sun redness by 25%. Green tea also improved the roughness, thickness, moisture and elasticity of their skin.
Turmeric
Thanks to its active ingredient, curcumin, this Indian spice isn't just a game-changer in reducing pain or protecting against cancer but adding turmeric to your food can also be beneficial for your skin.
This is because curcumin has proven to be one of the most potent anti-inflammatories and free radical-fighting agents – even more effective than ibuprofen. Inflammation negatively affects the skin, making skin look tired and puffy in the short term and leading to wrinkles and aging in the long term. Eating or drinking turmeric can help fight inflammation, keep the skin looking fresh and youthful while also aiding in relieving more serious inflammatory skin conditions like eczema and rosacea.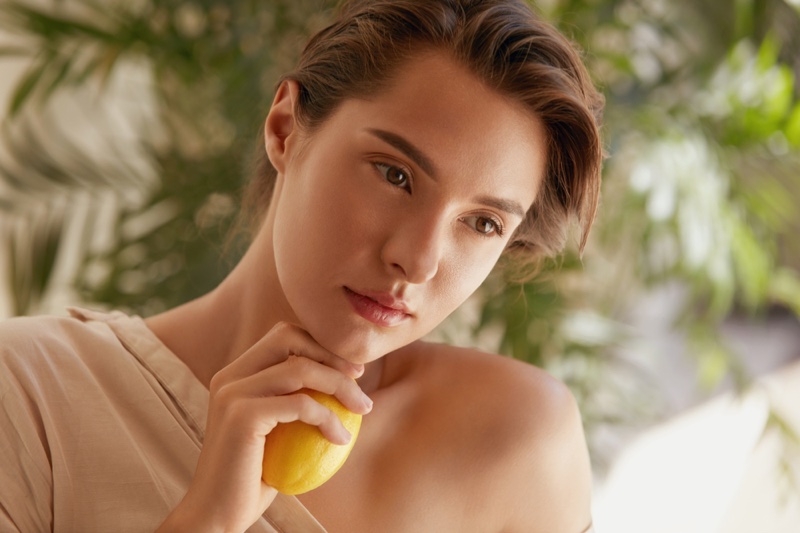 Lemons
Fresh lemon is a powerhouse of vitamin C that helps produce collagen to archive supple, smooth skin. Vitamin C also works as a great antioxidant to help neutralize free radicals that damage our cells.
Although lemon is acidic, it has alkalizing effects on the body, which means it can help balance the pH level. This is good for your complexion as when the pH level is abnormal; the skin can become irritated, sensitive or prone to acne. Not to mention that adding some lemons makes us drink more water, which is beneficial for your skin.
Carrots
Good for both the eyes and clear skin, a crunchy carrot is your answer if you are subjected to clogged pores and frequent breakouts. Thanks to a large amount of beta carotene, carrots can help prevent cell degeneration, slow down aging and make your skin glow. Vitamin A, which is present in carrot juice, also helps maintain the health of the body tissues, bones, teeth and eyes. Carrots are also rich in well-known antioxidant vitamin C, which helps promote collagen growth and decrease acne and dark spots.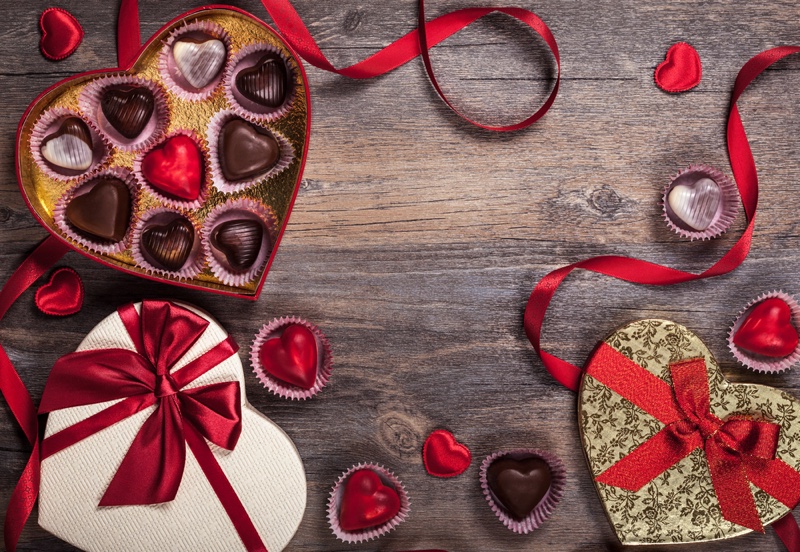 Dark Chocolate
When it comes to the perfect dessert to satisfy your sweet craving, many people tend to reach for dark chocolate. So here is one more reason to grab that bar – dark chocolate is actually beneficial for your skin.
One study found that after 6-12 weeks of consuming high flavanol cocoa, participants experienced thicker and more hydrated skin. The study also showed a significant decrease in skin scaling and roughness; the skin was less sensitive to sunburn and had improved blood flow, which delivers more nutrients to your skin.
Antioxidants in cocoa can also protect skin from oxidative stress, which can contribute to premature skin aging, according to a study in Nutrients. Chocolate is also a great source of prebiotics and probiotics, which can help heal your gut and reduce inflammation. However, make sure to opt for dark chocolate with at least 70% cocoa to avoid added sugars and maximize the potential benefits.