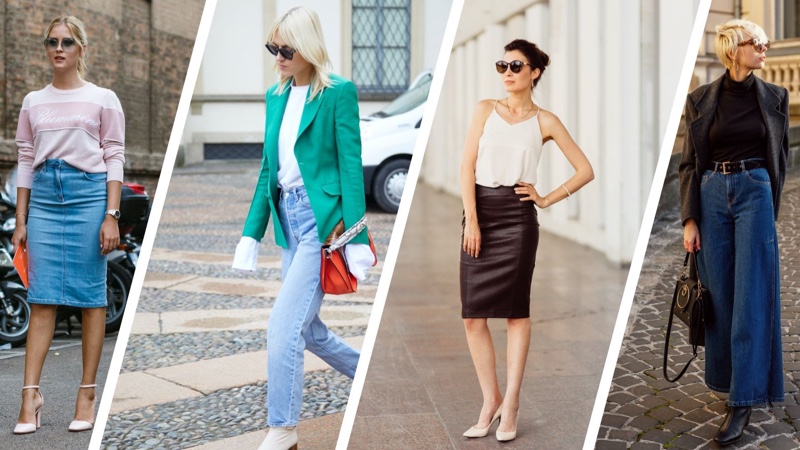 We have entered the era of casual work outfits in today's ever-evolving work landscape, where flexibility and hybrid models reign supreme. It's the perfect blend of coziness and chic sophistication.
These ensembles empower professionals to easily navigate their workdays without compromising their personal flair or professional image that's a little more laid-back than business casual for women.
Casual Work Outfits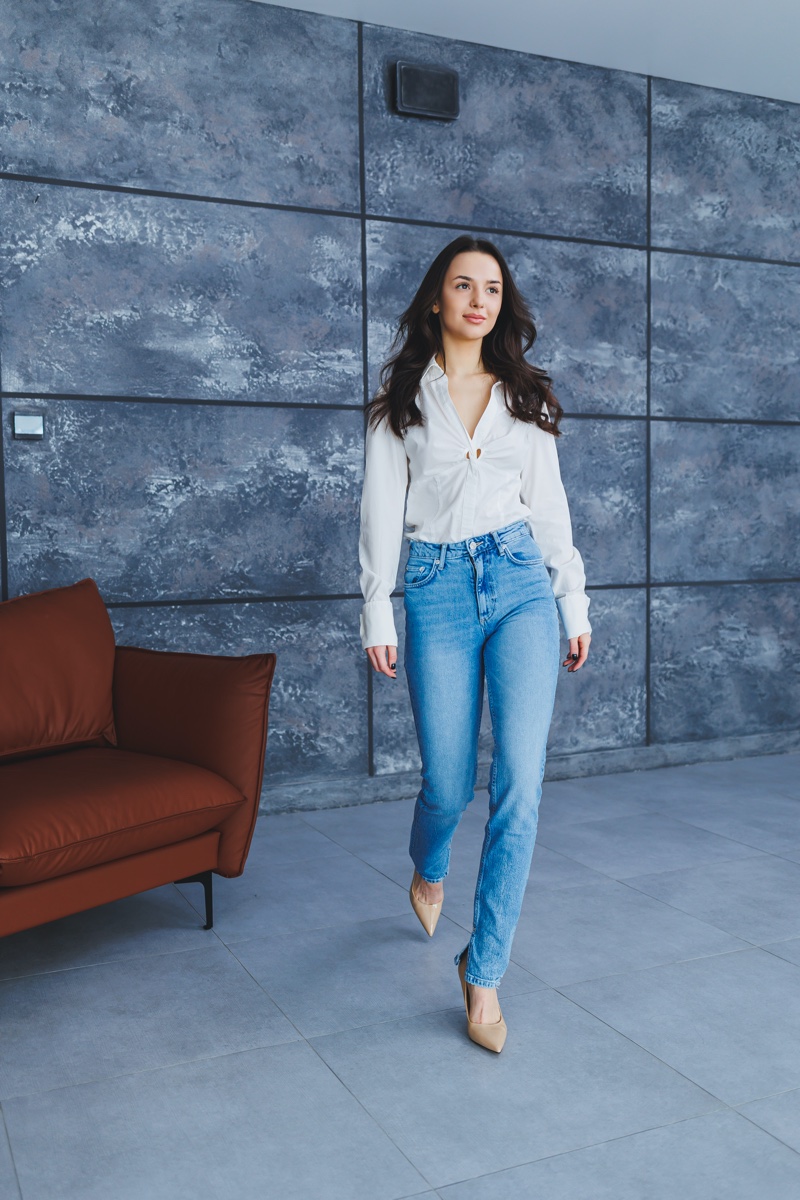 Read on as we give you some serious inspiration for casual work fashion. Whether you opt for the refined allure of a blazer and jeans, the sleek elegance of a blouse and wide-leg pants, or the enduring charm of a cardigan sweater, fear not, for there exists a casual work outfit that perfectly aligns with your individual style and occupational needs.
As you journey through, you will acquire a collection of effortlessly stylish ensembles that blend fashion, comfort, and professionalism while following a casual dress code. All this becomes a cinch with the adoption of a work capsule wardrobe. This method streamlines your looks, removing the headache of outfit selection for the office
Blazer, Shirt + Ripped Jeans
Combining a blazer, shirt, and ripped jeans creates a stylish and effortless work look. The blazer adds a touch of sophistication, while the shirt maintains a laid-back look. The ripped jeans bring a trendy and relaxed vibe.
The contrasting elements of structure and distress create an intriguing visual appeal. With this outfit, you can easily navigate your workday while showcasing your fashion-forward sensibility.
Camisole + Pencil Skirt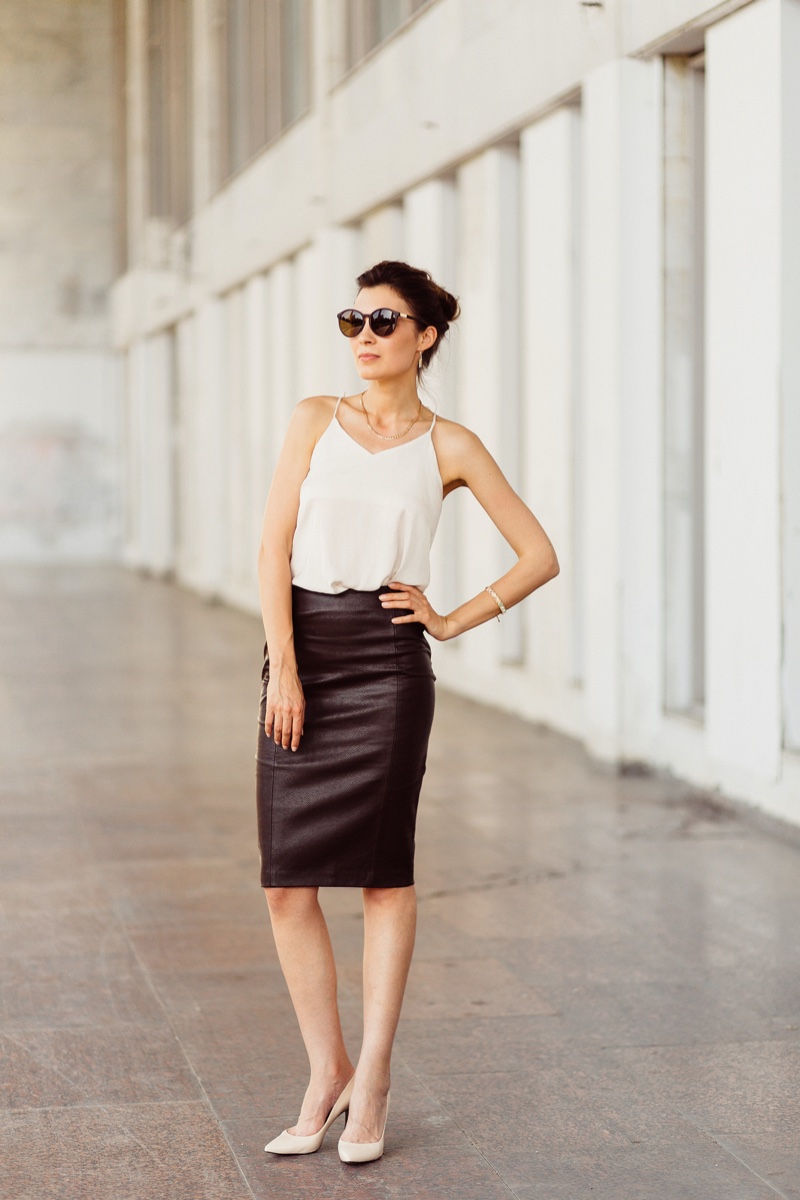 Pairing a camisole with a pencil skirt is a chic and refined choice for your next work ensemble. The camisole is comfortable and feminine, and in contrast, the pencil skirt exudes professionalism and elegance. This combination creates a polished and refined look that is suitable for a variety of workplace settings.
The pencil skirt's sleek lines complement the camisole's delicate silhouette, resulting in a unified look. This outfit allows you to feel stylish while maintaining a professional demeanor throughout your workday.
Blouse, Pencil Skirt + Above the Knee Boots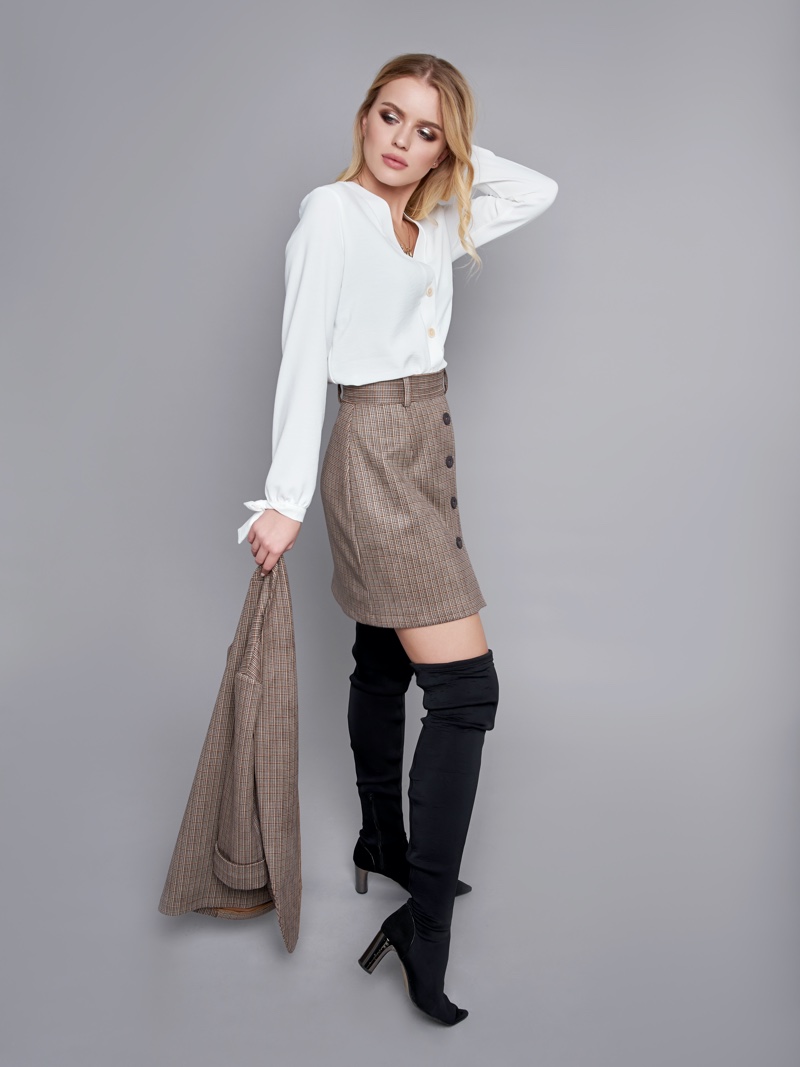 Opting for a blouse, pencil skirt, and above-the-knee boots creates a fashionable and contemporary office outfit. This combination perfectly balances elegance and modernity, rendering it suitable for diverse work environments.
The sleek lines of the pencil skirt harmonize beautifully with the bold presence of the boots, resulting in a fashionable ensemble that will surely catch attention in the office.
Button-up Shirt + Slacks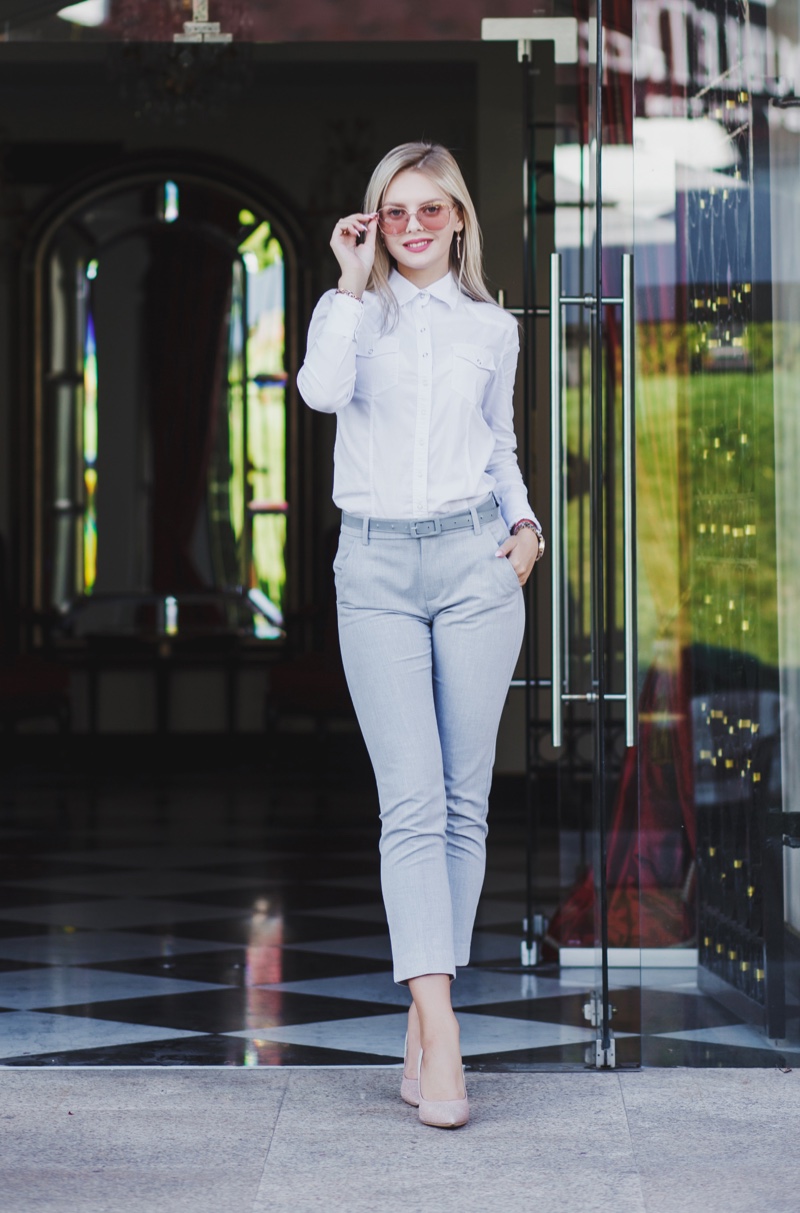 Pairing a button-up shirt with slacks creates a classic and timeless look. This combination is a go-to choice for various work environments, as it exudes a sense of elegance and professionalism.
The button-up shirt's clean lines complement the slacks' tailored silhouette, resulting in a sleek and put-together look. Bring some casual style to this look with sandals or flats.
Plaid Blazer + Jeans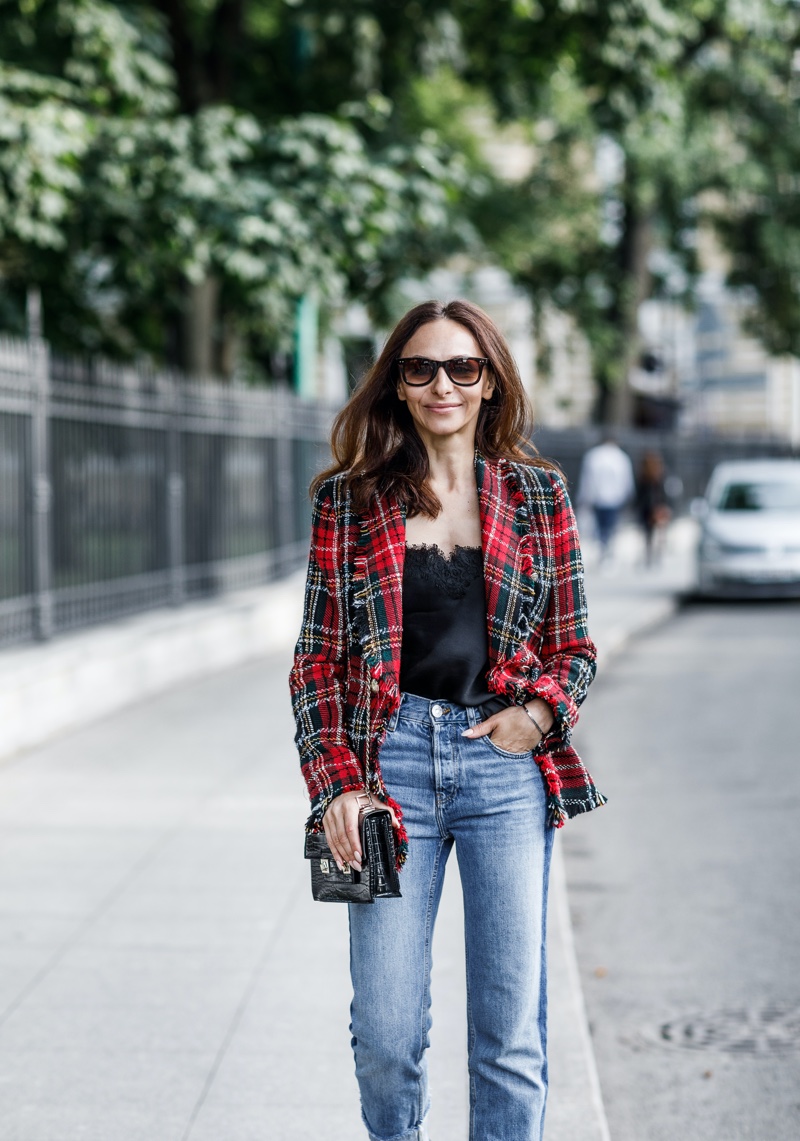 Rocking a plaid blazer in addition to jeans creates a dynamic and modern casual work look. The plaid blazer exudes a sense of refinement and contemporary edge, while the jeans offer a comfortable yet stylish feel. This blend of classic and casual pieces strikes a compelling balance, offering a fashionable way to head into the office.
Blouse + Wide Leg Pants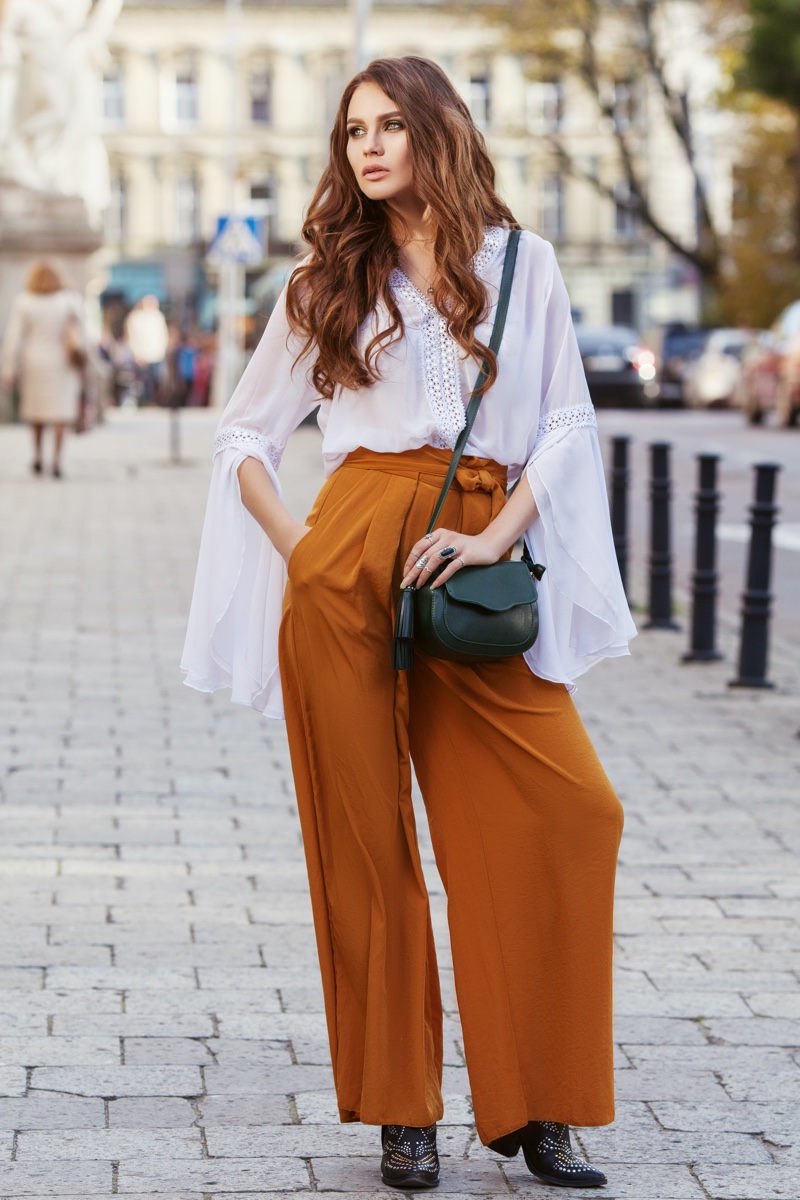 A blouse and wide-leg pants combination offer a sophisticated and breezy work outfit. The blouse provides a polished effect, and at the same time, the wide-leg pants add an element of comfort and modernity. This ensemble exudes professionalism and relaxation, making it a versatile choice for many offices.
Sweater + Wide Leg Jeans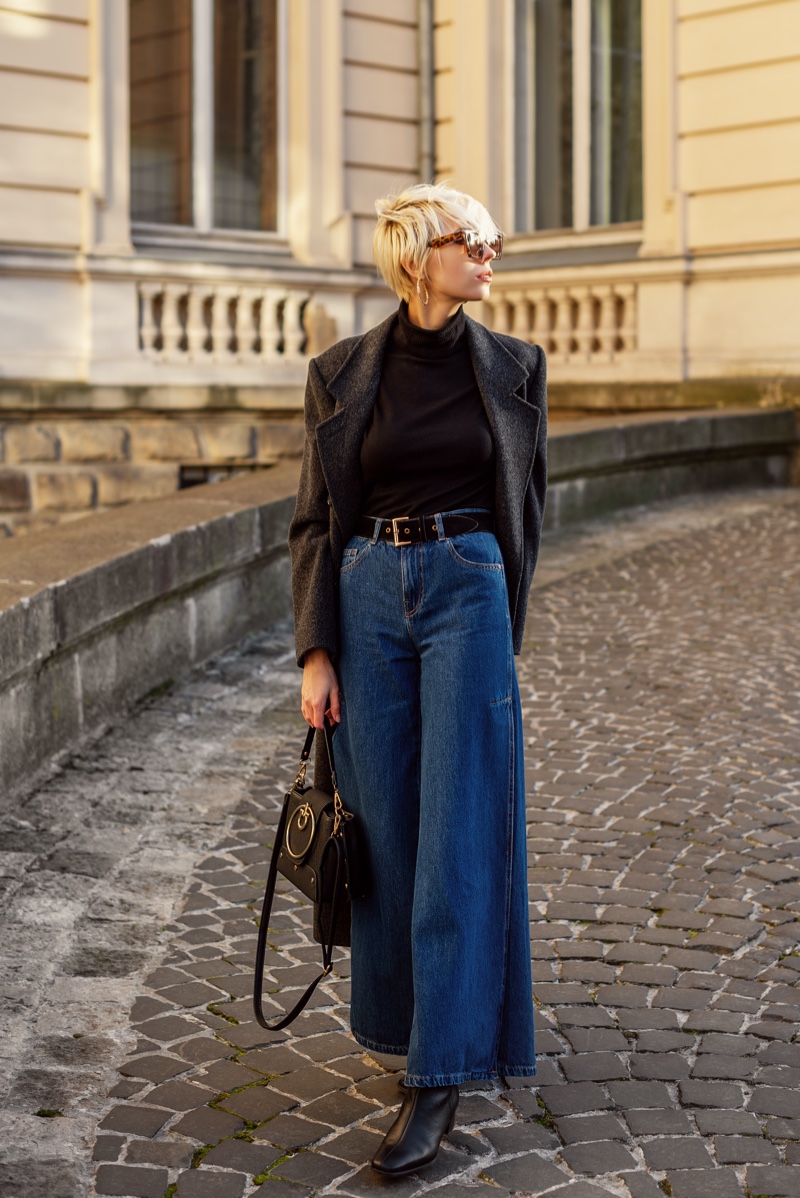 Combining a sweater with wide-leg jeans creates a cozy yet fashionable casual attire for work. You can wear this ensemble with a coat during the cold months or ditch the outerwear for the spring. This pairing masterfully balances casual comfort and chic aesthetics, making it perfect for a stylishly laid-back workday.
Shift Dress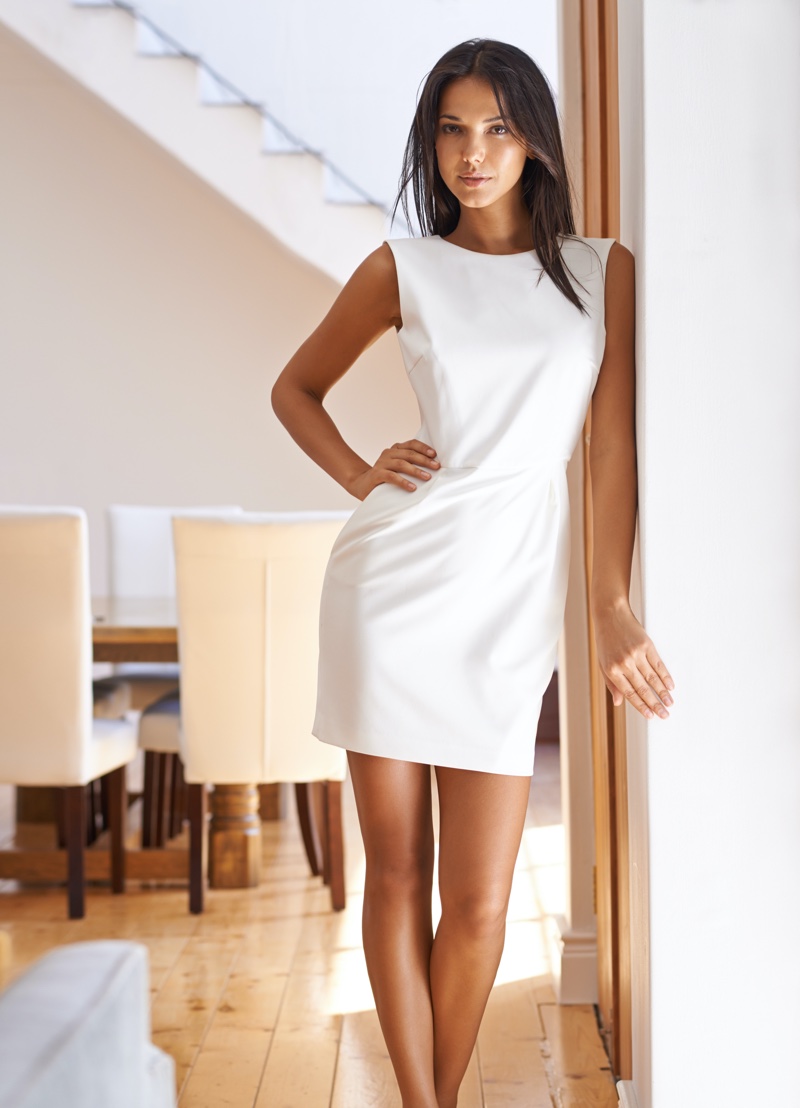 The shift dress is a timeless and effortlessly chic choice for a work outfit. Its straight lines and simple silhouette embody a sense of elegance and sophistication. This singular piece showcases professionalism with a hint of femininity, making it a versatile go-to for a summer work outfit. You can style the minimal look casually with sandals and hoop earrings.
White Sweater + Slinky Skirt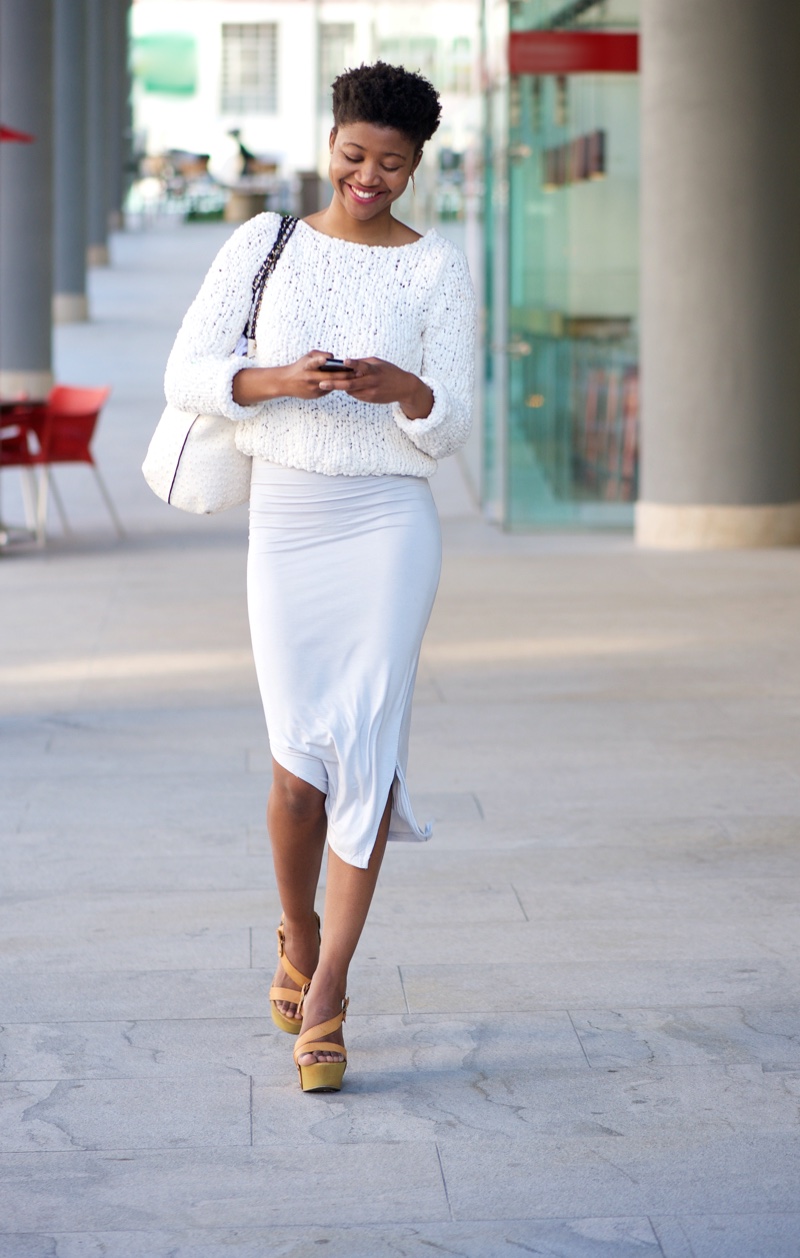 Pairing a white sweater with a fluid skirt creates a classic and refined all white outfit. The white sweater brings sophistication, while the skirt adds a hint of grace. A chic blend merges coziness with style, perfect for navigating a cooler work environment with poise. It's an elegant and cozy outfit that marries comfort and professional chic.
Cardigan, Sweatpants + Loafers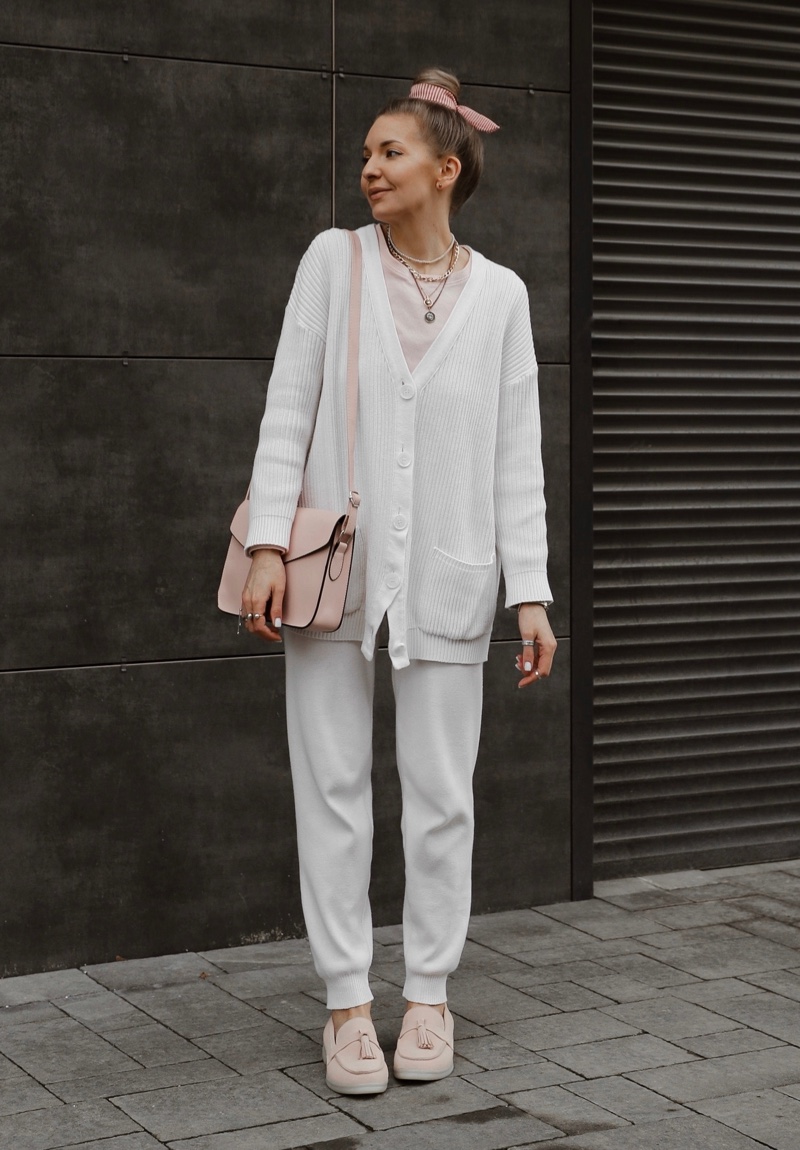 When you pair a cardigan with sweatpants and loafers, you create a work ensemble that's both comfortable and stylishly preppy. The sophistication comes from the cardigan, the relaxed comfort from the sweatpants, and the loafers add a classic touch.
This combination expertly melds coziness, casualness, and classic elements, ideal for a relaxed but professional workplace. It's an outfit that exudes functional style and ease.
Colorful Blazer, White Shirt + Light Wash Jeans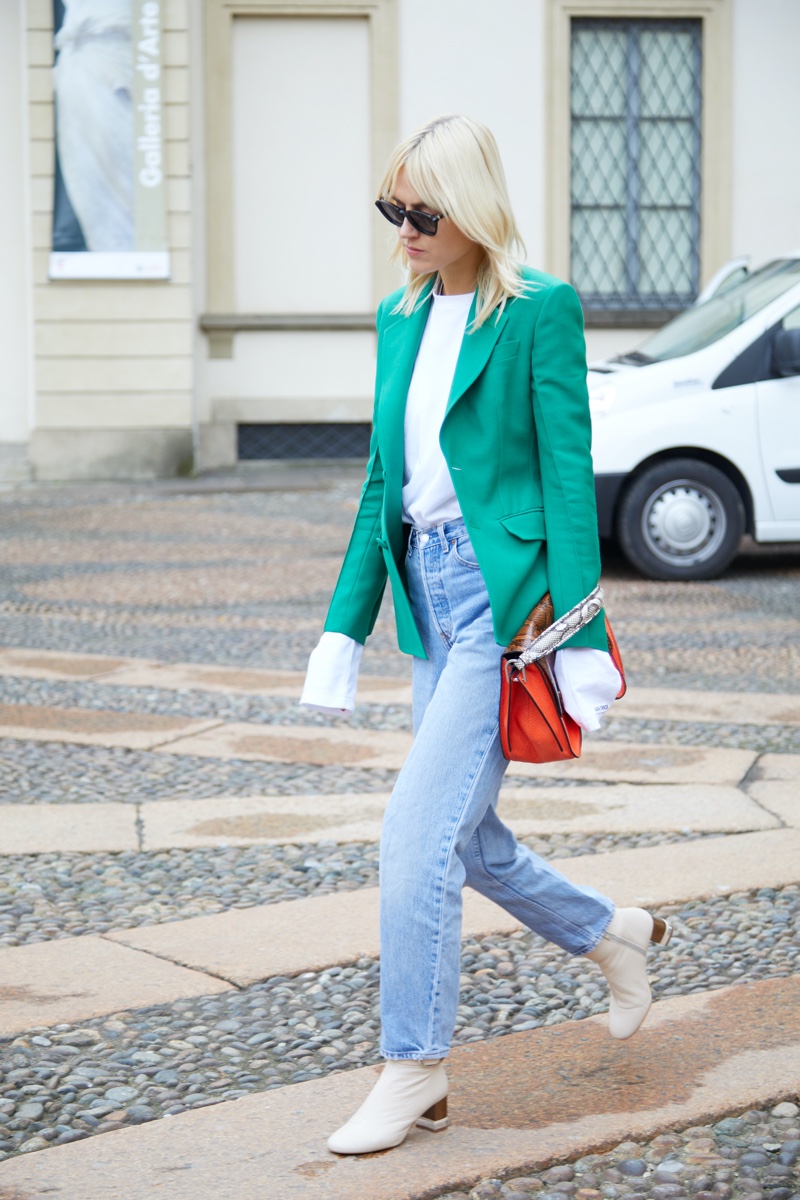 An outfit consisting of a colorful green blazer, white shirt, and light-wash jeans results in a work outfit that's both vibrant and polished. This outfit is a balanced blend of eye-catching style and laid-back comfort. It's a fashionable look that encourages you to showcase your creativity while retaining a professional look.
Puff Sleeve Blouse + Jeans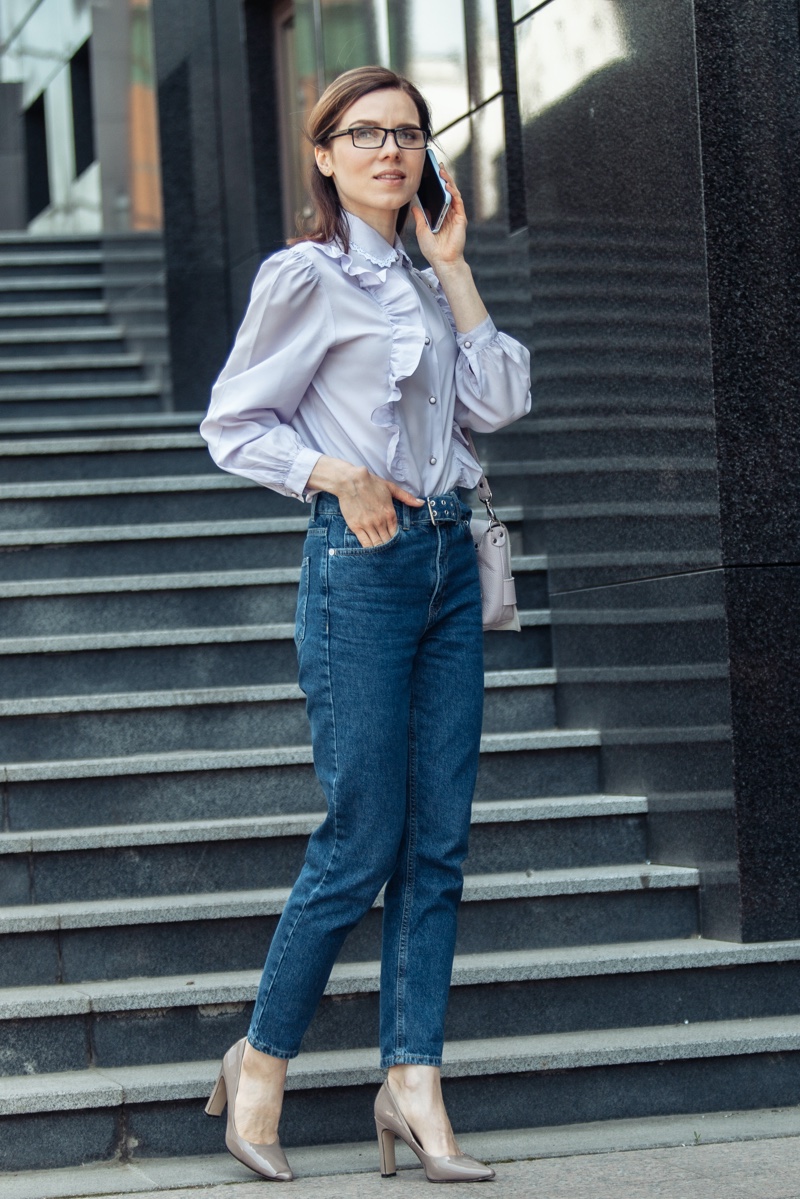 Combining a puff sleeve blouse with jeans results in trendy and sophisticated casual wear. The puff sleeve blouse adds a touch of drama and femininity, while the jeans provide a relaxed yet chic vibe. You can accessorize this look with hoop earrings and a crossbody bag for a stylish look.
Polo Shirt + White Pants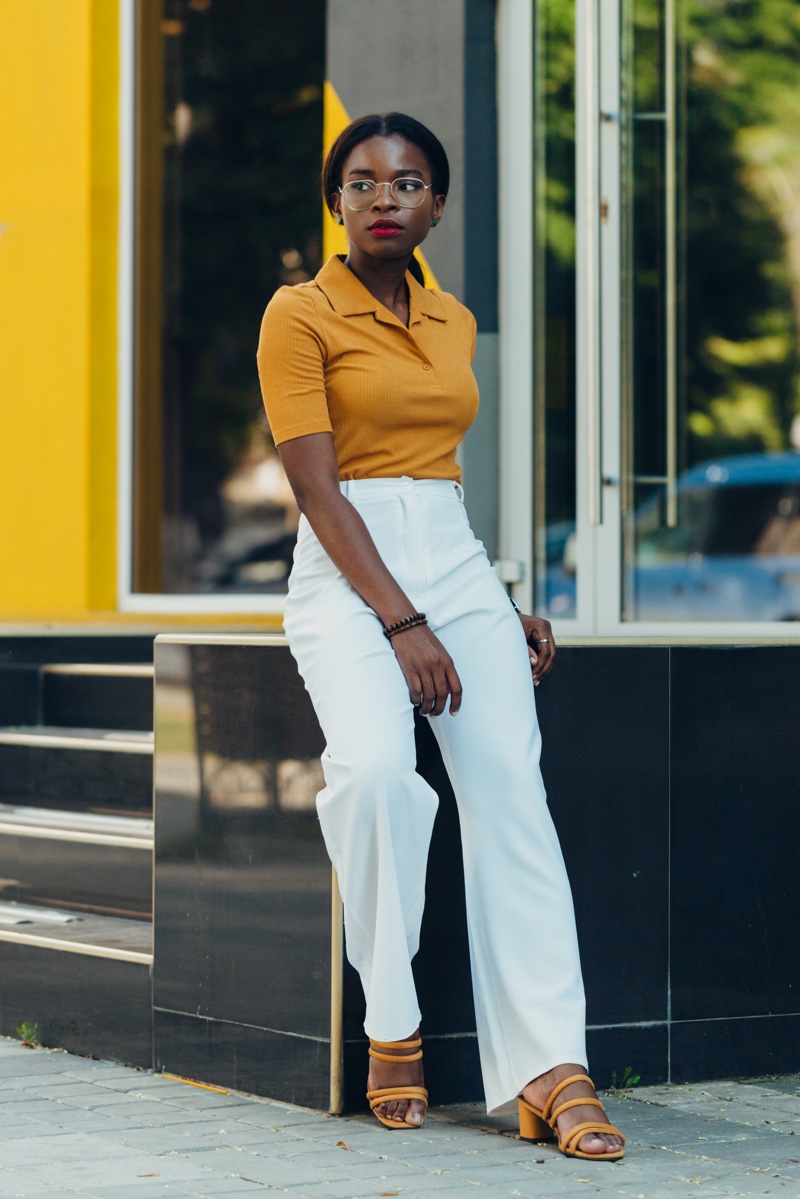 When you pair a polo shirt with white pants, you create a work ensemble that's both sleek and contemporary. The structured design of polo shirts gives off a casual yet professional aura, while the white pants lend a chic and neat appeal.
This combination offers a preppy look, making it versatile for work and beyond. It's a versatile outfit that smoothly transitions between casual and formal settings.
Cardigan, Tank Top + Midi Skirt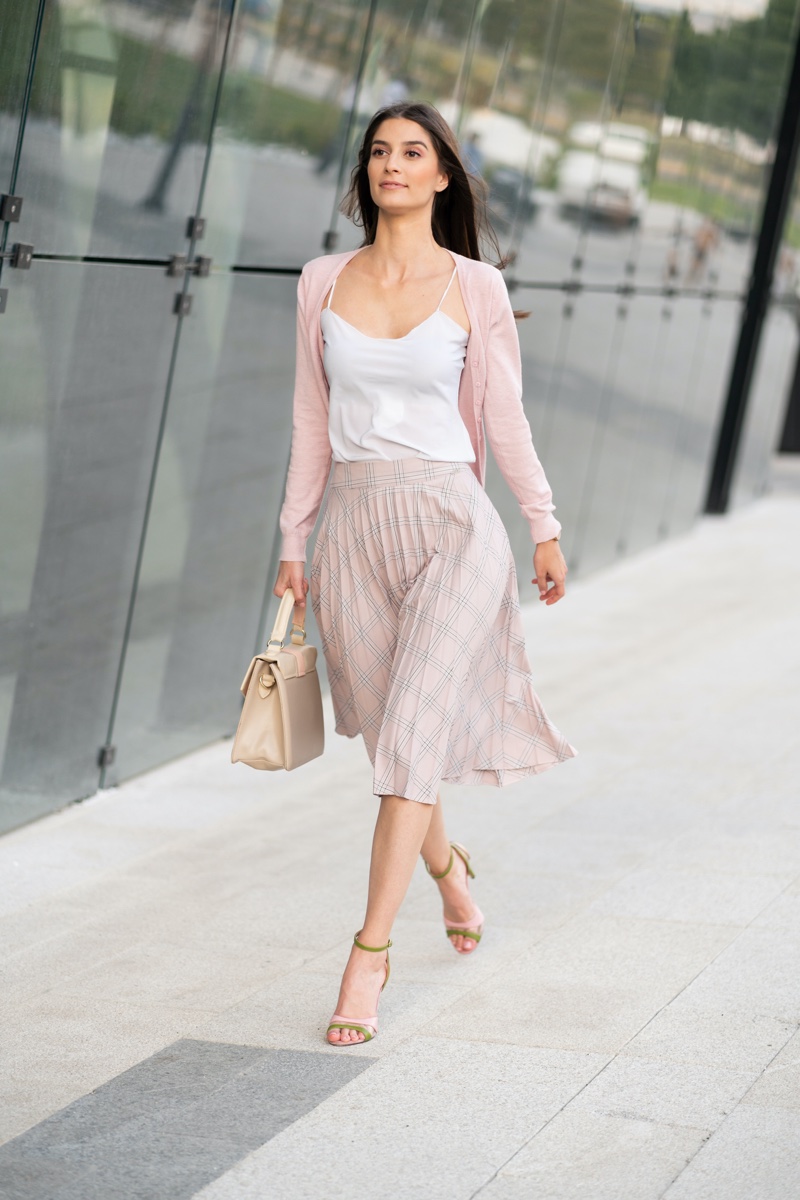 Combining a cardigan with a tank top and a midi skirt offers a fashionable and versatile office style. The cardigan adds a layer of comfort and sophistication, the tank top lends an air of effortless ease, and the midi skirt channels pure elegance.
This combination merges casual chic with polished flair. Rock pastel hues or neutrals to get the most out of this outfit.
Tips for Casual Outfits at the Office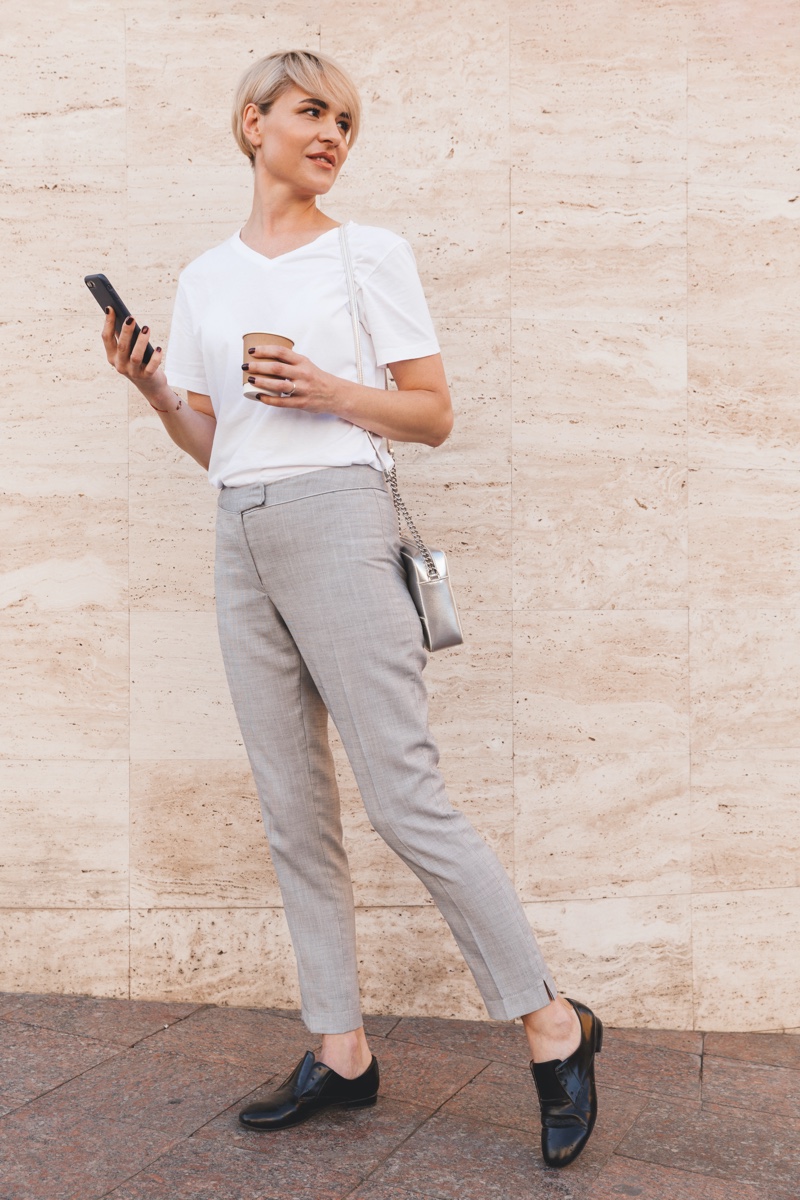 Embrace Comfort with Casual Pants
One of the key components of casual work outfits is comfortable pants. Instead of the traditional suit trousers, opt for jeans or dress pants made from breathable materials like linen, cotton, chambray, or jersey. These fabrics will keep you cool and comfortable throughout the day while still maintaining a professional appearance.
Pair your casual pants with a button-down shirt in a complementary color. This combination creates a sleek, put-together look that is perfect for the office. Feel free to experiment with different styles and cuts to find the perfect fit for your body type.
Elevate Your Look with Statement Accessories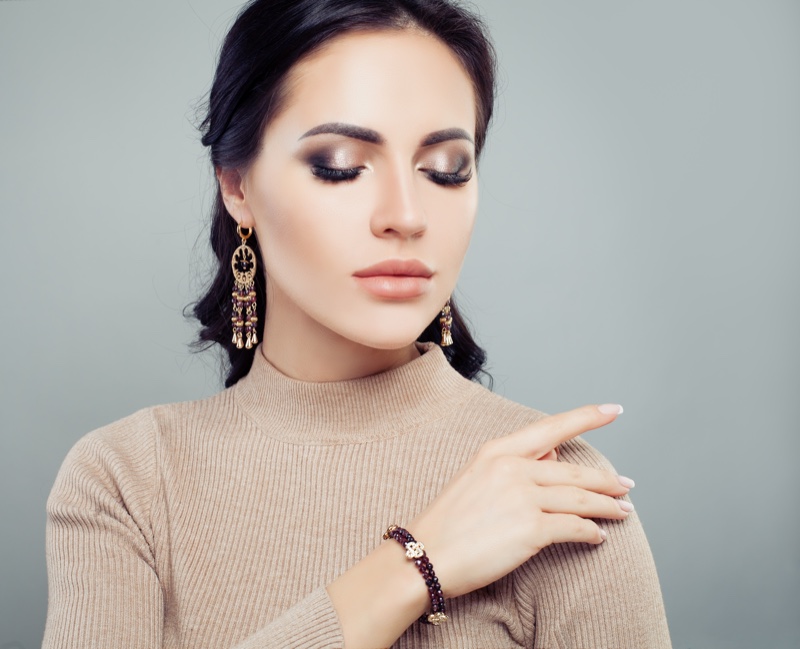 Accessories can make or break an outfit, and they are especially important when it comes to work outfits. Add a pop of color and personality to your ensemble with a statement necklace, bold earrings, a headband, or a stylish watch. These accessories will not only elevate your look but also showcase your personal style and attention to detail.
Consider incorporating a statement shoe into your outfit. A great pair of shoes can instantly elevate a casual look and make a lasting impression. Whether it's a pair of sleek loafers, stylish ankle boots, or trendy sneakers, choose footwear that complements your outfit and adds a touch of sophistication.
Play with Patterns & Prints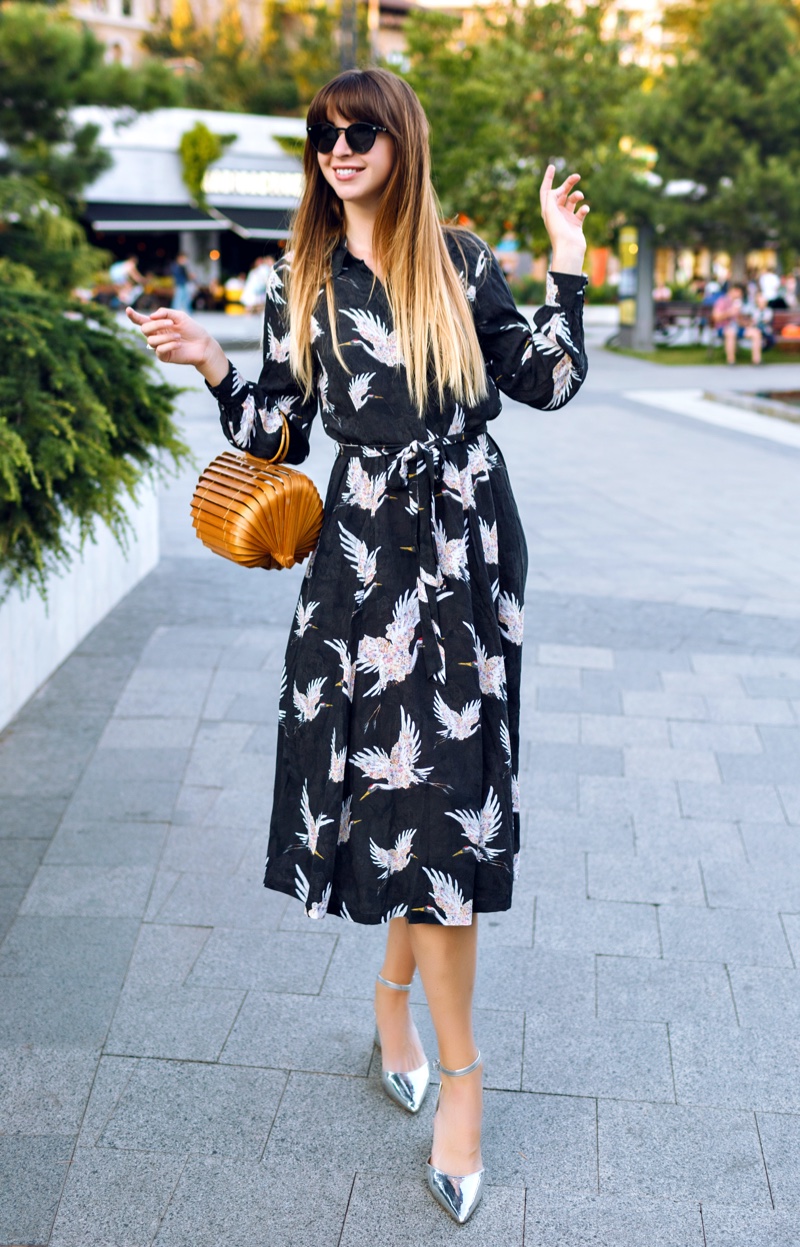 Break free from the monotony of solid colors and experiment with patterns and prints. Stripes, polka dots, plaids, and florals are all great options to add visual interest to your casual work outfits.
For a sophisticated and timeless look, opt for classic prints like stripes. A striped sweater paired with tailored jeans in a muted yet still-fun color creates a chic and effortless ensemble that is perfect for the office.
Layering for Versatility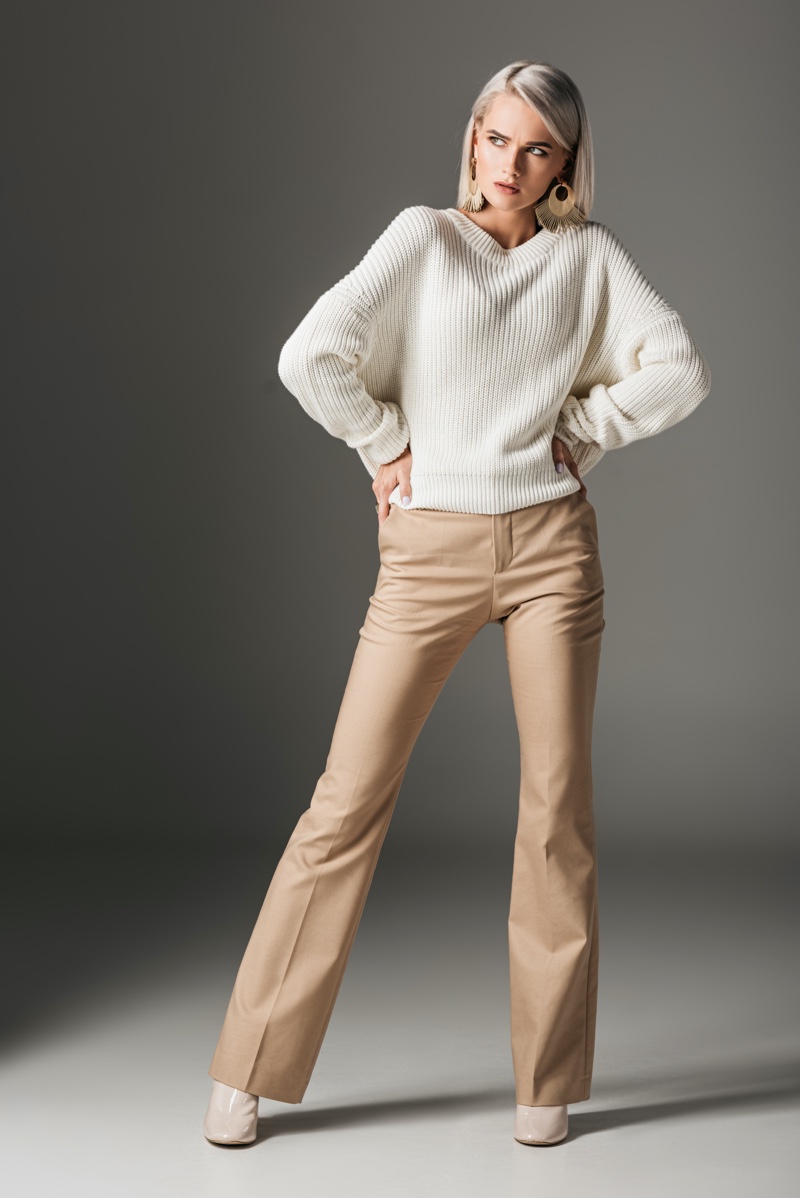 Layering is practical and adds depth and dimension to your casual office outfits. On days when the office temperature is unpredictable, layering allows you to adjust your clothing to stay comfortable throughout the day easily.
Pair a cozy sweater or a cashmere tee with a blazer or cardigan for a polished and layered look. This combination keeps you warm in air-conditioned offices and adds a touch of sophistication to your outfit.
Embrace Casual Fridays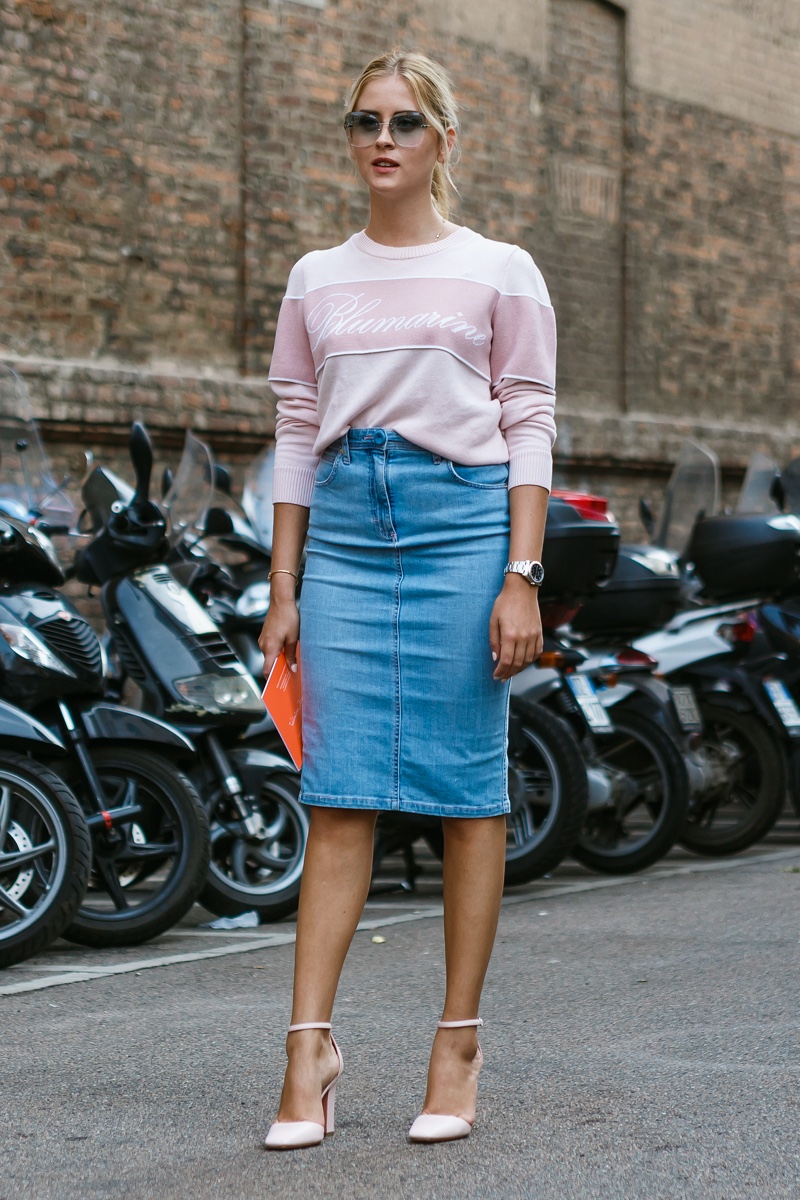 Casual Fridays are the perfect opportunity to embrace a more relaxed and laid-back look. Take advantage of this day to wear your favorite pair of jeans. Opt for a pair of dark-wash jeans that are slightly tailored for a more polished appearance. Pair them with a stylish blouse or a collared shirt for a smart-casual ensemble.
Remember to pay attention to your footwear on casual Friday. Choose a cool and angular shoe that adds a touch of professionalism to your outfit. This will remind you that it's still not the weekend and keep you in the right mindset for work.
Final Words
As we end our style guide, remember this: casual work outfits are not just about feeling comfortable but also a means to express your personal style in the workplace. You can now embrace casual workwear with confidence and flair through these outfit inspirations.
No more boring and stuffy work attire; it's time to transform your work wardrobe into fun, chic, and undeniably stylish.