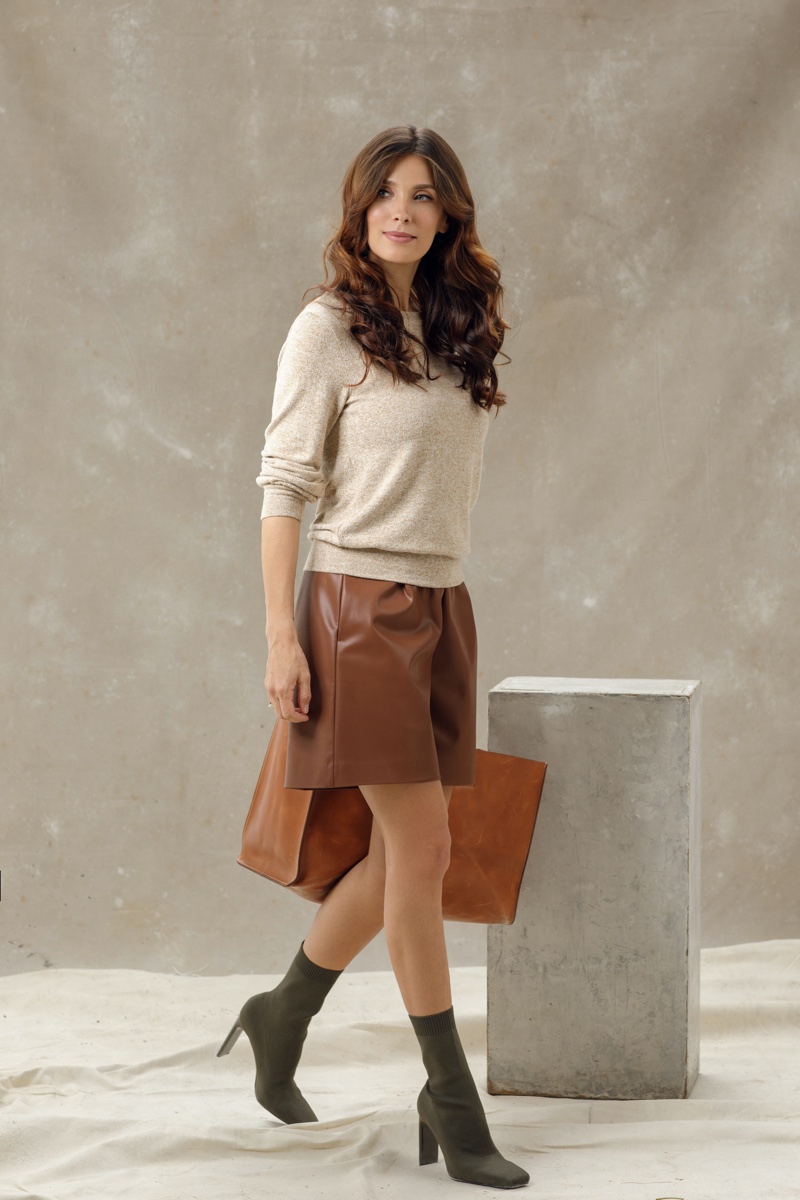 As we slowly but assuredly move beyond the era of working exclusively from home and attending seemingly endless Zoom meetings in loungewear, we think it's safe to say that we're ready for something new in 2022. This year is all about being bold, embracing new things, and changing – particularly when it comes to fashion. That's why we know that chic, transitional woman's shorts are going to steal the show in 2022.
Trendy women's shorts are the perfect go-to garment for refreshing your wardrobe for the upcoming seasons. And thanks to these beautiful pieces, you can piece together a wide range of stylistic and chic looks for any taste or style. In addition, these fashionable shorts will allow you to whip up unique and interesting outfits for pretty much any occasion, be it casual, smart casual, dressy, or official.
Leading designers and brands have included this clothing item in their collections for spring, summer, fall, and winter 2022, and the who-is-who of the fashion world, including A-list celebs, fashionistas, and Instagram influencers, and even a former FLOTUS, already love them. They're showcasing stunning looks with chic women's shorts in virtually any style — from slim-fit to baggy, mini, and Capri shorts, with or without added décor details.
So far, we love the versatility of the trendy woman's shorts for 2022. Whether you are stopping for a latte or rushing straight from the office to a dinner date, you'll love how these pieces are practical, fun, and easy to wear.
Without further ado, here are the 5 snazzy ways women will be donning shorts in 2022.
1 – Leather Shorts
A wardrobe staple for most seasons, sleek leather garments will be seen throughout the year. And while leather blazers and biker jackets may come to mind, leather shorts are going to be one of the trendiest styles in 2022. With so many leather short styles to incorporate into your summer outfits, you can go short and long, as well as slim-fit and loose-fit.
The color range of leather shorts extends far beyond the classic black. You will get to style a dizzying array of real and faux leather shorts in brown, cream, or even bronze, making them easier to wear than ever before.
Trendy styles of fashionable leather woman's shorts are particularly relevant for cooler fall months when you can stylishly complement them with an oversized sweater or knitted sweatshirt, as well as a pair of gorgeous boots and leggings to finish off your ensemble.
In addition to sweaters, cardigans, and other cool-weather staples, blazers and white shirts are easy to pair with leather shorts as well, helping you pull off a short and sweet outfit. For instance, you can team your black leather shorts with a camel coat and a white dress shirt for a stylish ensemble that's easy to pull together. As for footwear, you can't go wrong with a pair of black leather ankle boots.
You can also opt for colored leather shorts with a leather jacket, denim shirts, or blouses. A brightly colored clutch, tote bag, or leather handbag will perfectly finish off your look for that fashionable touch of finesse.
For example, marry a pair of pink leather shorts with a light blue long sleeve blouse to create a casual outfit. The two items pair beautifully together. Then, introduce a gold necklace and a pair of black leather heeled sandals to the mix for an added dose of charisma.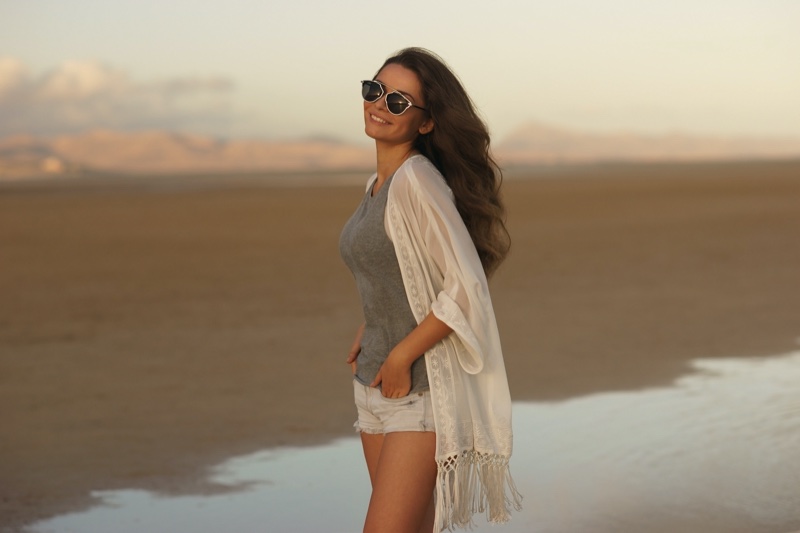 2 – Short Shorts
Nothing says spring and summer fun like short shorts. When you're ready to shed your cold-weather layers, trade up for these flattering pieces, and you'll be set for the carefree and sunny months ahead of us in 2022. They are great for showing off your legs and sharing your confidence at backyard BBQs, parties, spring hangouts, and beach trips.
Even after the summer months are gone, there's no need to cover up. Short shorts are a great way to stay stylish, casual, and comfortable this autumn. They help you navigate between wanting the ease of a pant without its bulkiness and wishing for the comfort of a mini-skirt without being too revealing.
The most exciting thing about short shorts is that they come in a vast range of fabrics and styles, including corduroy, leather, faux leather, denim, yoga shorts, dolphin shorts, Bermuda shorts, tie-dye, patterned, and color-blocked, just to name a few. That means there are endless ways to style them.
For instance, pairing blue denim short shorts with a pink open cardigan and a hot pink silk tank is an easy way to create a relaxed yet stylish look that's ready for anything. Let your sartorial prowess shine by finishing this with a pair of tan leather ballerina shoes and retro sunglasses.
Opt for short shorts woven from heavy fabrics for cooler or colder months and ensure they're stretchy, chic, and feature additional elements like distressed details. You can team fall and winter short shorts with opaque leggings or tights to fend off the chill.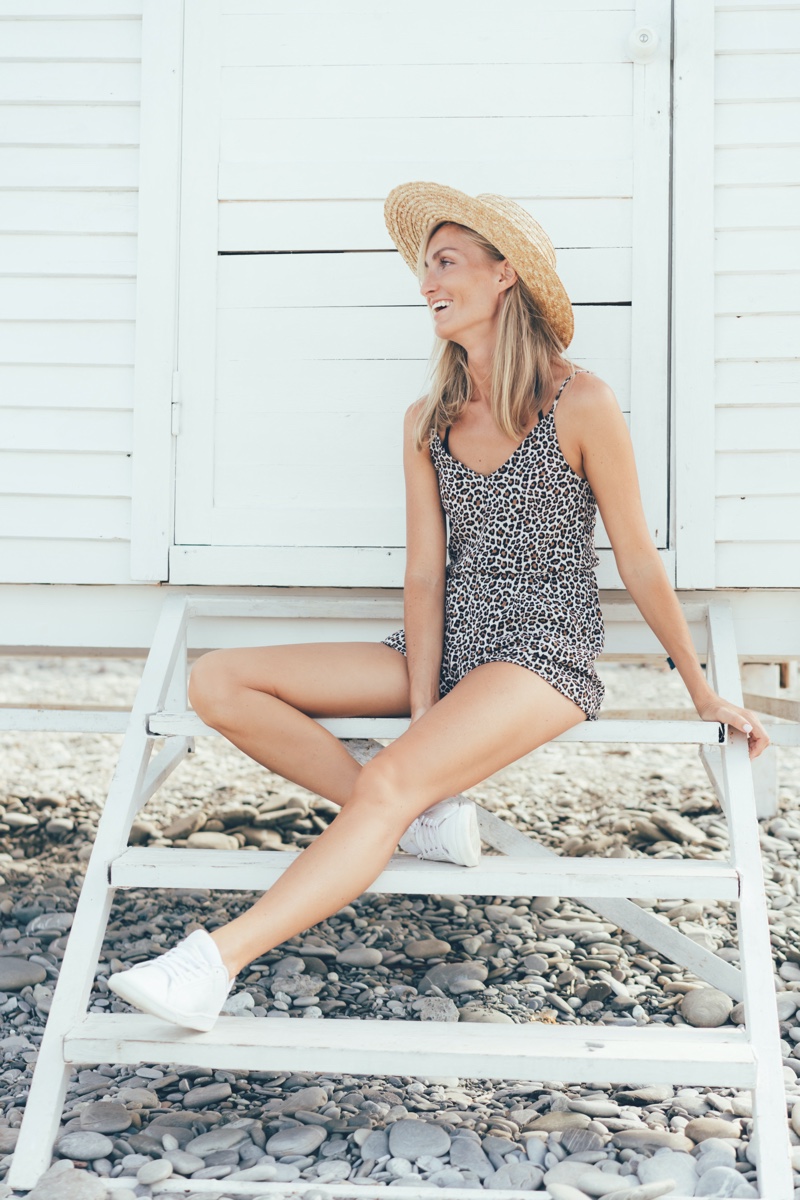 3 – Animal Print Shorts
Something about animal print clothing makes you feel like an entirely new person — that you can do anything you set your mind on. If you are like the best of us, you probably strive to find more and more pieces of clothing that make you feel this way.
Animal print shorts, particularly leopard print shorts, are poised to take the world of fashion in 2022 by storm, and we aren't surprised. These animal coat-inspired pieces have a way of injecting a playful and fun yet practical and chic vibe to any wardrobe, making them the "it" shorts trend for 2022, as avowed by Sanctuary. And animal print shorts are a great way to elevate your confidence and boost your mood after two years of staying in and isolating.
Well, who wouldn't love that? What's more, leopard shorts, tiger stripe shorts, and other animal print shorts go beautifully together with practically anything, from a green crew neck sweater and white long sleeve blouse to a black leather belt and gold bracelet.
A pair of comfortable leopard shorts can be harmoniously married with a brightly-colored sleeveless button-down shirt for a chic outfit without having to sacrifice functionality. Are you feeling a little adventurous today? Introduce a pair of dark sunglasses, dark brown print leather tote bag, and beautiful tan leather ballerina shoes to put it all together beautifully.
For a simpler look that is also easy to pull off, go for a pair of brown leopard shorts and a green crew neck sweater — the two pieces work together like a charm. Then, class things up by sporting a black leather belt and a gold necklace.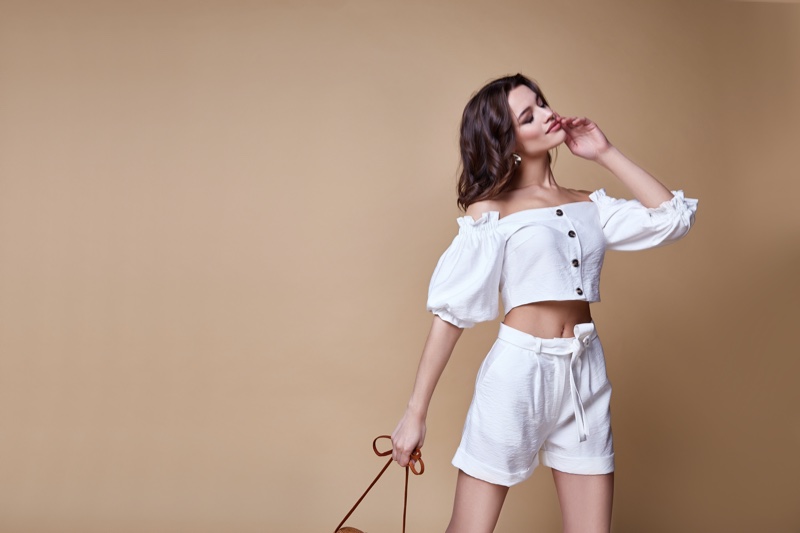 4 – Baggy Shorts
Baggy and loose-fitting shorts are also one of the hottest trends for 2022, and it's no surprise at all. We've just come out of a long spell marked by Zooming and working from home in leggings, tights, sweatpants, and other super-comfy loungewear. Baggy, loose-fitting shorts are a natural transition from these work-from-home pieces of clothing, and we love the touches that designers have added to make them more street-wise and office-appropriate.
Printed baggy shorts look stunning when paired with oversized shirts, knitted tops, and an odd-shaped handbag or clutch. In addition, styling gurus recommend open cardigans, coats, classic jackets, and plain tees to complement brightly-colored or printed loose-fitting shorts in sporty styles. But don't let these fashion tidbits limit your ability to style baggy shorts.
Opt for longer and perhaps baggier shorts if you are after something more fun-looking and flattering than the classic daisy dukes. And they are even more fun to incorporate into your outfits. So first, pair your black baggy shorts with a light blue coat for a stylish look that doesn't require much effort. Then, show off your styling credentials by finishing off this stylish get-up with a white short-sleeve sweater and a pair of black leather pumps.
If you are going for a younger, more casual look, brown baggy shorts and a striped crew-neck tee is the kind of a tried-and-tested outfit that you can put together at the last minute. A tan suede leopard clutch and black suede heeled sandals are a great option to finish this look.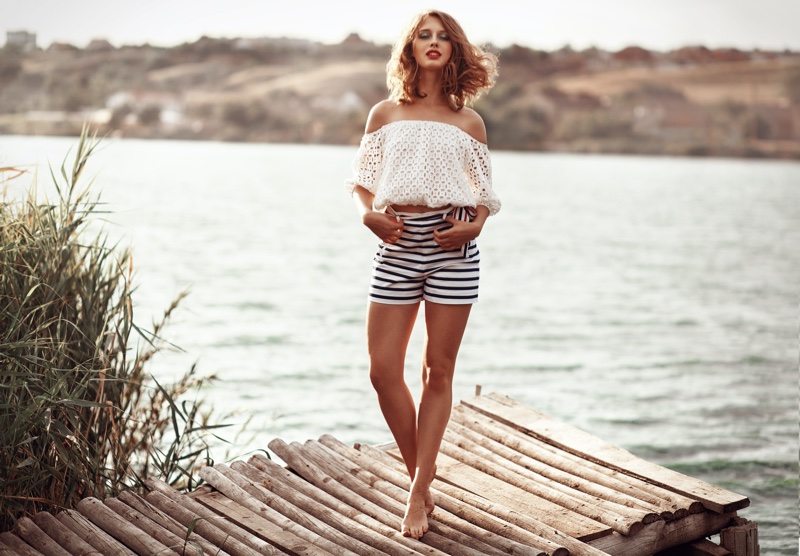 5 – Retro Shorts
Retro pieces of clothing continue to make their come-backs, and retro shorts are most definitely our favorite yet. More specifically, short trends from the 1980s and 1990s are all the rage right now, most notably cargo shorts, ripped tight shorts, and denim shorts. The shorts of the 1980s, in particular, were known for their bold silhouettes, colors, and style — and they're back in full swing.
As a nod to the 1980s fashion, don't be afraid to choose retro shorts in bold patterns like polka dots, stripes, and even plaids. As far as the 1990s go, you can't go wrong with the practical and slightly masculine cargo shorts. They've been resurrected and upgraded with chic details, but don't fret; the pockets are still there!
To put together a trendy outfit, you can do a pair of denim woman's shorts and make sure to pay homage to the by-gone era with retro styles that were previously trendy. The vast majority of these retro shorts are unmistakable for their rough cuts, slight scuffs, and irregular waistlines. In addition, these will allow you to experiment with your looks. So whether you want a statement piece or embrace a minimalist college look, there's a pair of retro shorts with your name on them.
Conclusion
Shorts will inevitably be a big part of 2022 fashion, and it's best to line your wardrobe with multiple pairs right now. Baggy, loose-fitting shorts are sure to be popular in line with comfort-seeking trends we saw in 2021, but leather shorts, short shorts, animal print shorts, and retro shorts will also command serious attention in 2022.