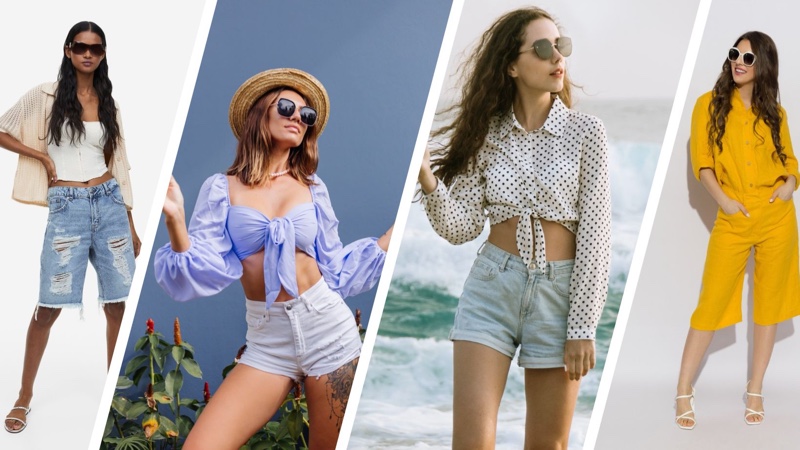 Summer is the perfect time to showcase your style with a variety of summer shorts outfits. From classic denim shorts to trendy culottes, there are plenty of options. Whether you prefer a casual look or a more sophisticated ensemble, shorts offer endless possibilities for creating stylish summer outfits. 
Read on, and we will explore different types of shorts, including denim, high-waisted, and culottes. We will also provide tips on how to style this summer staple and the best occasions to wear them. Get ready to embrace the summer vibes and show off your legs in these fabulous shorts outfits.
Summer Shorts Outfits
Long Sleeve Crop Top + White Shorts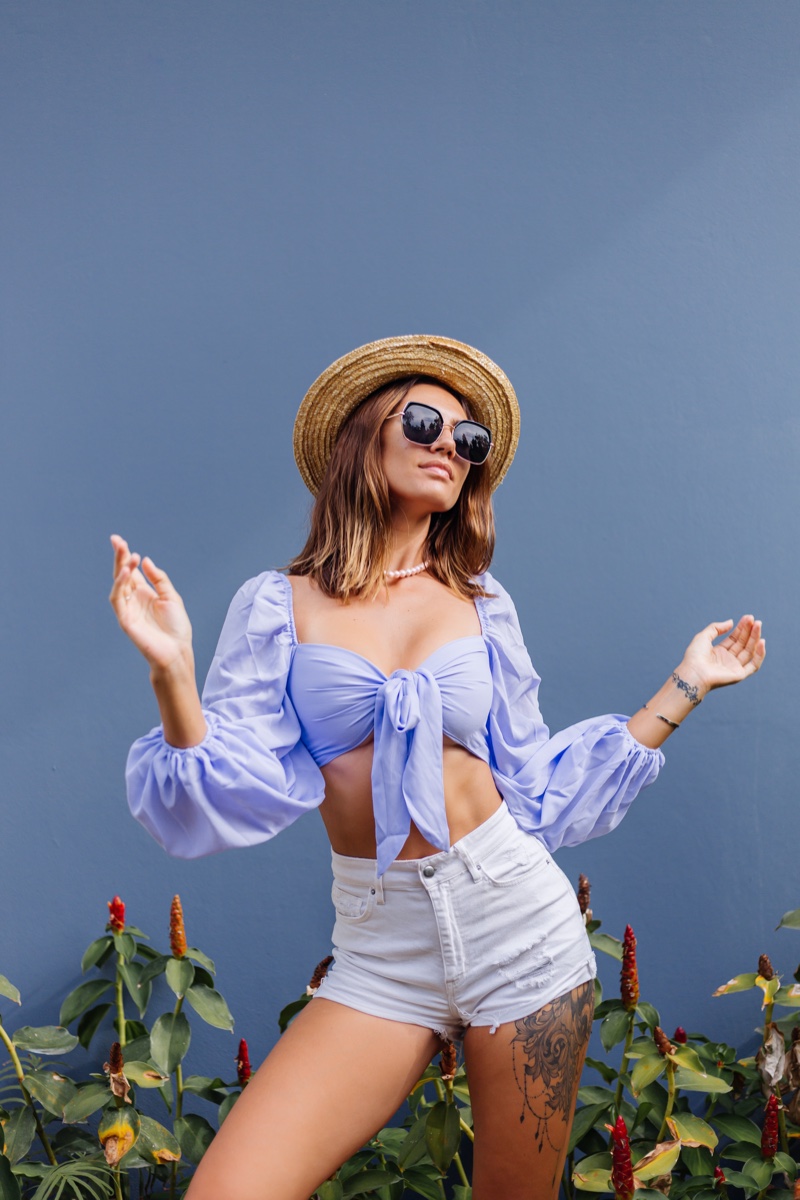 The purple long sleeve crop top paired with white denim shorts creates a trendy and eye-catching outfit. The vibrant purple color of the crop top adds a pop of color to the clean and fresh white denim shorts. It's a stylish combination that exudes a youthful and summery vibe.
To style this outfit, opt for high-waisted white denim shorts that flatter your body shape. Consider accessorizing with dainty silver or gold jewelry and a straw hat, and choose footwear according to the occasion. White sneakers or flat sandals work well for a casual look, while strappy heels or wedges elevate the outfit for a dressier occasion.
This outfit is perfect for daytime events, such as brunches, picnics, or shopping trips. It can also be dressed up with the right accessories for a casual evening gathering or a night out with friends.
Off-the-shoulder Top, Statement Belt + Black Shorts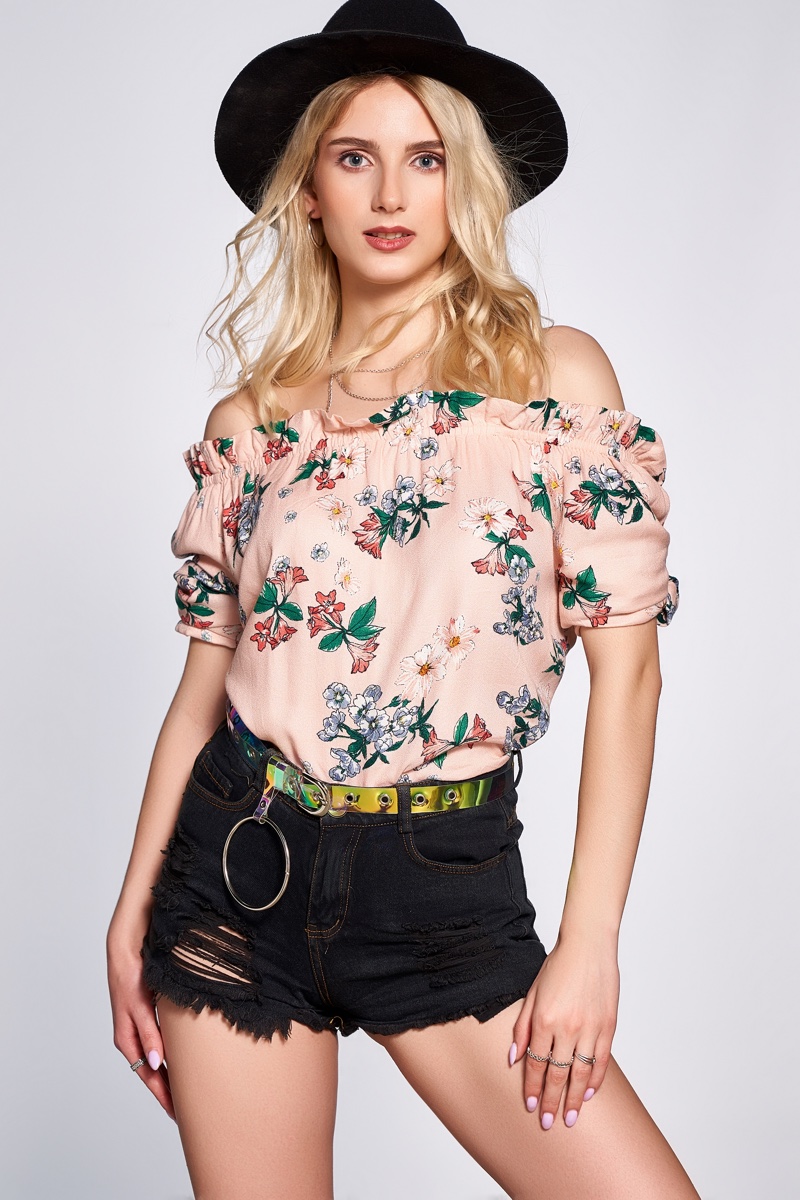 Combining an off-the-shoulder top, statement belt, and black shorts creates a stylish outfit. The off-the-shoulder top adds a touch of elegance and showcases your shoulders, while the statement belt adds flair and cinches the waist for a flattering silhouette.
Paired with black denim shorts, this ensemble exudes sophistication and a modern vibe. When styling this outfit, choose an off-the-shoulder top that fits well and securely in place. Opt for a bold and eye-catching statement belt that complements the color and style of your top.
To complete the entire look, consider adding strappy heels, sandals, and minimal accessories to maintain a balanced aesthetic. This outfit is versatile and can be worn for various occasions. 
Tank Top, High-waist Shorts + White Button-up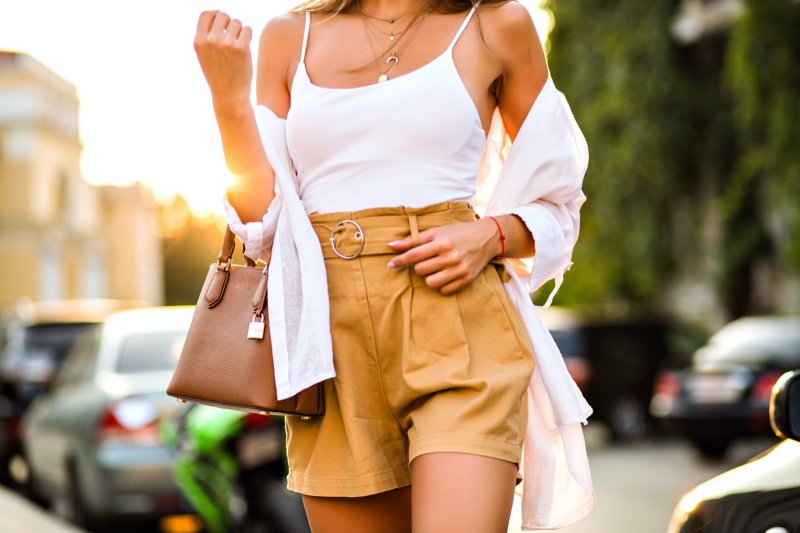 The tank top, high-waist shorts, and white button-up create a versatile and fashionable outfit. The tank top offers a laid-back vibe, while the high-waist shorts add sophistication. Layering with a white button-up adds polish.
Select a tank top that suits your style and pair it with flattering high-waist shorts. Layer with an unbuttoned or knotted white button-up. Complete with sandals for a relaxed look or heels for more formal occasions.
Suitable for casual outings, brunches, or even a date. This ensemble effortlessly transitions from day to night, combining comfort with sophistication.
Striped Shirt + Jean Shorts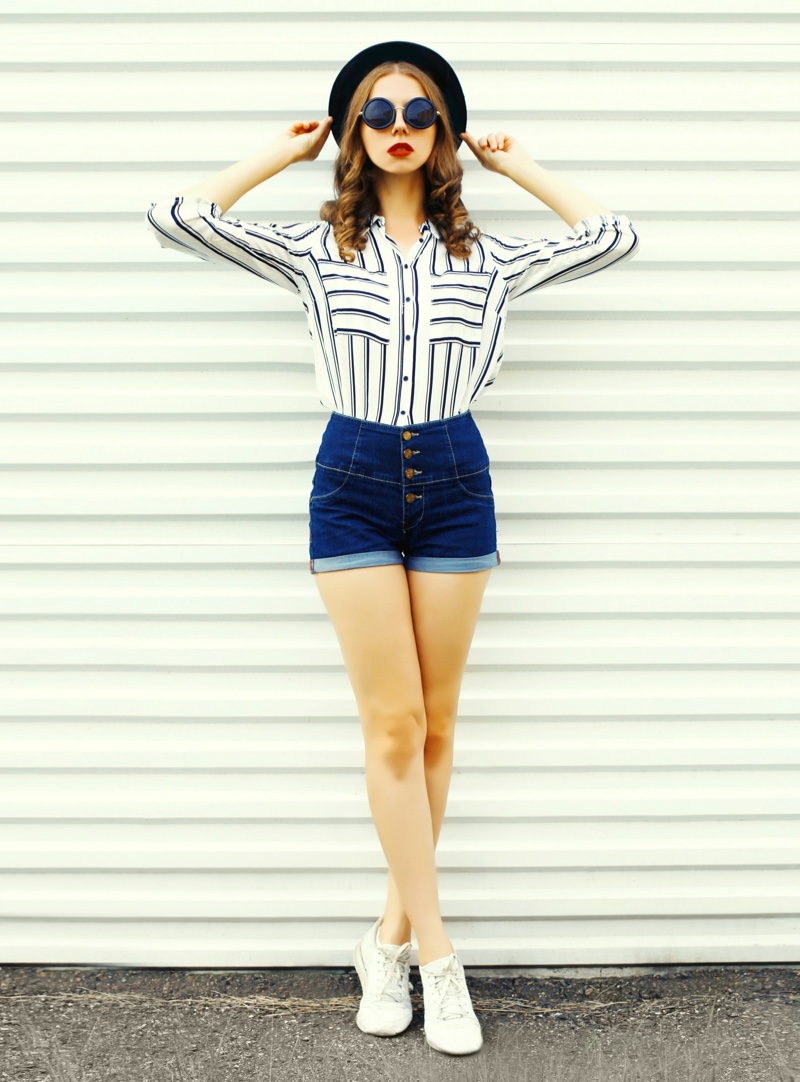 A striped shirt paired with jean shorts creates a timeless, classic aesthetic outfit. The striped shirt adds a nautical-inspired charm, while the jean shorts provide a casual and laid-back feel. Choose a fitted or slightly oversized striped shirt in your preferred color combination.
Pair it with well-fitted jean shorts and cuff them for a relaxed look. Complete the outfit with sandals, sneakers, or loafers. This versatile ensemble is perfect for weekend outings, casual lunch dates, or beach strolls in warm weather.
It's an effortless and stylish choice for summer picnics, music festivals, or relaxed gatherings with friends.
Long Sleeve Shirt + Light Wash Denim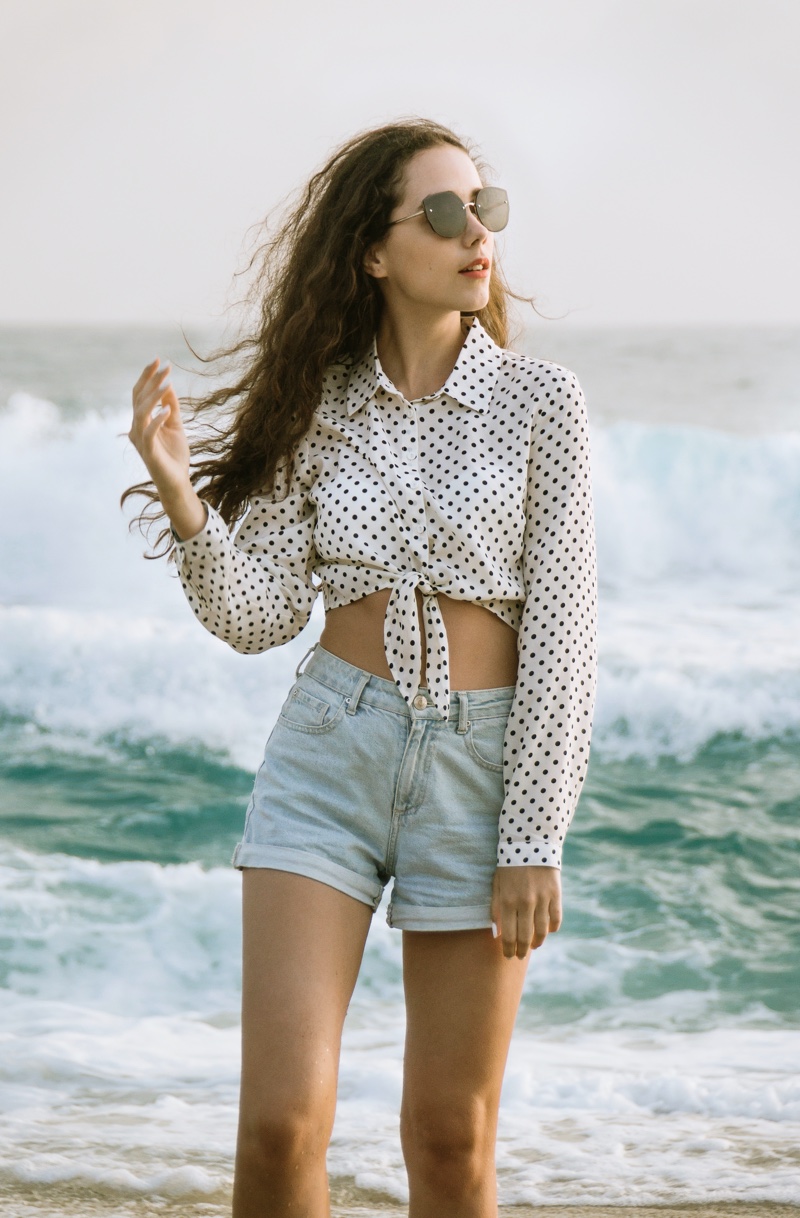 The combination of a long sleeve shirt with light wash jean shorts creates a stylish and comfortable outfit. Opt for a lightweight long-sleeve shirt. Choose a playful print like polka dots, or keep it simple with one hue.
Pair it with well-fitted light-wash shorts. You can tie up the shirt to get a cropped look. Complete the ensemble with sneakers, sandals, or loafers, and accessorize with a watch or sunglasses. This versatile outfit is suitable for casual outings, weekend brunches, or leisurely strolls. 
Graphic Tank + Pink Shorts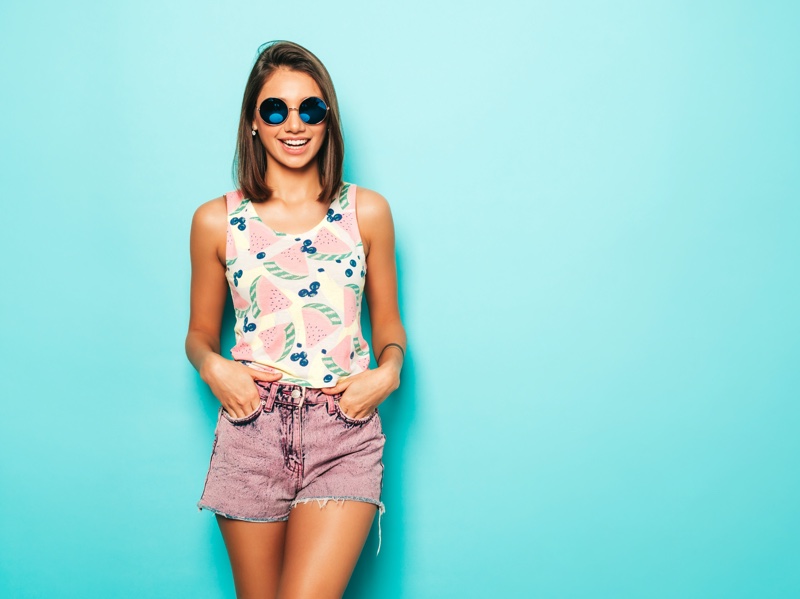 A graphic tank paired with pink shorts creates a fun and vibrant outfit. Choose a tank with a playful print like fruit or flowers, and wear it with flattering pink shorts. Complete the look with sneakers or sandals for those hot days.
This fun ensemble is perfect for casual occasions and outdoor events. Wear it for weekend outings, beach days, or picnics. It's also suitable for music festivals or relaxed gatherings. The combination allows you to express your personality and embrace a carefree style. 
White Tee, Mini Bag + Distressed Denim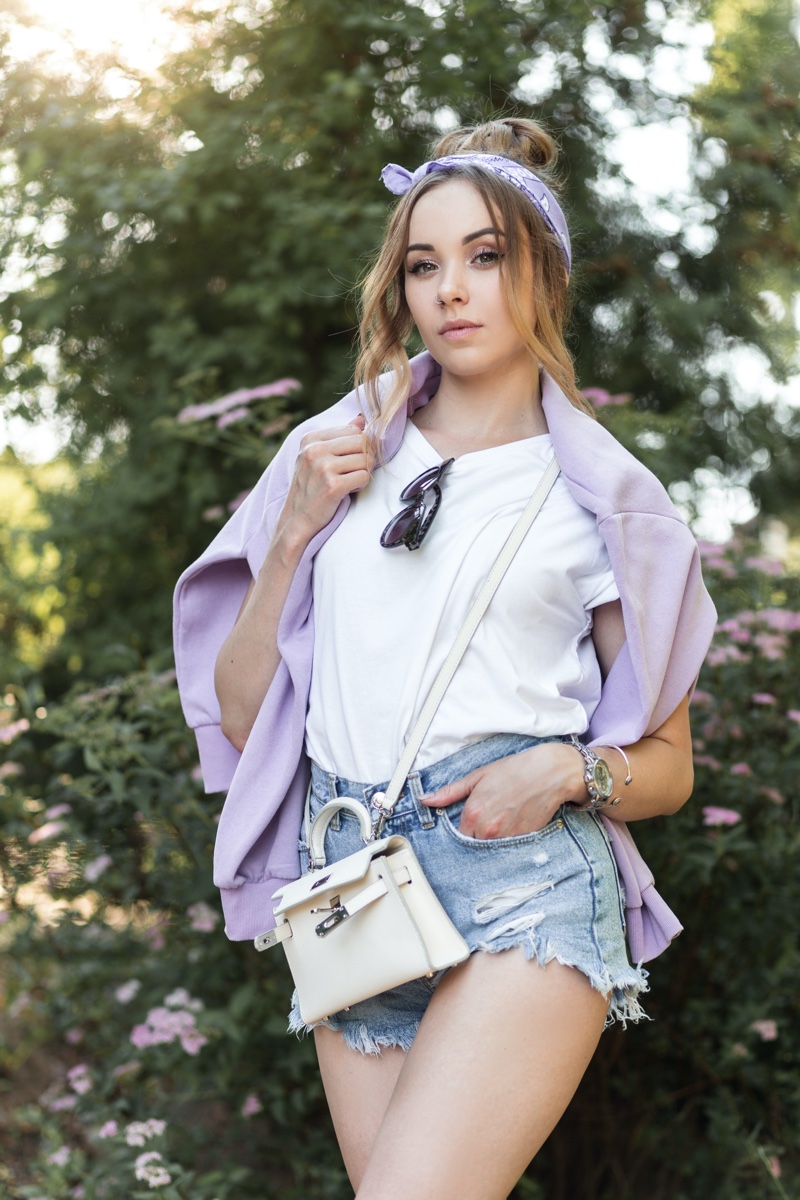 A white tee, mini bag, and distressed denim create a chic, effortless outfit. Opt for a well-fitted white tee and pair it with distressed denim for a cool, relaxed look. Add a mini bag in a neutral color for a fashionable statement.
Complete the ensemble with sneakers or heeled sandals. This versatile outfit suits casual outings, running errands, or meeting friends. The combination of a white tee, a mini bag, and distressed denim offers effortless style and comfort, making it a go-to option for various occasions.
Suit Jacket, T-Shirt + Long Shorts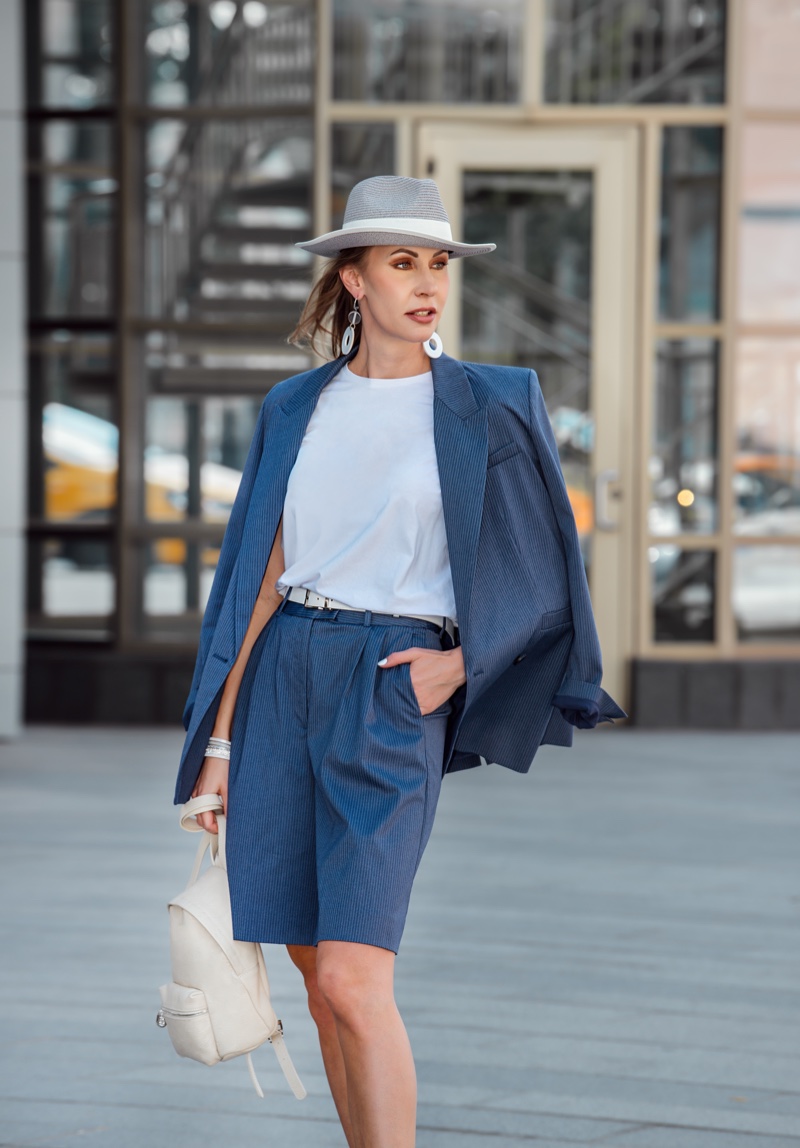 Look sharp and fashionable in a suit jacket, t-shirt, and long shorts. Opt for a suit jacket paired with a well-fitted t-shirt. Choose long shorts that hit just above the knee for a balanced silhouette.
Fabrics like linen are great for hot days. Complete the look with loafers or strappy sandals for a smart-casual vibe. This ensemble is perfect for occasions that require a polished yet relaxed look, such as daytime events, casual business meetings, or semi-formal gatherings. It's suitable for stylish brunches, art gallery openings, or summer parties. 
Linen Shirt + Culottes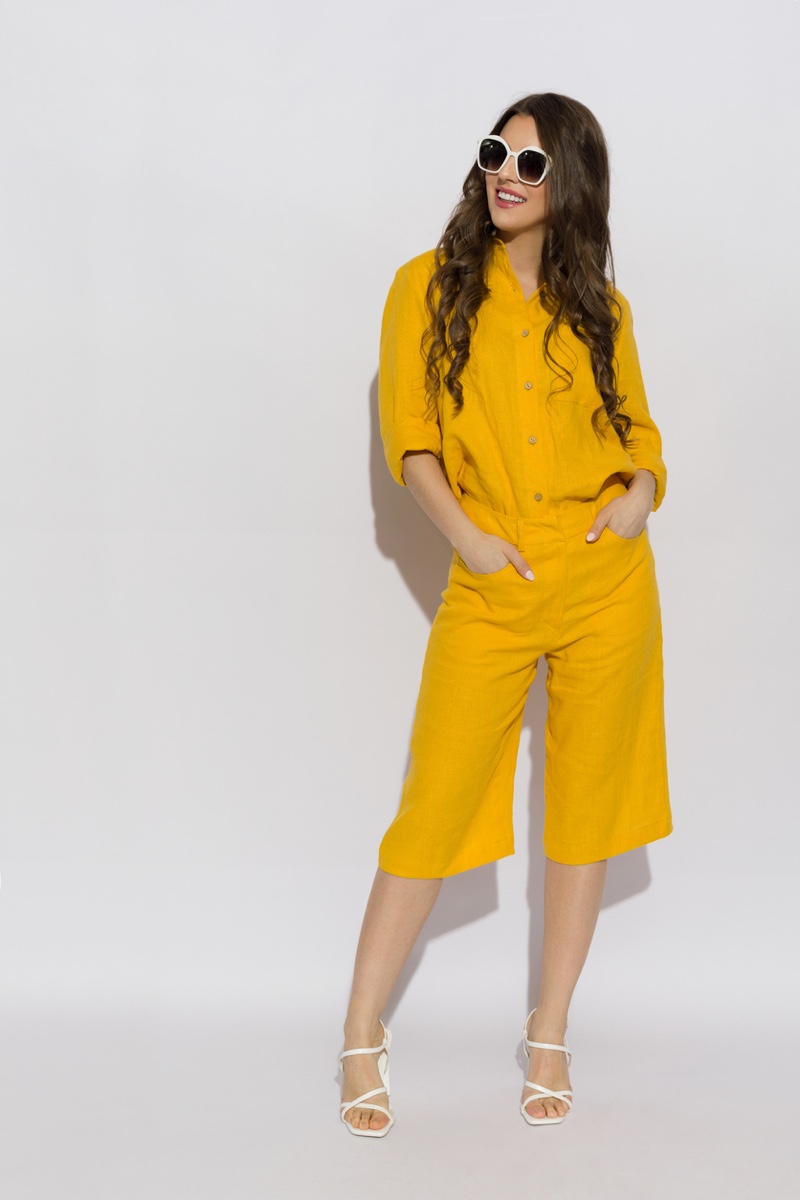 Pairing a matching linen shirt with culottes creates a chic and sophisticated outfit. The coordinated set exudes a cohesive and polished look, combining the breezy comfort of linen with the relaxed elegance of culottes.
Opt for a well-fitted linen shirt and culottes in complementary colors or patterns. Complete the ensemble with sandals or heels, and accessorize with minimal jewelry.
This outfit is ideal for a range of occasions, from daytime events to summer parties or even a stylish office ensemble. It offers a versatile and fashionable option that effortlessly combines comfort and style.
Types of Shorts
Summer is the perfect time to show off those legs; shorts are a great way to do that. Plenty of different types of shorts are out there, and each has its unique style and purpose. From classic denim to trendy culottes, here are some of the most popular types of shorts to incorporate into your summer shorts outfits.
Denim Shorts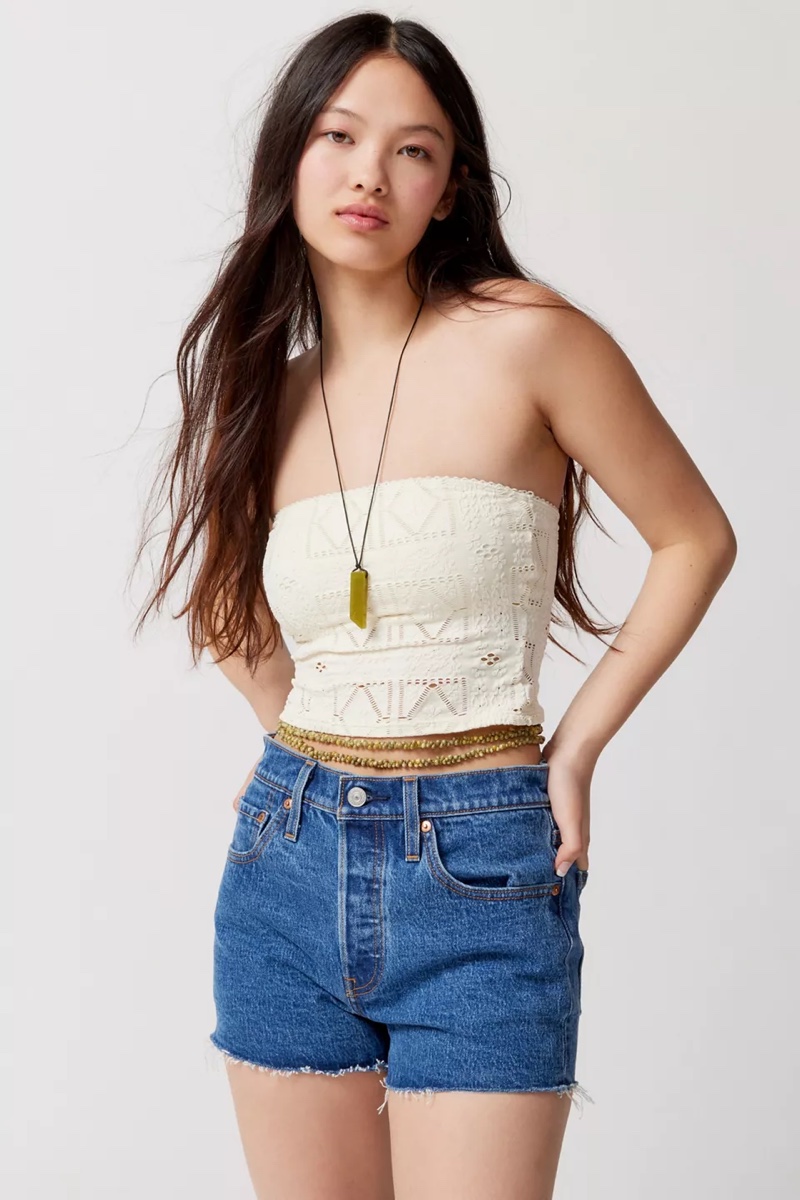 Denim shorts have been a staple of summer fashion for decades and for good reason. They're versatile, comfortable, and always stay in style.
Whether you prefer them high-waisted or cutoff, distressed or clean-cut, a pair of denim shorts will suit your style. One thing to remember when shopping for denim shorts is the fit.
You don't want them too tight or too loose – aim for something that fits comfortably around your waist and hips without being too baggy in the legs. And if you're feeling adventurous, why not try a pair with some fun embroidery or embellishments?
Bermuda Shorts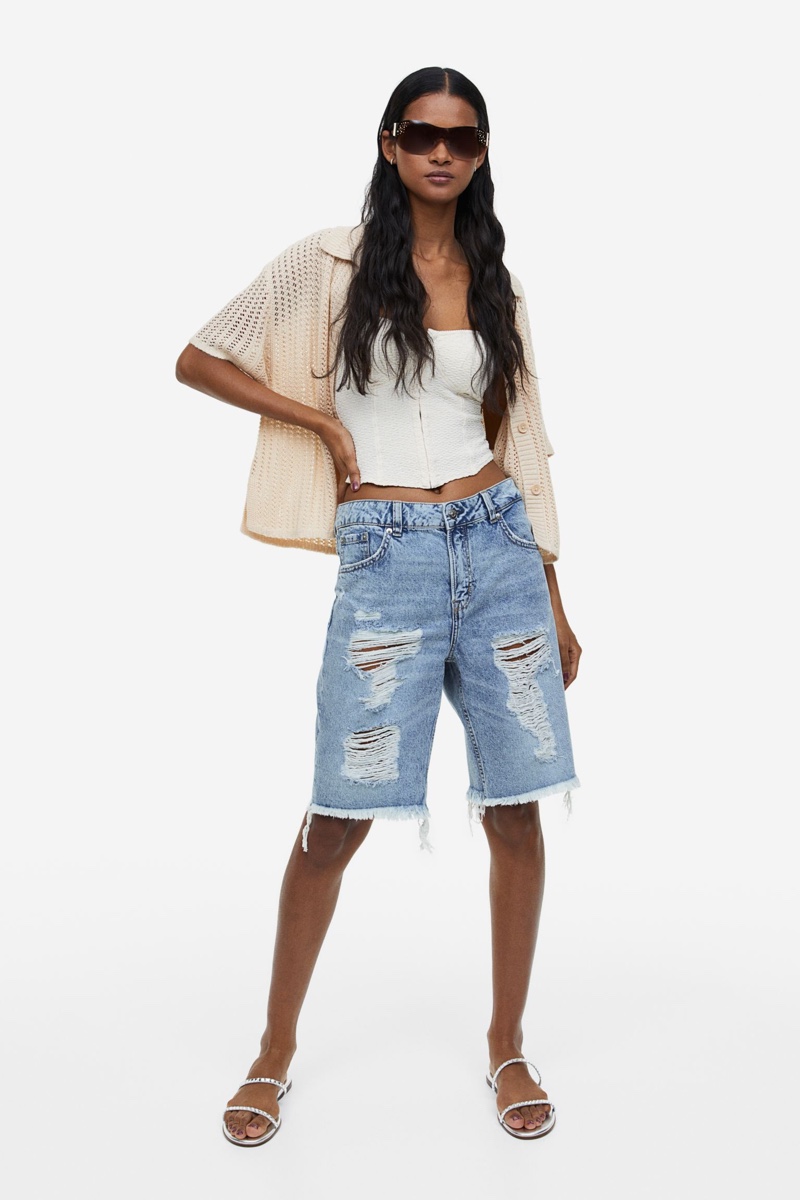 Bermuda shorts are named after the British territory, where they were first worn by the military in tropical climates. Nowadays, they're a popular choice for women who want something a little longer than traditional shorts but not as long as capris or pants.
The key to pulling off Bermuda shorts is all about proportion – aim for something that hits just above the knee rather than mid-calf. They look great paired with lightweight tanks or tees and can be dressed up with wedges or dressed down with sneakers.
High-Waisted Shorts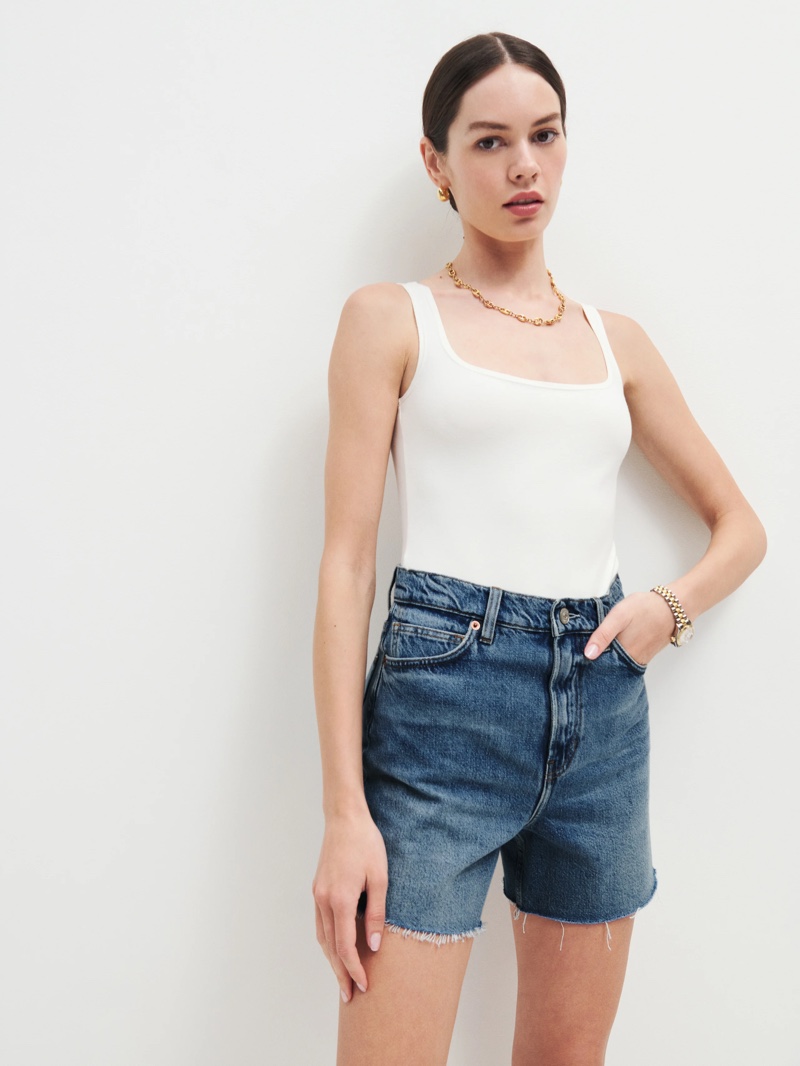 High-waisted everything has been having a major moment lately, including high-waisted shorts. These retro-inspired bottoms sit at your natural waistline (or even higher) and flatter all body types by elongating your legs and cinching in your waist. High-waisted shorts come in all sorts of styles, from tailored to distressed to flowy.
For a classic look, try them in a neutral color like black or khaki and pair them with a tucked-in blouse or tee. And don't forget to add a belt to accentuate your waist even more!
Culottes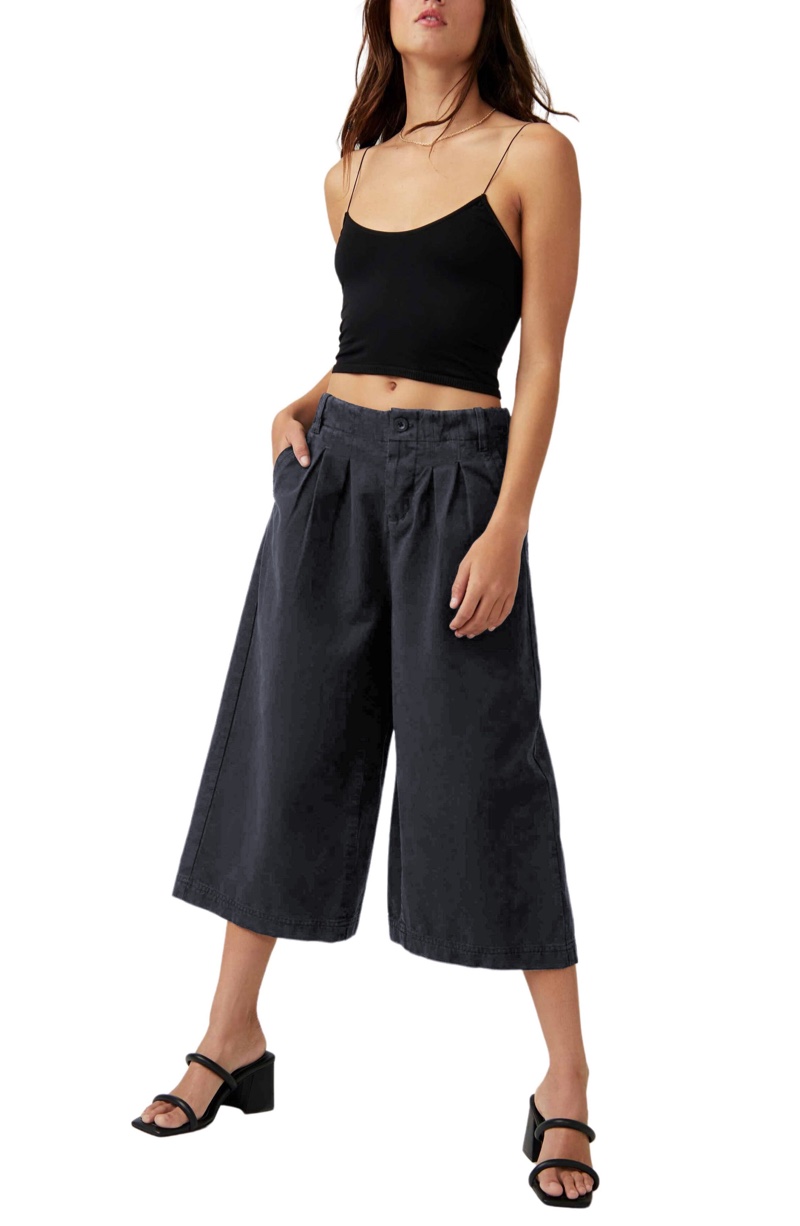 Culottes are essentially wide-legged pants that hit mid-calf or just below the knee. They're airy and comfortable, making them perfect for hot summer days when you want something flowy and bohemian. Culottes can be tricky to style because they're so unique, but the key is all about balance.
Aim for a fitted top to balance out the volume on the bottom. And don't be afraid of prints – culottes look great in bold patterns like stripes or florals.
Final Words on Summer Shorts Outfits
After considering all the different options available for summer shorts outfits, it's clear that there are endless possibilities for creating stylish, comfortable looks that suit your body type and personal style.
Whether you prefer denim cutoffs or high-waisted culottes, crop tops, or button-down shirts, the key is to experiment with different combinations until you find the ones that work for you.
So go ahead and try out some new shorts outfits this summer! Play around with different styles and accessories until you find what makes you feel confident and comfortable.