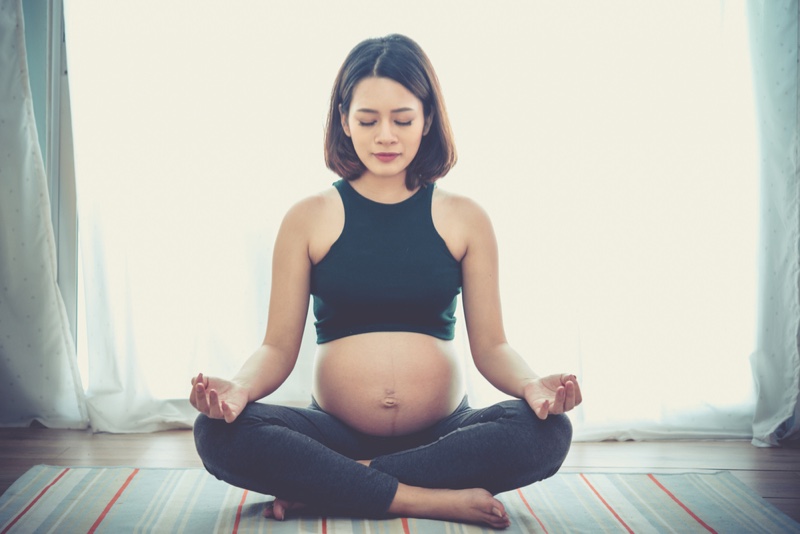 As you get bigger during pregnancy, the last thing you may feel like doing is exercising and practicing your stretches. However, stretching is extremely important during pregnancy, both to enable a smooth delivery and to help your body bounce back after pregnancy.
Here are ten very helpful stretches that you probably won't mind doing even in the later months of pregnancy:
10 Safe Stretches for Pregnancy
1. Arch Your Back
Get on your hands and knees and push your spine upwards as far as you can. Then, stretch your belly down towards the ground until you can feel it in your lower back. This is a great, easy stretch that does a good job of working your back and abs. It can be especially helpful to reduce the tightness felt in your abdominal muscles as pregnancy progresses.
2. Bend the Lower Back
Sit on a chair and cross one leg over the other knee at the ankle. While keeping your back as straight as possible, lean forward over your bent leg until you can feel the stretch in your lower back. Repeat after crossing the other leg. Since lower back pain is a frequent pregnancy complaint, you will likely find that you absolutely love this stretch.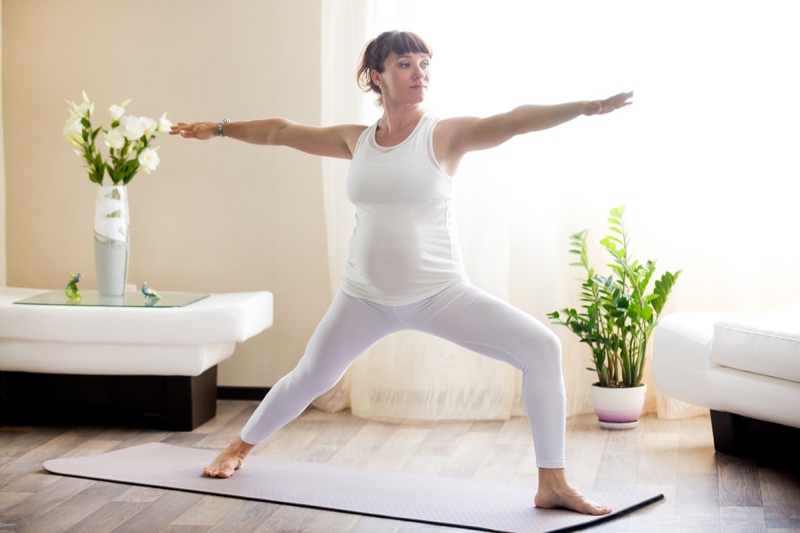 3. Lunge
Bend down on one knee with the other knee up and the foot resting on the ground. Lean forward, extending your thighs until you can feel the stretch in your hips, glutes, and stomach. This stretch takes some balance, so if you are feeling uncertain, it may be best to get instruction from a professional personal trainer that you can find on Stretch.com.
4. Lift Your Belly
Lying on your back with your feet flat on the floor and your knees at an angle, lift your belly and pelvis up into the air so that only your shoulders, arms, and feet are resting on the ground. This exercise is great for stretching your behind, thighs, hips, and back and also provides a gentle ab workout. Working out your abs in a safe way is very important during pregnancy to assist with a smooth delivery.
5. Flex Your Thighs
Sit down on the ground with your feet bent in towards you and the bottoms of your feet touching. Bend forward, leaning over your feet so that you can feel your hips stretch. Maintain the pose for several minutes, gently rocking to extend the stretch further. This stretch can be a huge relief for thighs that gets stiff and tired from holding extra weight.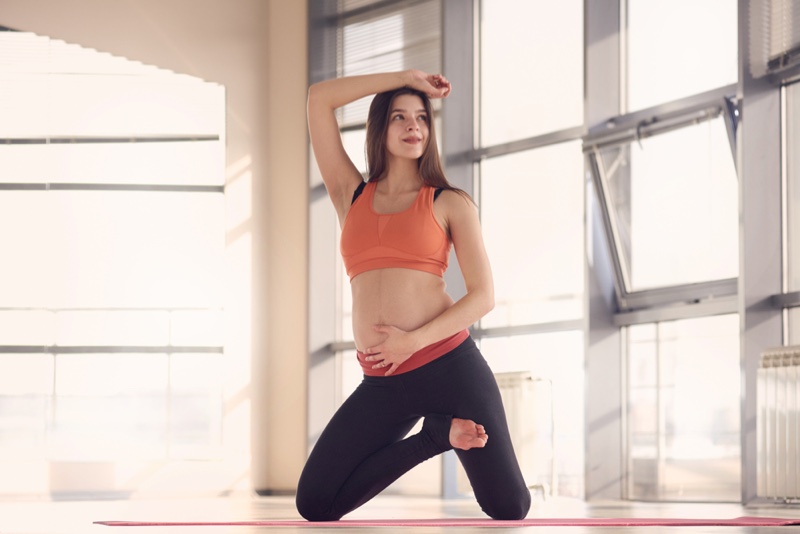 6. Stretch Your Hips
Start on your hands and knees and extend your arms forward while allowing your behind to sink back onto your ankles. Maintain this position for several breaths, rocking slightly to extend the stretch through your hips and back. As you get more pregnant and your belly gets in the way of this stretch, you may not be able to extend the stretch as far. You are likely to find that an exercise ball comes in handy at this point.
7. Touch Your Toes
Stand with your legs straight and bend over as far as you can towards the ground. At the beginning of pregnancy, you may actually be able to touch your toes, but don't worry if as your pregnancy progresses you can't reach this far. The point is to be able to feel the stretch in your hamstrings and lower back.
8. Ease Tension in Your Neck
Sit in a chair and tilt your head to one side until it drops onto your shoulder, then switch sides. Be careful not to force your head downward or raise your shoulder to meet your head. Just gently drop your head down so that you can feel the stretch in your neck. This simple stretch is a good one to repeat regularly throughout the day. It may even reduce the frequent headaches that many pregnant women experience, as well as reducing neck pain.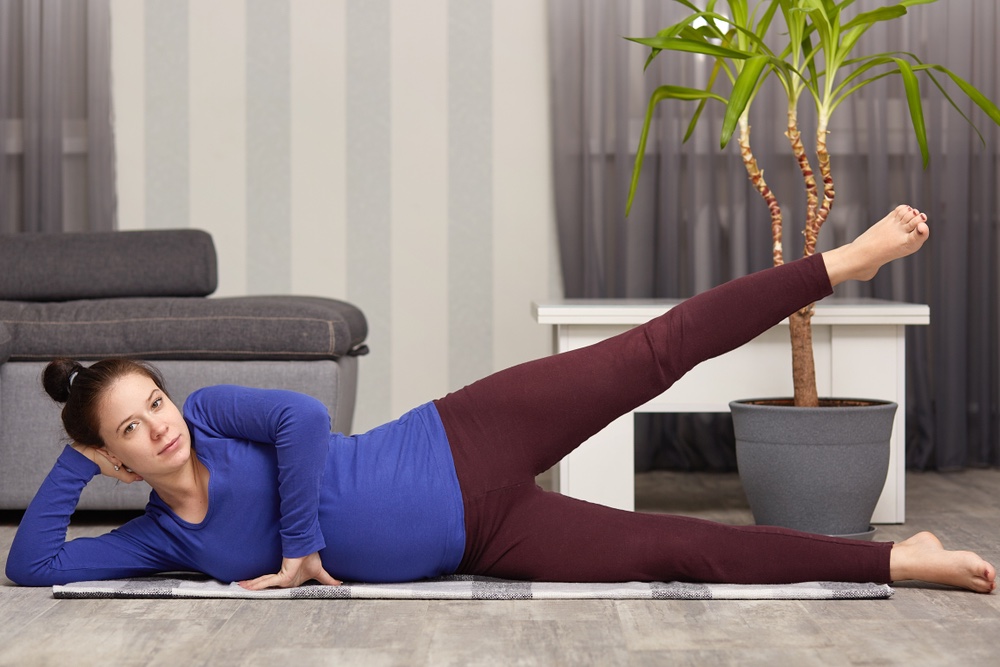 9.
Stretch Upwards

Position yourself on your knees and stretch backward with your arms in the air. Squeeze your bottom and stretch until you can feel the stretch in your back and shoulders. Try to hold the position for a couple of seconds and rock gently to extend the stretch in your back.
10.
Flex Your Shoulders

Stand with your feet about the distance of your hips and bring your arm into your chest. Pull your bent elbow in towards your chest with the other hand and hold for a couple of seconds, gently rocking. Switch hands and do it again.
Useful Tools for Stretching During Pregnancy
An exercise ball. Many of the stretches on this list may be made easier by using an exercise ball, especially late in pregnancy. The right stretches using the exercise ball may even make delivery easier.

A yoga mat. For stretches in which you want to kneel on the ground, an exercise mat can make it easier on your knees.
Keep Stretching Throughout Your Pregnancy
You may not feel like doing much during your pregnancy, and it is certainly fine to be lazy every now and then. However, by maintaining a stretching routine, you make it much more likely that you will have a smooth delivery and recovery, as well as feeling better throughout your pregnant months.