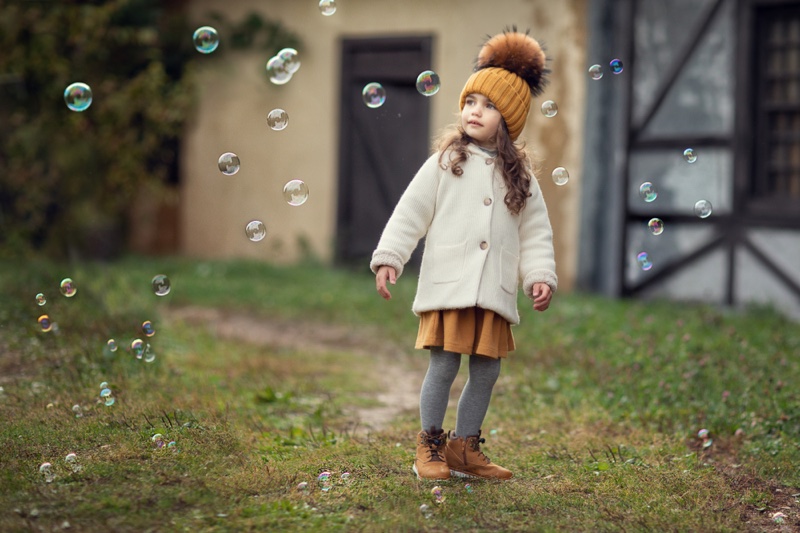 As the season turns and the cold sets in, it's time to make space and get new winter clothes for your kid. Whether you want to upgrade your child's closet with new winter outerwear or are just looking for cute outfit ideas, here are some of this season's most lovable and fun ways to mix and match toddler boy coats and jackets.
Want more mix and match fashion ideas? Be sure to visit BabyOutlet, where you will find a wide range of coats and jackets for toddler boys and girls that are easy to mix and match different toddler items for cute winter outfits. Of course, the clothes are of high quality, soft to the touch, and safe for your little tots.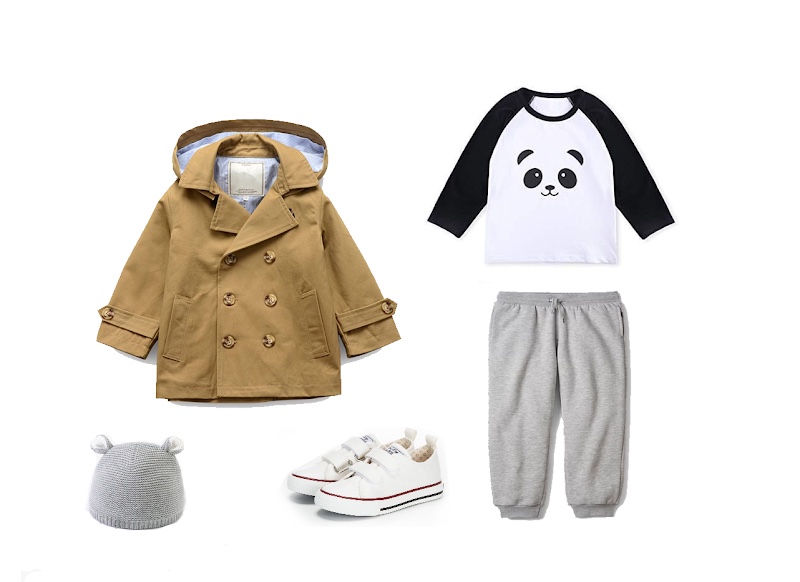 Toddler Long Coat + Long Sleeve Tee + Sherpa Pants + Sneakers + Beanie
Start with an adorable long-sleeved tee and cozy sherpa pants as the base layer. Then, elevate the whole outfit with a classy long coat. This fun mix and match idea ensures that your little one will look both cute and fashionable everywhere he goes this winter. Besides, the long-sleeved tee and sherpa pants are pretty common as a home outfit for any toddler. So, all you need now is to find the right toddler long coat.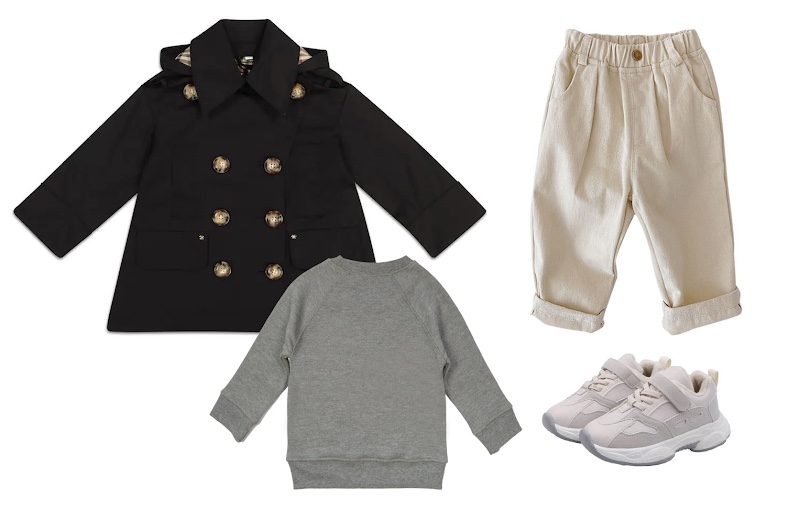 Dark Color Trench Coat + Basic Sweater + Basic Khaki Pants + Sneakers
This outfit is all about mixing high and low! Start by mixing your toddler boy sweater with a cozy pair of light-colored trousers like these khaki pants. Then, top it up with a stylish trench coat for an overall luxe look. Complete this fashionable outfit with a pair of white sneakers, and the little one is ready to go! Also, a scarf or a knitted hat would be the perfect accessories to pair with this outfit and keep your kid extra warm when the temperature drops.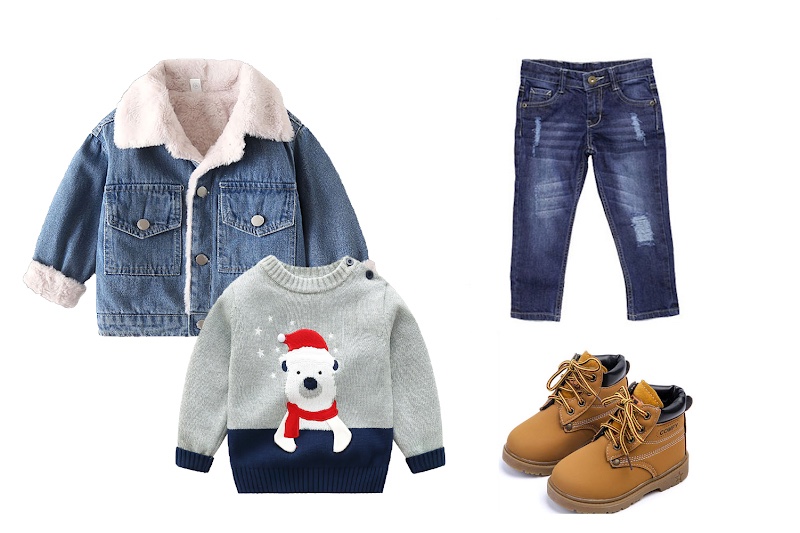 Fur Lined Denim Jacket + Cute Animal Sweater + Denim Pants + Boots
If mixing and matching toddler clothes isn't your thing, the trick here is to simply go for denim outfits! This style can go well with pretty much every winter wear while offering enough warmth for kids in winter. For your toddler's extra coziness, we decide to go for a toasty fur-lined denim jacket instead of a classic version for this one. Pair this toddler jacket with your child's favorite sweater and denim pants, and they are totally ready for the day! Additionally, don't forget to bring a pair of cozy boots before going out.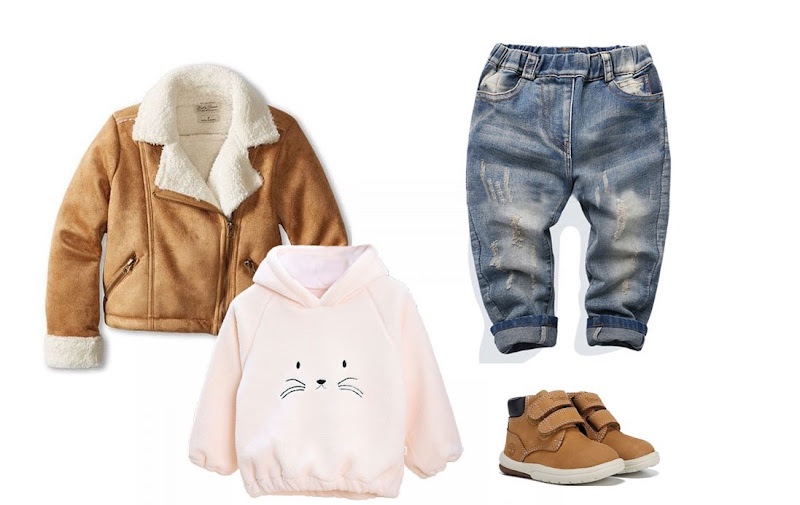 Toddler Shearling Jacket + Fur Hoodie + Blue Jeans + Winter Boots
Apart from being the coolest WWI pilot uniform, many brands have adopted shearling jackets to bring classic aesthetic, coziness, and great functionality to a whole new range of jacket and coat styles for children. You can shift between a hoodie or light sweater for the base layer, depending on the weather. And, finish it off with the classic blue jeans and winter boots combo for your son's stylish winter look.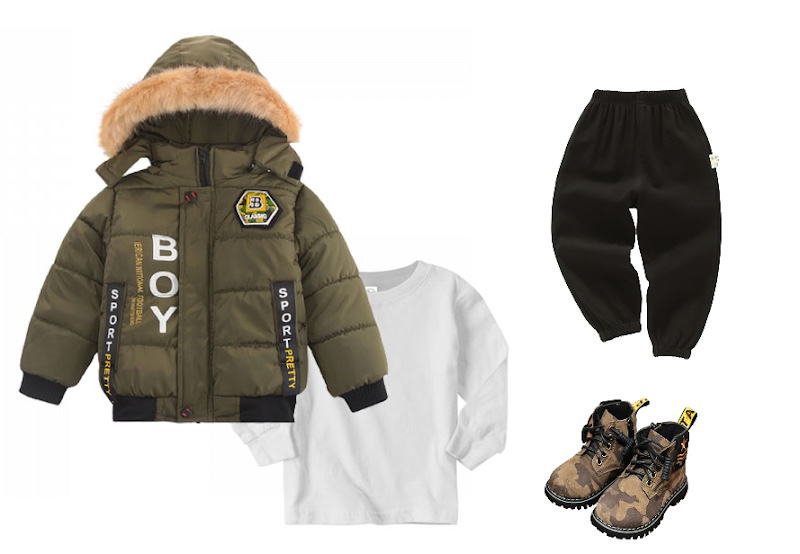 Toddler Boy Puffer Parka + White Long-Sleeved Shirt + Bubble Pants + Tactical Ankle Boots
When the temperature drops, every toddler fashion star will need a moto-inspired puffer parka! Famous as an instant cool factor to any look, a puffer parka with fleece lining will keep your toddler warm and protected from the cold, rain, and even snow. Pair the jacket with a comfortable sweatshirt and solid bubble pants, which are a must in any kid's wardrobe. Finally, finish the bold look with a pair of tactical ankle boots, and there you have it; your little winter soldier is ready for the upcoming cold months!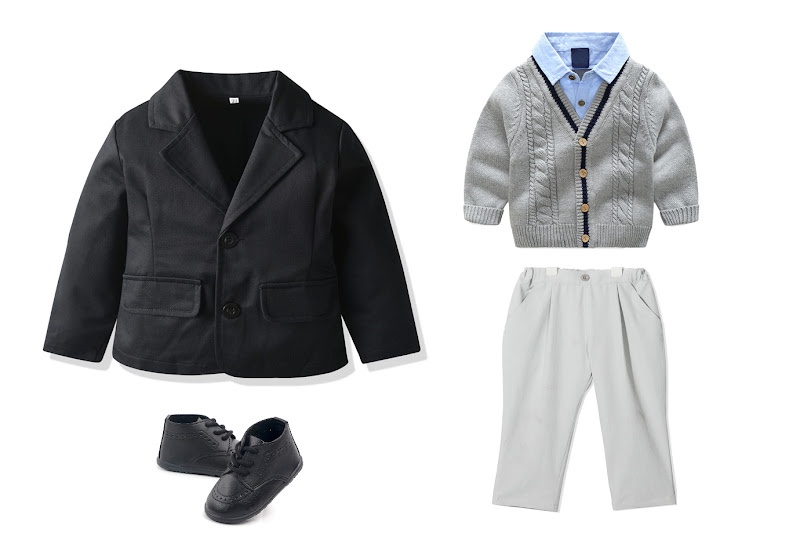 Little Gentleman Suit Coat + Shirt Sweater Combo + Toddler Formal Pants + Black Leather Shoes
This outfit idea is designed for little gentlemen with style! Start with a classic yet very cozy shirt and sweater combo, and your toddler boy already looks amazing without any outerwear. But, for the complete formal look, your son still needs this lovely blazer and, of course, a pair of black leather shoes. Cute, stylish, and simple – who can possibly say no to a toddler boy in a look-alike suit!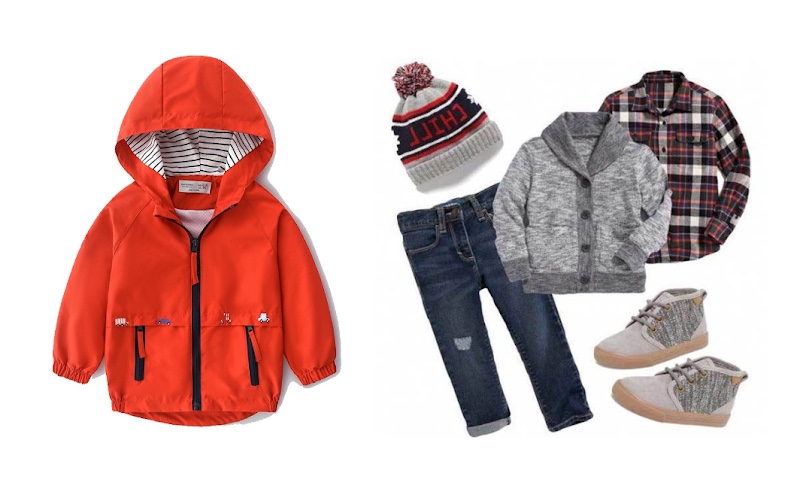 Solid Color Hooded Jacket +Plaid Shirt + Blue Jeans + High Ankle Boots
Plaid is a staple print for winter. So, why not try to mix this style with your child's winter wear to brighten things up a bit? Simply top the plaid shirt with a light cardigan for coziness and a hooded jacket for an effective water-resistant outer layer. For that extra warmth in the cold winter months, a pair of soft ankle boots will be just enough to keep those little feet toasty!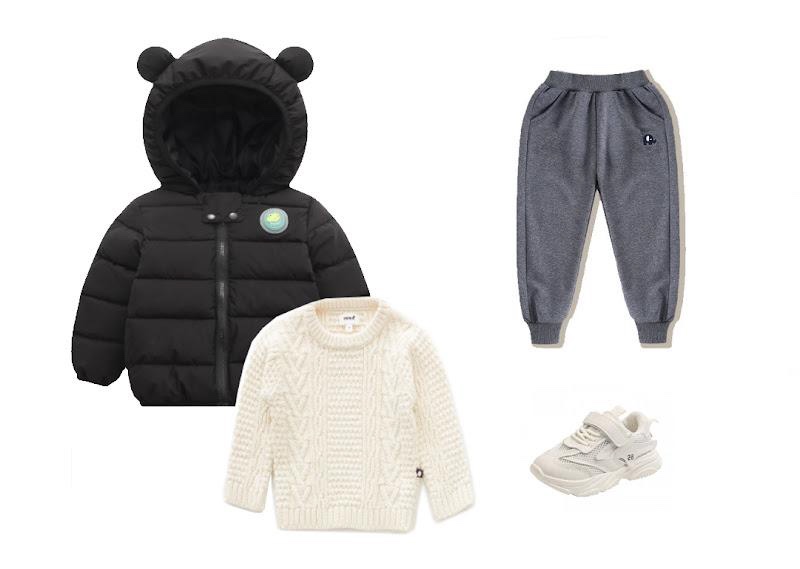 Puffer Hooded Jacket With 3D Ears + Knitted Sweater + Basic Jogger + Sport Shoes
A knitted sweater and solid jogger are standard when it comes to wintertime dressing. However, we don't keep anything too basic around here! Add a statement coat or a lovely hood jacket with 3D ears like this one to take your stylish kid's look to the next level. Make sure to get your kid a pair of sports shoes for a more active outfit. Whether it's for outdoor activities or visiting grandma's house, this outfit will keep your child warm and comfortable no matter what.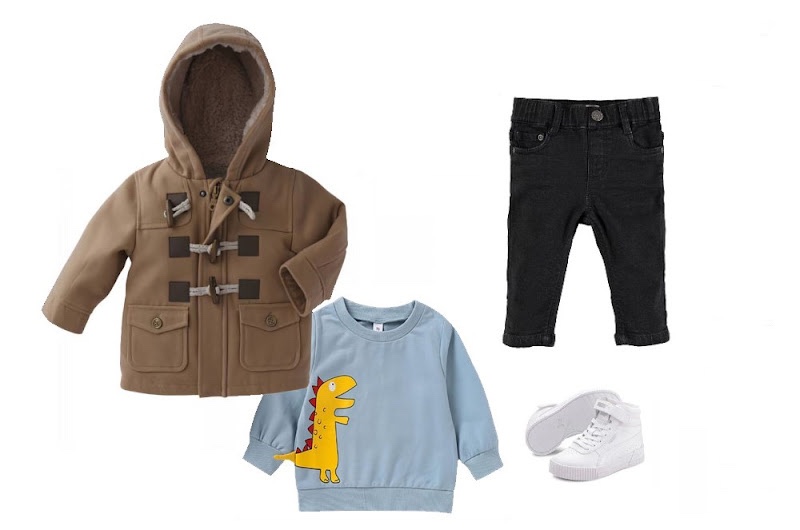 Hooded Fleece Jacket + Dino Sweatshirt + Black Jeans + High Top Shoes
There are no avoiding layers when it comes to dressing your kid for winter. But, you can always keep a look simple and light with a fleece jacket. Start with a sweatshirt with cute prints in neutral tones to avoid looking too "special". Then, pair it with classic black jeans, which are perfect for protecting your toddler from the cold. Last but not least, before stepping outside, throw on this hooded fleece jacket and help your child put on their favorite high-top shoes.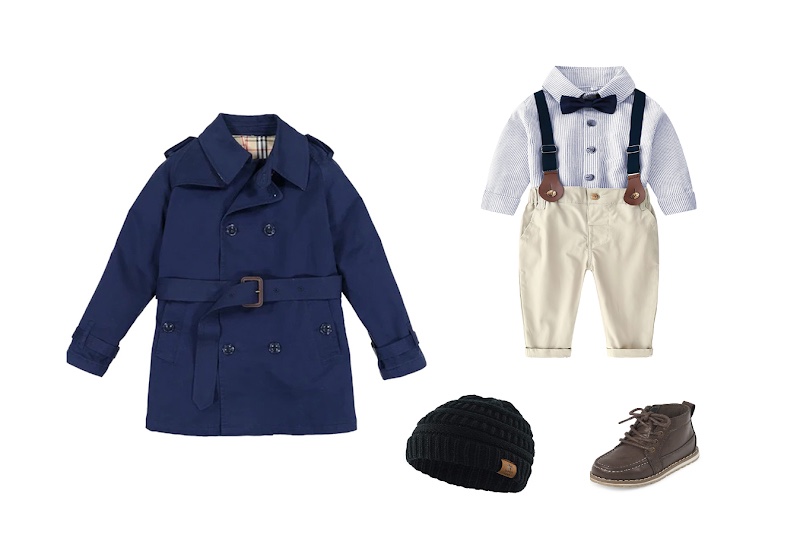 Blue Trench Coat + Shirt & Suspenders Pants Set + Wool Hat + Formal Boots
Another excellent option for a classy look! But, instead of a blazer, your toddler will look amazing with this fashionable trend coat. This trench coat offers more coverage with a more extended design, meaning more protection from the weather. Next, the layer underneath the coat is a cute shirt, and suspenders pants set that every kid loves. And, you don't want to miss a pair of formal leather boots for this mix and match!