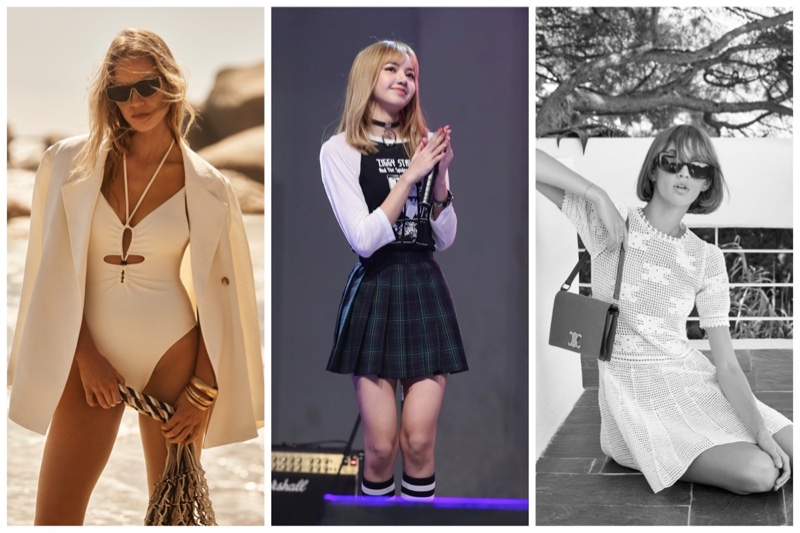 H&M's Summer 2023 collection offers trendy swimwear and stylish outfits for going out with a new campaign featuring Mona Tougaard and Rebecca Leigh Longendyke. BLACKPINK's Lisa graces the cover of Harper's Bazaar Korea in June 2023, captivating readers with her dazzling presence while wearing Tiffany & Co. jewelry.
Celine's Plein Soleil collection celebrates the sun with warm-weather designs captured by Hedi Slimane in Saint Tropez. Chiara Ferragni channels the 60s in Louis Vuitton's Shake shoes, showcasing a collection that combines retro aesthetics with a modern flair.
Jacquemus brings vacation vibes to its summer 2023 campaign, showcasing effortlessly chic looks modeled by Vittoria Ceretti. Staud Swim's 2023 collection invites you to embrace the beach season with stylish and functional swimwear options called Staud Sea.
Ferragamo's pre-fall 2023 campaign features a Western flair, combining elegance with rustic charm. Miley Cyrus wows on the cover of British Vogue's June 2023 issue, showcasing her unique style and fearless attitude.
Arina Besedina showcases neutral outfits in Amica, offering a fresh perspective on the timeless fashion trend photographed by Mel Karch. Gucci heads to Seoul for its cruise 2024 collection, which celebrates the historied city and its culture, ranging from surfing to skateboarding.