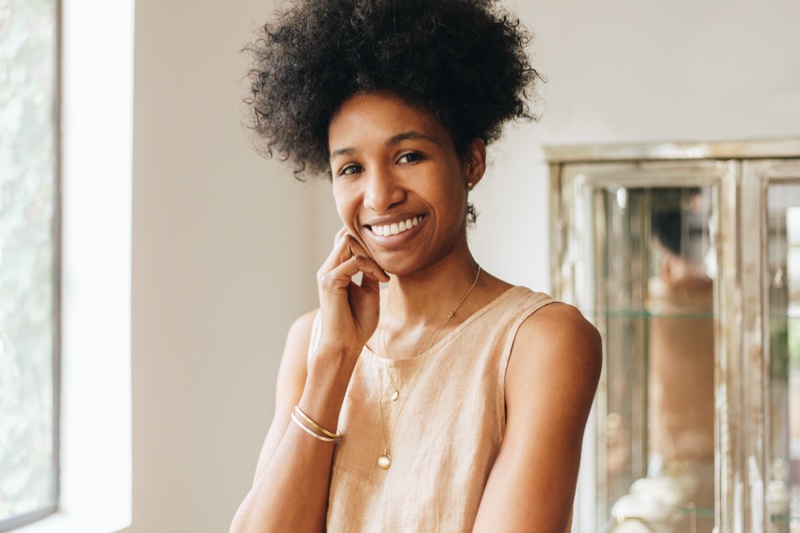 When it comes to peoples' working lives, most folks are keen to present themselves well. Many seek ways to boost their confidence, whether it's through their body language or fashion sense. Our jewelry can say a lot about us, too, making it an important element of our overall look.
It may be that you've been wondering about your current jewelry collection in relation to work. If so, you should read this article because it will provide you with some simple style tricks to enhance your appearance.

Check Out The Internet
Pinterest And Instagram
The first step is for you to see some working (pardon the pun) examples on social media to get some ideas. Pinterest is a great place to start; it's an online pinboard where people can upload images and share them. You can find some jewelry pieces that'll help you get your creative juices flowing. Instagram is another good choice, as there are a lot of great photos on it. Don't forget to use hashtags to help you find what you're looking for.
Online Shops
Online shops are another great way to see what's out there and what people are wearing at work. For example, you may be one of the 2,333,000 residents living in Baltimore, USA. You can search the internet for Baltimore jewelry stores and discover everything from gemstone jewelry and engagement rings to estate jewelry and diamond earrings. If you're looking for a best-seller, you may consider a white gold rose cut diamond bangle or yellow gold diamond starburst pendant necklace.
Try It Out
You should now have an idea of what accessories can be worn with what. The next logical step is putting it all together. Practice makes perfect, so find some looks online and in magazines that work for you even if you're not necessarily following them exactly. Don't worry because it's ok to "borrow" ideas here and there.
Once you've done this, put together at least three different outfits. Then take photos or videos of yourself modeling each one, especially showing your front view.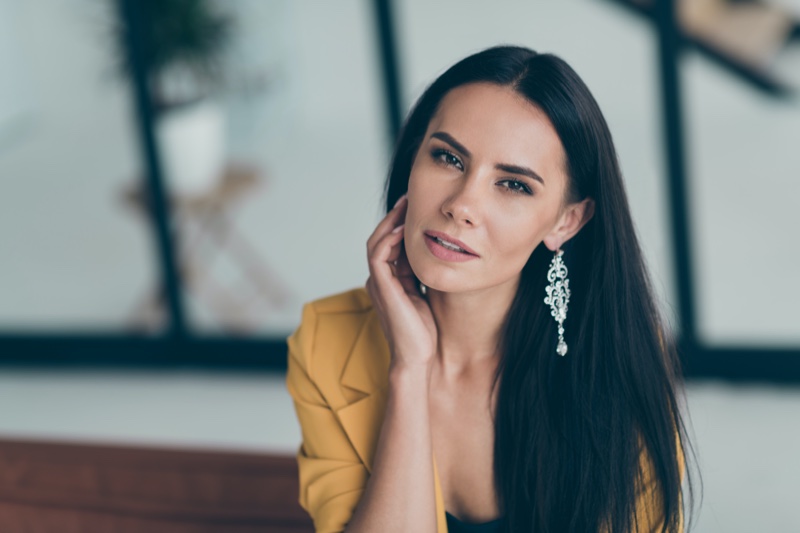 Wear Statement Jewelry
You could incorporate statement jewelry pieces into your outfits to upgrade them for an evening work function. To do this, wear statement necklaces, earrings, and bracelets in bright colors or with interesting designs that will pop against the rest of your outfit. Try going all-out colorful by pairing one statement piece with something simple like a black dress or another neutral color ensemble.
Statement rings can also add some glamour to an otherwise plain look. Try stacking several rings together on one finger. If you want to make statement jewelry work when wearing business attire, opt for subtle options such as thin gold bangles or long delicate necklaces. This will help you keep it classy while still adding interest.
Try Bracelets
When it comes to bracelets, they're a great way for you to add your own flair and create your own unique style statement. Also, check out what style of bracelet is currently trending during this season. There's something about wearing a bracelet that adds edge and glamour without going overboard on jewelry. For an elegant look, you can mix metals or go all out in one color, like yellow golds and silvers.
Why not swap your watch for a bracelet to add some color and personality to your outfit? When wearing a bracelet with a blazer, dress shirt, etc., the first thing you need to do is to understand what colors go best together fully. You could also wear a bracelet with the colors of your company logo or wear one in support of a cause you care about. This could make your jewelry a great talking point with potential clients and help break the ice at business events.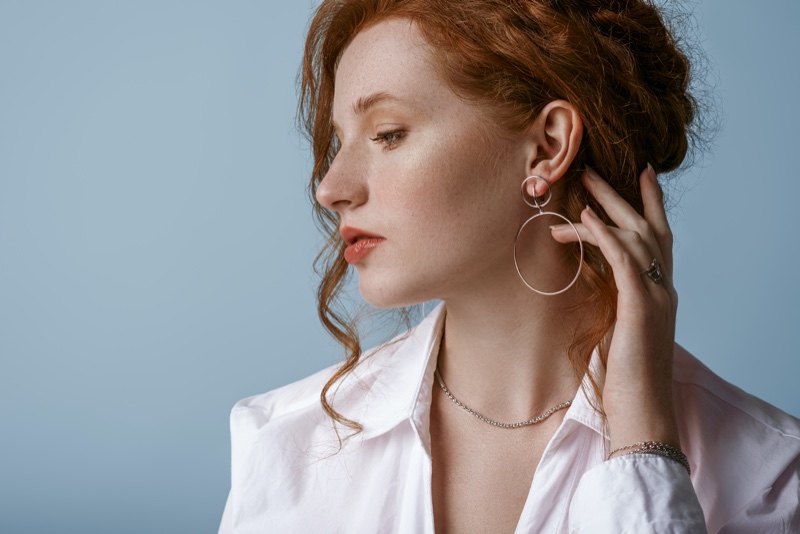 Keep It Simple
When it comes to earrings, you could go for a pair of studs or small hoops that you can wear every day. Whilst statement pieces are great; it's also important to not look like you're trying too hard to impress. Needless to say, this will depend on the specific context in which you are wearing them. As regards big statement pieces, wear a limited number and use them sparingly.
Some more basic jewelry you could consider wearing at work includes simple bracelets (if you're allowed to wear them), necklaces, and rings. While you're searching through your current collection, get rid of anything that is old, tired, or cheap looking.
Accessorize
How you do this can be the perfect finishing touch to your outfit that takes it from great to wow! Some examples include wearing necklaces, bracelets, and rings in neutral colors or metallic tones. Then, accessorize with a bold color.
For example, try pairing your neutral blouse and cardigan with an orange or yellow necklace to draw attention to your face. Don't wear too many accessories all at once if it's going to make you feel uncomfortable because that will defeat the point.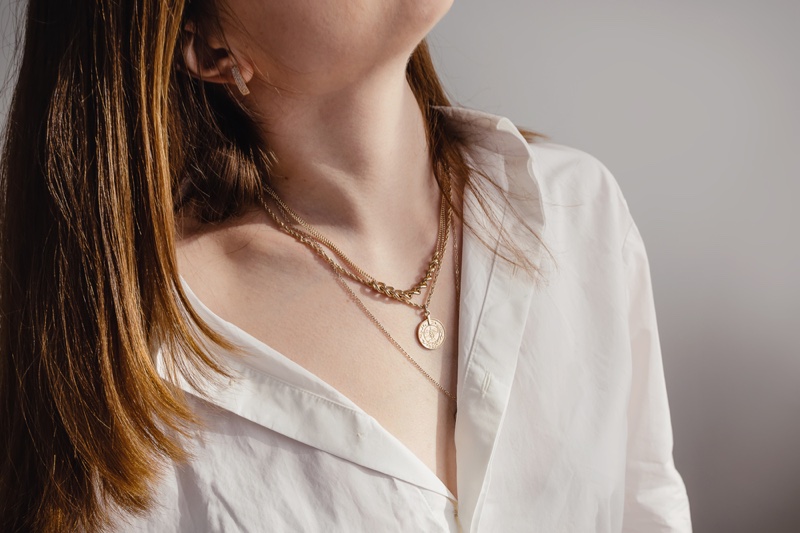 Try Necklaces
They are one of the easiest ways to accessorize since they go over the top of clothing easily. Try wearing them long or short depending on what you're comfortable in as well as how low your neckline is going.
You can even layer shorter necklaces for different looks. Another great option is layering multiple necklaces at once -but this takes some practice because it's difficult not to be overwhelmed by too many clanging metals.
Try Earrings And Rings
They can be anything from super simple studs to more aggressive chandelier style earrings; the choice is yours, depending on the required look. Rings are great options as well since they can create some added texture. Try wearing rings on your index finger, ring finger, or even with a thumb ring to create some interest.
Hopefully, you now understand where to go and what to look at. Whether it's social media or online stores, you'll be sure to see something that inspires you. If you choose wisely, your jewelry will enhance your office wear, bring out your natural beauty and create the right persona for your daily working life.