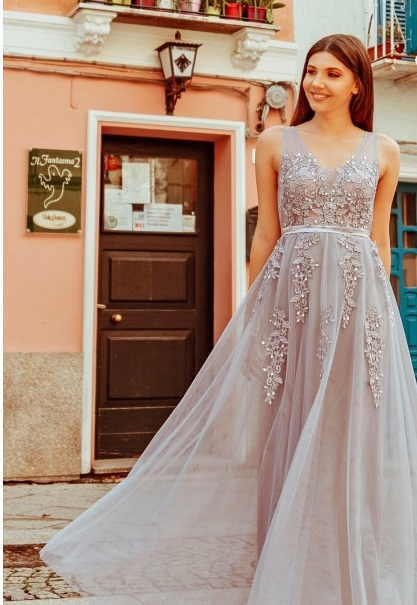 Bridal showers are ladylike events meant to pay respect to the bride and honor her as she prepares for married life. Much like the wedding, no one should outshine the bride. You need to look nice, but not inappropriate. Think afternoon tea, not raving nightclub.
It's important to put thought and effort into what you wear so that you look nice for yourself and the bride. It shows how important the event is to you and what an important part the bride plays in your life. Taking the time to plan a well-thought outfit will show her you care.
There are some general guidelines you should follow when dressing for a bridal shower. You shouldn't dress as formal as if you were going to the wedding. If you're worried about what to wear or you feel like you don't have anything at all, follow these, and you won't have any trouble finding something beautiful.
Make it Special
The bridal shower itself is special, whether it's a formal afternoon tea or a garden party in someone's backyard, or even just friends gathered in a living room. In any event, you want to make sure you look special because someone put a lot of effort and planning into throwing a special shower for a special lady.
If it's in an informal setting like someone's house or the community center, wear a nice sundress or a maxi dress. Even dress pants or capris, and a nice blouse will do the trick. Jeans aren't appropriate, but a nice, informal khaki material is perfect.
Semi-formal bridal showers may be held at a country club, a chic restaurant, or an upscale house, and require a little more work. You can wear a semi-formal dress or separates, but you can't get away with a sundress or capris this time.
Typically, bridal showers aren't formal events. You wouldn't dress up as you would for the wedding, but it's also not super casual. No matter where the shower takes place, you should wear something more special than your everyday attire.
Wear Happy Colors
Bridal showers are happy occasions. Pastels are a perfect choice because they are light, airy, and fun. Pale blue, coral, peach, or light yellow are all great choices. When choosing a color for a bridal shower, think spring. If you don't like pastels, you can go darker, but make sure you still choose something happy.
Black, dark blue, dark green, and brown do not fit in well at bridal showers. They're somber color choices that don't lighten the mood or reflect the happiness of the occasion. You won't fit in with the other guests, and you'll look like you're not enjoying yourself.
There's Nothing Wrong with a Dress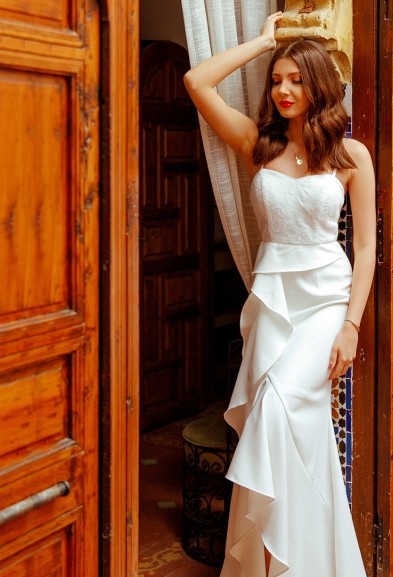 Dresses are feminine and always appropriate at a bridal shower. If you question the venue at all and wonder whether it's casual or semi-formal, wear a dress. You won't look out of place. Wear something timeless and classic like a sheath style because it's conservative and understated.
You may also choose to wear a nice pair of pants, and that's ok, but make sure you don't ever wear jeans or corduroy pants. They're too casual and not fitting of the celebration going on. They also don't show respect to those who put a lot of time and effort into the planning.
Try Florals
Floral prints are bright and fun. It's the perfect look for a bridal shower because flowers are a common decoration at both showers and weddings. Flowers are synonymous with happiness, love, hope, and romance.
Wear Pretty Shoes
Even if you don't have a floral dress, the right pair of shoes can turn a plain dress into something spectacular. Choose something delicate and feminine to fit the occasion. You'll look soft and graceful instead of harsh and heavy. You're not showing off for the guys, so this is one time it might be better to leave the high heels at home.
Choose Something Soft
Your fabric matters as much as the color you wear to a bridal shower. It's not the time to wear your leather biker jacket or studded jewelry. Draped and flowing fabrics like jersey, silk, or chiffon are the right choices. Ruffles and lace are perfect, too. This is the time to pull out all of your most feminine attire.
Wear Jewelry
It's ok to be over the top at a bridal shower when it comes to jewelry. Big costume jewelry is fun while fine, simple pieces are gentle and feminine. A little sparkle never hurt anyone, and this is the time to celebrate, so bring on the bling.
Pants and a Blouse are Fine
Maybe you're not a dress person, and that's fine. The best pants to wear to a bridal shower are a little bit looser fitting and don't look too casual. Wide leg pants, as long as they're not jeans, are relaxed, but chic. You can wear black pants as well, just make sure you soften them with a feminine blouse and jewelry. For a more formal gathering, though, you may feel out of place if you're not in a dress.
Be Sweet, Not Sexy
Plunging necklines, short skirts, and other skimpy outfits have no place at a bridal shower. They are too revealing and don't show respect to the bride, other guests, or yourself. Conservative is the way to go. While you don't want to look childlike, it's better to err on the side of caution than to offend everyone you meet. Again, think of a tea party instead of a bar, and don't steal the attention away from the bride.
Accessorize
In addition to fancy jewelry, now is the time to pull out all of your accessories like scarves and hats. Carry a clutch, put on a glittery scarf, and wear a fancy hat. It's a party, and you're meant to have fun. Wear something you've never worn before or something you don't get to wear very often.
If you're shopping for a new outfit for a bridal shower and you're questioning whether you'll wear it again, remember you can always wear the same thing to a birthday party, baby shower, high school reunion, college graduation, or date night.
Follow these guidelines and don't stress too much about whether or not it's appropriate. Chances are if you feel good, you also look good. Treat yourself to something new, pull out all of your fancy accessories, don't embarrass yourself or the bride, and have fun.