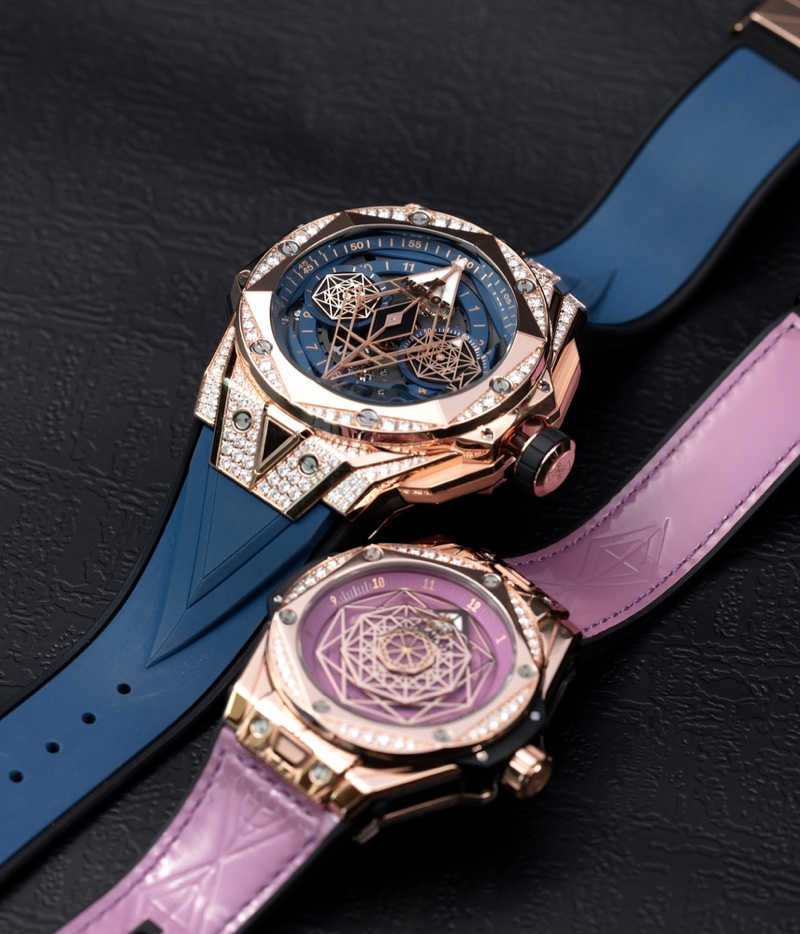 Trying above most branded products, Hublot introduces what we like to consider a multidimensional luxury wristwatch figurine. In 2005, Hublot unveiled the very first Big Bang. This design has encompassed Swiss watchmaking since then until the following generation. The Big Bang, Hublot's flagship product, has transformed the world of watchmaking in its outstanding design and strategy. It continually reinvents itself as a contemporaneous icon – giving way to all analytical and stylistic courage. This work aligns perfectly with Hublot's Swiss watch culture and with inventiveness and modern technology. The aficionados and the community can immediately recognize and understand all the codes that have helped strengthen the value of the brand so far. A frame of consciousness, too much for a watch.
Three of the most notable Hublot Big Bang models are Big Bang Sang Bleu II, Big Bang Meca-10, and Big Bang Unico GMT, all available in different versions.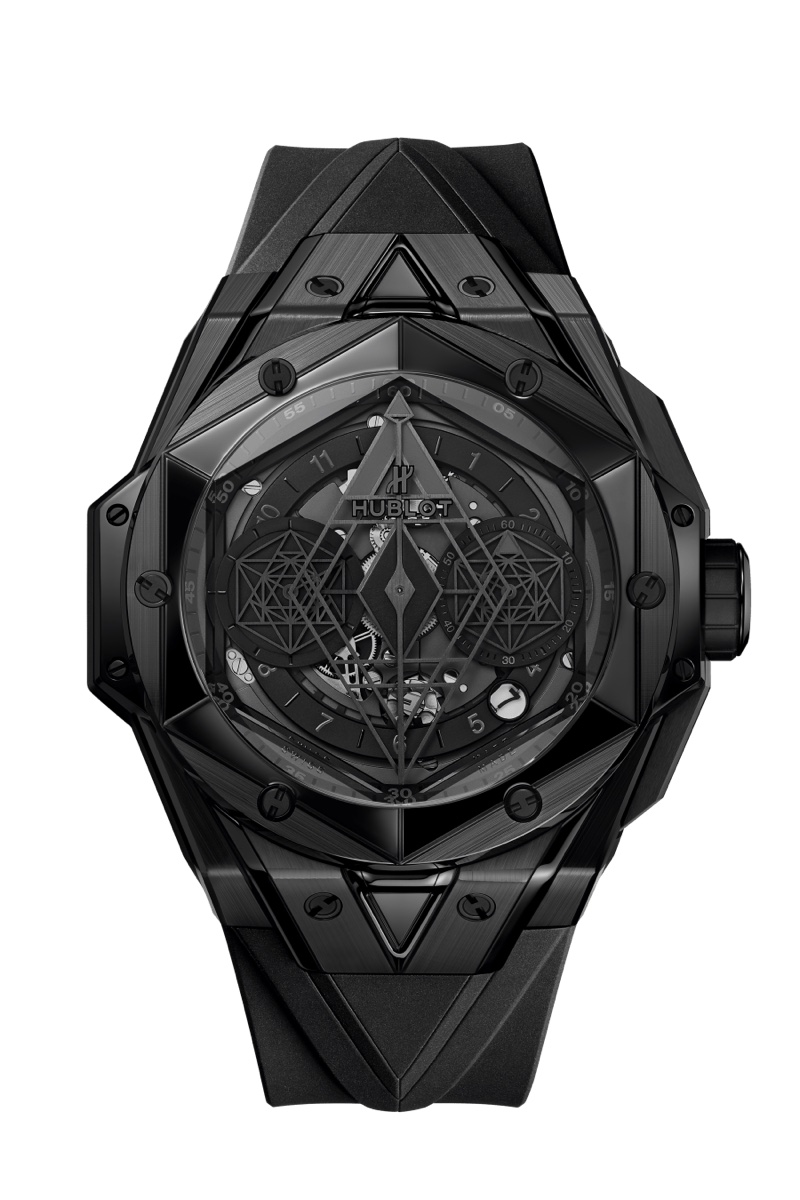 1. Big Bang Sang Bleu II
Speaking of design as much as this case is concerned, Hublot Big Bang Sang Bleu II has moved much further than just and even beyond. The Hublot Big Bang Unico Sang Bleu II is not exactly the best watch for the time but is a fabulous item to decorate the wrist as a potent mix of satin-brushed finishes and beautifully made chamfers in the whole case. The second partnership of this joint venture is perfect fire, partnering with tattoo studio Sang Bleu London – also now located in Zurich, Switzerland – and Maxime Plescia-Buchi, its creative director. The Sang Bleu Tattoo Studio is located in the heart of London's East End. It involves a large range of tattoo artists and world-famous artists.
The latest Big Bang Unico Sang Bleu comes in two different limited versions. The first one is in titanium ref. 418.NX.1107.RX.MXM19 in a 200-piece edition. The King Gold ref 418.OX.1108.RX.MXM19 in a 100-piece edition is the second one. The Big Bang Unico Sang Bleu II is an excellent virtual realistic-looking watch that reminds one of Hublot Orlinski that is in polygonal and inter case design and has a gracious 45 mm case and hexagonal bezel with vindictive angles. Even the sapphire crystal featured in this watch has a diverse structure present in the case.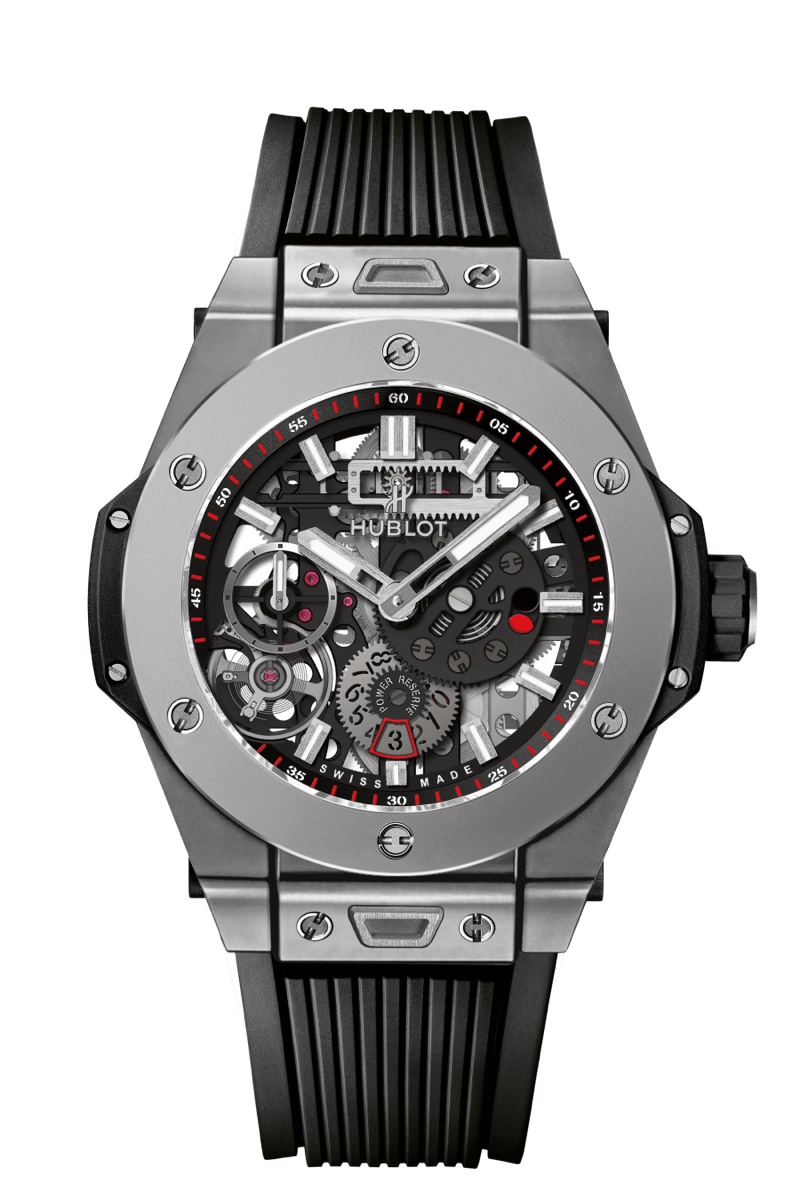 2. Big Bang MECA-10
The Big Bang MECA-10, which is now available in Magic Gold and King Gold, is now added by Hublot and it was released for the second time in Baselworld 2016 after it is first released in Baselworld 2017. This watch has an atypical mechanic architecture, equipped with a 10-day power reserve and a newly designed movement in-house, which took about 2 years for development. It also comes in microblown titanium and only 500 pieces are available, which are in "All Black" polished and microblown black ceramic. The case diameter remains at 45 mm for the new MECA-10 in Magic Gold or King Gold and the new watches are fitted with the same type of strap as their predecessors.
The 18-carat King Gold or Full Magic Gold of Hublot Big Bang MECA-10 dons its size and a strong bracelet present for the wrist. The new Big Bang MECA-10 offers an important dial layout with uncompromising unimpeded visibility for those in love with accessible or open dials.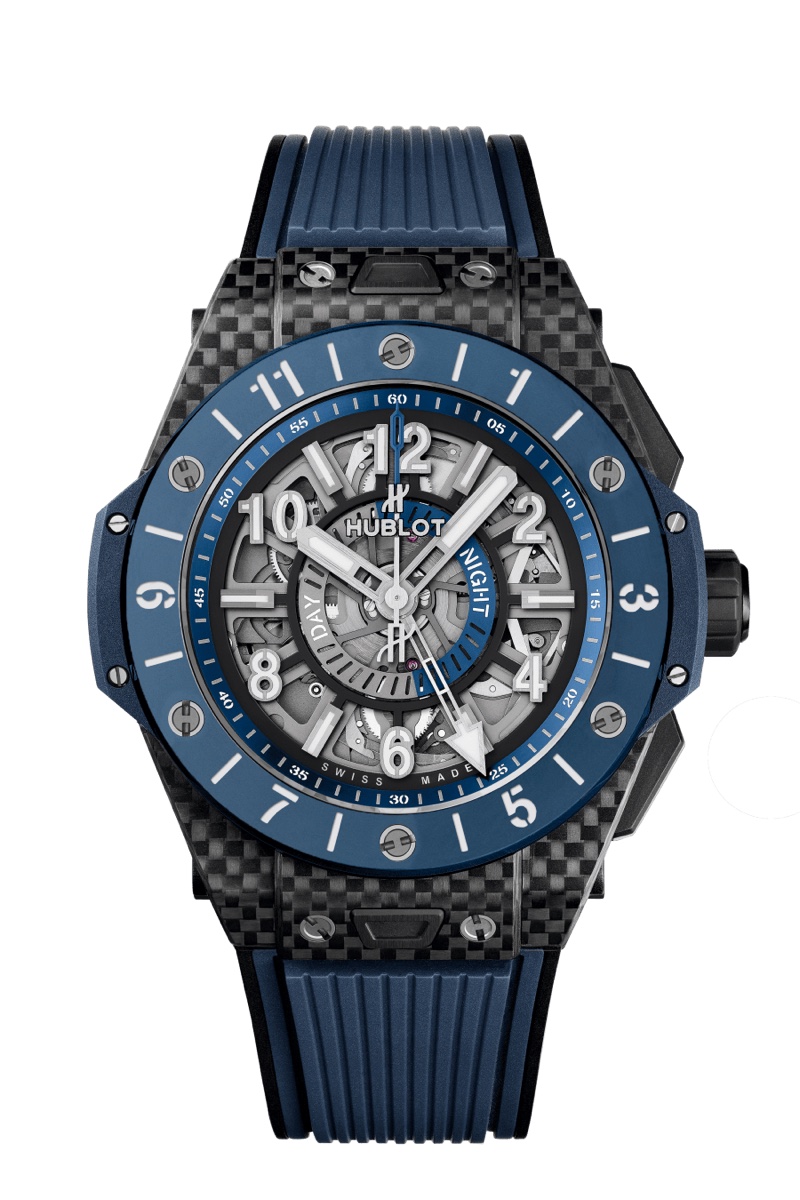 3. Big Bang Unico GMT
The fairly young Hublot Big Bang Unico GMT is one of the best-looking and coolest GMT watches. The robust 45 mm timepiece can either be made of carbon fiber ref 471.QX.7127.RX or titanium ref. 471.NX.7112.RX. It is equipped with a serrated home-time arrow-shaped hand, and a graduated bezel with signature H-shaped titanium torches, that keeps the second time zone on track. Unlike most GMT watches in the case, this GMT timepiece uses two pushers ideally placed on the case to move the second different time zones hand forward or back in intervals of one hour.
Both of the models look very maritime and seafaring on the bottom bezel and its bleed rubber strap because of their blue accents. There is something about the combination of black and blue on the carbon fiber reference that makes it more interesting. While a 12-hour, graduated bezel with white translated numbers featured in the Hublot Big Bang Unico GMT carbon fiber, the Hublot Big Bang Unico GMT, on the other hand, sports a bezel with the same type of bezel but in titanium and the graven symbols on it. It is the inclusion of chronograph-type functionality that tends to make it so simple and straightforward to work by as it does have some chronograph DNA.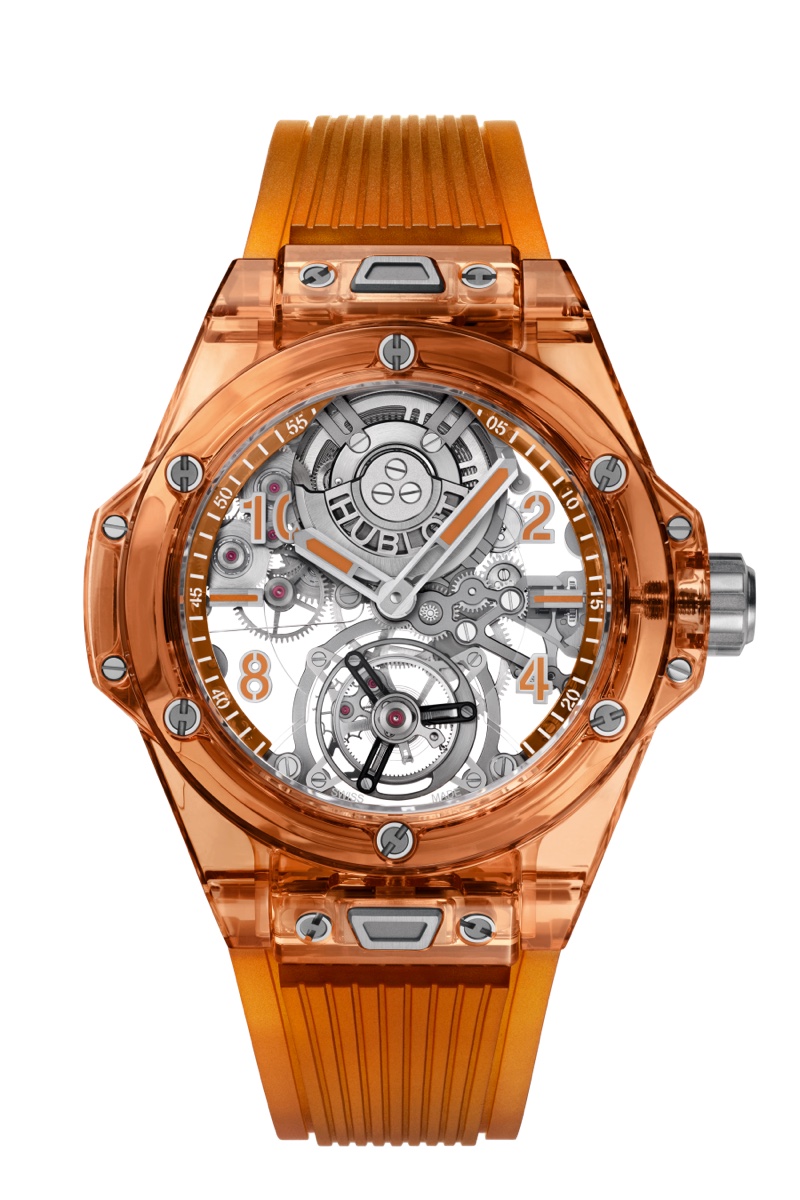 4. Big Bang Tourbillon Automatic Orange Sapphire (Latest Model)
Hublot has many times over the years reproduced the Big Bang Sapphire Tourbillon. It is just this month of the year that the brand made a quite different expression about that. Hublot Big Bang Sapphire Orange Automatic Tourbillon was the first to sport an orange sapphire case in the world with so much impact and influence. It brings the Big Bang Sapphire Tourbillon a new viewpoint and accurate advancement.
A comprehensive production process integrating chromium and titanium was achieved for the case of the model. A completely new tourbillon movement, with a substantial architectural revision not only self-winding equipment, but also a 22-carat gray gold micro-roller visible on the dial side and three bridges of sapphire: a barrel bridge, an automatic Bridge, and a tourbillon barrette were completely visible on the model.
The Big Bang Tourbillon Automatic Orange Sapphire is fully developed and manufactured in-house. It's a significantly translucent watch that provides fashionistas with fully realized connectivity to all advanced dynamics, like that from its watch inspirations, the Big Bang Unico Sapphire, Big Bang Blue, Yellow, and Red Sapphire editions, and All Black Sapphire.
In a Nutshell
There is always an excellent lineage! A pioneering watch brand, Hublot Big Bang is a huge watch model by Hublot. The functionality of Big Bang watches transmitted by the watchmakers' traditional know-how remains in this digital environment. These features have been revised and augmented to benefit from the digital world's potentials. Choosing this model is an excellent choice to make when you are looking for a classic timepiece.