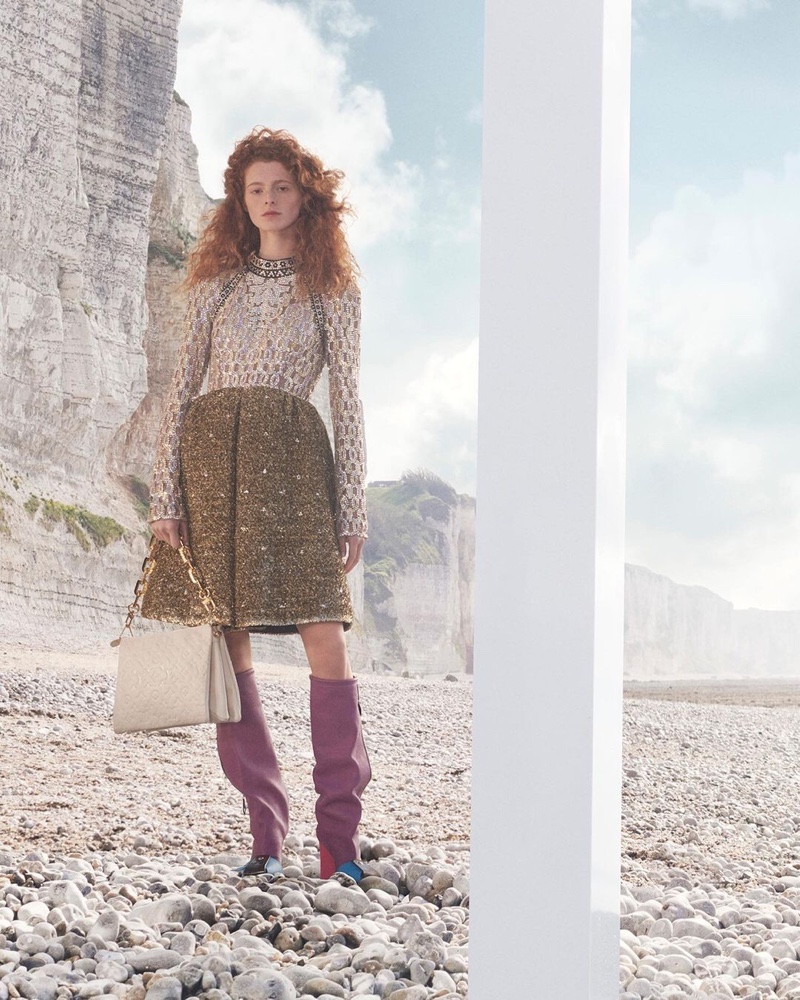 Louis Vuitton sets its fall-winter 2021 campaign in Normandy, France, inspired by the house's code: Spirit of Travel. Creative director Nicolas Ghesquiere's designs marry Greco-Roman antiquity with more modern styles. Prints of the collection use the work of Italian artistic design atelier Fornasetti.
Photographed by David Sims, a cast includes models Mona Tougaard, Evie Saunders, Clementine Balcaen, Jade Nguyen, Kris DeGirolamo, Ida Heiner, and Maria Cosima. Stylist Marie-Amelie Sauvé highlights the Patti boot, inspired by the biker jacket and the season's layered silhouettes with metallic accents.
Related: Alicia Vikander Sparkles in Louis Vuitton High Jewelry Campaign
Fornasetti's drawings stand out on apparel in addition to handbags. For beauty, Duffy works on hair with makeup by Diane Kendal.
Louis Vuitton Fall/Winter 2021 Campaign
"Reflecting on Greco-Roman antiquity, the collection incorporates the exquisitely illustrated world of Italian artistic design atelier Fornasetti, also putting forward rich embroideries that highlight the Maison's savoir-faire and craftsmanship," Louis Vuitton shares about fall.