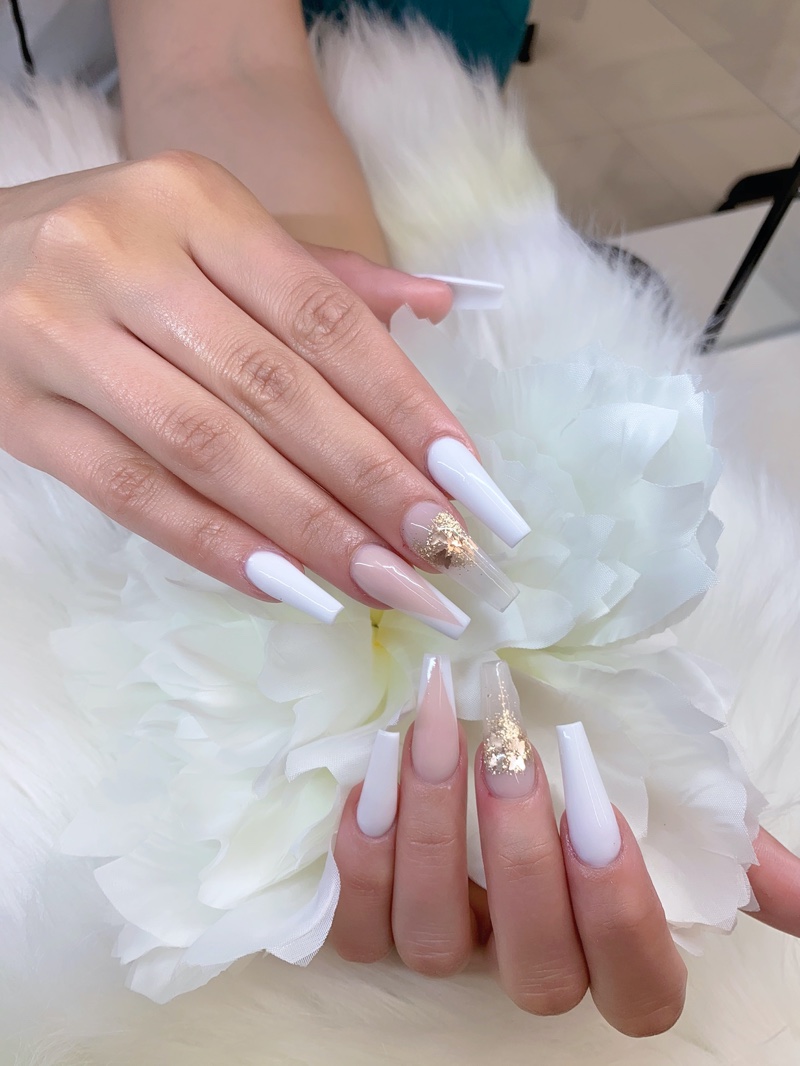 One of the hottest new trends for long nails is coffin nails. However, as this style is extremely long, it is not for the faint of heart. In fact, this style, along with stiletto nails, is quite fashion-forward. However, once you have tried this style, you won't want to return to any other.
Learn the basics of coffin nails as you read on below. As well as find tips on how to best care for them in order to maintain the sleek and polished look.
What Are Coffin Nails?
Otherwise known as ballerina's nails, coffin nails resemble a coffin's shape. Some prefer the term ballerina nails, as coffin seems a bit morbid. However, the silhouette does most fit that of an actual coffin. Also, this style is popular with those who follow Goth culture. Hence the name is quite fitting.
Essentially, the nail is not round but angular and very defined. The dimensions are similar to that of the stiletto nails, but the ends have just a bit of residual rounding. A professional nail technician best achieves this look.
Coffin-style nails tend to be a bit pricey. A skilled nail tech uses their talents to craft the nail into the coffin shape. It may take time, but it is well worth the effort.
However, it is best to use acrylic nails for coffin-style nails, as gel nails do not stand up to the required length of this design. Acrylic nails are stronger and best for achieving longer lengths. In addition, they are less prone to chipping and breaking.
Remember that this does not mean coffin nail art is guaranteed not to chip or break. It takes time to adjust to this length and design, but again, this style is so attractive that you won't regret it.
How to Care for Coffin Nails
1. Invest in Quality Cuticle Oil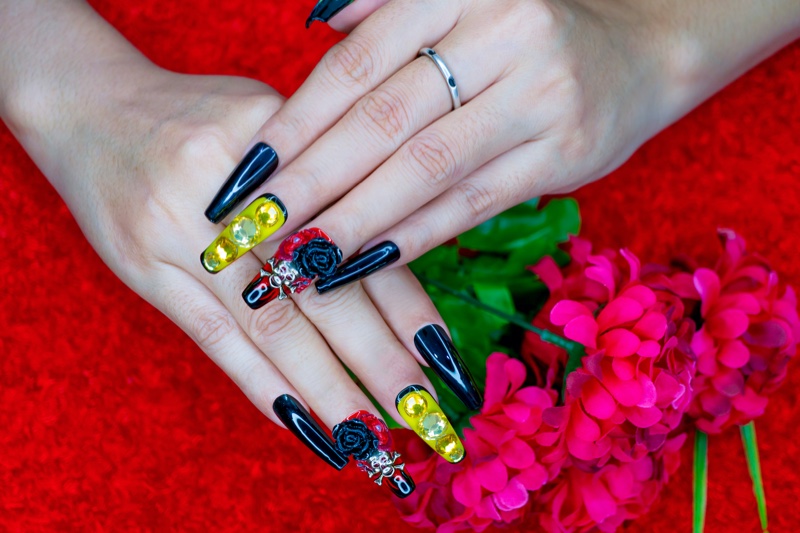 Keeping your nails healthy is the key to maintaining your coffin-style nails. Invest in a good cuticle oil and apply it at least once a day.
2. Avoid Harsh Chemicals
Avoid using acetone nail polish remover. In addition, protect your hands by wearing gloves when cleaning or using any type of harsh cleaner or chemicals.
3. Moisturize Your Hands & Nails Daily
In addition to cuticle oil, it is imperative to use a good hand lotion every day. Keeping your nails and hands hydrated will protect your coffin nails while keeping your skin and cuticles healthy.
4. Use Caution as You Go About Your Day
A quality nail tech does everything in its power to ensure that your coffin-style nails are strong. However, like any nail design, they are still susceptible to chipping and breaking. Use care when opening doors, bottles, cans, and the like. 
Popular Designs for Coffin Nails
The following are some of the most popular designs for coffin-style nails. However, feel free to get as creative as you like!
Black, White & Neutral
One of the hottest looks for coffin-style nails is black, neutral, and white nail polish combinations. These are ideal for a formal affair or simply because it's your preferred color palette.
Metal & Matte
If you want to put a unique spin on your coffin-style nails, metal and matte shades are a great way to add texture. Metallic nail colors provide a stylish sheen, while matte colors are timeless. Mix and match for a bold statement!
Pink & Red
Pinks and reds are ideal for both casual and formal affairs. From soft pinks to neon pink, there are endless options for stunning pink shades. Matte red, metallic red, fire engine red; the sky's the limit when it comes to bold red coffin nails!
Decorative Accents
The best part about coffin-style nails is that they provide a long canvas. Feel free to use decals and gems to add flair to your ballerina's nails. Experiment with bold colors, swirls, and ombre nails; whatever your heart desires!
Final Words
Coffin nails are a hot trend for those seeking a fashion-forward and edgy look. Achieving the angular, defined shape requires a skilled nail technician using acrylic nails. Remember to take proper care and use caution in daily activities. Popular designs range from black, white, and neutral combinations to metallic and matte shades. Get creative on this long nail art canvas and discover all the possibilities.