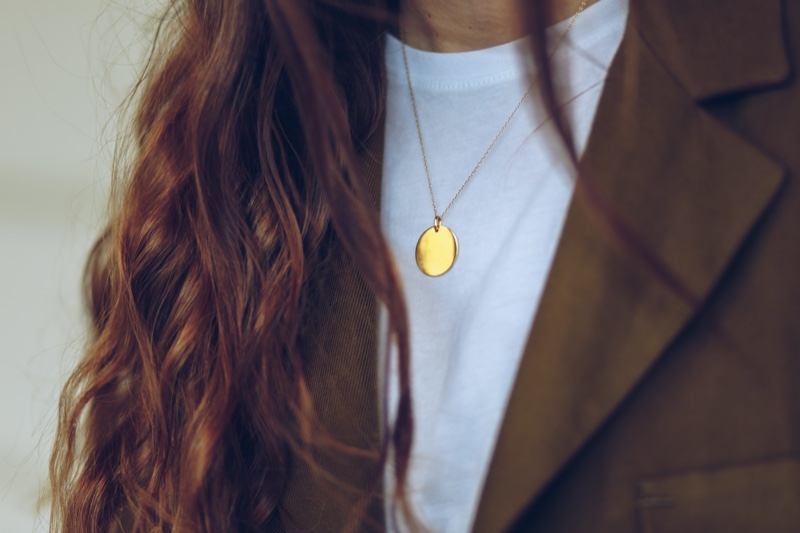 Jewelry has been used to accentuate and beautify the female form for centuries; think of the diamond bracelets worn by Marie Antoinette or the precious gem pendants once adorned by Queen Nefertiti. These glinting pieces of regalia not only symbolized their status but captured various aspects of them, such as their femininity, resilience, and enduring beauty.
Oak and Luna are a jewelry brand dedicated to celebrating women led by their ideals of sharing beauty, power, and strength through their pieces. With jewelry marked by their stunning quality and affordability, Oak and Luna's notion of self-expression is extended to all women from all walks of life.
Focusing in on the theme of self-expression, the brand has reinvigorated initial name necklaces with dazzling concepts and designs. Wearing your name in necklace form has never looked as gorgeous, which is why you may want to visit Oak & Luna for initial necklaces.
What is in jewelry that can empower women?
The power derived from a few chains and links or the glittering facets of a gem is what makes jewelry an intriguing item. It is an emblem imbued with an aesthetic; that one finds beautiful, and a woman wears this symbol as a way to put her ideas of beauty out into the world. In an age where women are encouraged to express themselves, a piece of jewelry embellishing their person can speak volumes in a matter of a glance. With Oak and Luna's extensive range of designs, their pieces of jewelry are bound to project an image of individuality that is meant to last forever when coupled with their high-quality materials, so your empowerment is for keeps.
Oak and Luna Necklaces That Empower Women
IVY NAME PAPERCLIP CHAIN NECKLACE – GOLD PLATING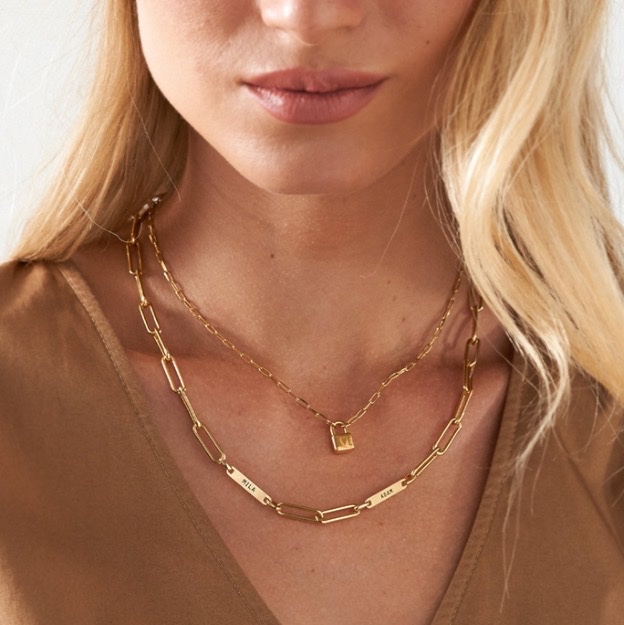 This chic design features a vermeil plated paper clip chain with name tags for your own personalization. The chain length is adjustable to give you a look you desire, whether that be a shorter elegant chain to grace your collarbone or a longer length to show off the details inscribed on the necklace. As for the customizable name tags, you can add up to four tags engraved with meaningful words or names of up to 10 characters. To top it off, you can bejewel your necklace with a genuine diamond which offers a stunning contrast to the gold plating.
INITIAL NECKLACE – GOLD PLATED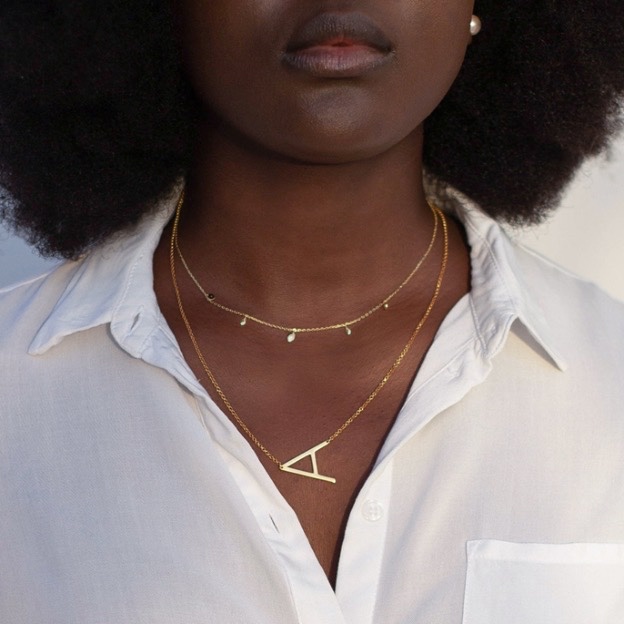 Embolden your presence with this simple statement necklace. This chic design features a sleek rolo chain enclosed by an uppercase letter pendant. Both are covered in 18 karat gold, and the initial makes the necklace stand out. You can choose whichever letter you'd like, whether that be the initial of those dearest to you or your own. The elegance of this necklace exists in the meaning and value behind the letter you choose.
INEZ INITIAL NECKLACE WITH DIAMONDS – 14K SOLID GOLD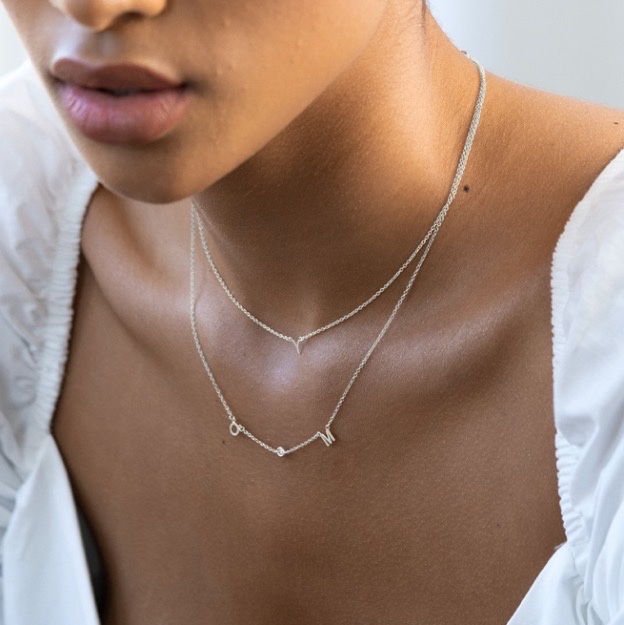 Plated in 14 karat gold is this dainty necklace complete with initial pendants and a crystalline finish. This delicate look comprises a trim rolo chain from which hang a maximum of four initials which could be your own or could be an acronym for a meaningful phrase. For a glamorous finish, you can include a maximum of three diamond pendants that will be placed in between your initials for a crowning effect on the chain.
LINK CHAIN NAME NECKLACE – GOLD PLATED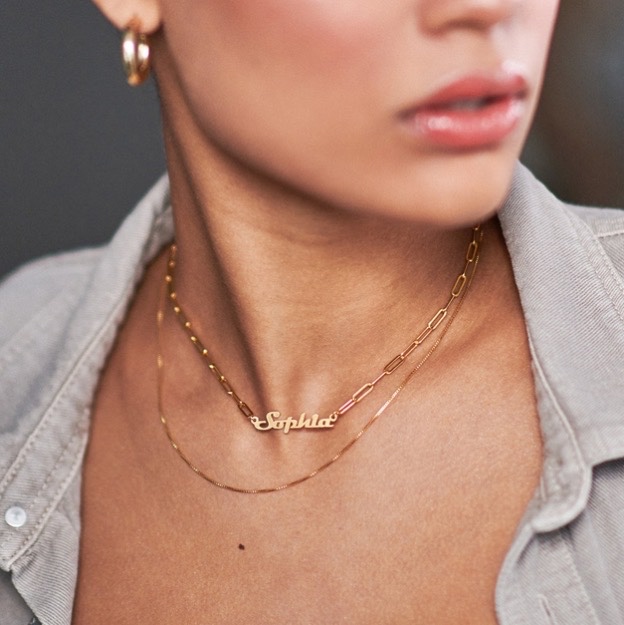 This link chain necklace combines brawny elements with a feminine quality for a fierce look. Shining in 18 karat gold is a paperclip chain with a name pendant at its center. Its modest size, along with the intense Modesto font, is sure to impart prominence to the name that is on display. Have this necklace bear your name or a word that best describes you of up to 10 characters for a pendant you can wear with pride.
TYRA INITIAL MEDALLION NECKLACE – GOLD VERMEIL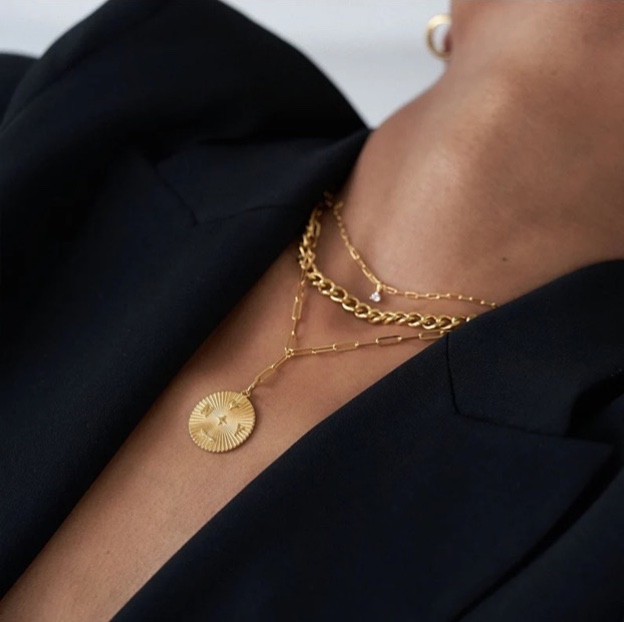 Passed down from the Romans to adorn the neck is this striking medallion pendant. The medallion hangs from a medium-sized paperclip chain that bears a rosary style. The pendulous focal point displays fetching details, including; a radial design and, the most notable, initials. Up to four initials or symbols can be inscribed, adding another texture element to this elaborate design.
HERRINGBONE ENGRAVED SLIM CHAIN NECKLACE – GOLD VERMEIL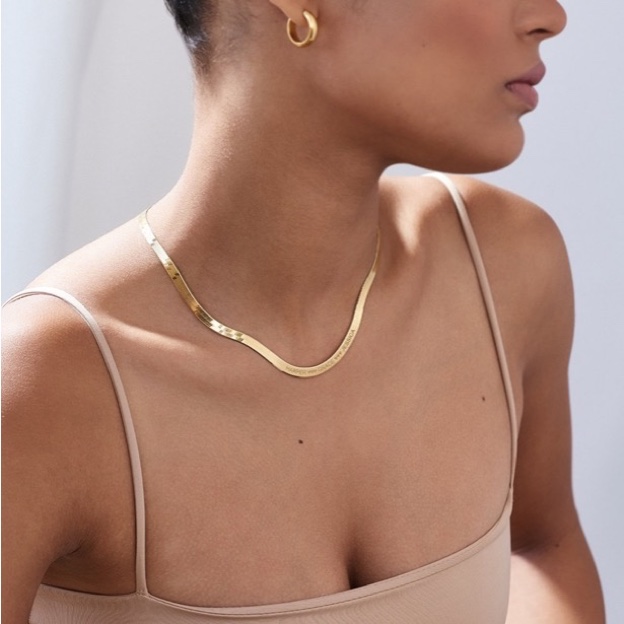 Although not overtly a name pendant, this elegant necklace still bears a personalized touch. In the design, the illustrious 18 karat gold vermeil does all the heavy lifting for the flat collar necklace. Its fluency around the collarbone is unmatched as it positions the most integral part of the necklace forward. You can have a complementary inscription of up to 60 characters on the piece, which leaves you open to inscribe names or a meaningful quote.
Jewelry is often a composition of various elements, strong chains, and links that hold up precious gems and delicate pendants. Pieces can display an intricate balance of strength and fragility, empowering the wearer with a simple clasp.