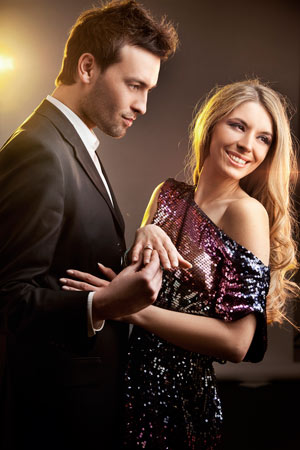 Selecting an engagement ring for a loved one may seem like a daunting task, since it's the first integral step of your new life together. Every man would like to find as special, unique and beautiful engagement ring as his fiancée is. Unfortunately, many guys are simply afraid of shopping for jewelry and thereby purchase the first best ring, as most of them have nothing to do with diamonds. However, with the development of technologies and e-commerce, shopping for a ring doesn't take too much time and effort anymore. When selecting a ring online you can learn all essential details on the item, compare prices, view it from different angles, as well as to contact customer support for more information. But anyway, there are things that you must know about engagement rings whether you are buying jewelry from a physical jewelry store or its online presence. Below, in our 5 step engagement ring guide we are going to dwell upon the most essential aspects of purchasing such a meaningful piece of jewelry like an engagement ring.
Budget
One of the most important factors that may influence on your selection is your budget. Of course, there is no standard price for an engagement ring and the cost for rings from different providers and of different grades may vary dramatically. However, you should be ready to spend a considerable sum of money if you take your relations seriously. For those who are on a budget, most jewelry stores offer convenient payment plans to make purchasing less financially overwhelming. Another great alternative for those who cannot afford buying an expensive diamond piece is a family heirloom ring with its unique, significant family meaning. It's important to realize that there is no sense in going into debts on a ring, especially when there's so much to do and to spend on upcoming wedding. So, simply set up your top limit and don't look for anything above this price range.
Style
Once you know your budget, you can start selecting a ring. Jewelry stores' showrooms are abound with intriguing antique, sophisticated vintage, unusual art deco and other ring styles. At first, you may be overwhelmed with a variety of those offered on a jewelry market, but then you will realize that when bearing your loved one's preferences and tastes in mind, choosing an engagement ring is a piece of cake. However, if you are unsure about your fiancée's preferences, you may ask her best friends or family members to assist you in selecting the perfect ring for her.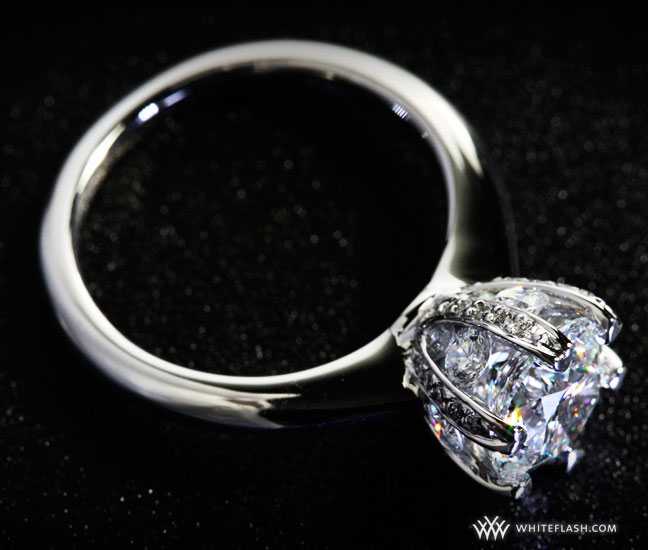 When selecting a ring design it is important to take into account your intended's hands shape and size: audacious diamonds match better with large hands and long fingers, while wide bands may be more suitable for women with tiny hands and thin fingers. Other than that, you should think about her occupation and type of work when choosing a ring: most women like to sport their engagement rings without having to remove it every day. So, it would be great if the ring style will allow her to do this.
The Ring
Prior to selecting a ring, familiarize yourself with basic terms related to rings. which are:
Band – the circular part of the ring that embraces the finger. Engagement rings' bands are traditionally made from gold, silver, platinum or other combinations of metals.
Setting – the element which holds the gemstone in place. There exist 'prong' and 'invisible' settings. Setting selection mainly depends on your fiancée's occupation. For instance, in case of a significant activity bezel or at least six prong setting is recommended.
Gemstone – the centerpiece of the ring; engagement rings usually come with diamonds as center stones.
The 4 Cs – Clarity, Cut, Carat Weight and Color. These are the most essential gemological characteristics of a diamond which we are going to touch upon below.
These aspects, in addition to craftsmen's work make up an engagement ring. Be sure to check all of these when selecting a ring for your intended.
The Diamond
It goes without saying, that the centerpiece of any engagement ring is its diamond, that is why you should be very attentive when choosing one. Even if you are a novice in a diamond hunt, you will admit that evaluating a diamond with 4 Cs rule is not a difficult task. So, let's get acquainted with the most important diamond's characteristics of a gemstone you should be aware of.
Color. Diamonds come in different colors which are graded from D (colorless and rare). As a rule, for engagement rings white diamonds with good grades are selected (around F and H). However, for those with unusual tastes and preferences, unique colored diamonds will work the best.
Clarity. Natural diamonds often have different imperfections. Diamonds without any internal inclusions and surface blemishes are very rare to find. The diamonds clarity scale goes from F1 (for a flawless diamond) to VVS1 and VVS2 (for very slight inclusions). Usually, stone's flaws are hardly seen with a naked eye, to evaluate their clarity jewelers use 10 x magnifiers.
Cut. This diamond's feature contributes the most to the gem's brilliance or 'light dance'. Each cut has its own benefits and disadvantages: radiant and princess cuts are perfect for hiding flaws, oval cut and heart shaped stones make the diamond look bigger than its actual carat size is. When estimating the cut pay attention to the angles, symmetry and the overall aesthetic feeling the gemstone brings.
Carat Weight. Engagement rings traditionally come with 1 carat diamond, however, you may select the weight you prefer.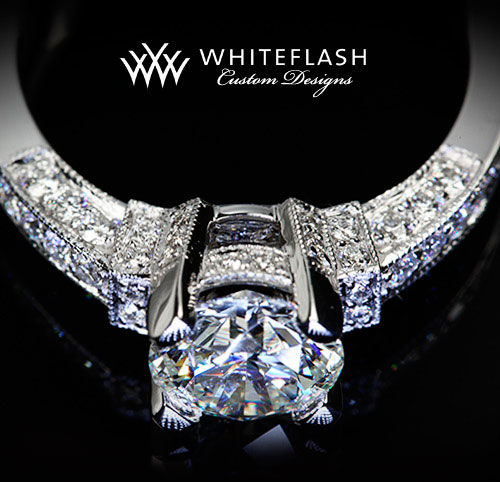 It is also important to consider timing, especially if your proposal is already planned out. Specially ordered, personalized and designer rings may take more time than standard style rings. On average, to have your precious ring done you will need from four to eight weeks. Having enough time to select, order and custom an engagement ring will keep you from becoming stressed and desperate. Follow our simple guideline, plan your timing and you will get the engagement ring of her dreams.
Guest article written by Devorah Isenberg from Whiteflash jewelry store.