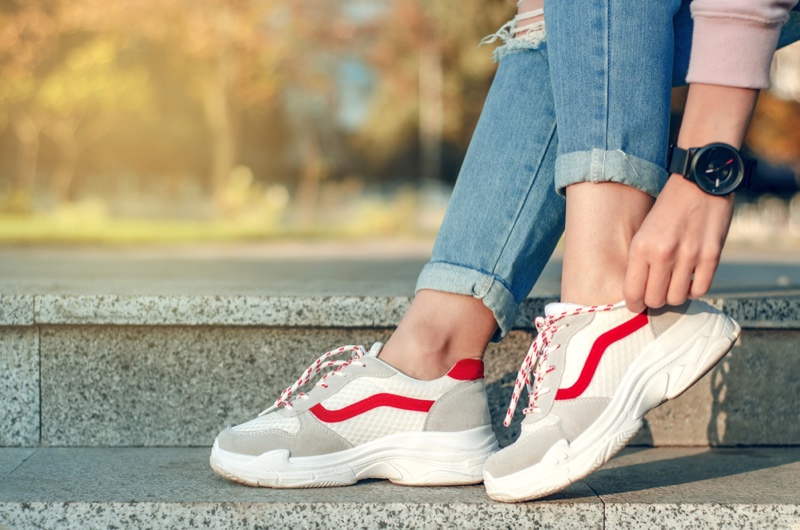 Collecting shoes might not seem like such a big deal to some, but for the ever-growing community of 'sneaker-heads', it's a pretty serious issue. From those who just like to get the latest versions of their favorite sneaker, or own far too many pairs from their favorite brand, to those who'd send a death glare your way if you couldn't tell them how many points Michael Jordan scored when he wore a certain model, or the exact origin story of the Nike Air Jordan, plus those who've known all about the vintage models people are just discovering since ten years ago, sneakerheads are here to stay – and so are chunky trainers.
Massive in the 90's, chunky sneakers were all the range and they eventually, like all fashion trends, fizzled out for a while to give way to sleeker footwear options or hi-top numbers. Today, chunky trainers have made a comeback with a bang, with high-end fashion brands like Balenciaga or Yeezy coming up with their own chunky footwear silhouettes that have been flying off the shelves. For most of today's sneaker-obsessed generation, money is no object – especially when it comes to getting their hands on trainers that would have definitely been considered ugly just a few years ago.
With the rising popularity of the athleisure trend, it's no surprise that seemingly comfort-focused, orthopedic sneakers have suddenly become uber fashionable. There's no doubt about it – chunky, ugly sneakers are back, and they are here to stay.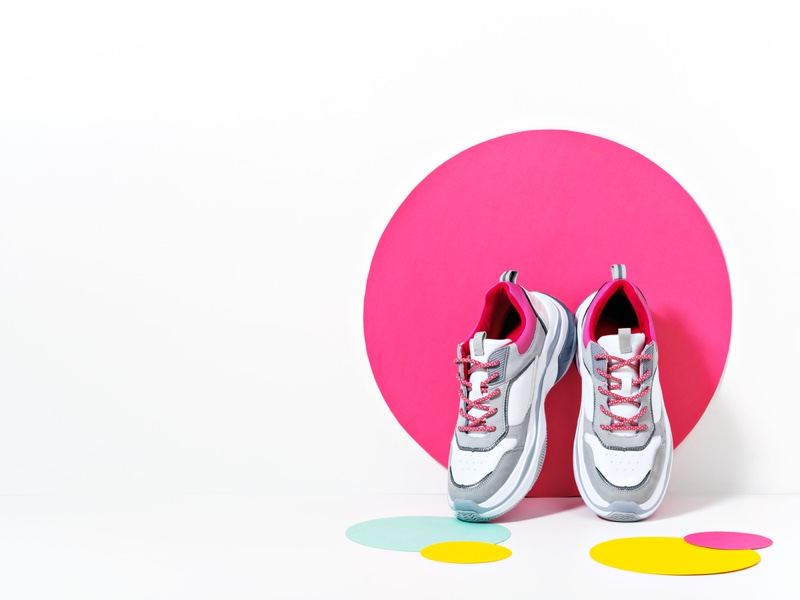 Ugly is Sexy?
Apparently so. As strange as it may sound, when it comes to street culture, the chunky sneaker that definitely has an air of ugliness about it is appreciated by consumers who want a unique look that speaks to their individuality, rather than following trends at the time – which was common when the chunky trainer began to sneak back into the market. Back then, it was all about creating something that wasn't the norm, and the result was a chunky, ugly sneaker. So, why the hype all of a sudden?
While it was mocked when first making its comeback, the unique, different look compared to literally any other shoe on offer was what naturally sparked the attention of customers worldwide. The start of the recent trend can be placed around 2013-2014, with the Adidas Ozweego designed by Raf Simons.
They Stand Out:
Simple silhouette trainers are probably always going to remain the standard amongst the majority of consumers when it comes to footwear, and there are always sneakers that have met a happy medium between the two, like the latest Nike Air Force 1's. But whether they are sneakerheads or not, the need to stand out from the crowd has become a driving factor in fashion choices made by the majority of millennial consumers.
With social media taking a prominent position in today's society, looking unique and different is something that's never quite been celebrated as much as it is these days. And, brands have recognized and reflected this shift in consumer behavior when purchasing footwear and streetwear. As a result, we have a range of mismatching color trainers, plus lots more chunkiness and plenty of ugliness. But ugly is sexy. Consumers who prefer buying chunky trainers are more than likely looking to make a statement, whether it's in the real world, online, or both. And let's face it – they do look good on the 'gram.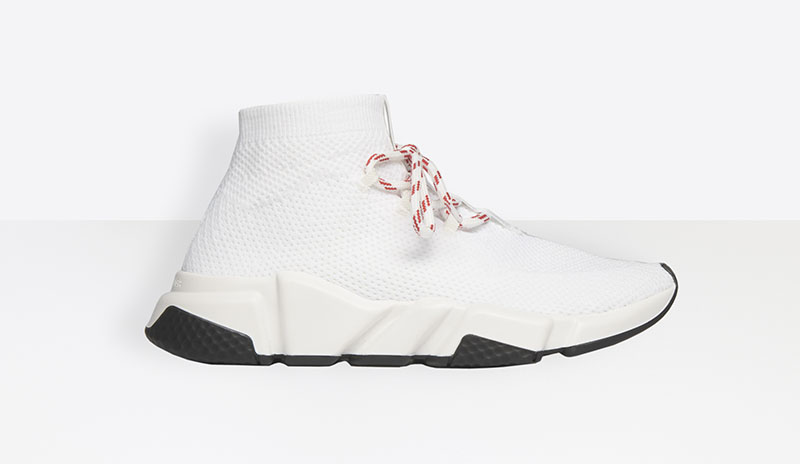 They're Nostalgic!
Simple but true – chunky, ugly trainers remind many of us of the 90's, when most millennials were in their teens and chunky trainers were the coolest thing to be seen wearing. Nostalgia is dominant within today's popular culture – for example, Big Sean's, 2015 track Play No Games featuring Chris Brown came with visuals that were heavily inspired by a 90's TV show.
Plus, Google trends have been increasingly showing upward trends in searches for 90's fashion on the search engine since right back in 2011, which is certainly not an accident. When you bear all of this in mind, it's absolutely no wonder that pop culture has taken a liking to the chunky trainer, and that they look set to stick around for a while. And, with 90's chunky trainers making a comeback, so has a lot of 90's fashion – take straight leg jeans or jeans with wider openings, for example, which have come back around recently.
FOMO Culture:
Yes, the 'fear of missing out' that's prominent in today's culture. Back in the day they'd probably call it 'keeping up with the Joneses', but today, it's all about being cool, current and not getting left behind – particularly on social media, which as mentioned before, is front and central in today's culture especially when it comes to the younger generations. Quite a lot of people who buy chunky, ugly trainers are likely to be doing so, not because they have a genuine liking for the shoe, but more likely because they want to simply be able to say that they have it – and show it off to their followers. That being said, many chunky trainer wearers do say that the shoe 'grows on them' after a while.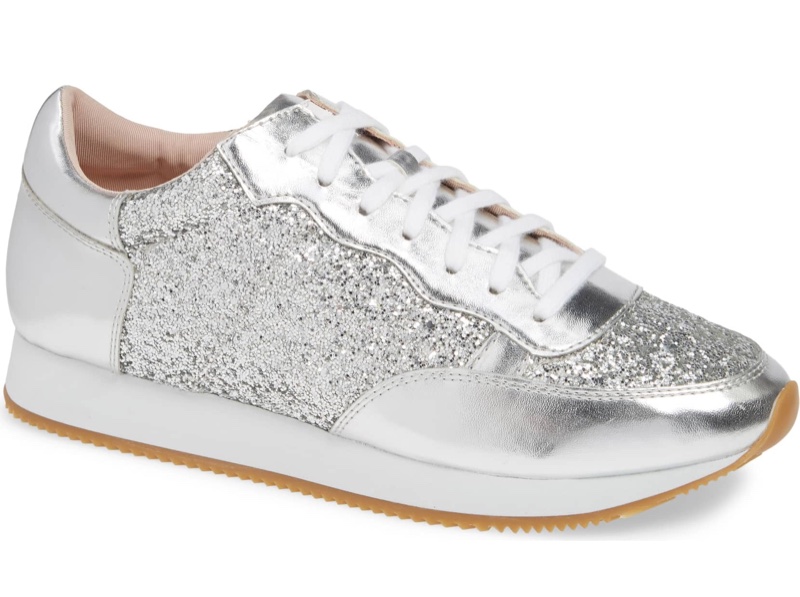 There's High Demand:
Finally, since the chunky trainer resurged back into the fashion market, we've seen a massive increase in the trend all over the world. Individuals from all over the globe have been buying right into the hype, and with the trend growing every day, so has the demand.
As a result of the ever-increasing demand for chunky, ugly trainers, more and more brands have started producing their own chunky sneakers at every end of the price range. Whether you're shopping in a department store with a budget of $500 or heading to Target with a budget of $30, you can find a chunky trainer with a price tag that you like, whether you care about a brand name or not. And as more and more consumers purchase chunky trainers, the demand is only set to grow further – it's the simple rule of supply and demand.
Call them what you like – chunky, ugly, sexy or just a load of hype that you don't want to get involved with, chunky sneakers are back and consumers simply can't get enough of them. And, one of the biggest things that sets these sneakers apart from the rest is that they have an endless ability to test out new, exaggerated creativity that simply couldn't have been done with previous trending trainer styles. Whether you're going for big, bold, bright and colorful,or want to keep it simple and classic with an all-white, gray or black pair of mildly chunky sneakers, there's something for everybody's fashion tastes here – if you like wearing sneakers that is.
What are your thoughts on chunky sneakers? Are you a sneakerhead who spends half your salary on the latest releases and doesn't regret a single penny? Or maybe you've just dipped your toe into the trend and are playing it safe? Is there anything that you'd like to see next from this trend? Or maybe you can't wait for the 90's fashion trend to go back out of fashion again.
Whatever your views, opinions, sneaker preference or fashion sense, we'd love to get your thoughts on this trend in the comments!