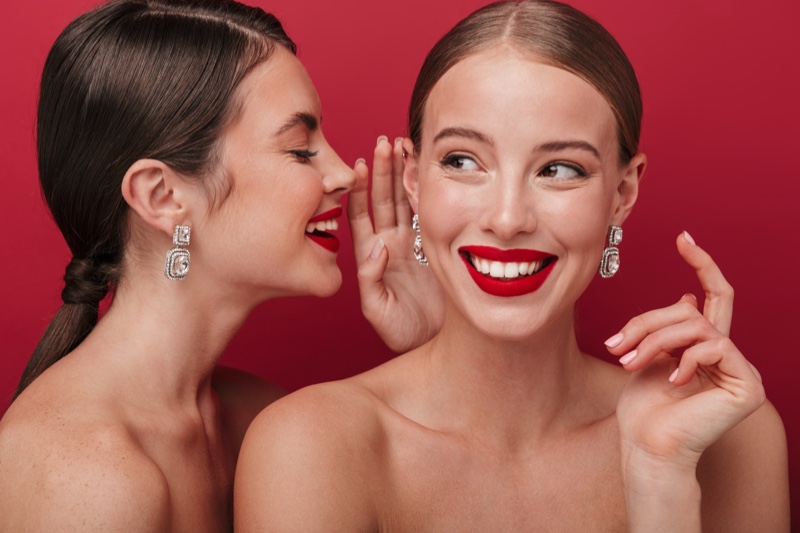 Embracing modeling as a profession means you have to go the extra mile for your looks. Your beauty wishlist seems endless as you want a perfect body, flawless skin, healthy hair, and more. Achieving these goals takes ongoing effort and immense dedication. You will probably have skincare, hair care, and figure management on top of your mind at all times. But your smile is an equally vital part of your personality. After all, it can set you apart from the crowd on the runway, on TV, and in photoshoots. Your smile is worth investing in as it can go a long way in advancing your career in the fashion industry.
But visiting a dentist every month for whitening procedures seems daunting. Thankfully, you need not give loads of time or invest a fortune on aesthetic treatments to retain the shine and beauty of your smile. A few easy dental hygiene hacks are enough to have celebrity-like pearly whites. You can begin with these tips effortlessly and embrace them as a part of your lifestyle. Here are some model-approved dental hacks you can trust to get a beautiful and healthy smile.

Switch to a whitening toothpaste
The last thing you want to do is get professional whitening treatment at the dental clinic every month. You only need to switch to a whitening toothpaste to make your pearly whites even whiter at home. Opt for a product with acidic agents as they can remove stains from the teeth. Experts recommend starting with a small amount to ensure it does not irritate your teeth or gums. Once you are comfortable with the product, you can use it regularly. Expect the effects to last until your next coffee though you can retain the results for good with regular practice. But remember not to use the same toothpaste for your little ones as it may be harsh on their soft enamel.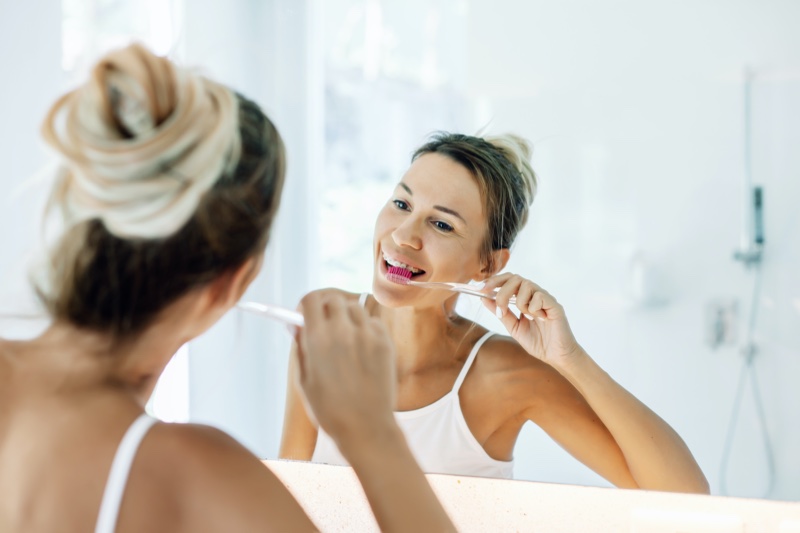 Ramp up your brushing and flossing routine
Regular brushing and flossing are essential for everyone, but it becomes even more vital for people who face the camera and lighting on the ramp. Swapping the ordinary toothbrush with the electric variant is a good idea. The device helps with buffing your enamel and cleaning superficial stains effectively. Expect to notice a visible difference sooner than later. Flossing is another integral element of the daily dental hygiene regimen. But you may skip it or do it half-heartedly amid your tight schedules. If you are struggling to maintain the routine, try splitting it up across the day. The good thing is that flossing once a day is enough. You can floss the upper teeth in the morning and lower teeth at bedtime, or vice versa. But be sure to use the proper technique for brushing and flossing.
Invest in a tongue scraper
A tongue scraper is another must-have in a model's dental hygiene kit. Bad breath is the last thing you want to deal with during modeling assignments, shoots, and client meetings. It may not affect the aesthetics, but your reputation can take a hit. After all, you are in an industry where you have to make a great first impression every time you meet people. Regular tongue cleaning removes the bacterial accumulation on the tongue that causes bad breath. It also maintains the acidic balance in the mouth, keeping your teeth and gums healthy. You can try cleaning your tongue with a toothbrush, but having a scraping tool always helps.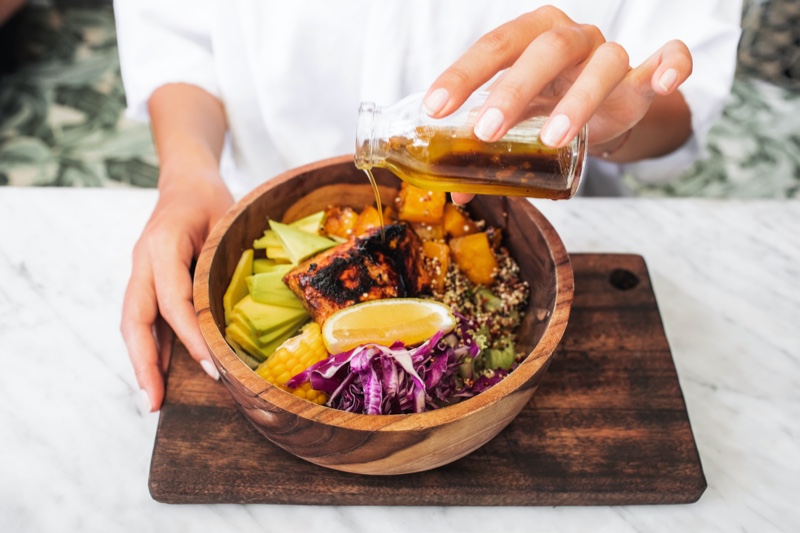 Follow the right diet
Surprisingly, dental hygiene takes more than regular brushing, flossing, and clinic visits. The foods you eat can affect the color of your teeth. The right diet for shiny pearly whites includes strawberries, hard cheese, and even dark chocolate. Hard, raw foods like carrots and apples help with saliva production. Saliva acts as a natural exfoliant and keeps the acidic balance in your mouth intact. High-fiber fruits and vegetables, whole grains, and nuts are great for weight management and support a healthy smile as well. Remember to go the extra mile with daily hydration.
Ditch the food culprits
Besides putting the right foods on your plate, you must ditch the culprits that may cause tooth discoloration. Coffee can stain your teeth, so steer clear of it in the first place. You can at least try to minimize your daily intake if giving up seems challenging. Avoid drinks like dark-colored sodas, red wine, and fruit juices such as grape juice and cranberry juice. Limit these drinks if you cannot give up altogether. The must-avoid food list includes blackberries, blueberries, and currants. Although these foods are otherwise healthy, they aren't great for your teeth. After consuming these foods and drinks, you can prevent staining by brushing your teeth and rinsing your mouth.
Try DIY whitening at home
The right diet takes you a step closer to a celebrity smile, but it may not be enough when you are in the beauty industry. You can go the extra mile with DIY whitening at home as it can save the time, money, and stress of sitting in the dentist's chair. Look for a teeth whitening kit that works like magic and offers results with only a few minutes of use every day. You need not worry about booking appointments, waiting your turn at the clinic, or going through periodic treatment sessions to get a celebrity smile. Getting a brighter smile cannot be more effortless!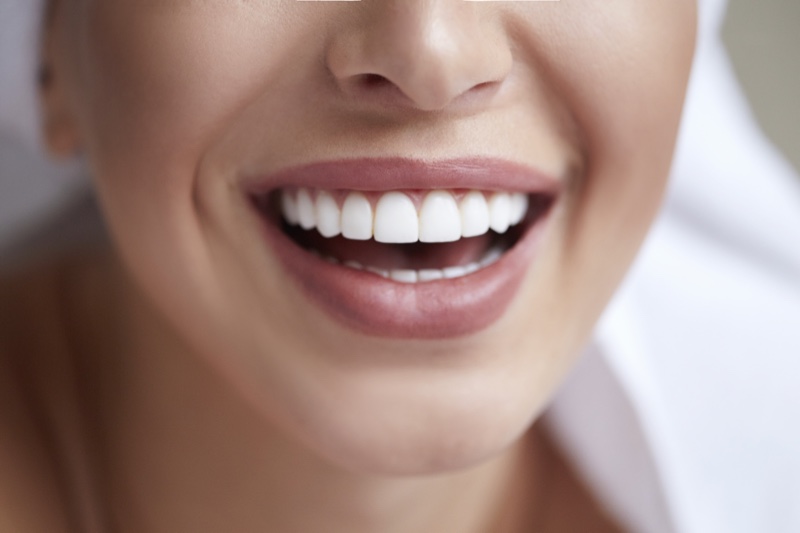 Be regular with after-meal care
As a model, you may have to be on your toes, rushing between shoots, assignments, promotions, runway shows, and client meetings. Traveling professionals are even shorter on time, making it easy to skimp on after-meal care. Ignoring it can cause dental problems like yellowing, decay, and foul breath over time. Commit to being regular with after-meal care. Brushing after meals can save you from a lot of trouble. If it is not possible, you can simply rinse and cleanse your mouth with water. It will flush the bacteria from your mouth and clean the stains from your teeth.
Quit smoking for good
Smoking is bad for your lungs, but there are many more reasons people in the fashion industry should steer clear of the habit. It can have a detrimental effect on your skin, hair, nails, and overall health. Tobacco can stain and discolor your teeth sooner than you imagine. Smoking regularly can cause yellowing, and you may even notice brownish streaks and stains. The sooner you quit, the less you have to work on restoring the brightness of your smile. Your skin and hair will thank you as well!
Try a whitening gum
Whitening gum is another good option to retain the whiteness and shine of your teeth. It boosts saliva production in the mouth. More saliva ensures optimal pH levels, disrupts the development of dental plaque, and makes your teeth sparkle. Look for a sugar-free variant as it will save you from worrying about calories. Moreover, you will not have to worry about the growth of oral bacteria with a sugar-free product. The good thing about chewing whitening gums is that it can help you ditch the smoking habit as well.
Be regular with dentist visits
Regular dentist visits are the mainstay of healthy and shiny teeth. Being diligent with daily care and maintenance is good, but it is not enough to keep dental issues at bay. You may not even know about decay and gum disease until you visit a clinic. A six-monthly check-up works though you may book an appointment earlier if something appears amiss. Besides keeping your dental health on track, regular clinic visits ensure education and awareness about hygiene. You will not have to worry about bigger issues cropping up and putting you out of action down the line.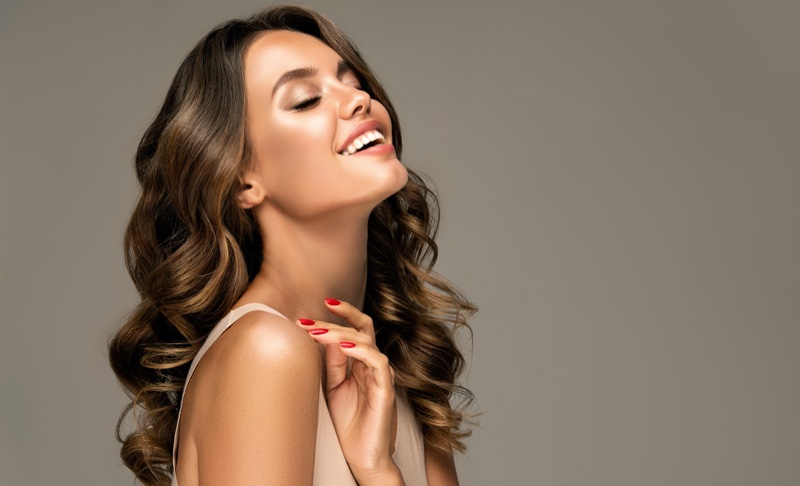 Pick the right shade of lipstick
Successful models swear by this easy hack. All you need to do is select the right shade of lipstick, and your teeth will appear several shades whiter. Your stylist can have the right recommendations, or you may do some hit-and-miss trials to get the perfect tones. Dark berries and purples, blue-based formulas, a cool undertone color, and sheer shades with a hint of gloss are ideal for giving a brighter finish to your teeth. Choose your shades with care because the wrong one can make your teeth look yellow. Ditch the browns, corals, and orange tones in lipsticks to prevent the yellow look.
Living a celeb life is not a mean feat as a lot of hard work goes behind fame and success. A fair share of effort is needed to take care of your teeth and smile because they have a far-reaching impact on your appearance. You cannot hide stains and yellowing from the camera, and they become even more prominent in runway lighting. The good thing is that you can get excellent whitening results without spending time in the dental clinic every month. Follow these simple dental hygiene hacks for the best results. You can rest assured about having the smile of your dreams with minimal effort, time, and expense. A little effort takes you a long way to get a stunning smile.