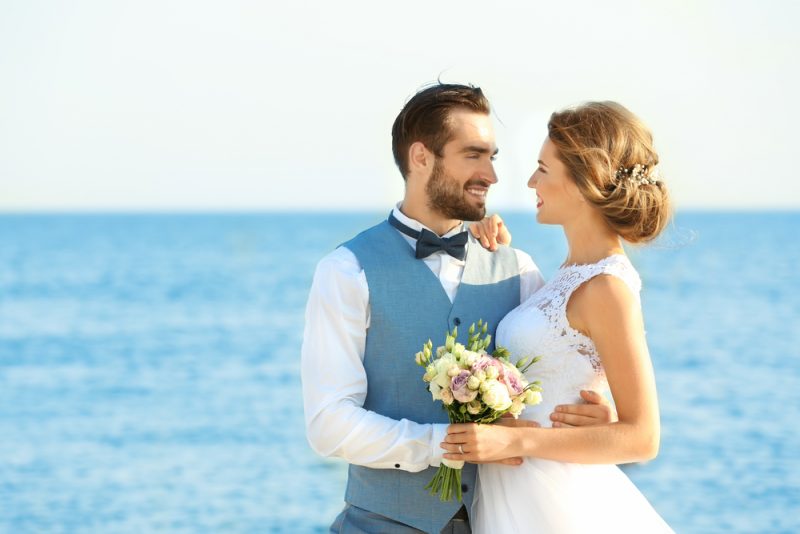 Planning for a memorable event can be very tasking. There is an endless list of what you need to get ready. It includes ensuring your guests' satisfaction, planning for sufficient food and refreshments, and wedding your lover. All these plans do not cause more anxiousness, like picking the perfect beach wedding attire for men. In addition to finding the perfect wedding dress, you may want to pay special attention to what your groom is wearing, especially if he's not fashionable. Therefore, we have rounded up tips on choosing the best men's wedding attire for a beach wedding.
Steps to Take Before Picking Clothing for Your Beach Wedding
You must take note of the venue of the wedding before you select the desired wedding attire. Yes, the wedding is a beach wedding, but you must decide on the exact location, whether on the beach or next to the beach. The wedding might be an indoor or open-air beach wedding, which will determine your outfit. In case it's indoors, a formal wedding gown and a sharp tuxedo with all the fancy odds and ends are excellent.
On the opposite, you have various choices if your wedding ceremony is outdoor in the warmth though not right on the seashore. You can look at flowy and airy wedding gowns. You may even want to go for a short dress length. We suggest a crisp white shirt, a blue jacket, and cream or white trousers or pants for men. The outfit can be complete with a tie of a tinted blue or a white color. This outfit will project a classy, refined, and formal look. Linen clothing is always a good choice, as well.
If the wedding is outdoors and on the beach, here are further suggestions. Men may discard their ties and possibly blazers for a warm climate. Then it's easy to picture a pair of suede tassel or penny loafers. Beach weddings are also ideal for showing a little ankle with trendy cropped trousers. Meanwhile, a clean white shirt with rolled-up sleeves and a couple of open buttons can make an exceptional impression at a beach wedding. Comfort and style are the keys to a beach wedding. Overdressing is not necessary.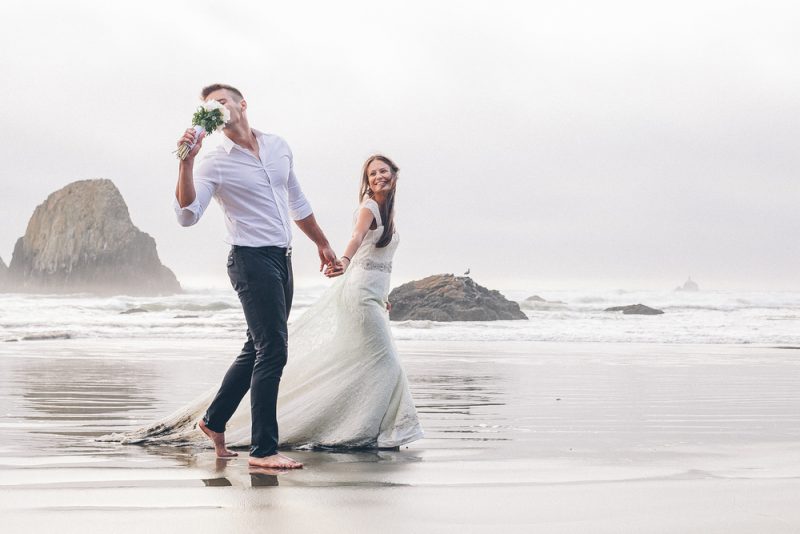 Beach Wedding Styles for Men
When people remember their wedding, they often do so with photos from the momentous day. It would be best if you were satisfied with the outfits that you choose for your wedding even when you reminisce your wedding day in the entirety of its eminent brilliance. Your wedding style should be smart and hopefully stand the test of time.
Below are classy and long-lasting wedding styles for men:
A new white linen shirt with a darker shade of pants like navy blue or emerald green.
A more dark-toned jacket with a fresh white cotton shirt and lighter shaded pants like a khaki or grey.
As aforementioned, for an indoor wedding, a black-tie and a tuxedo is perfect. Either a dark or midnight tux will give an attractive appearance throughout the whole wedding.
A linen suit is elegant on its own. A man can wear and be unique with a lighter-shaded linen suit like wheat, sand, khaki, or dusty pink.
For an informal look at a beach wedding, khaki shorts and a strong colored shirt are an extraordinary decision to radiate a loosening up vibe.
Cooperate with your spouse to pick the best beach wedding attire for your big day. Decide on the colors, styles, designs, and other aesthetics of the wedding together.