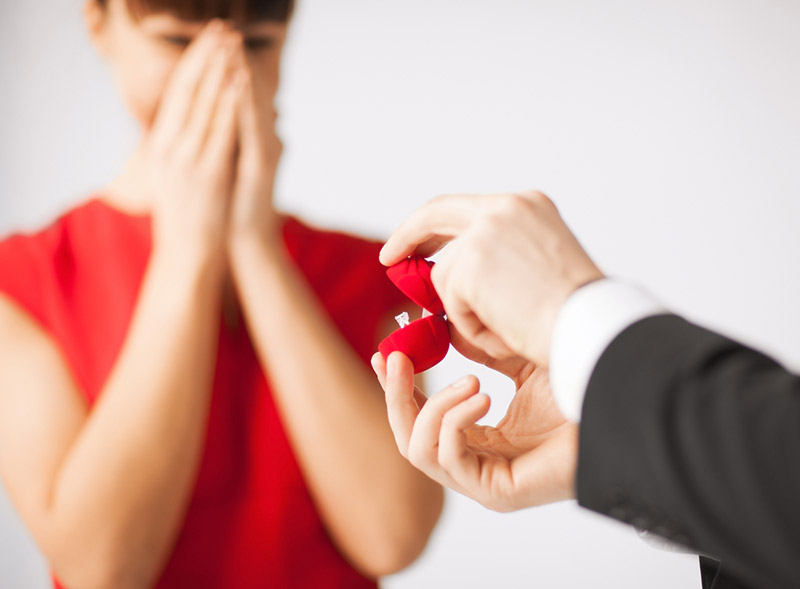 Shopping for the perfect engagement ring can be difficult, there are many things to consider. From price to cut to the band type, it can be overwhelming. Here are some tips on looking for the ideal ring. Katie from www.orlajames.com says, "Finding the right engagement ring for your partner can be difficult because what if it's not as perfect as you imagined? This guide offers some great tips to help make sure its right!"
What to Look For
1. Price: The general rule is that one should spend two to three month's salary on an engagement ring, but stay within your budget. There is no point in going bankrupt before you get married. Perhaps a month's pay or less is more appropriate for your monetary situation.
2. Style: Look for what your fiancee normally wears, does she wear traditional style, more contemporary or even vintage pieces?
3. Shape: The shape of a stone is very important. From princess to marquise cut, look out for the shape she prefers. And when in doubt, ask her friends and family or sneak a peek at her jewelry.
4. Band: The band color is important as well. Platinum goes with just about every stone, but perhaps your fiancee wants something more flashy? Look for rose gold or yellow gold. Once again, look at what she normally wears for jewelry for an idea.
5. Shop Together: Finally, our last tip is to shop together. This is the 21st century! Go looking for a ring with your beau and ask her what she likes. If you still want to be sneaky, you can have her friend ask her about what her ideal engagement ring is for the perfect idea.
Where to Buy
You could go with a major brand name for an engagement ring, or you could go for something more unique. Here are three independent jewelers who specialize in diamonds, engagement rings, custom jewelry and more.
For vintage-inspired jewelry: SN Queens is known for their vintage inspired engagement rings in Los Angeles. Established in 1987, the jewelers are known for contemporary jewelry with a vintage touch. At SN Queens, you can get custom designs for your own signature engagement ring. You can also buy vintage, vintage inspired and contemporary rings from SN Queens.
For distinct styles at reasonable prices: An independent jewelry store in Chino Hills, California, Diamond & Design Jewelers creates one-of-a-kind pieces at a reasonable price. The store is owned by certified diamondologist Homeira Ghassemi and son, GIA certified Atila Ghassemi. Their engagement rings range from vintage inspired to more contemporary looks.
For unique rings: Los Angeles-based Barkevs designs and manufactures their jewelry in their facilities. If you are looking for unique designer engagement rings, than look no further. From rose gold bands to sapphire sets, these looks are perfect for the fiancee who wants to feel special.