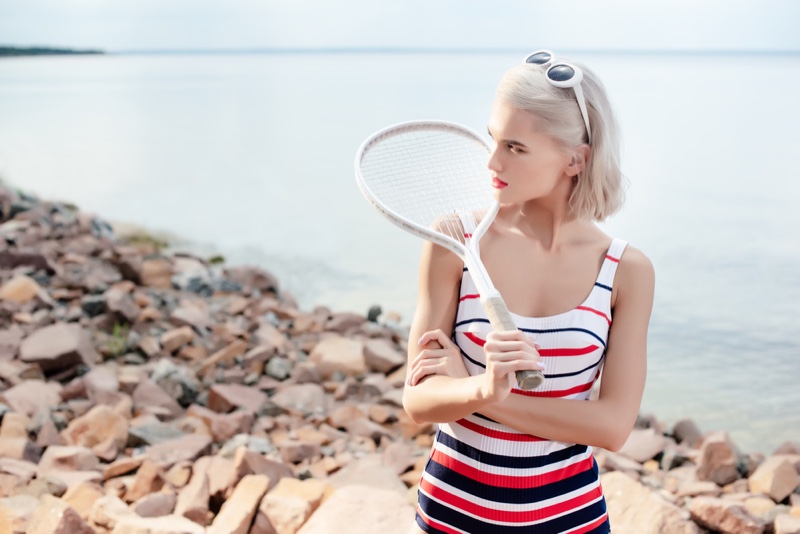 It's over wearing old t-shirts and old-fashioned dresses. This is how you can dress to go to the beach, without spending a fortune.
How Do I Dress
On
The Beach?
It is not so complicated to put something on top of the bikini to go from the hotel to the beach without it seems that you have set the clothes of being at home 6 years ago. Do as Monica Cruz and choose a short print dress and combine it with the latest sunglasses. It does not fail.

Moles
Polka dot dresses are a great option regardless of your swimsuit. We do not know if this model is the same as Monica Cruz, but it is almost identical! You can take it to the beach but, if you combine it with a high-heeled sandal, it is an ideal option for your more informal evening events.
A More Classic Version
If you have not just seen a red dress, choose a model in black like this, with the shoulders in the air and suspenders, you'll look great! Of course, you should wear a bikini underneath that does not spoil your pretty cleavage, for example, wearing a strapless model.
Long Dresses
The long dresses can also be great allies to go well dressed to the beach. Also, if the day lengthens and you end up in a beach bar, you won't have to worry about changing your look.
Flowers
The good thing about these dresses is that you can use them to go to work or meet friends and then continue to take advantage when (finally) you go on vacation. Clothing like plus size maxi dresses go well for the beach.
Kaftan
Do you want something more hippy? Well, then you can opt for a kaftan like this. You have it in this color but also in black with flowers.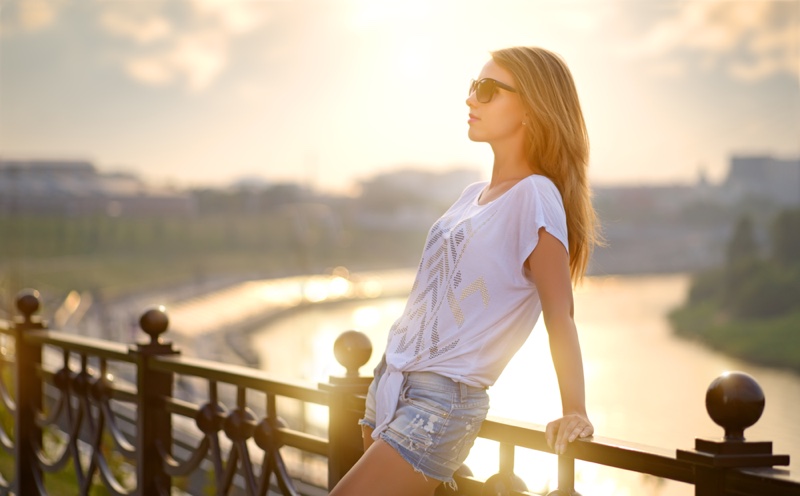 Shorts
It is another of the garments that do not fail. You can combine your shorts with a top, shirt, shirt, or even a body-like swimsuit, depending on your needs.
You can wear jeans shorts over the swimsuit and, if you combine it with a top and the kimono from before for example, you will have a look with which to go for a drink after your baths.
Bermuda
And if you reserve the shorts for your appointments outside the beach, nothing better than a wide short to go more comfortable and cool. If they have a print as beautiful as this, you will add a plus of style to your look.
Monkey
Halfway between the looks based on long or short dresses and shorts with a t-shirt, we have the overalls. The light-colored ones, with some fashion print like stripes, are one of the best options.
Bohemian
Do you notice that the kaftan is one of our favorite garments? If you want to emulate the style that the new Lara Croft is wearing, you can opt for this blank garment with embroidery.
Openwork
Although if you are looking for something you can wear on any occasion, this dress is what you need. You can combine it with jeans for your events off the beach or wear it as is to mark style on the sand.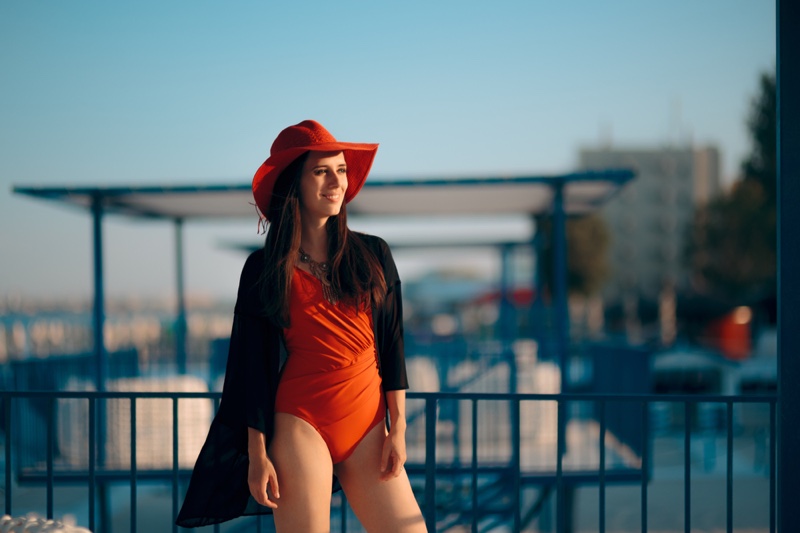 Kimono
If you combine a hippy garment with a flowered kimono, the result will be 10. In addition, it can also be used to take it down the street, so you have a 2×1. Reserve those that have elaborate embroideries for another time and leave for the beach those of fine fabrics with colorful prints like the tropical one.
Put
On
A Shirt
One of the most daring looks is this Hailey Baldwin with a shirt over the swimsuit. We think it is very stylish, although you have to be careful that the shirt is not too thick because you can shrink it.
Our Recommendation
Choose a shirt with a cool fabric like this. The good? You can take it open, closed or knotted at the waist and it serves you for any occasion, not just to go to the beach. A purchase that you must make yes or yes.
Hexagon
This type of glasses are very topical and also protect you from solar radiation in the eyes and the area around them.
At Your Feet
Set aside the typical rubber flip-flops and switch to the flip flops this summer, mule type and with the ergonomic sole.
Basket Case
Add a jute bag to carry your towel, water, sunscreen, and you'll be perfect.
And Below?
You still don't have a swimsuit or bikini? Discover our selection and find the one that suits you best.
If you have already chosen your bikini or swimsuit to go to the beach this summer, now it's time to think about what you're going to wear. Yes, because if you have taken the time to choose the perfect swimsuit to go to the beach, you can not put on an old T-shirt and spoil the whole set. But calm that we have fixed in what the famous ones are put and already we have clear how it is necessary to dress in these circumstances.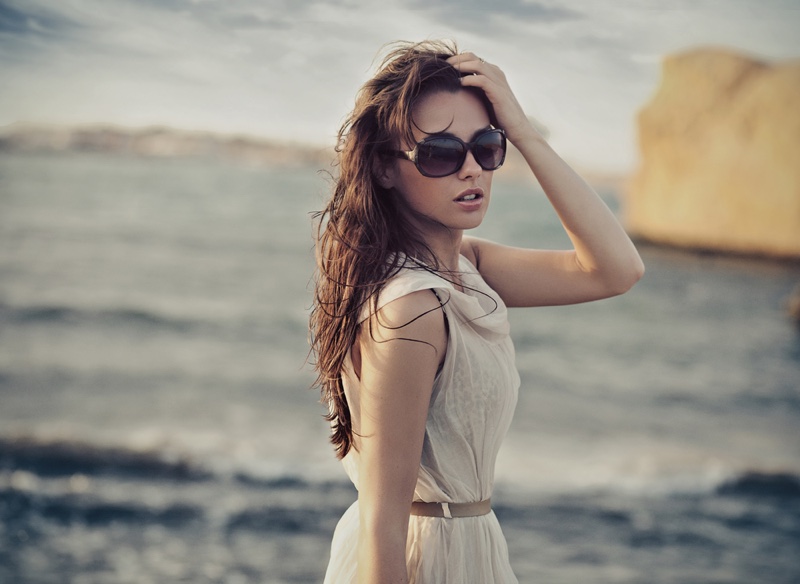 Perfect Looks
To
Go To The Beach
• Short dresses. They are one of the most useful options and also the most favorable ones. Those with prints like tropical, polka dots or stripes and also those in black, are one of the best possible options. The important thing is that you 'respect' your neckline and do not bother the effect by letting the strips of the top look under a pretty cleavage.
• Long dresses. Another good option that will also allow you to take advantage of your 'street' long dresses is to reuse them to go to the beach. They look great and will enable you to stretch the day until the beach hour is over without having to change.
• Bermuda and t-shirts. Mixing patterned Bermuda shorts with a different print top is also a great idea. Also, if you have a wet grip when you leave the beach, you can always wear your pants only.
• Monkeys. The beach is the natural terrain of the short light-colored monkeys and yes, also with prints. They are more comfortable than dresses to wear but less so when it comes to undressing on the beach, you have to keep in mind that you will take it off "all at once."
• Kaftans Kimonos can also be worn on the beach in a swimsuit and with shorts, such as jeans. Of course, they are better made of light and printed fabrics instead of embroidery. The kaftans, the more hippies, the better; you can wear them long or short.