Looking trendy and chic has a lot to do with choosing the right clothing brands. That's why donning a Louis Vuitton, Gucci, or Versace outfit automatically portrays you as stylish. These brands have been creating fashionable, high-quality clothing for decades, and wearing them shows that you value fine clothing and craftsmanship when shopping.
Besides smartness, many Canadian clothing brands have unique social selling points. These include causes such as eco-friendliness, veganism, 'no animal material' clothing, and fair trade advocacy. Looking for these outfits when you shop is an excellent way to support these worthwhile causes while making a statement about your beliefs and values.
If you're looking for a new brand to wear this year, we're here to help! Several women's clothing brands in Canada have dedicated themselves to creating beautiful, luxurious, and high-quality clothing.
Here's our list of the top 10 women-led Canadian fashion brands that you should keep an eye out for. Each company mentioned in this blog is unique in its style and approach to fashion for women, so you're bound to find something you enjoy no matter your tastes!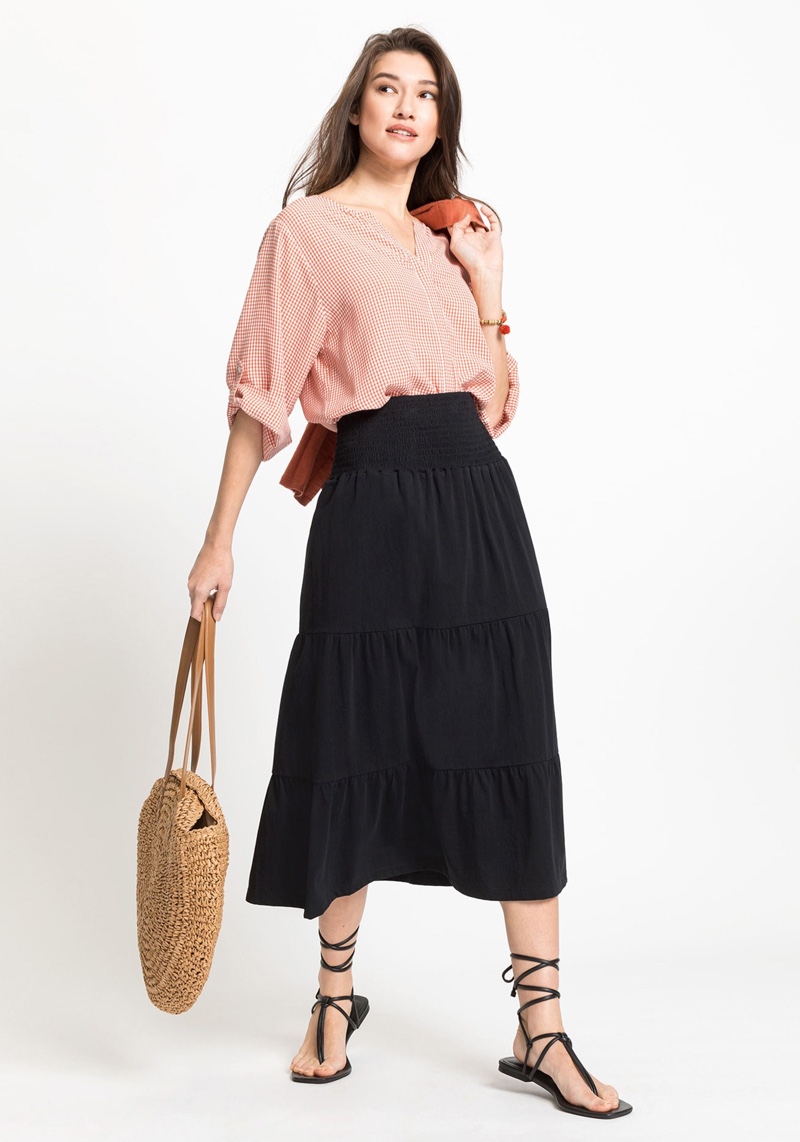 1. Olsen
Olsen Fashion Canada has been around since 1995. Their primary philosophy is that every woman is beautiful inside and out. Olsen's designs aren't unnecessarily over the top or pretentious. The clothes won't overpower your personality and natural beauty – they'll enhance it through trendy designs, quality denim, colorful fabrics, tasteful prints, and premium materials.
Headquartered in Hamburg, Germany, this clothing company specializes in stylish, European-designed fashion. Olsen fashion transforms your everyday wardrobe into elegant, comfortable outfits for any occasion. This Canadian designer introduces 16 new collections yearly, so you'll always have access to the latest trendy styles!
You can count on Olsen Fashion Canada for all your smart and business-casual style needs. From women's tops to blazers, jackets, denim, scarves, skirts, sweaters, shirts, blouses, and more. If you're looking to redefine your wardrobe, Olsen Canada is the place to start shopping online now!
2. Franc
Franc Canada primarily leans towards the casual, relaxed classic vibe. While you won't find any business clothes in its collection, this Canadian brand should be your go-to option if you're a person who enjoys simple styles. They're constantly releasing fun new designs, including jumpsuits, T-shirts, tank tops, sweatshirts, pants, and casual dresses for women who enjoy more classic, less flashy designs.
One of the notable features of this Canadian brand is its socially conscious manufacturing. They design and produce all of their garments in-house rather than overseas. Unlike many other brands, Franc is dedicated to fair trade and maintaining high employment standards. Their employees are treated well, and that quality shows in the clothing!
Franc also has carbon-neutral manufacturing, uses sustainable fabrics and dyes, and uses no environment-harming plastics in its packaging. This Canadian brand doesn't just make quality clothes; they make positive changes in the world.
Not to mention, Franc donates any garments they can't sell due to sampling and overstocking – so nothing goes to waste! Franc Canada is for you if you want your shopping to support a classic Canadian fashion company that cares about more than just its bottom line.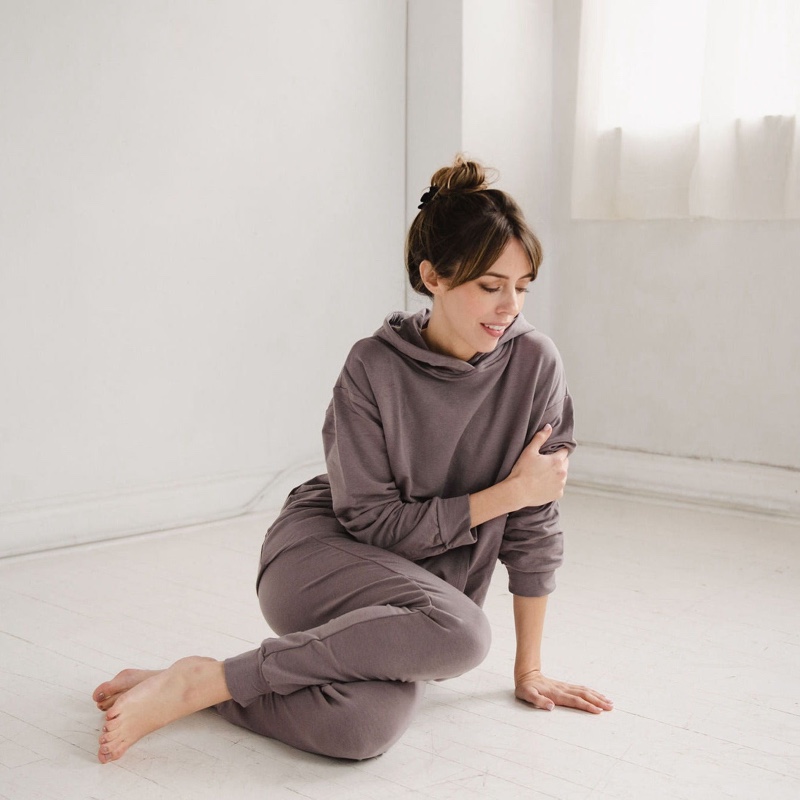 3. Encircled
Encircled Canada is well known for offering comfy women's clothing, from dresses to loungewear, knitwear, and more. Moreover, the brand champions sustainability by using non-harmful substances, low-impact dye, and sustainable materials throughout production.
They pride themselves as one of the few apparel brands with a B Corp certification from the Government of Canada. This designation is reserved for Canadian businesses that consistently meet high standards of verified performance, transparency, and accountability regarding employee remuneration and supply chain sustainability.
Encircled creates many of the basics that every women's wardrobe needs. Suppose you have trouble deciding which clothes to purchase when shopping; encircled even has an interactive quiz feature where they suggest outfits based on your style. So check it out!
4. Dianne Kennedy
With so many Canadian clothing brands giving minimal attention to plus-size women, Dianne Kennedy's clothing brand ensures its garments fit any body type. You'll love their outfits if you're one such woman because this brand tailors all its clothing exclusively toward plus-size women. Their sizes start from 0XL and go up from there!
Another unique thing about this Canadian brand is that they use organic bamboo fabrics for their clothes. Bamboo is a sustainable material that can be grown in many environments without added chemicals or excessive watering. This, in turn, makes Dianne Kennedy's fabrics incredibly sustainable and eco-friendly. Furthermore, bamboo fabric has a smooth, silky, luxurious feel, perfect for even the most sensitive skin types!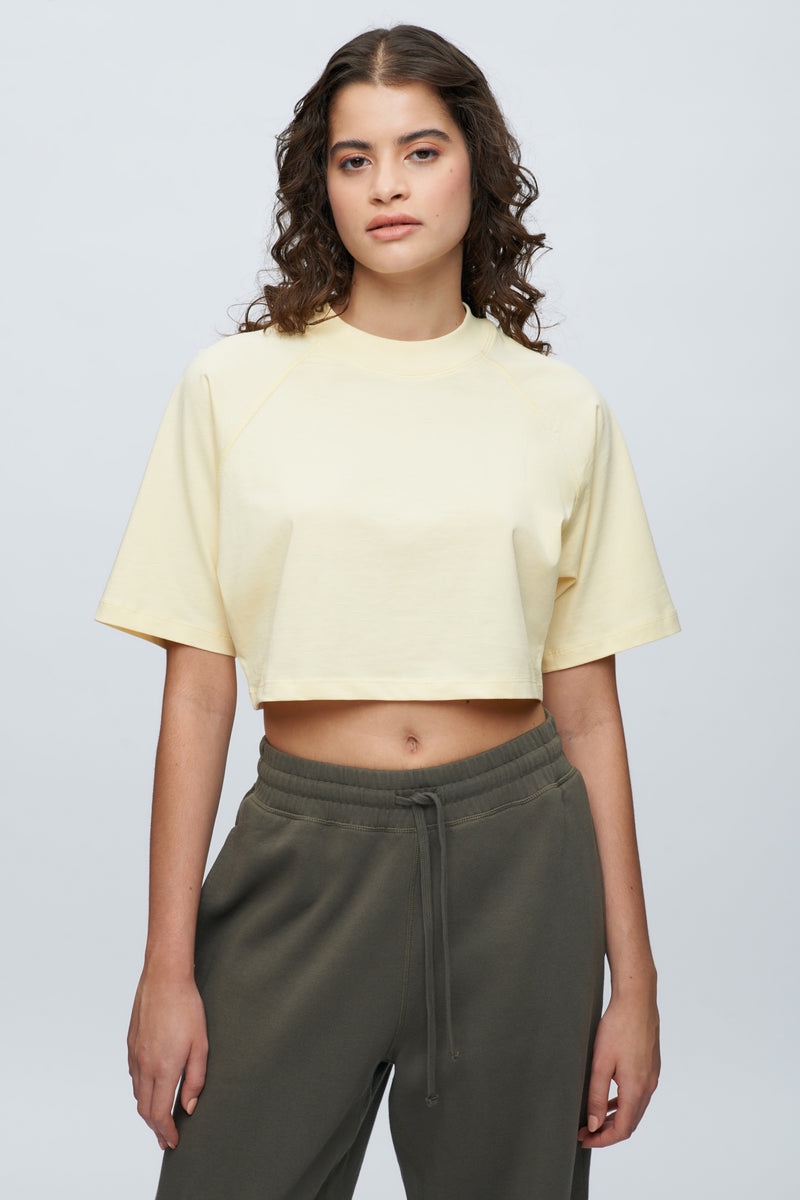 5. Kotn
Kotn is a well-known brand due to its supply chain transparency, sustainable materials, and initiatives to give back to the community. The brand boasts an impressive international and diverse supply chain. The cotton is ethically sourced and milled into fabric in Egypt. It then gets manufactured in Portugal and finally shipped to Canada for sale.
Kotn is a Canadian company committed to creating social change at every step in its supply chain. From offering employment opportunities for women to sponsoring girls' schools and supporting education, Kotn makes a difference.
They produce essential wear such as dresses, denim, accessories, loungewear, and women's tops. If you're considering upgrading your casual wardrobe with clothes from a Canadian brand that cares, Kotn offers plenty of fun, chic staple outfits that you'll truly adore.
6. Pure Magnolia
Weddings are an occasion many Canadian women dream about their entire lives. Getting the right fit in your wedding outfits is a huge part of having the perfect wedding. If you're looking for an online bridal wear clothing brand in Canada, Pure Magnolia is one clothing brand you need to try.
Research shows that 72 percent of brides in Canada find their dream wedding dresses on their first shopping trip. You too can have an easy time at the shop if you already have in mind what you want. Pure Magnolia has a vast range of classic and contemporary wedding dresses, accessories, and outfits. Every dress is created to order and gives you full say on how it's designed.
The company is also 100% online, so it doesn't spend money on storefronts and boutiques. Those savings are then passed on to you when you shop. This means you can shop for your made-to-order, dream wedding dress at an affordable price!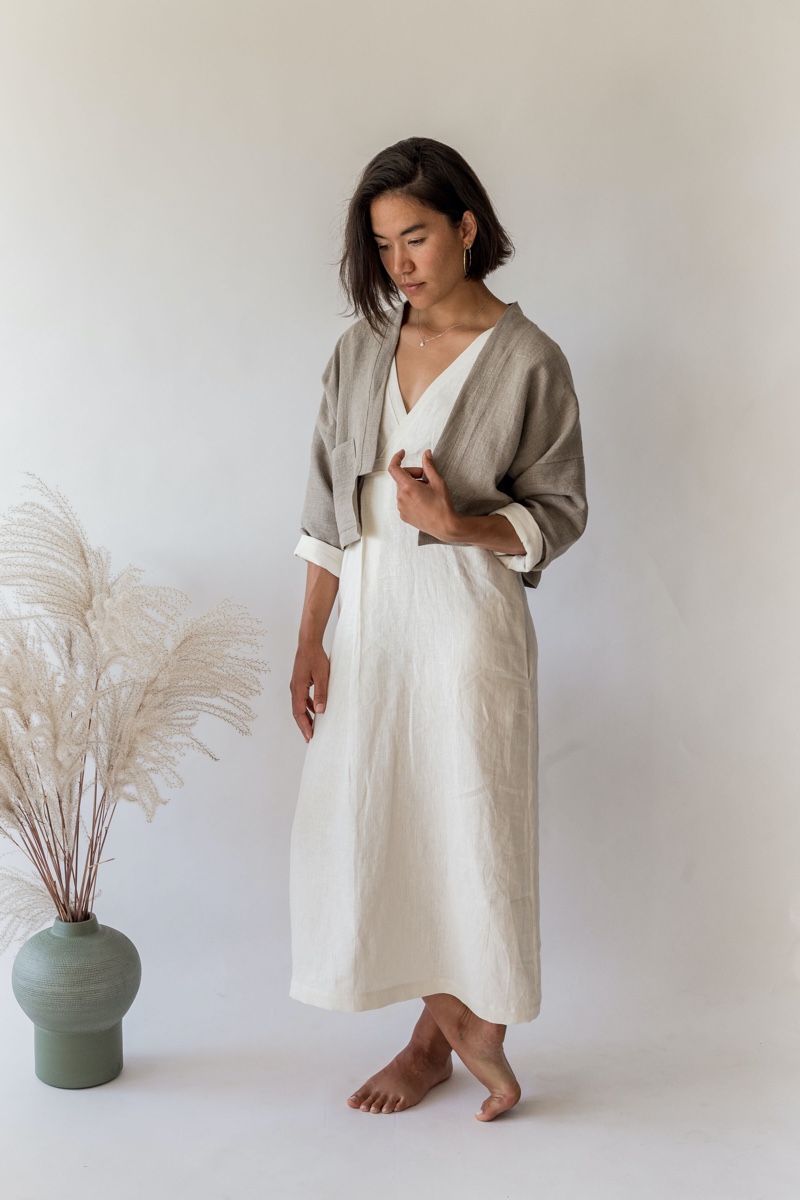 7. Nomi Designs
Every Canadian wardrobe needs some loungewear. Loungewear is perfect for those relaxed days around the house or even if you need to run errands in cute and comfortable casual clothing. Nomi is a designer who creates beautiful, eco-friendly linen loungewear for all women's sizes.
Nomi is all about the basics. They use high-quality linen, one of the most sustainable and eco-conscious garment fibers. This material fits perfectly into their ethos of natural living and sustainable business. Moreover, they strive to do everything by hand within the local community. Such special attention to detail naturally enhances the durability and beauty of each piece of sustainable clothing.
Nomi Designs is a designer pioneering a new trend called "Slow Fashion." Rather than wastefully mass-producing garments like fast fashion companies, each item is made to order. This approach takes time, but it significantly reduces waste material and overstocking and helps the brand remain eco-friendly in its manufacturing.
8. The Saltwater Collective
This Canadian clothing brand is known for its trendy swimsuits. However, with so many fashion rules regulating how to wear swimsuits, you need a clothing brand that honors current trends while still flattering your body type.
The Saltwater Collective is your answer. This brand offers a wide range of chic swimsuits that are certain to satisfy even the pickiest Canadian shoppers. From cute bikinis to one-pieces and more, The Saltwater Collective is a brand worth checking out when shopping for swimwear in Canada!
Most importantly, their items are created from materials recycled from marine litter. This minimizes their production waste and helps save the planet one swimsuit at a time!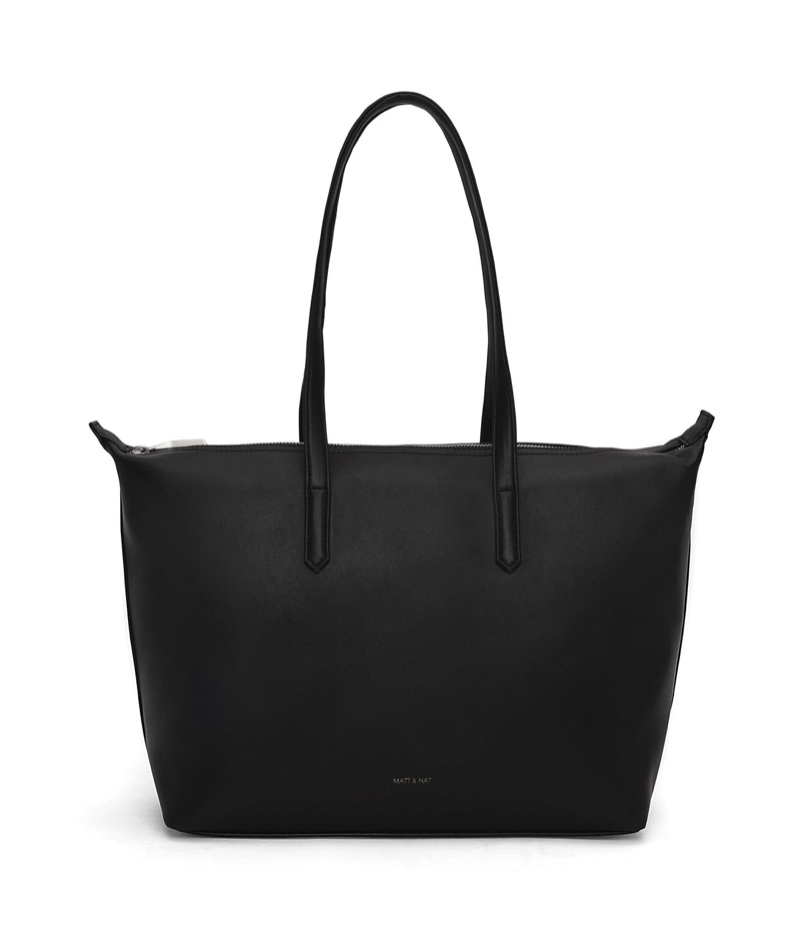 9. Matt & Nat
You might want to consider the Matt & Nat clothing brand if you live a vegan lifestyle. They're eternally committed to not using leather or other animal-based material in their fashion collections and accessories, such as women's bags, shoes, and belts.
Aside from offering chic and cruelty-free styles, they're constantly experimenting with innovative ways to use recycled nylon, cork, and rubber. Even more impressive is that they design their cloth linings from 100 percent recycled plastic bottles.
Matt & Nat's outerwear brand creates accessories, shoes, bags, jackets, and many other basics that are an ideal addition to your socially conscious lifestyle.
10. My Inner Fire
If you're a fitness enthusiast in Canada, you know how critical it is to dress appropriately for your workouts. My Inner Fire creates women's activewear and athletic wear such as yoga pants, sports bras, leggings, rompers, joggers, accessories, and swim wraps.
They create all their garments out of recycled materials, using 85% less energy and emitting 50% less carbon than most other brands. If you're someone who wants to support brands that care about the environment, My Inner Fire Canada is worth checking out!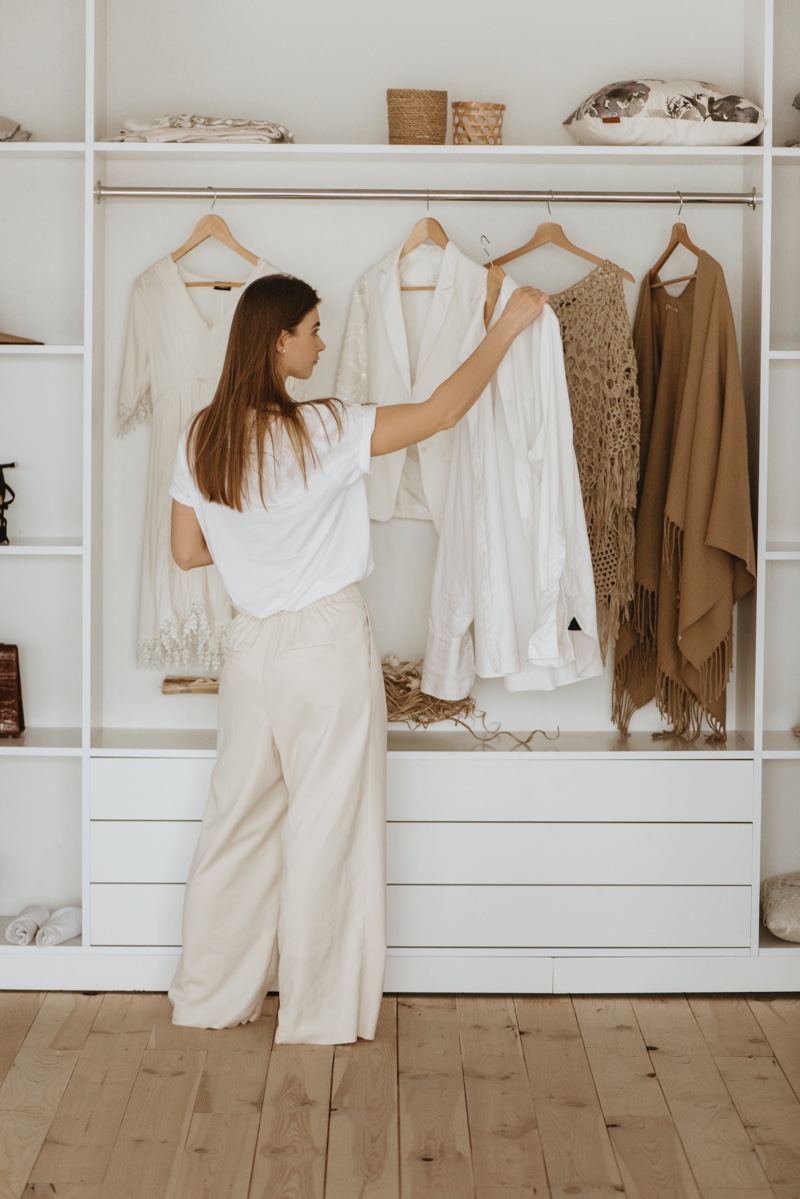 Conclusion
People who want to shop for women's fashion brands in Canada have plenty of choices. It's worth it to try them if you want to stay fashionable. Each one offers a slightly different approach to fashion, so you're guaranteed to find your perfect fit.
As a rule, try sticking to one or two brands when shopping for a particular clothing line. From loungewear to sportswear, footwear, inner-wear, and office outfits, this is an excellent way to build a functional wardrobe of items that go well together while giving you plenty of outfit options.
Most importantly, shop for brands in Canada that champion sustainability, given the significant impact of unethical clothes manufacturing on the ecosystem and workers involved.
References
Ellefson, Lindsey. "How to Find Your Perfect Wedding Dress, Even When It Feels Impossible." Lifehacker, July 17, 2021. https://lifehacker.com/how-to-find-your-perfect-wedding-dress-even-when-it-fe-1847307895.
Jackson, Kate. "Why Be A B-Corp." Forbes, February 18, 2022. https://www.forbes.com/sites/katejacksonk/2020/02/18/why-be-a-b-corp/?sh=2683c4236ea1.
Persad, Michelle. "The 22 Most Frustrating Things About Being A Plus-Size Shopper." HuffPost, April 29, 2015. https://www.huffpost.com/entry/plus-size-shopping-frustrating-things_n_7163956.
Smith, P. "Ranking of the Most Valuable Clothing & Apparel Brands in the World Between 2021 and 2022, by Brand Value." Statista, May 13, 2022. https://www.statista.com/statistics/1207840/top-apparel-clothes-brands-worldwide/.