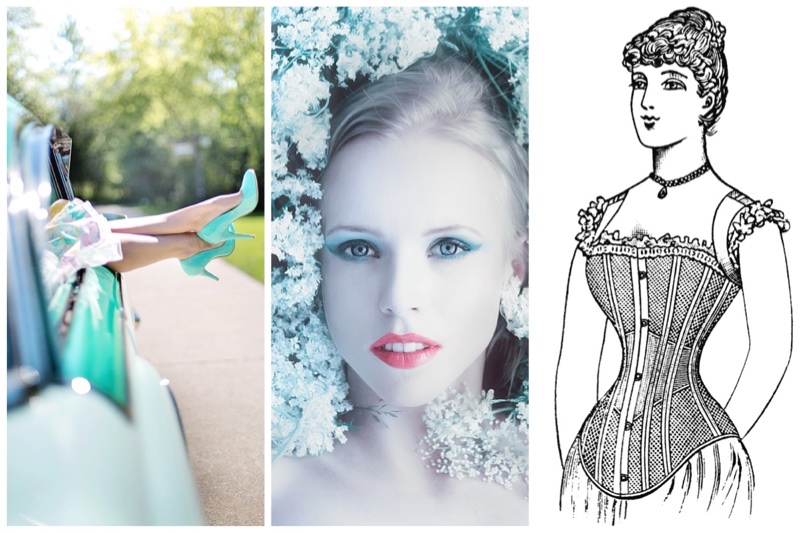 When it comes to fashion, trends come and go. From ancient times to now, the world of style and beauty has seen so many changes. Here, we take a look at some unusual footnotes fashion history. From designer rivalries to deadly trends and common misconceptions, discover seven crazy fashion facts below.
Flappers Didn't Wear Fringe

Photo: Pixabay
When one thinks of style for the 1920's, a common go-to is the fringe dress. But that is not so according to Beverley Birks, an exhibition curator, who spoke to Racked in 2017. "Fringe [was] not the most common thing you saw in the 1920's. That would be beadwork or embroidery," she reveals. As with many things, this can be tied back to Hollywood. Movies set in the 1920's but made in the 1950's took on modern interpretations of retro style. But nonetheless, the myth of flappers wearing fringe still persists to this day.
Foundation Was Made With Lead

Queen Elizabeth I portrait
Nowadays, consumers are more aware of toxic chemicals used in makeup products. But back in ancient times and up to the 19th century, lead-based powder was all the rage. Portraits of famous figures such as Queen Elizabeth I feature faces with pale, milky white skin. Many people used ceruse foundation which included white lead as the main ingredient to achieve this look.
Interestingly enough, Queen Elizabeth I used the foundation to cover scars which came from a bout of smallpox in her 20s. Lead poisoning can ultimately lead to death and takes years to take effect. Sufferers had a variety of symptoms such as insomnia, headaches, paralysis and ironically enough–skin blemishes.
Coco Chanel and Elsa Schiaparelli Had a Bitter Feud
Today, Chanel is one of fashion's most famed names. But in the 1930's, designers Gabrielle "Coco" Chanel and Elsa Schiaparelli were bitter rivals. Schiaparelli was known for making fashion forward designs compared to her peers. "Of course they were rivals, privately damning each other with faint praise. It is also claimed that Chanel once succeeded in setting Schiaparelli on fire," Chanel and Schiaparelli biographers Rhonda K. Garelick and Meryle Secrest told Harper's Bazaar.
Chanel once referred to Schiaparelli as "that Italian artist who is making clothes." After World War II, it was the house of Chanel which succeeded while Schiaparelli's business went bankrupt and she closed it in 1954. In 2013, the Schiaparelli brand was officially relaunched under the creative direction of Marco Zanini.
Puma and Adidas Were Born Out of Sibling Rivalry

(Top) Adidas Sneakers (Bottom) Puma Sneakers
Today, adidas and Puma are known as two of the most famous sneaker brands. But did you know that the two brands were created by brothers? In the 1920's. German brothers Adolf and Rudolf Dassler launched a shoe company. It quickly shot to success but mounting tensions led to the company being split in two during 1948.
Most accounts, cite an incident during World War II when the German town of Herzogenaurach was bombed by allied forces. When Adi and his wife got into a bomb shelter with Rudi and his wife, he exclaimed, "The dirty bastards are back again." Rudi took this as an offense towards his own family. Adi named his brand Adidas while Rudi used his name Ruda but changed it to Puma later on. Adi came out on top with his savvy for techniques and relationship to athletes according to Fortune.
There's a Reason for the Phrase 'Mad as a Hatter'

Photo: Pexels
Today when we think of the Mad Hatter, most people probably think of 'Alice in Wonderland'. But back in the 19th century, the hey day of hat making, hat makers used mercury for the felting process. Regular exposure to mercury caused hallucinations, insomnia and slurred speech. The phrase "mad as a hatter" comes from this phrase. It was not until the 1940's when mercury became banned in hat making in the US.
Men Were the First to Wear Heels

Louis XIV of France wearing heels
Nowadays, high heels are associated with a women's wardrobe. But you may be surprised to find out that high heels were actually designed for men. According to an exhibition called: Shoes: Pleasure and Pain at the Savannah College of Art and Design, high-heels were developed in 15th century Persia. The trend migrated to Europe and male aristocrats donned them for a powerful look. Additionally, that is where the phrase "well-heeled" comes from.
Corsets Were Not as Dangerous as You Think

Illustration of Victorian era corset (1890)
The corset gave the effect of an hourglass figure, and often has a reputation as being very dangerous. First popularized in the 1500's, corsets were popular up to the 1960's. By sucking in a woman's torso, it gave women smaller waistlines. Valerie Steele, fashion historian and author of 'The Corset: A Cultural History', argues that corsets were not as dangerous as people think.
She claims the idea of a 13-inch corset is a myth and corsets did not cause misshapen organs as one would believe. Steele also notes that men often protested corset wearing; meaning that women wore them of their own volition. Luckily, nowadays women have spanx to provide a smooth figure without the pain.