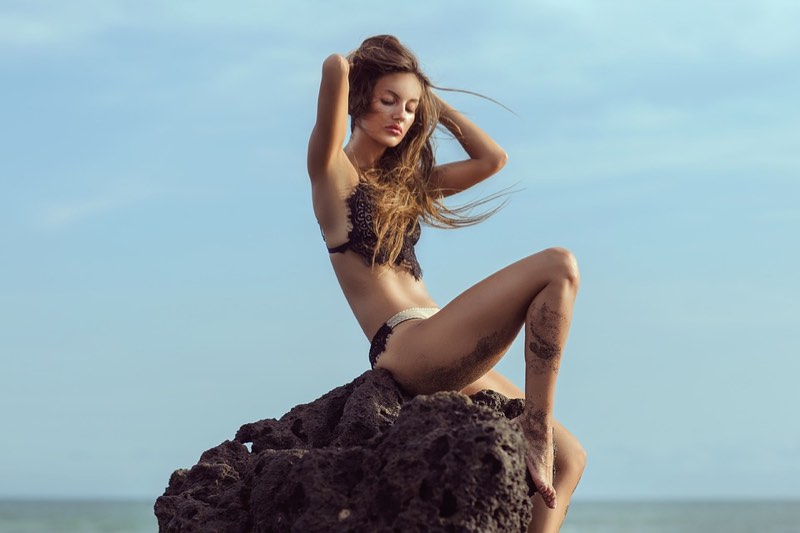 Unlike the simple one-pieces of the '90s and the triangle two-pieces of the early '00s, swim fashion in the last decade or so has been exceedingly exciting. From mesh-covered cut-outs to fringe and tassels, trends for swimwear are becoming increasingly difficult to predict.
During the last couple years, one-pieces have seen an outstanding resurgence. However, if you are dedicated to your bikini, here are a few styles to search for before summer swim season is in full-swing.
Romance
In more ways than one, bikinis are just a hop and a skip away from lingerie. On one hand, many women find it distasteful to emulate bedroom attire on the beach, but on the other hand, romantic swim styles catch eyes and steal hearts. This year, a handful of designers doubled-down on romantic flourishes to appeal to those swimmers who like to feel flirty and feminine. Plunging necklines, delicate lacework, glittering gems, and other delicate details will add romance without making you look too ready to dive into bed.
Texture
Even with a loud print, bikinis tend to be relatively one-dimensional ― which is why many designers this year are adding all sorts of textures to their swimwear. Though they may be somewhat less practical for actual swimming than smooth, sleek suits, bikinis with some texture stand out on the beach and at the pool. Here are two textures you will definitely see this swim season:
Crochet. Crochet work looks simple from far but up closet is beautifully intricate. You can find bikinis with crochet embellishments at the neck or back, or you can invest in a fully crocheted suit. However, it is important that you care properly for your crochet bikini since the weave makes it more delicate than other materials.
Mesh. Cutouts are another way designers are adding visual interest to plain-old bikinis, but this year, instead of merely baring skin, cutouts are covered with mesh. You can find bikinis with various gauges of mesh and a variety of cutout patterns, to suit your body type and comfort level.
String
String bikinis have been go-to swim options for decades, but this year, designers have decided to do a bit more with their cording. Laces and wrapping straps are exceedingly popular this year on all styles of swimwear, including bikinis.
Loose lacing is being used as a method of creating skin-revealing cutouts, so bikinis can have deeper necklines or higher thighs while giving coverage where it counts. Plus, laces can be either strong and sporty or delicate and romantic, fitting both major swim styles for the season.
Additionally, designers have coopted ballerina fashion in their swim lines this year, creating bikinis that wrap beautifully around the body. Wrapping is actually advantageous for swimwear; it provides adequate compression to keep your bits in place while swimming and splashing, but it isn't prohibitively tight or unflattering.
However, you should be careful about wearing a laced or wrapped bikini in the sun for too long; the thin patterns will make for odd tan lines. With these bikini styles, it is even more important that you use enough sunscreen to stay safe.
Coverage
Perhaps in response to the overabundance of revealing swim styles, some designers have developed more concealing bikinis ― and they are just as attractive and stylish as their skin-bearing alternatives. Full-coverage tops feel comfortable and practical, and many boast the same beautiful embellishments as skimpier styles, including lacing, mesh-covered cutouts, and crochet regions. There are sportier options, that are more reminiscent of rash guards, but you can also find stylish women's tankini swimsuits that are on-trend.
Additionally, this season designers went wild with cover-up options, moving away from the tried-and-true sarong to experiment with alternative after-swim clothing. Beach pants, which are lightweight and often flowy, are an emerging trend, but you should also consider looking for bolero jackets that match your bikini, open-weave dresses, and caftans.
Neutral
Flying in the face of all other swim trends this season, some designers are pushing plain, nude-colored bikinis. With colors to match a variety of skin tones, these neutral suits are designed to give the sense of exposure while remaining quite concealed. Nude bikinis are particularly good for accessorizing with jewelry, jackets, hats, and pants, so if you are more interested in elements of swim style besides your bikini, you might try wrapping yourself in simple nude.