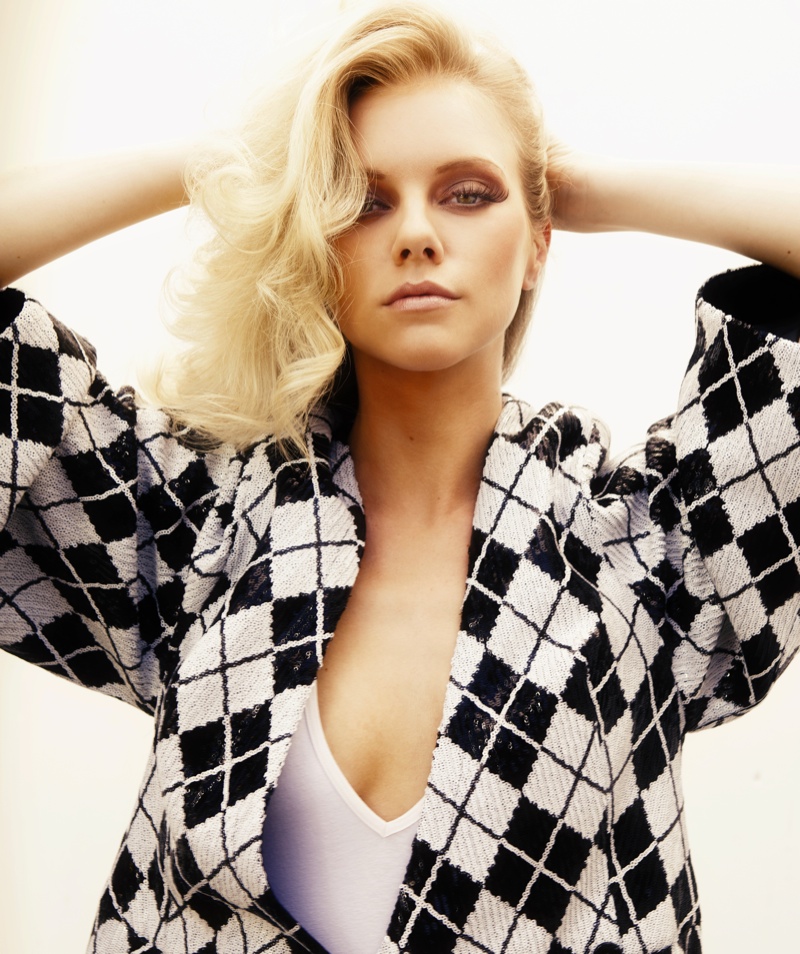 Image: Elle Evans by Ash Gupta
The star of one the summer's hottest hit videos, "Blurred Lines" by Robin Thicke, is Elle Evans. (Check out the video here.) The American beauty may play a bombshell in the racy video, but we soon discovered there's a lot more to Elle than meets the eye. We decided to talk to the Texan-born blonde about her thoughts on the mega successful video, the not so glamorous side of modeling and fitness regiment. Click below for the full exclusive interview.
"My whole entire experience with 'Blurred Lines' is like one of those feelings of immense happiness that you get that is just basically like, a big uncontrollable smile."
Can you tell us about your first modeling gig?
My first modeling job was a commercial in China! I was living in Toronto at the time and went through the usual casting process through my agency there just a few times before I ended up being cast as the part of Marilyn Monroe for a commercial that would be shot in Beijing and set the air all throughout Shanghai, China! It really made me feel good to know that my work could carry me to the other side of the world! It also made me feel really good to see how much, after the hair and makeup transformation, that I really did resemble the legendary, iconic Marilyn Monroe! Unbelievable!
What inspired the career choice?
The inspiration for my career choice came from the sudden realization that I could not waste another second of this precious time not fully fulfilling the destiny of my character. I have been very blessed in this life and I believe I am here for a purpose. 🙂 I want to build on these gifts I have been given, seize the opportunities presented to me, count these many blessings and hopefully encourage others to realize their full, highest potential. I want to ultimately inspire people to be the better version of themselves, therefore, I must be the best version of myself.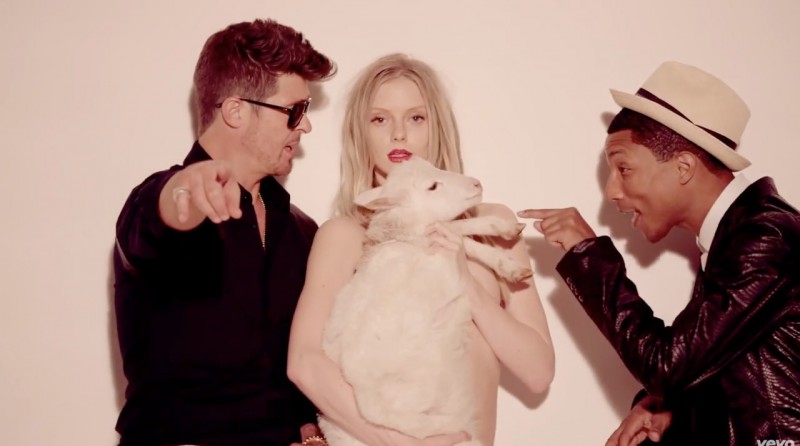 Elle Evans in "Blurred Lines" Video with Robine Thicke and Pharrell / Image Courtesy of Vevo
The success of "Blurred Lines" has been monumental. (It broke records for the highest listening audience, over 242.65 million people have heard "Blurred Lines") What is it like being a part of a pop culture phenomenon and how was your experience filming the video?
Monumental? Pop culture phenomenon? Wow, well when you put it that way-! I'm absolutely flattered!!! My whole entire experience with "Blurred Lines" is like one of those feelings of immense happiness that you get that is just basically like, a big uncontrollable smile. Ya know, like when you're walking down the street, just smiling so big and wide, that maybe even a few giggles slip out- those grins of pure joy, you just don't care if anyone sees?? Being a part of "Blurred Lines" feels like those smiles; and if those smiles are contagious, I'm sick!
There has been some controversy over the video, saying it's sexist against woman. What do you think about the criticism?
People will find something negative to say about anything. It's a song!
It says in your bio that you are a fan of working out and it definitely shows! Can you tell us a little bit about your fitness routine?
I'm a big fan of taking classes! Any kind of classes at the gym! There's something about being in a big room with loud music and lots of people doing the same moves and workouts that really motivates me to push myself! I'm also planning to start working with a personal trainer pretty soon!
How would you describe your personal style?
I would say my personal style could be described as 'of the moment'. Meaning I wear what I'm feeling at that 'moment' that I'm standing in my closet, lol! But I'm a chameleon so I always make sure to be dressed appropriately for the occasion.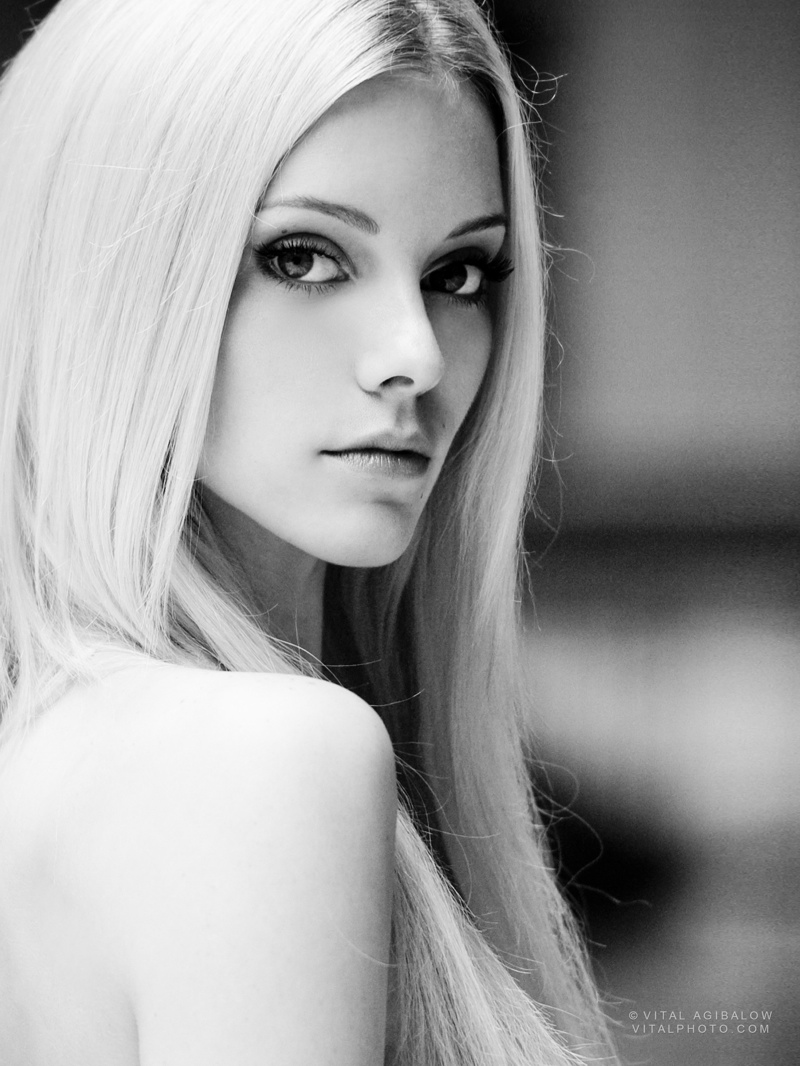 Image: Elle Evans by Vital Agibalow
Having a good beauty routine must be a huge part of your job. What are some of your must have products?
I absolutely need chapstick, or any form of lip moisture in my life, at all times. ha! Lately I've been a big fan of moisturizing my body with baby oil after my showers. One of my favorite products for summer (since I don't like to wear a lot of face makeup in the summer) is a product by Benefit called Oh La Lift! –It's an under eye brightener that works pretty good once you get the hang of it! Another one of my most favorite products that I keep with me almost always is a mini dry shampoo powder by Oscar Blandi. Good stuff!
What is the most glamorous part of being of a model? Least glamorous?
I'd say the most glamorous AND least glamorous things about being the model are one and the same. It's the hair, makeup, and wardrobe. On one hand, wearing the fabulous clothes, sitting for hours getting beautified by an entire team, and being the star of the show are really quite glamorous things! But then, there can be the occasions where those things can get treacherous, and that is when the job can turn into a nightmare! Just imagine getting your skin zipped up in a tiny micro zipper… or running down a wet street all day, on set, in stilettos that are two sizes too small… or just imagine having to work with diva hair stylists who thoroughly enjoy teasing your hair to its literally breaking point…. It makes me love what I do !! 🙂