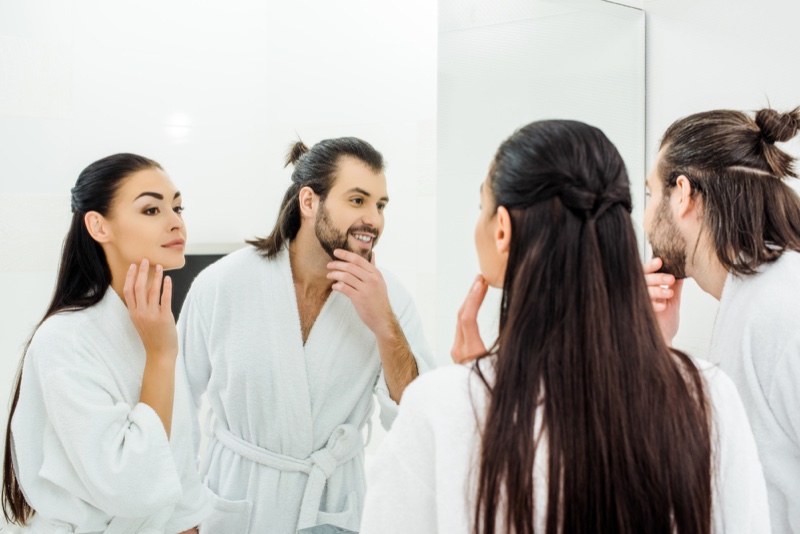 These days, men care about their personal beauty almost as much as women. The male grooming industry is set to skyrocket, growing to $29.14 billion by 2024. This can be attributed to pop culture and the media challenging the idea that beauty products are just for women and that indulging in a bit of personal pampering is a hit on masculinity. Additionally, as men continue to see male supermodels strutting their stuff, it makes men think about their looks a bit more.
For women, this provides a great opportunity; it means that you can your boyfriend can trade beauty tips. It's a benefit that you may not have expected.
How to Deal Wit
h a Bald Spot
Male-pattern-baldness is a well-known and much talked about topic. Receding hairlines have led men to come up with all kinds of solutions to hide their hair loss, such as wigs, toupees, or even going as far as to draw on a hairline with a Sharpie. 
Female-pattern baldness, however, is a lot less talked about, although it is fairly common. 50% of women over the age of 65 experience it, and it's not unheard for women between the ages of 30 and 40 years old to lose their hair either. So ladies, if you notice a bald spot or if your hair is getting a bit thin, just ask your boyfriend for advice. He'll likely have some helpful suggestions for you that you hadn't considered.
How to Cover Up a Cold Sore
An estimated 67% of the global population has the HSV-1 virus, a contagious strand of herpes that causes cold sores or blisters around the edge of your mouth. HSV-1 does not discriminate, and both men and women can contract the virus, meaning that it's possible that you and your boyfriend have it.
If that is the case, then you can trade beauty tips on how to cover up a cold sore or deal with outbreaks. You could show him how to use concealer or foundation to hide it, and he can confirm whether or not the cold sore is hidden. You could also encourage your boyfriend to look at services like Many, which dispense medicines for men, with one of the prescriptions offered helping to deal with cold sores. Cold sore medication can reduce the duration of the cold sore by up to 30%, providing a good alternative if he doesn't want to use make-up.
How to Get the Ultimate Natural Make-Up Look
However, if your man is one of the millions of men getting in on the male make-up trend, according to The Guardian, then you can give him tips on how to get the ultimate natural make-up look. Your boyfriend may want to improve his appearance without looking like he's put much effort in, and the natural look is a solution to that.
Marie Claire's advice includes moisturizing the face and the neck, applying lip balm, and applying light coverage (such as tinted moisturizers). You may have some other suggestions too, so your boyfriend will have come to the right place.
As more men think about their looks and how to improve them, trading beauty secrets with your boyfriend is going to become all the more common. Men no longer go out with chapped lips and cracked skin, which gives you another reason to drag them along for your next beauty haul.