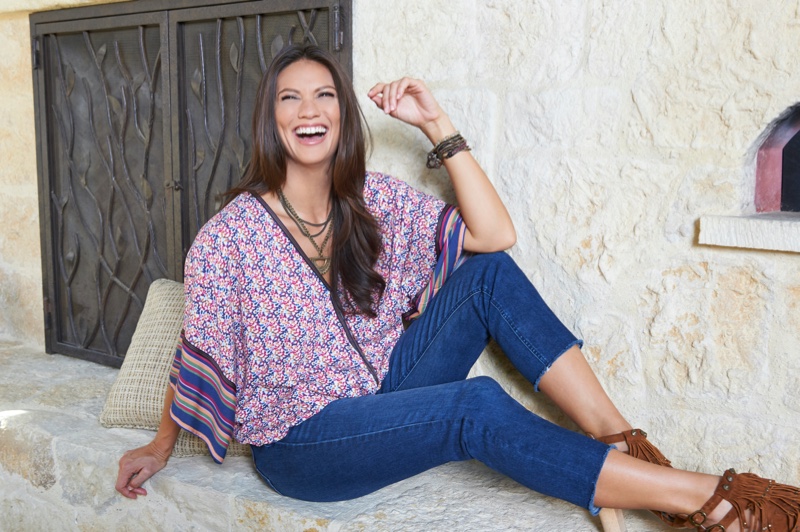 Can you really have too many pairs of jeans that you love for different reasons? As a wardrobe staple, jeans are easy and fun to style. Different types of jeans can change your outfit's whole look, and sometimes different styles can be hit or miss. But once you learn more about cuts, styles, lengths, and more, you'll be shopping for jeans like a fashionista. Here are some helpful tips for finding jeans that are sure to become your favorites.
Types of Jean Fits
Jean fits range from straight leg jeans to girlfriend jeans to jegging jeans—and everything in between. The following fits are a few of the most common silhouettes that are universally great-fitting, regardless of your shape or size.
Skinny Jeans
Skinny jeans are still a go-to for many because they are slimming throughout the entire leg. You can also pretty much wear any shoe style and top with them, making skinny jeans a versatile option. You can always go for the skinny white jean or branch out into a cute tulip fray hem skinny jean for something fun and new. Look for skinny jeans made with super stretch denim that embrace your curves in all the right places.
Jegging Jeans
Combine the comfort of leggings with the structure of jeans and you get jeggings. Exceptional fitting jegging jeans are made with soft stretch denim and hold your shape perfectly. Jeggings come in a wide variety of washes and lengths. Some of the best jeggings offer features that enhance your curves, such as tummy-smoothing panels, a "no-gap" elastic waistband, and strategically-placed back pockets for a "booty lift" effect. Pick up a pair in an artisanal wash, a fun print like camouflage, or stock up on classic black jeggings.
Straight Leg Jeans
Straight leg jeans are another classic, known for their streamlined style. This cut appears to have a straight fit throughout the entire leg, with some silhouettes being more relaxed fitting than others. You can go with a lived-in pair made of super soft premium denim in a light blue wash for casual weekends, or stick with a rich indigo wash for a figure-flattering look for dinner out.
Boot Cut Jeans
Boot cut jeans flare out slightly at the ankle, making them perfect to wear with boots or heeled shoes. You don't want your boot cut jeans grazing the floor, which is why people often wear a heel of some sort with their boot cut jeans. A sleek and stylish pair of boot cut jeans made with premium soft stretch denim are often a favorite in one's jeans collection. A timeless blue wash can easily be styled for day or night.
Girlfriend Jeans
Girlfriend jeans are a great casual option if you dig a lived-in, comfortable look. The option to wear them cuffed or uncuffed gives you versatility in how you style your girlfriend jeans. It's easy to wear flats and a tee or a blouse and heels with your favorite structured girlfriend jeans. A great-fitting pair may look relaxed with flattering faded details and whiskering but still fit your curves perfectly.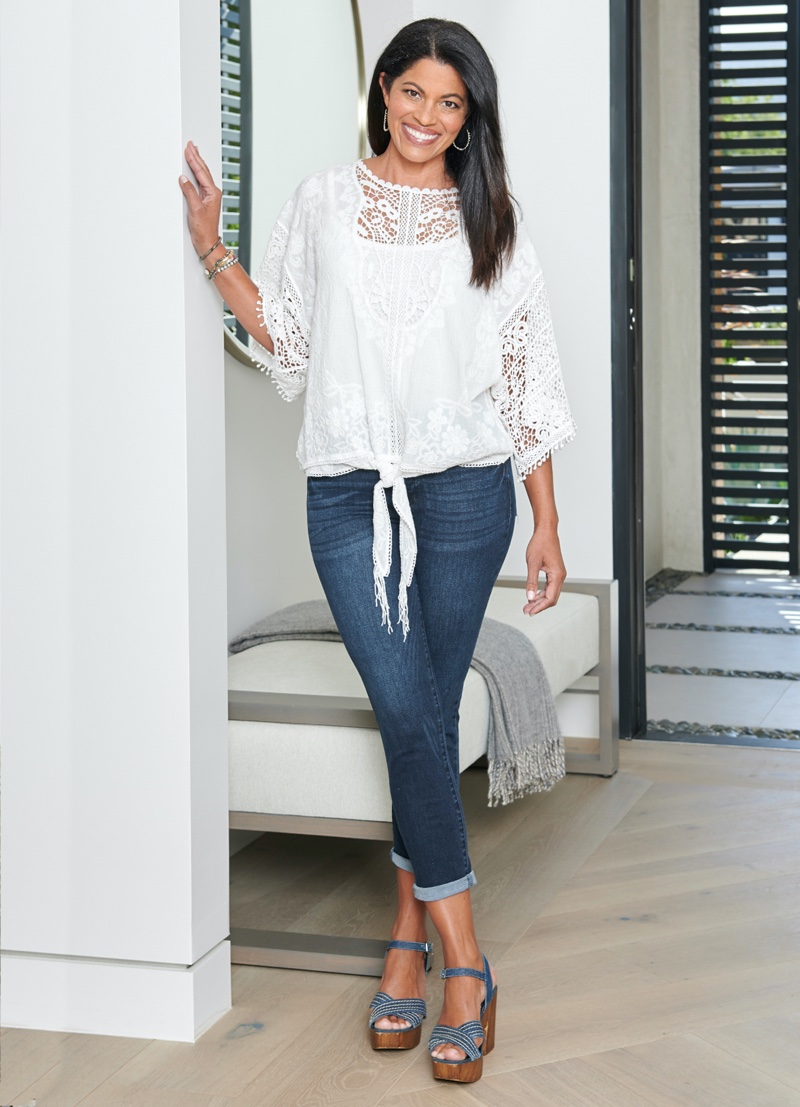 Rise to the Occasion: High-Rise and Mid-Rise
What's your ideal jean rise? The rise of your jeans affects the overall look and feel of your pants. The rise is the measurement between your legs to the top of the waistband. The rise of your jeans can impact how your waist looks. There are several rises, including low and ultra-high, but here are two of the most common ones to know about.
High-Rise Jeans
Much to the relief of many, high-rise jeans have come back onto the scene in recent years. They typically sit at your natural waist at about your belly button. High-rise jeans often give a leg-lengthening and waist-defining look with a front rise that typically measures about 10 inches.
Mid-Rise jeans
A mid-rise sits between your waist and your hips or just below your navel, with the rise measuring about 9 inches. Where you like your jeans to sit in relation to your hips and waist is about personal preference, but the jeans should mold and hold your curves perfectly, either way.
Jean Lengths: Know Your Inseam
Finding your ideal jean length can sometimes be tricky. How many jeans do you own that just aren't the right length? Knowing your inseam can help you find the length you are looking for in a particular pair of jeans. Petite inseams will be quite a bit different than tall inseams, for example.
Cropped Jeans
When you want to show some ankle and cute shoes, cropped jeans are where it's at. The inseam is at about 26 inches, give or take, depending on the pair. Cropped jeans may feature an inseam of 25 inches uncuffed and 23 inches cuffed, for example. The point is they hit a few inches above the ankle.
Ankle Skimmers
As you can guess, ankle skimmer jeans hit at or just above the ankle. If you cuff them, they get shorter. The inseam is anywhere from 27-29 inches usually.
Tall Jeans
For women with long legs, tall jeans are ideal. The inseam is at least 32 inches and goes up to about 36 inches. Look for inclusive women's brands that offer a variety of women's sizes, including tall, petite, plus, and missy sizes.
Regular-Length Jeans
A regular length measures about 26-31 inches at the inseam. Depending on how tall you are, the jeans may hit at the ankle or below.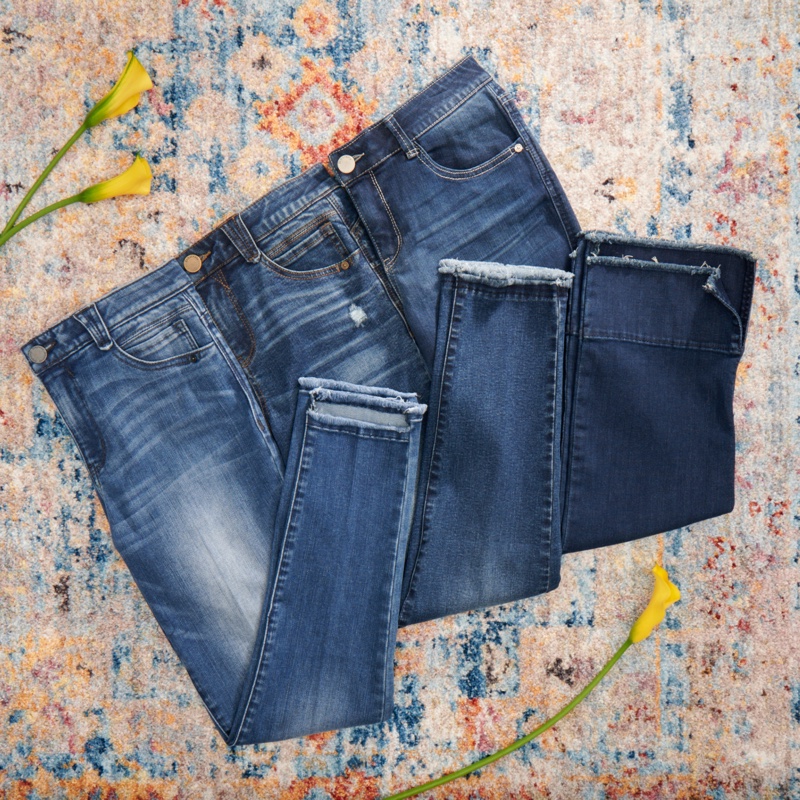 About Democracy Clothing
Democracy Clothing designs jeans for women of all shapes and sizes, fusing together elements of comfort, style, and technology into every pair. Based on the principle of "Curve Equality," Democracy Clothing acknowledges all shapes are different but equal. Democracy Clothing's "Ab"solution fit technology is the brand's signature construction, featuring premium stretch denim, slimming panels to "mold and hold" your shape, a hidden elastic waistband for a "no-gap" waist, and strategically-placed back pockets for a "booty lift" effect. Democracy Clothing offers "Ab"solution jegging jeans, straight leg jeans, cargo pants for women, and many other styles for an effortless aesthetic. Also, browse the curated collection of tops to complete all of your outfits from Democracy Clothing.
Find your best-fitting jeans from Democracy Clothing at Democracyclothing.com