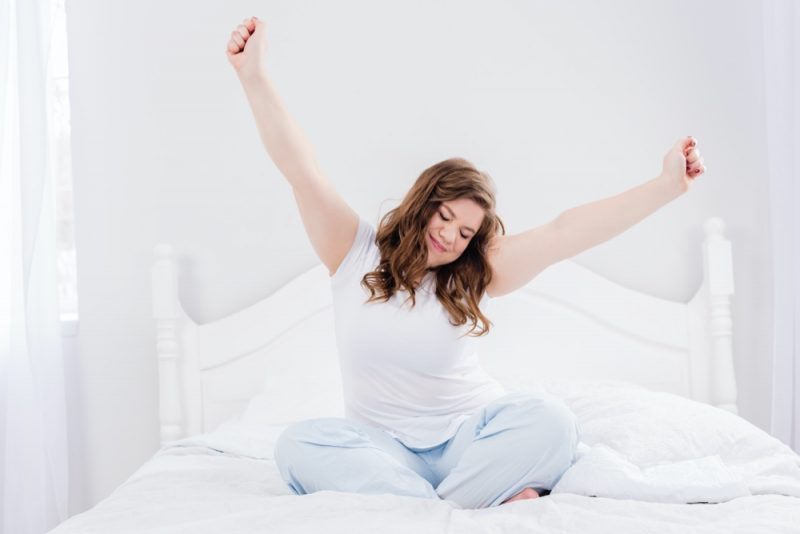 Do you often have trouble choosing what to wear to bed? It may seem like an irrelevant issue, but your nightwear can actually make a significant difference in the quality of your sleep and your overall health. Studies reveal that the lack of proper sleep is linked to accidents, high blood pressure, diabetes, depression, and heart issues.
As a plus-sized woman, finding the right clothes to bed can sometimes be a challenge.  However, giving importance to wearing comfortable plus size intimates can be an initial step towards a good night's sleep. The same way you dress for daytime convenience, what you decide to wear at night makes a difference with your overall health and wellbeing.
Pajamas, a short and t-shirt combination, nighties are just some of many options to choose from. The kind of fabric used for sleepwear also affects how you sleep. Natural materials such as cotton fabrics tend to be more relaxing than synthetic ones. Choose soft, lightweight materials that can help you maintain the correct body temperature throughout the night. You don't want to be awakened by a pool of sweat or feel bitterly cold.
To help you, we have listed below comfortable sleepwear tips for plus-sized women to ensure better sleep.
Fabric is Key
Surround yourself with natural fabrics. The sleepwear that you choose should be made from breathable materials that can help keep your body cool and maintain the appropriate body temperature as you sleep. It is common to wake up in the middle of the night covered in sweat. Ideal sleepwear for any size should be made from lightweight, stretchy jersey weaves, and soft fabrics like cotton or the more expensive option, silk. Stay clear of synthetic materials such as polyester, which may prevent you from staying cool as you sleep. Always check the fabric label or description before any purchase.
The Right Size Matters
When getting ready for bed, the last thing you would want is to be wearing restrictive clothing. This will make you feel uncomfortable and hot. Make sure to wear at least 2 sizes up from your normal size. This will let your body breathe and keep cool as you sleep. You don't want something too tight that might cut off circulation, or sleepwear that is too loose that it might slip off. The retail industry is slowly coming to terms with inclusivity and manufacturing sleepwear for all body types. Embrace your curves, and don't be afraid to search for appropriate sleepwear that best matches your personal taste and body shape.
Focus on the Details
After finding a size of sleepwear that lets your body move freely as you sleep, think about the smaller details. Sleepwear can come with label tags, chunky buttons, snaps, elastic bands, or elements that can be an issue as you sleep. These little additions may rub against your skin, lead to irritation like a rash, obstruct blood flow, or make you feel itchy. Simple designs and over-sized PJs and t-shirts minus the unnecessary details are generally better options for plus-sized women to better sleep.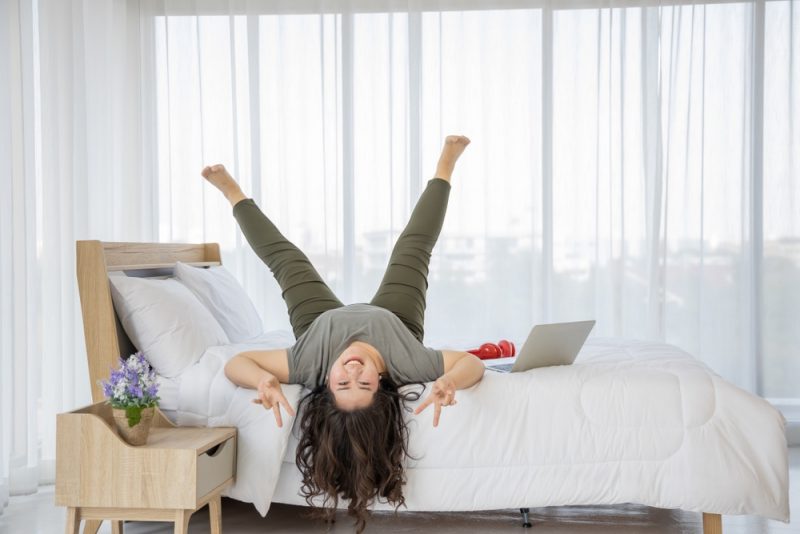 Keep Warm in Colder Weather
Sleepwear made of silk can keep you warm when it's cold and cool in warmer weather. The fabric is a thermo-regulator, but real silk is costly and will need dry-cleaning to prevent damage and shrinking. If you are looking for something more affordable and durable, flannel is a good option for colder months. Pajamas made of flannel are soft and warm and will keep you toasty in winter. For those who tend to get cold easily, wool and fleece are also an option. However, for sensitive skin, the wool may be itchy and cause skin irritation at night.
Keep It Clean
Never wear dirty sleepwear to bed. Sleeping will become an unpleasant experience if you wear smelly clothes that reek of sweat. Soiled sleepwear can host accumulated body oils, causing skin problems such as acne or contact dermatitis. The last thing you want to have is red, itchy, and swollen skin that can keep you up all night. Use antibacterial laundry detergent and fabric softener to keep your sleepwear smelling fresh and clean, aiding you in having a sound and pleasant sleep.
Your Environment Counts Too
After sourcing comfortable sleepwear, your surroundings also play a vital role in a good night's rest. Cotton sheets, the quality of your mattress, comforter, or duvet quality should be looked into. Invest in quality pillows, sheets, mattresses, and blankets made with materials that agree with your skin and body. Consider your room's lighting and temperature. You want to feel calm and in a comfortable state to induce sleep. Earplugs or a dark eye cover can help those who work nights and need to sleep during the day when the rest of the world is awake.
In Closing
Sleepwear for plus size women should be chic and made of natural fabrics that are lightweight and breathable. Wearing the right clothes to bed will make you feel comfortable, keep your body's temperature in check and let you move freely as you sleep. After all, a good night's sleep is the key to staying fit and enjoying a long and productive life.