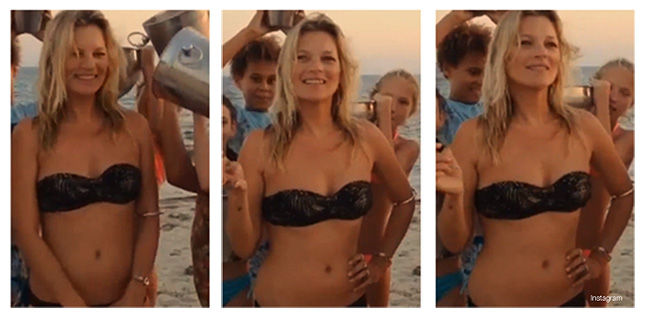 Kate Moss Does the Ice Bucket Challenge–Supermodel Kate Moss is the latest of the fashion elite to do the ALS Ice Bucket Challenge. Makeup artist Charlotte Tilbury uploaded this video on Instagram with the blonde stunner posing on the beach, wearing a black bikini and gold jewelry. As for who she nominated, she challenged actress Liv Tyler, actor Jack Nicholson and British host Nick Grimshaw to take the icy plunge.
Moss, who famously keeps private and has no social media presence, had her friend Tilbury write the following caption: "Kate has asked me to upload her ice bucket challenge for her… Please support ALS and raise money for this very worthy cause."
More Ice Bucket Challenges to Watch:
See Karlie Kloss, Kate Upton, Barbara Palvin & More Models Do the Ice Bucket Challenge
Victoria Beckham Does the Ice Bucket Challenge with the Help of Her Kids
Enjoyed this update?