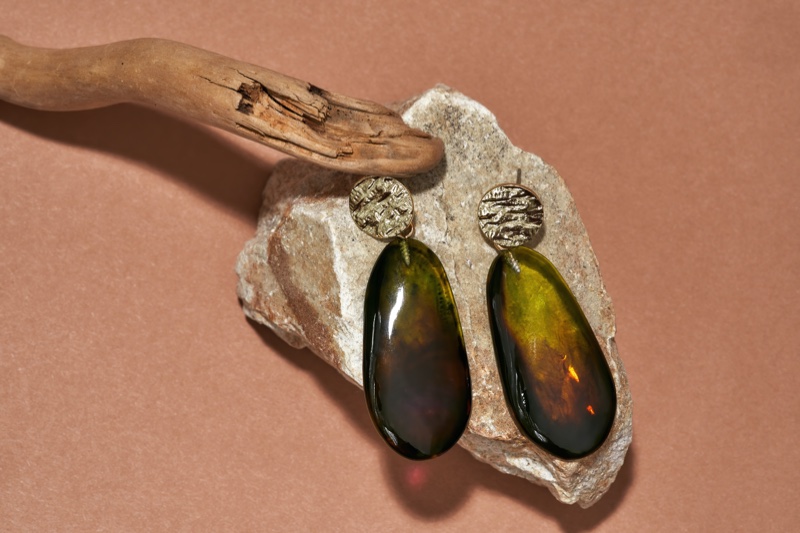 Ever since 2020, resin jewelry and DIY resin pendants have made a comeback in the jewelry world. This is all thanks to Gen Z and the power of TikTok. The major social media platform has shown how influential it can be in almost all areas of life, creating new pop stars and influencers thanks to just one viral video. Obviously, TikTok managed to stir some fashion trends, too.
When it comes to understanding the comeback of resin jewelry, it's important to understand the life cycle of trends. Nostalgia is a potent drug when it comes to the world of fashion, style, and crazes. That's why a retro appeal is always in.
In the past ten years, we have been a witness to the revival of fashion from the 70s and 80s. Some examples are high-waisted jeans, bucket hats, cargo pants, and so on. Fashion is a reflection of the state of society, and it's often a constant cycle of recycling trends.
It's a phenomenon that's actually relatively easy to explain. We have a special connection to the things that we used to wear and embellish ourselves when we were younger. When we get to wear those items again, that special feeling is present.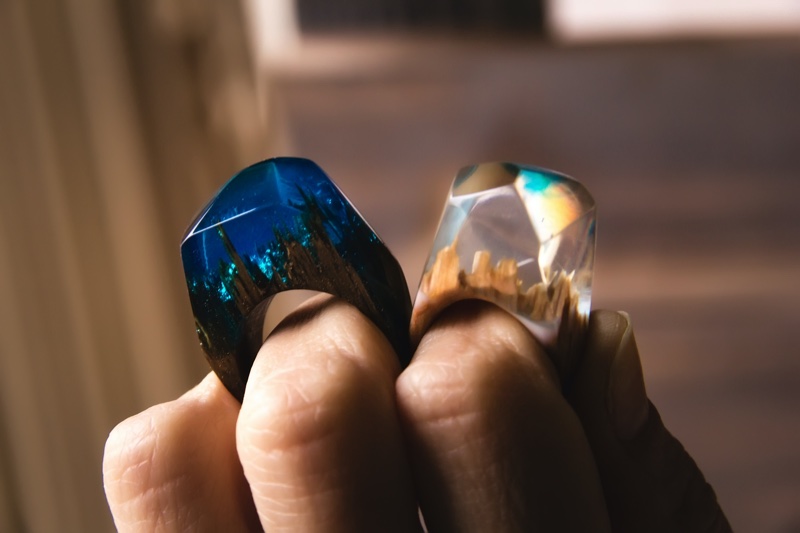 Resin Rings
After seeing those plastic-looking, chunky rings, don't you just get sucked right into the 90s and '00s? How could anyone forget those bright, big rings that you could get almost anywhere – even from a gumball machine. Ah, yes. Nostalgia. Now, the inclination toward fashion, style, and looks from those times (including the chunky rings) is otherwise known as the revival of Y2K style.
Y2K style represented a blend of pop culture and elements of technological advances. Try and think of the popular media that was released. Clueless, Legally Blonde, The Matrix, Pulp Fiction, and so on. All of the iconic movies and TV shows that came out during that time affected the fashion and makeup looks of that era. This is similar to how Euphoria is also aiding the Y2K revival in recent years.
Many millennials are cringing just a tad bit when remembering what they were wearing in the 90s and 00s, but Gen Z calls it Y2K chic. Okay, maybe the lowrise jeans with an exposed whale tale thong sticking out aren't fashion items that millennials will be all too eager to wear. However, the chunky rings and funky-looking earrings? Any day, baby.
Celebrities such as Bella Hadid, Halley Bieber, Dua Lipa, and so on have already been wearing their gorgeous resin rings out and about. As pop culture creates new trends, luxury and commercial brands follow. With just a few Google searches, anyone is able to get the funky resin jewelry of their nostalgic dreams.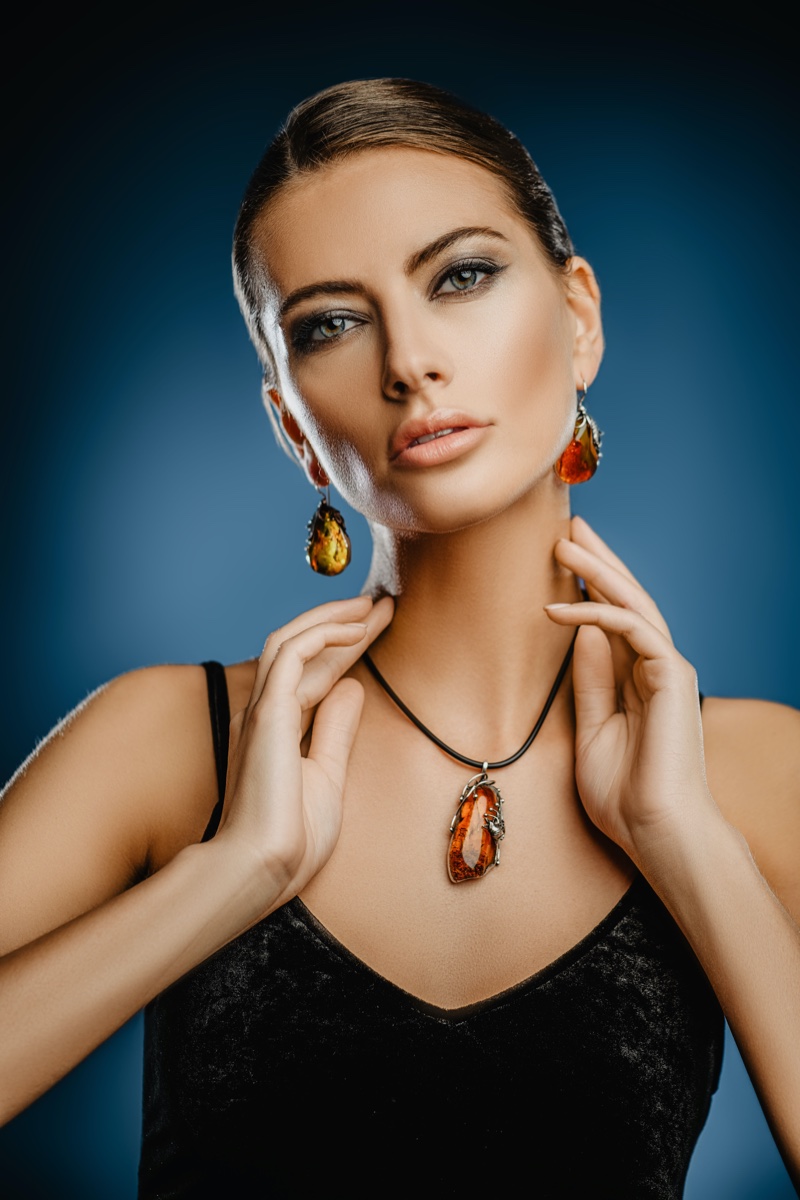 Resin Earrings and Necklace Pendants
A few great pieces of resin jewelry are resin earrings and resin necklace pendants. Resin is also often used with gold and silver, and it's used to create imitation pearls. You can find stunning pieces that contain flowers, plants, wood, sand, glitter, acrylic paint, and so on.
Due to its unique, clear gemstone-like nature, it simply adds a particular oomph to whatever look you put together. You can easily match it to your outfit, no matter what your style is. If you can't find the ideal resin jewelry piece for you, you also have the option of creating your very own resin jewelry.
DIY Fashion & Jewelry
Another reason why resin jewelry is trending again in the world of fashion is the rise of DIY content. This was a result of DIY content on TikTok becoming increasingly more popular, but it was also connected to the moment that this type of content started gaining more virality. During the first year of the pandemic, people didn't have the opportunity to go shopping, and they had a lot of free time on their hands.
Therefore, a lot of people wanted to get busy and create things themselves. Epoxy resin videos that showed people making all kinds of things, not only jewelry, peaked in popularity in the second half of 2020. Admittedly, in the videos, creating resin jewelry seemed a bit easier than it really is.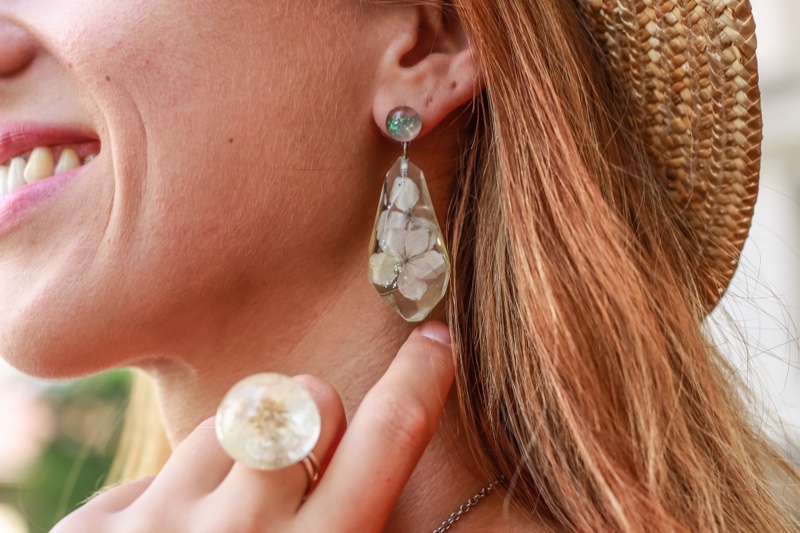 Epoxy Resin – What is It?
In order to understand that a bit better, let's go over what epoxy resin is and how it came to be. It was invented between 1930 and 1940. It's a combination of resin and a hardener, essentially bettering the capabilities and use case of what natural resin could do.
Epoxy resin is similar to adhesive, and it showed better results than synthetic resin since it had better chemical resistance and it wouldn't become too hard as synthetic resin would. This is also why epoxy resin is much better for creating jewelry. Due to its properties, when it would harden, it would resemble a gorgeous, see-through crystal.
Apart from creating jewelry, epoxy resin is used to coat paint cans, containers of acidic food, and mental containers. It is popular for decorative flooring applications. Even though epoxy resin has less of a chemical smell than synthetic resin, it still needs to be handled with care. The safety precautions that need to be taken when working with epoxy resin for the intent of creating jewelry were often left out.
Conclusion
No matter if you love or hate the Y2K revival, one thing is for sure: resin jewelry is and will always be cool. With big brands and companies creating their own revived collections, you can easily find jewelry that will remind you of that sweet childhood nostalgia. Since epoxy resin can be bought and experimented with, you can also try and make your own resin jewelry.
However, before working with epoxy resin, just make sure that you wear gloves to protect your skin and wear a protective mask so that you don't inhale potentially dangerous chemicals and damage your airways. Perhaps watch a few videos (not TikToks) on the correct safety precautions and watch a few full-length, detailed tutorials on how you can create the piece that you have in mind.