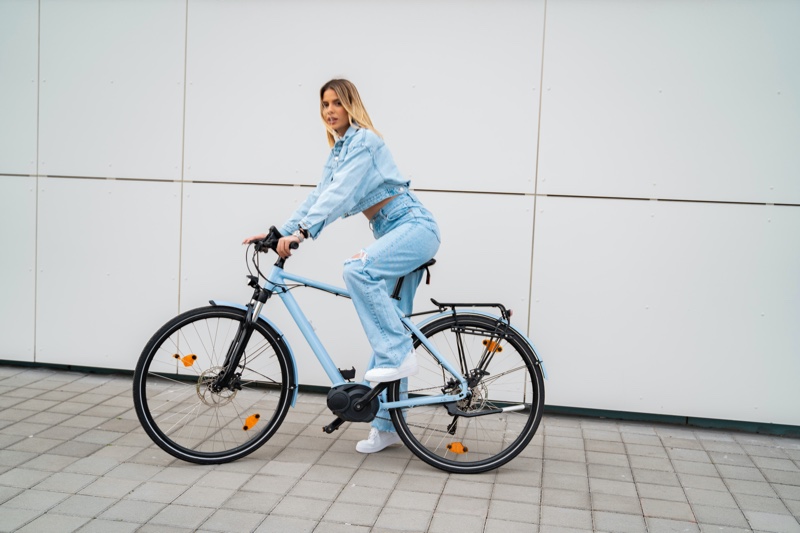 Are you looking for ways to dress for your e-bike rides? If so, then read on.
It is becoming increasingly popular to ride an electric bike. Over 4 million Americans use them every day. And they're becoming more common around the globe.
There are lots of reasons why riding an electric bike is great. You save time and energy by using it. Plus, it's much safer than driving a car or taking public transportation.
If you want to look good when riding, consider this. That's because wearing casual clothes isn't always ideal. It is essential to wear something that will make you stand out among other riders.
For your e-biking adventures, here are some tips to help you dress.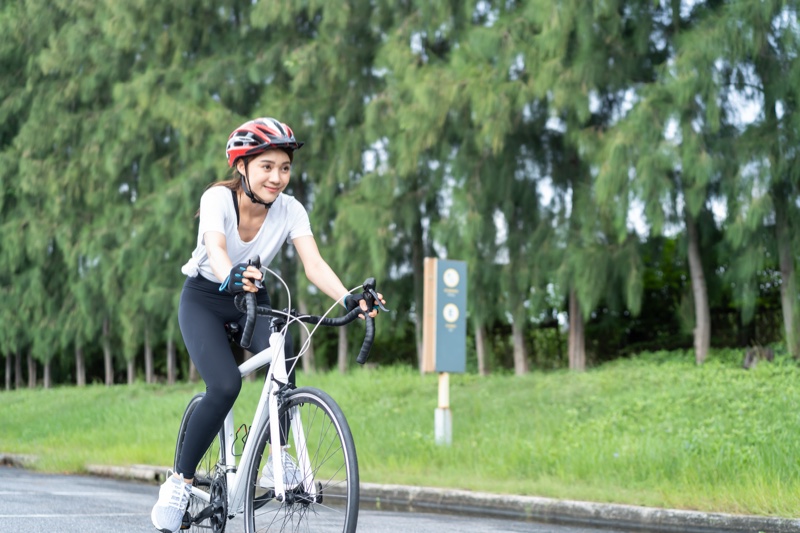 Topwear
When it comes to the top of outfits, people often wear something light, especially in summer. Let's get dive into it:
T-Shirts
Just wearing a simple and comfortable t-shirt while riding provides excellent comfort. You might notice the word: comfort. Whatever top you decide to wear, regardless of what top you choose, first think about whether it is comfortable. If you want to ride your electric bike for miles, you should not wear your gym t-shirt, which may feel restrictive.
Secondly, you may also recall that while riding, your outfit should not restrict the movement of your arms. You will perform better when you can move without restriction.
Jersey
Jerseys are specially designed for sports but are also great for biking. Traditional bike jerseys commonly feature these key features which make them great for cyclists:
They are breathable
Moisture-wicking
Quick-drying.
They help you regulate your body temperature as you ride because they easily absorb sweat. They also make for a pleasurable experience as long as you are riding.
Outerwear
Outerwear can be a winter thing, but if you want to look good while riding an e-bike, you should consider wearing some stylish outerwear.
Those who ride electric bikes have a wide range of options. You can choose from various styles and colors, from jackets to vests. E-bike jackets offer comfort without sacrificing style.
Jacket
Jackets are necessary during the winter season. One of their main functions is keeping you warm and protecting you from the wind. Additionally, they will enhance your style.
Although jackets aren't necessary during hot weather, they are great to add extra style to your outfit. To solve these problems, designers have created jackets designed to fit e-bikes.
These jackets are lightweight and comfortable. They also offer excellent protection against rain, wind, snow, and other weather conditions.
If you want something more alluring, a Specialized turbo e-bikes manufacturer has a wide range of jacket and vest collections.
Hoodie
Who doesn't like a hoodie when you want something warmer to protect you from cold weather?
Bike outfits don't necessarily require hoodies, but they can be a useful addition when winter comes around. Hoodies are comfortable, and you will be stylish while riding.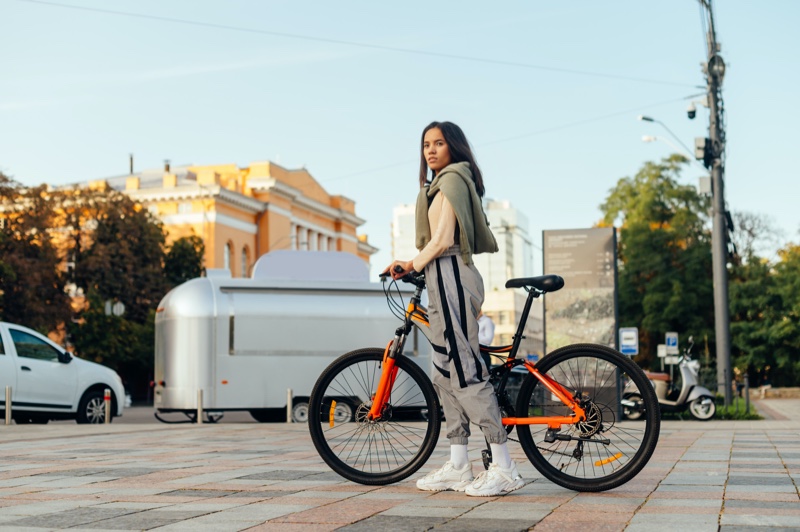 Bottomwear
When riding an e-bike, you might want something comfortable and easy to move that doesn't make it hard to pedal. Let's go through some of the options without compromising your style.
Shorts
There are several types of shorts available for e-bikers. Some are specifically designed for cycling, and others are more casual. Choosing the right kind of shorts is crucial if you want to look stylish.
Shorts are great for riding bikes, especially if they're well-fitted. If you have long legs, make sure that the length is right. They should also fit comfortably around your waist. Shorts should not ride up your backside.
Pants
Bike pants aren't an option for everyone, but they are a good fit when you want some extra protection especially riding on mountains. Pants like joggers, leggings, and sweatpants are especially suitable for a bike rider.
When choosing bike pants, make sure they are comfortable to wear. Regular pants that aren't designed for bike rides don't provide extra features like wind, rain, and dust protection. However, you can wear any pant for style as long as it's comfortable and doesn't cause trouble when riding.
Footwear
Shoes are essential to our daily lives. Besides providing comfort and protection, they also support and enhance our outfits' styles. Buying new shoes requires consideration.
Various shoes are available, including casual, athletic, and hiking shoes. The purpose and design of each type differ. For example, dress shoes are usually made from leather and have sturdier soles.
Casual shoes are typically made from canvas and have flexible soles. Runners and other athletes wear athletic shoes. A hiking shoe's sole is usually rugged and made of durable materials.
Choosing a pair of comfortable cycling shoes is important if you plan on riding a bike often. Make sure that they are breathable and have enough room for your feet. You may want a pair of sneakers just in case you go out for a run.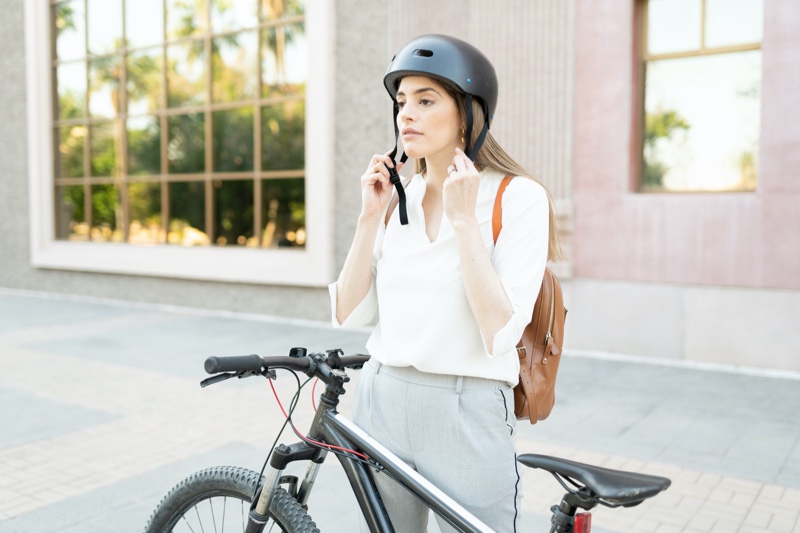 Accessories
Although these are not clothing parts, they are essential for your safety.
Helmet
Helmets are essential safety equipment for cyclists. They provide protection from head injuries and other accidents. However, helmets aren't always practical or comfortable. That's why some companies have created stylish options that fit well and look great.
Helmets are essential for cyclists. You should never ignore this safety precaution. Fit and comfort should be your top priorities when choosing a helmet.
Gloves
Wearing gloves is a great way to stay warm during winter. In addition, wearing gloves can add some style to your outfit.
If you ride an electric bike, you probably already know that wearing gloves is essential. They offer extra warmth and prevent your hands from becoming numb.
Conclusion
E-bikes are great for commuting, traveling, running errands, and exercising. There are, however, some challenges involved with them. For example, you might want to wear something comfortable but also stylish.
That means finding the perfect balance between style and comfort is a challenge. This guide will inspire you if you often struggle to decide what clothing to wear for riding an e-bike. Also, you should consider checking these important elements while buying a biker t-shirt.