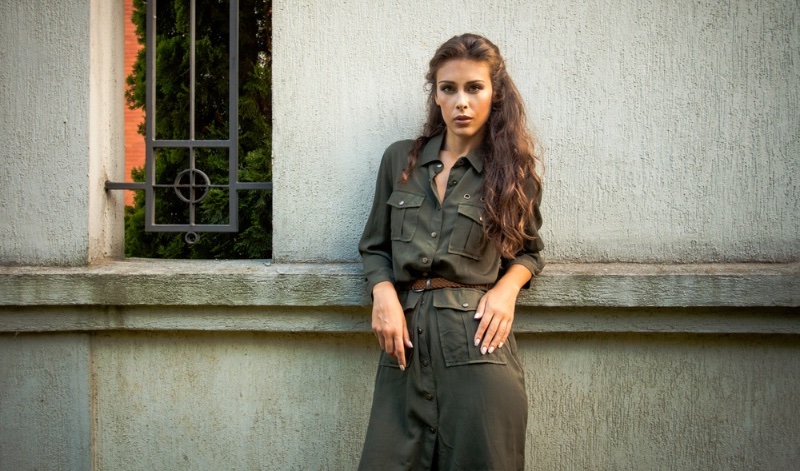 For years, military-inspired fashion has been a highly sought-after trend. It has recently become even more popular—with the likes of Paris and Milan flaunting this style on their runways. It is no surprise that people from all over the world are eager to embrace this unique look.
The military-inspired trend is on the rise in high fashion, and many are still determining if they can pull it off without looking like they recently returned from a tour of duty. Fortunately, sporting this unique look doesn't have to be intimidating—with proper styling and confidence, you will appear edgy yet attractive!
Let's explore the world of military fashion and learn how to rock it in style. We'll also peek at some essential pieces every wardrobe should have!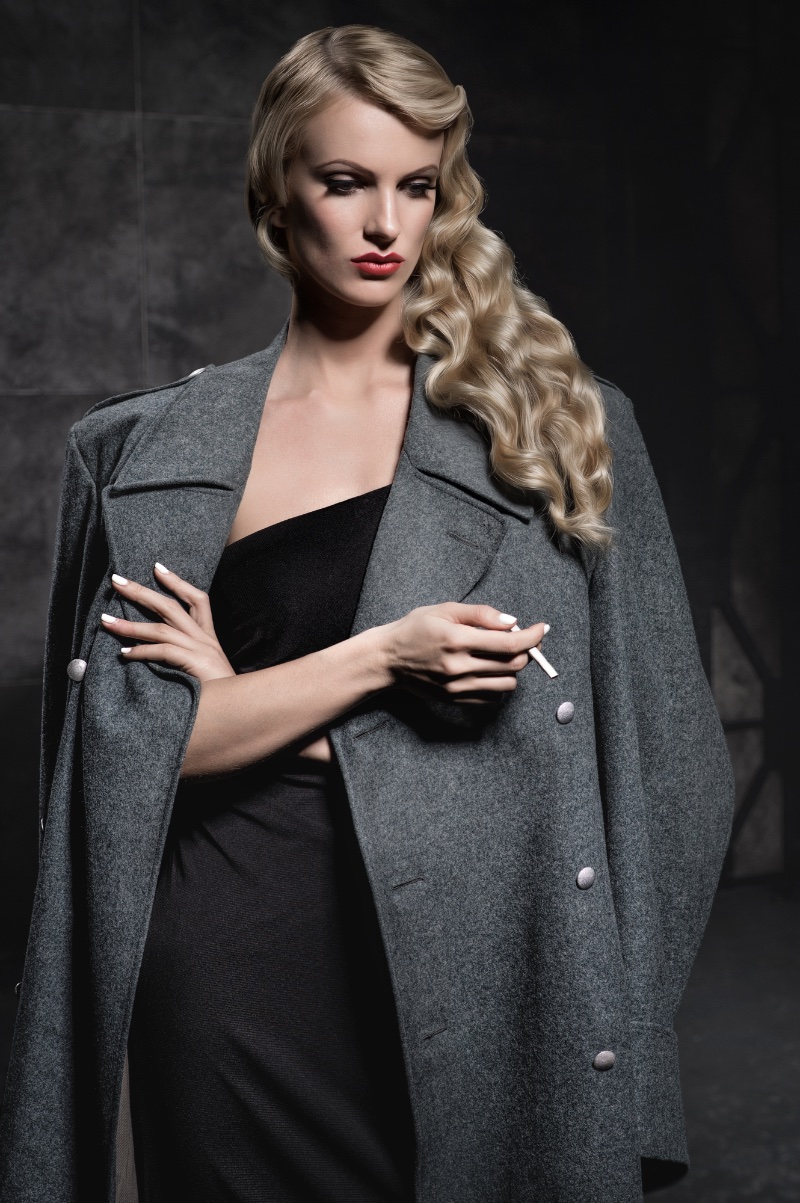 What is Military-Inspired Fashion?
The military-inspired look has recently been a prominent fashion trend, particularly within the streetwear sphere. It's easy to comprehend why this style is so widely embraced—it takes inspiration from uniforms utilized by armed forces personnel.
It provides garments that incorporate camo jackets, BDU pants, and more! Whether you're looking for items at department stores such as H&M or Zara or high-end retailers like Gucci and Prada, pieces are available everywhere to suit your needs.
Military-inspired fashion is a cinch to perfect, no matter your style! You'll instantly add flair to your outfit with just one or two essential pieces, like an olive green cargo jacket or khaki pants. Even minimalists can make the look their own by pairing these items with simple accessories and black basics.
Don't let camo deter you—there are numerous alternatives available. For instance:
Instantly add an air of edginess to your look with a pair of stylish black combat boots.

A khaki trench coat will instantly toughen up any dressy ensemble.

A classic black leather bomber jacket is a must-have for any wardrobe. It's perfect to layer over practically anything, even if it isn't camo print!
These are just a few ways to rock military-inspired fashion, from combat boots to cargo pants.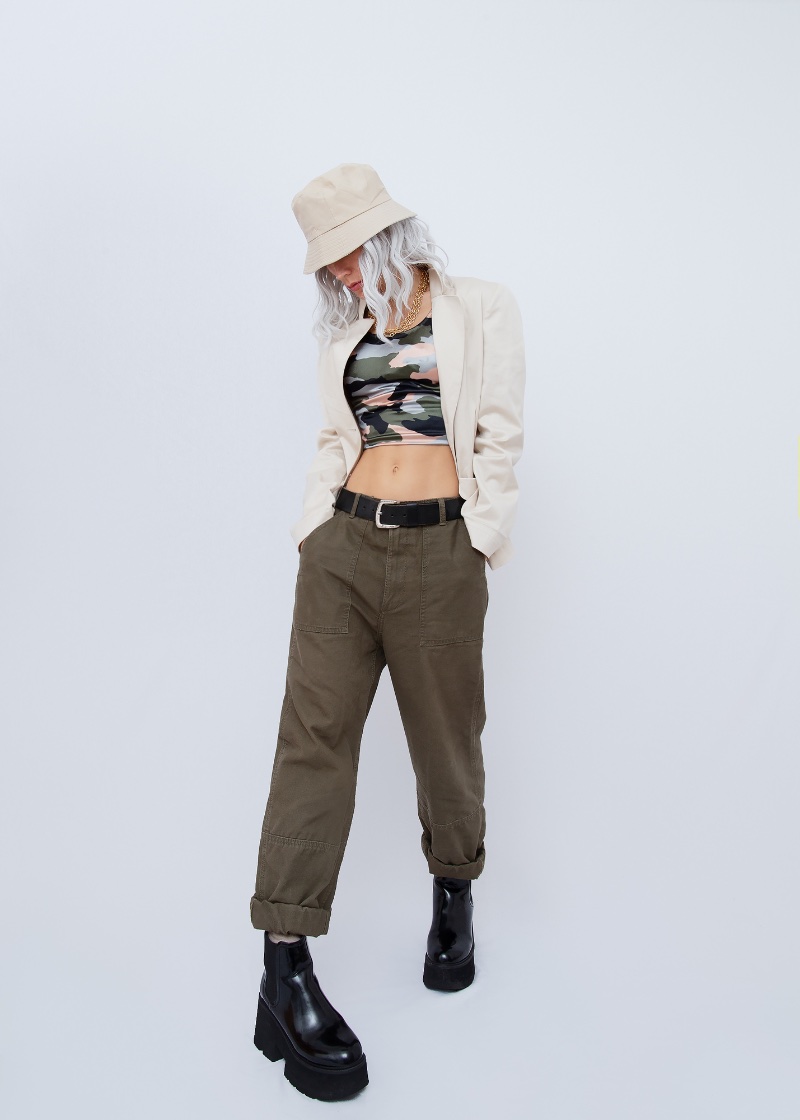 How to Pull Off Military Fashion?
To pull off military fashion, you must have confidence and a sense of style. First, choose pieces that work well with your style and body type. Then, think about how you want to wear the look—do you want to keep it edgy or more polished? This will influence the accessories you choose and how you style your outfit.
Next, pay attention to the fit of your military-inspired pieces. A loose jacket may look sloppy, while a tight pair of pants may make you appear too boxy. Finding the right balance between form and function is essential to complete your look comfortably and stylishly.
Finally, consider how you want to finish off your outfit. You can enhance your military-inspired look with subtle details like statement jewelry or bold lipstick colors or keep things more understated with simple earrings and a quick spritz of perfume. Whatever you choose, remember to stay true to your style and have fun!
Whether you're looking for an edgy outfit for a night out or a polished look for the office, military fashion can help you achieve your style goals. So don't be afraid to experiment and find what works best for you! You'll be slaying this trend with confidence and the right pieces in no time.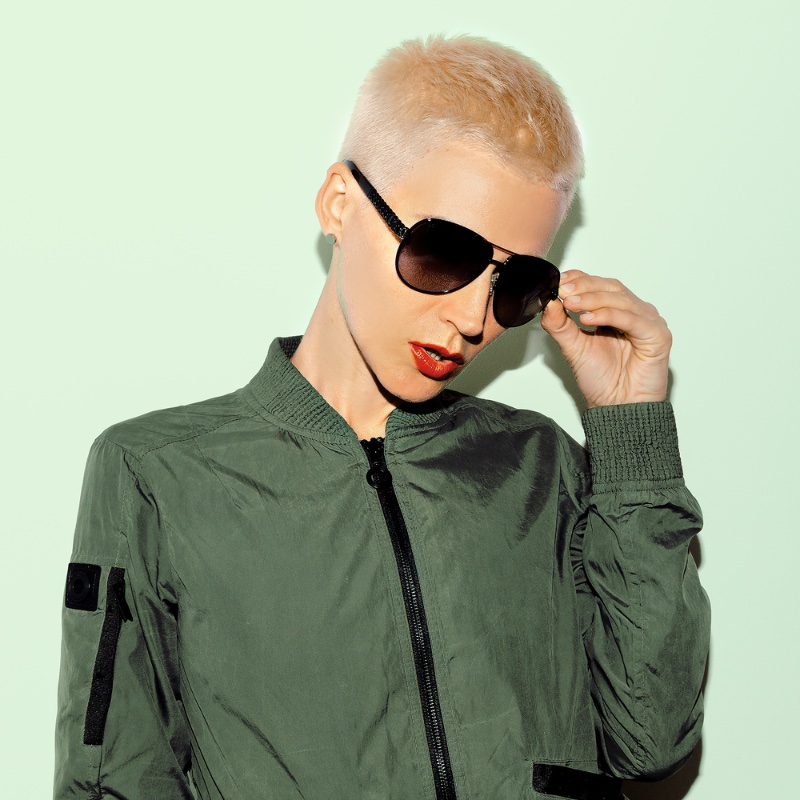 The History Behind Popular Military Styles
Military fashion has long been a source of inspiration for the fashion industry. This may be because of the strict, masculine silhouettes associated with uniforms worn by armed forces personnel, or it could be because of the practical functionality of these garments.
Whatever the case, many popular military styles have become staples in our everyday wardrobe—from combat boots to cargo pants to military jackets. As with any style, it's essential to understand the history and context behind these garments before adopting them into your wardrobe.
This will help you better appreciate their iconic status and ensure you're respectfully approaching them.
The Bomber Jacket
One popular style that has stood the test of time is the bomber jacket. Originally called flight jackets, the US Army Aviation Clothing Board introduced the bomber jacket in 1917. This style was created with a simple goal: to keep WWI airmen warm as they flew through uninsulated and open-air combat aircraft.
It's easy to understand why this staple has been used for military purposes ever since; there is no denying its authenticity.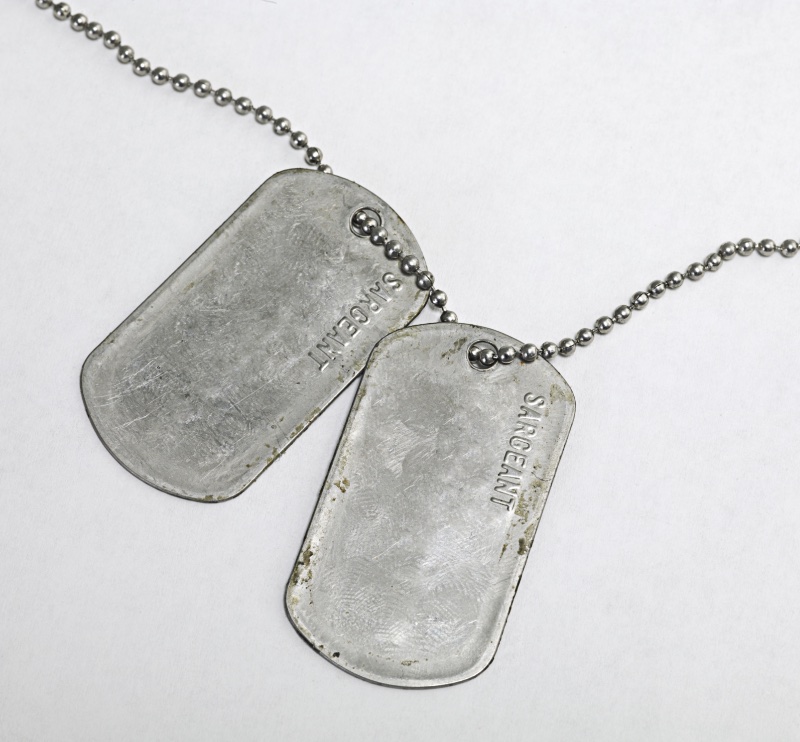 Dog Tags
Another military style that has become a mainstay in our wardrobes is the classic ID tag. The US military during WWI created what we now call dog tags, metal pendants that store your name and a few vital contact details.
This was the first time this brilliant concept took off in popular culture. To this day, dog tags are still used to identify service members and help bring them home if they go missing. But why are they called dog tags in the military?
The military refers to them as identification tags, yet many believe the phrase 'dog tag' is derived from their physical resemblance to those worn by dogs. It's also speculated that the nickname 'dog tag' was an amusing moniker given by army personnel before World War II, referring to their comparative treatment akin to animals.
Regardless of why these styles are called what they are, it's safe to say that they have stood the test of time and will continue to influence fashion for years. So if you're looking for some inspiration or want to find a way to add a touch of military style to your wardrobe, consider these iconic pieces worth exploring.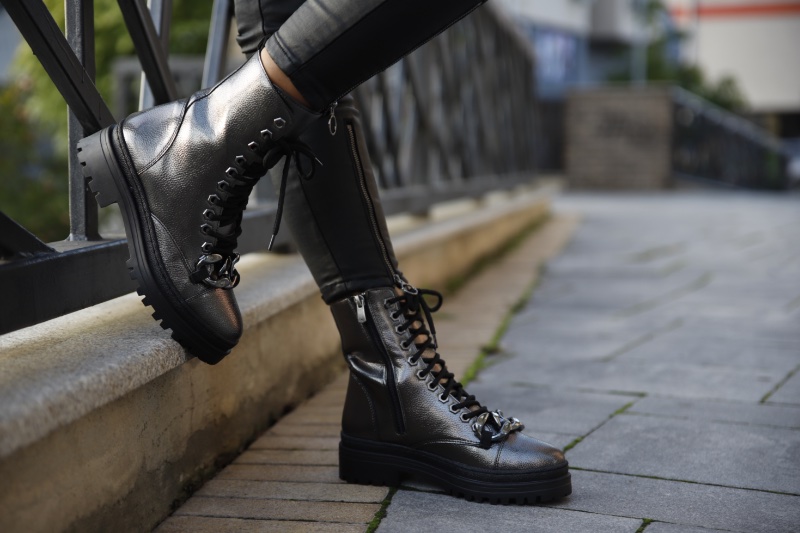 Combat Boots
As one of the most popular military-inspired styles, combat boots are an excellent option for both men and women. The armed forces have used these rugged shoes since World War II to help protect soldiers from injury and keep them comfortable while on duty. They have become a staple in our wardrobes due to their versatility and functionality.
Combat boots are typically made of durable leather and feature thick soles, metal or plastic toe plates, and lace-up fronts. While they may look rugged, they are pretty comfortable to wear. They can be paired with almost any type of clothing, from jeans and leggings to skirts and dresses. And because combat boots come in various colors, styles, and heights, you can find one that will match any look.
While some may be wary of wearing combat boots out of fear they are not fashionable or too masculine, the truth is that these shoes have become a staple in the wardrobes of both men and women. And with their ability to easily transition from day to night, it's easy to see why. So if you're looking for a rugged, stylish shoe that can be dressed up or down, consider a pair of combat boots for your next outfit!
Military Fashion Must-Haves
Embracing a militaristic aesthetic is something that some individuals hold close to their hearts. If you're looking to incorporate this style into your closet, certain essential pieces will help give you a perfect look.
Military watches

: Whether digital or analog, wristwatches have always been a staple of military fashion and the perfect accessory to complete any outfit.

Military jackets:

A bomber jacket and a few other military-inspired jackets are essential for achieving the perfect look.

Military boots:

You may be wondering why military boots are so tall. The

Army Regulation for Boots (AR) 670-1

specifies that soldiers' footwear should be 8 to 10 inches high. To adopt this look, ensure your boots reach above your ankles.

Military pants:

While camouflage colors are usually associated with combat fatigues, you can mix them up.

Military shirts:

Military shirts are also a must-have if you want to embrace this style. They come in a wide range of colors and styles. There's something for everyone.

Military sunglasses:

Rocking a military-inspired look? Then you need some aviator sunglasses! This timeless style has been around for decades, and you can be sure it will never go out of fashion.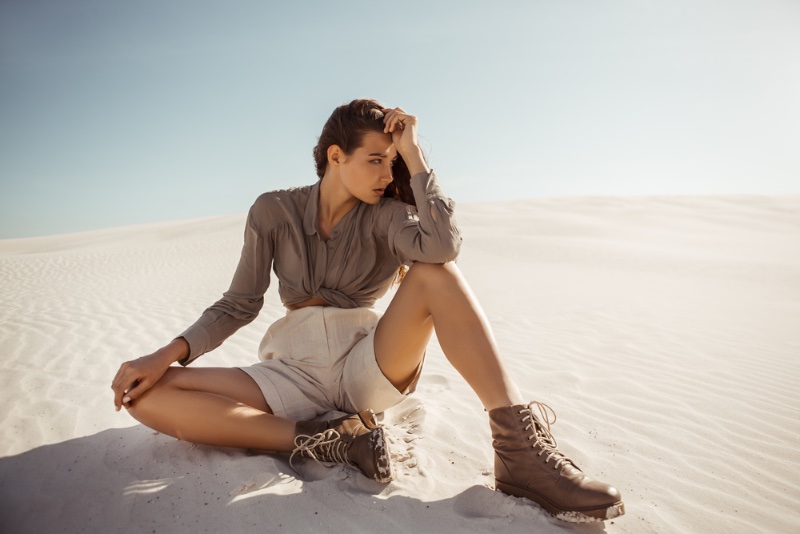 Military-Inspired Outfit Idea for Women
If you wish to make a strong fashion statement, consider donning military-inspired attire. Though it takes effort and planning, the look can be achieved with the right combination of clothing items and accessories—not just any old hat or pair of boots will do! With care in the selection, your outfit exudes strength and boldness, sure to turn heads.
The ideal outfit for women would consist of a pair of military-inspired boots, such as combat or heeled boots. Pair these with high-waisted, military-style trousers and a long, oversized shirt in a bold color. A military-style jacket or blazer would complete the look, as would a pair of aviator sunglasses. If you want to go all out, add a few edgy jewelry pieces to pull the whole look together!
Key Takeaways
Military fashion is a great way to show your strength and personality. While putting together the perfect look may take effort, it's well worth it. If you're looking for something different and stylish, consider embracing military fashion in your wardrobe.
With so many pieces, you can find something that will fit your style perfectly! Focus on necessary items like military boots, jackets, pants, and sunglasses to get started. And don't forget to accessorize with jewelry or other accessories—the endless options!
Whatever your style, you can pull off a tremendous military-inspired look. So what are you waiting for? Get out there and start shopping!