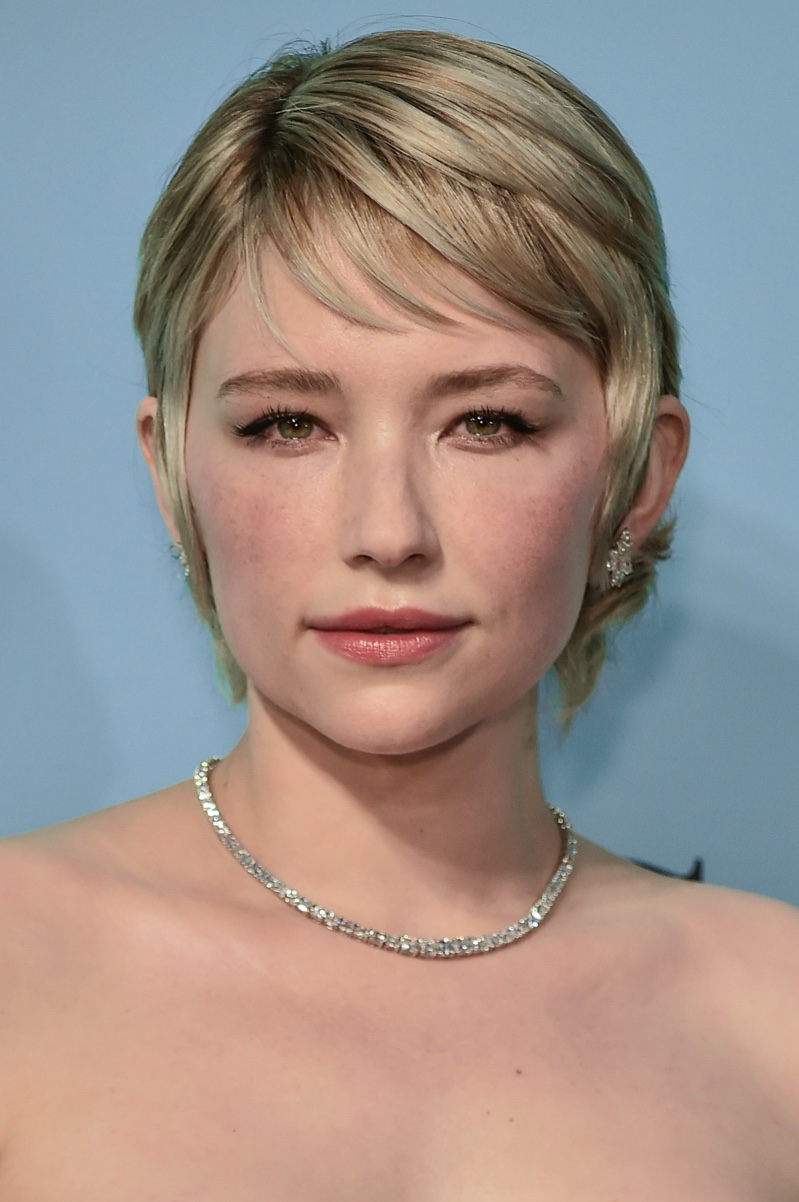 As the saying goes – a thing of beauty is a joy forever, and what more beautiful stone to capture this sentiment than a diamond? According to some accounts, the word "diamond" originates from the Ancient Greek word "adámas," which can be translated as "indestructible," "unbreakable," and "unconquerable."
Given the undeniable brilliance of this gem, it should come as no surprise that the stone has been a favorite among jewelry lovers for many years.
With that said, perhaps one of the most iconic, timeless, and indisputably classy pieces of jewelry is a diamond tennis necklace. For the uninitiated, a diamond tennis necklace refers to an uninterrupted diamond strand worn across the neck.
The chains are called this as they are similar in style to the classic tennis bracelets that were popularized in the late 1980s. These neckpieces have once again been revived and have become a trendy piece of jewelry to own. Read on, and you will see precisely why.
This style of jewelry interestingly owes its rise to popularity due to athleisure outfits worn by sports stars in the late 1900s, far before athleisure became as trendy as it is now.
Very similar to their bracelet counterparts, tennis necklaces are immensely versatile pieces that can pull together various outfits. These sparkly and dainty pieces have been a staple in numerous wedding day photoshoots, and casual everyday wear alike.
They can be spotted in the aisles of churches for weddings and in supermarkets when out on a quick grocery run. Read on for some handy tips on the best ways to wear your diamond tennis necklace!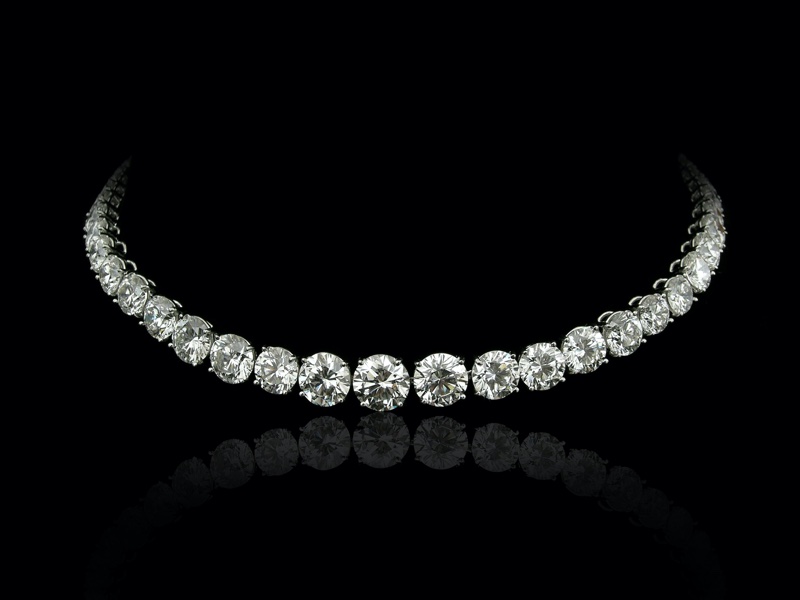 A Diamond Tennis Necklace Is A Great Choice For Formal Occasions
Diamonds have the unique characteristic of exuding their own distinctive charm when paired with any outfit. The gems make their wearers glow, and they elevate any look. They are simple yet impactful stones that accentuate your best facial features.
With that said, one would imagine that an entire string of sparkly diamonds laying on a neck would be pretty intimidating and best suited solely for only grand occasions. However, this is fortunately not always the case.
The simple and elegant tennis necklaces glisten in an almost modest fashion when worn with formal attire. The key is to make the necklace the centerpiece of your outfit and not to make the mistake of crowding it excessively with too many accessories.
Although layering your necklace with slimmer chains is a trend that is on the rise, most recommend that the objective is for your sartorial choices to be simple and thus – effortlessly classy.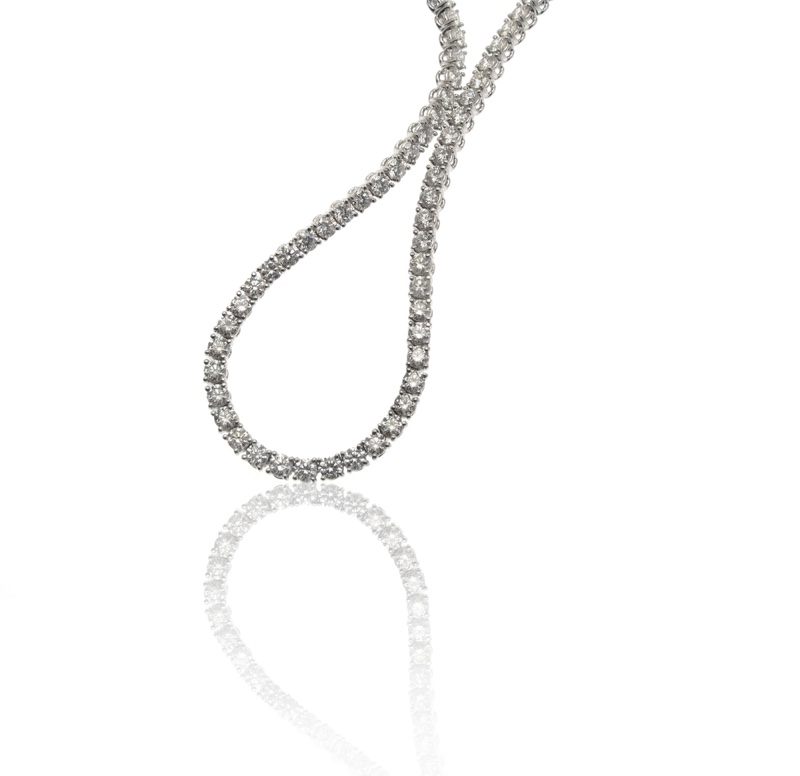 Let The Tennis Necklace Be The Centerpiece Of Your Outfit.
Tennis necklaces serve as the ideal accessory to highlight your collarbones and clavicle. As mentioned above, the objective of your ensemble is to come off as casual but effortlessly elegant.
Do not clutter your choice in outfits, as this takes away attention from the simplicity and charm of a diamond necklace. Let your jewelry do the talking.
Wear Your Diamond Tennis Necklace With Distinctive Earrings
When accessorizing a simple outfit with a diamond tennis necklace, pair your outfit with a distinctive set of earrings that do not contrast with the neckpiece.
When accessorizing a statement piece such as a diamond tennis necklace, the overall look is easier on the eye when these stones do not clash with loud stones or materials on the ears. With this in mind, choose your earrings wisely and pick according to your face shape.
Remember, With A Diamond Tennis Necklace, Less Is More.
To avoid a clunky and cluttered look, ensure that the diamond tennis necklace is the star attraction of your ensemble. Pairing it with minimalist attire or monochromatic clothes would be ideal.
As some A-list celebrities have proven in the recent past, there's just something about seeing the glint of a sparkly necklace from beneath a casual crewneck that is very chic. In the same vein, make sure that your clothing material puts the necklace in the spotlight: think – silk slip dresses and tops.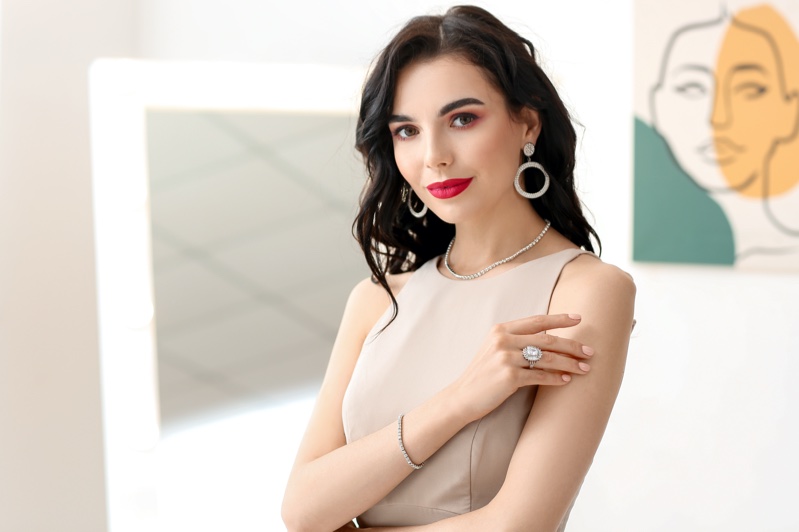 Choose Clothes That Are Relatively Simple In Style And Design.
Reiterating the above – for the ideal casual and classic statement, ensure that the outfit isn't marred by too many colors or elements. The timeless chic aesthetic ensemble that has won hearts and withstood the test of time has been one of simplicity.
Bottomline
Keep in mind that the entire ensemble should keep to the fresh, casual, and fun aesthetic of the diamond tennis bracelet, and you are good to go. Remember that this piece of jewelry is meant to be worn for years and perhaps one day passed down as an heirloom.
It is a classic that will always stand the test of time; it subtly but effectively oozes elegance however you choose to wear it – casual or dressy! It is no surprise that celebrities walking down glamorous red carpets have decided to elevate their gowns with this necklace, just as those making quick brunch runs.
So what are you waiting for? Get the dazzling accessory trend of the season that will never go out of style. Use the tips suggested above and become the classic fashionista you have always wanted to be.