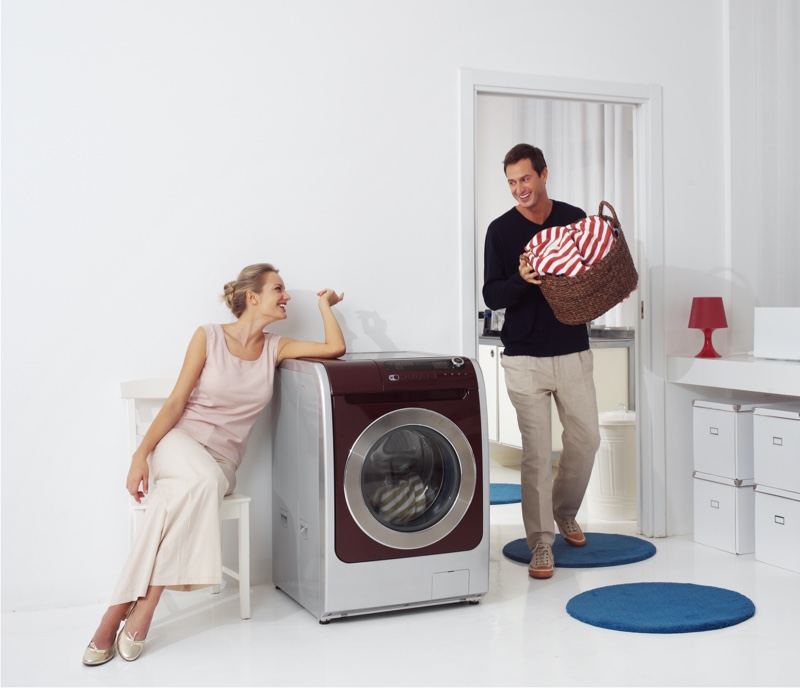 As the world has become more aware of the impact of fast fashion on the environment, brands, designers, and fashion lovers are shifting their attention to sustainable fashion. Sustainable fashion involves making ethical and environmentally-friendly choices when it comes to clothing.
However, it not only encompasses eco-friendly fashion but also involves supporting brands that prioritize fair labor practices. However, one often overlooked aspect of sustainable fashion is eco-friendly laundry habits.
Adopting sustainable laundry practices is essential to preserve the longevity and quality of our eco-friendly wardrobes. Here are five tips on how to practice sustainable habits:
1. Wash Clothes in Cold Water
Washing clothes in cold water consumes lesser energy and does not damage the fabrics of your clothes. It is as effective in removing stubborn stains and dirt, helping your clothes last longer. This is unlike hot water, which consumes more energy and may damage your clothes by fading its dye and shrinking its fabrics. For eco-friendly laundry practices, make your clothes last longer by washing them in cold water.
2. Use Natural Laundry Detergents
Commercial laundry detergents often contain harmful chemicals. It harms your skin and the environment. It is best to use eco-friendly laundry detergents or natural ingredients. Look for brands that are plant-based, or you can also make your laundry detergent using simple ingredients that you can find at home, like baking soda, vinegar, etc. 
3. Air Dry Clothes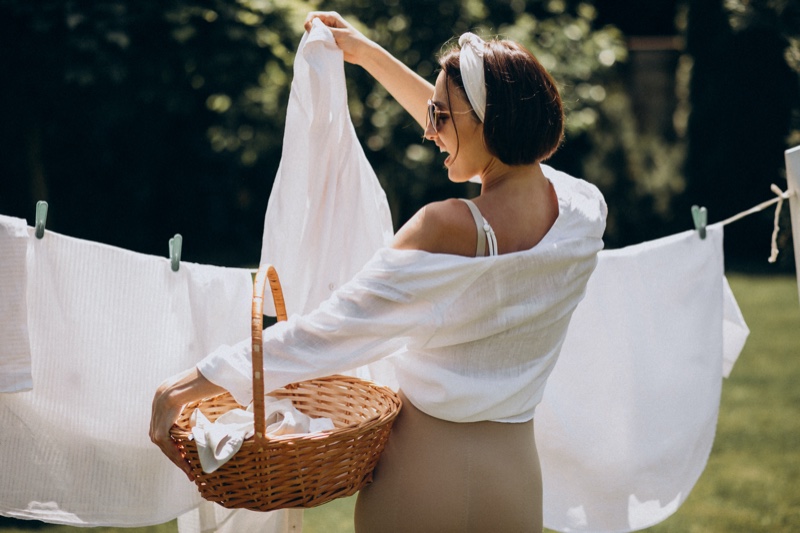 This is the easiest and most obvious tip for sustainable laundry habits. Air drying your clothes saves energy consumption and reduces carbon footprint. If you do not rely on laundry services and do laundry at home, it is best to hang your clothes on a drying rack instead of using a dryer. This is not only a sustainable move but also gentler on your clothes. Using the dryer may shrink the fabrics of your clothes.
4. Choose Clothes That Are Easy To Care For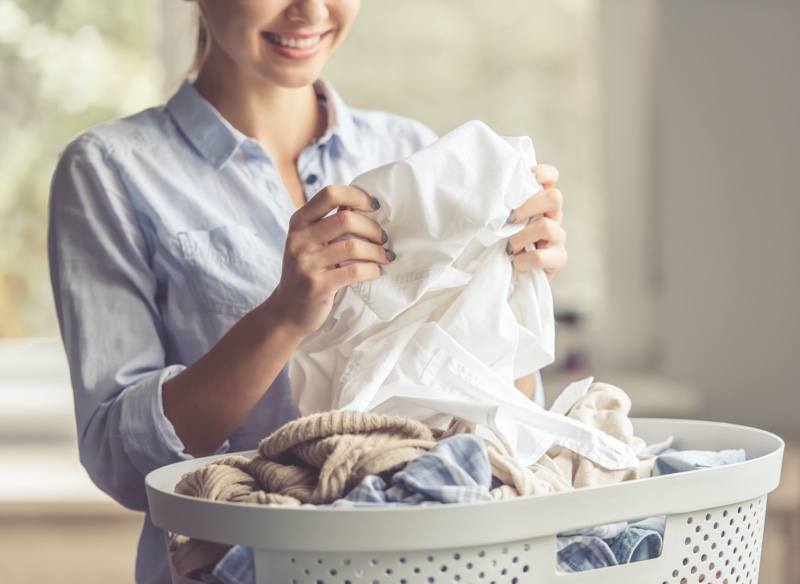 When you shop, look for eco-friendly clothes with fabrics that are easy to care for. Clothes made from natural fibers, such as cotton, linen, and bamboo, are often easier to clean and require less maintenance. More so, delicate clothes may need dry cleaning, which is not sustainable.
In addition, wash your clothes less frequently. Some pieces do not have to be cleaned every after use. If clothes are not visibly dirty or smelly, wear them a few more times before washing them.
Certain clothes like denim jeans, sweaters, jackets, and coats only need to be washed occasionally if they are not visibly soiled or smelly. Similarly, dresses and skirts made of wool, silk, or linen can be worn multiple times before washing.
Athletic wear made of moisture-wicking materials can also be worn several times before washing. Nonetheless, the frequency of washing clothes depends on personal preference, lifestyle, and activity level.
5. Donate & Recycle Clothes
When you are ready to part with clothes that no longer fit or you no longer wear, do not just throw them away. Donate them to a thrift store or clothing donation center. Clothes that are in good condition can be sold or given to someone in need. If there are small tears or holes, you can repair or patch the hole and reuse it. You can even use your old clothes as a rug.
Final Words on Eco-Friendly Laundry
Undoubtedly, participating in slow fashion also entails practicing eco-friendly laundry habits. Even if more consumers choose eco-friendly wardrobes, their clothes won't last long if they don't adopt sustainable laundry practices.
By washing clothes with cold water, using natural laundry detergents, air-drying clothes, and choosing easy-care clothing options, we can reduce our carbon footprint and minimize the negative impact on our planet. With these eco-friendly laundry habits, we can contribute to a sustainable future and make a positive difference in the world.