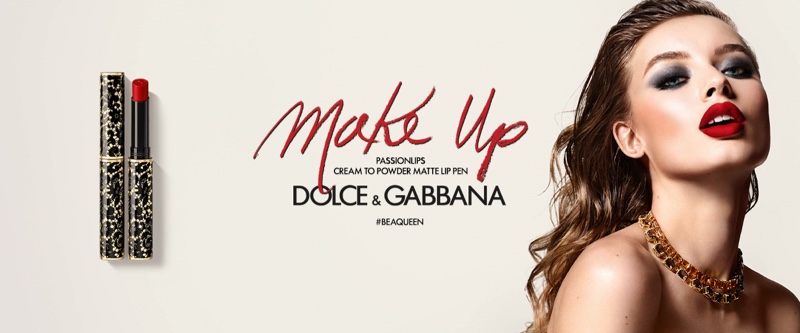 Dolce & Gabbana launches its new Passionlips lipstick campaign featuring Giulia Maenza. The Italian beauty stuns in a closeup shot wearing scarlet red lips as well as smokey grey eyeshadow. With an open mouth expression, Giulia also wears glittery necklaces and a wavy hairstyle. Passionlips is available in a matte or sparkling finish with shades ranging from Delicious Cherry to Fascinating Violet. Using the hashtag #BeAQueen, the advertisement also includes a short commercial clip.
Related: Dolce & Gabbana Sets Fall 2020 Campaign in Milan
"Giulia Maenza goes seductively glam with a look featuring the perfect powerful red lip. She is the queen of her everyday life with the new Dolce & Gabbana [Makeup] line," Dolce & Gabbana states.
Dolce & Gabbana Passionlips Lipstick Campaign