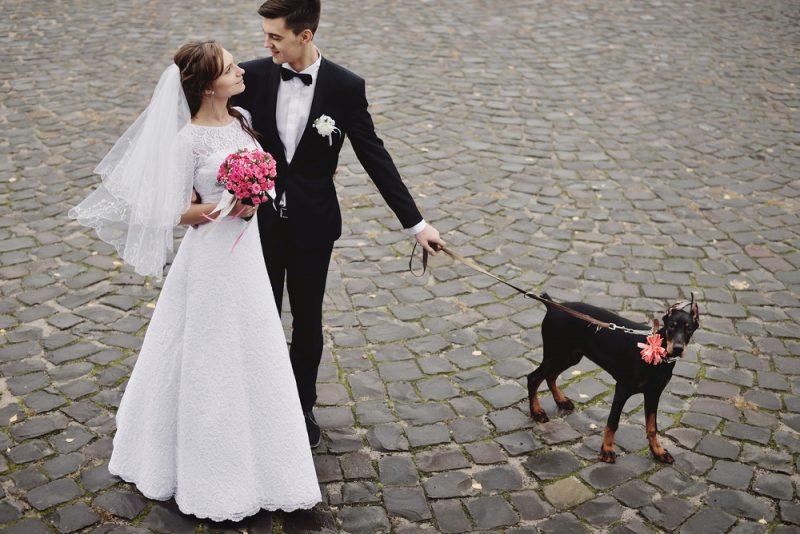 Today, dogs have evolved from being mere pets to bona fide family members. And why not? They are always there, offering us companionship, loyalty, love, and snuggles. And because we love them back, we want them to be a part of our special family moments, including weddings.
Whether it is your wedding or that of a family member, including your furry friend in the activities can make it extra cute and memorable. You can either bring them along as a guest or give them a role such as a ring bearer, best man, or a part of the bridal party/ groomsmen.
Of course, there are a few things to keep in mind to ensure that you and your dog will have a wonderful time. The first is to confirm whether the venue is pet-friendly. Secondly, if it's your wedding or one in which you will be playing a central role, arrange for a minder to keep the dog company or take it home when need be. Making this arrangement will give you and your dog much-needed peace of mind.
If your dog is playing a particular role, notify the photographers in advance so that they can incorporate it into the photo shoot. Also, not all food on display will be suitable for your pet, so make arrangements for this.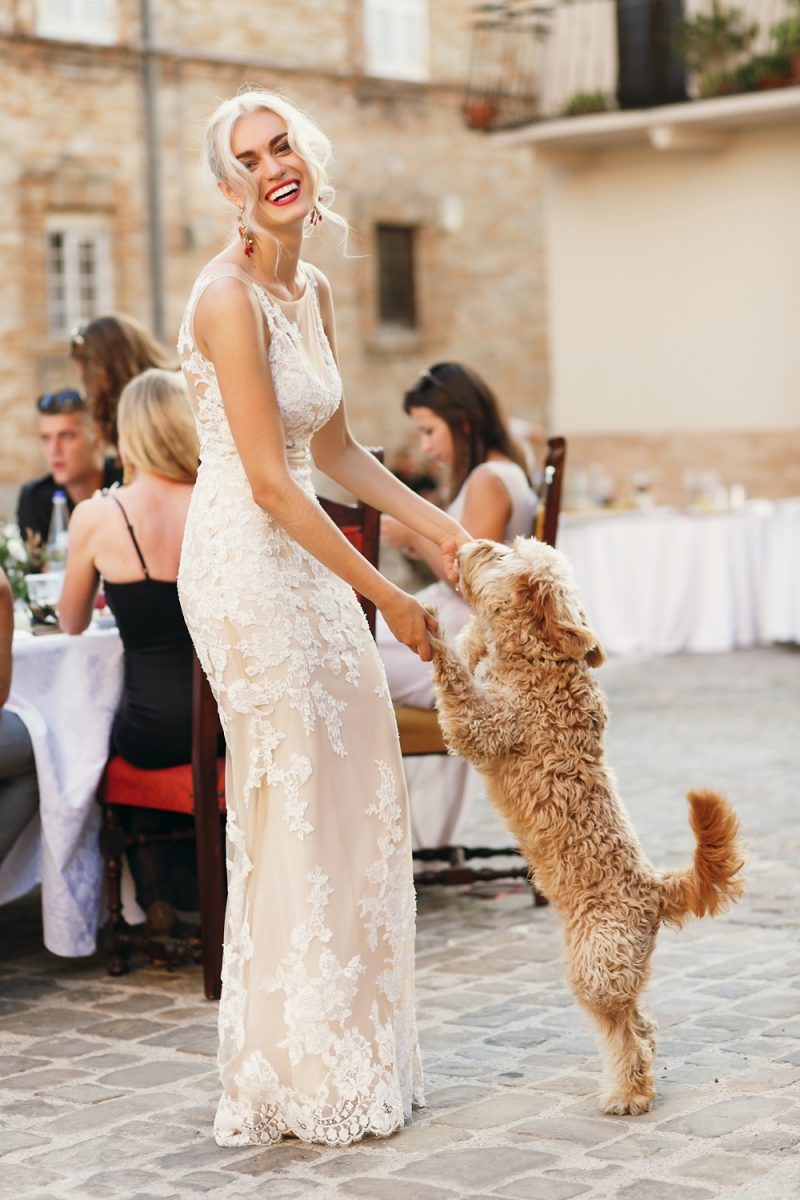 What Should I Consider When Dressing My Dog for a Wedding?
As the logistics fall in place, it is now time to think about your dog's outfit! If you are going to dress to kill, then your dog should too. You will be surprised by the numerous dog apparel options that are out there. Some of the factors to consider when choosing an outfit for your dog are:
Event type: Is it a formal wedding or a casual one? Dress your pet as you would yourself. If you are in a tux, get one.
Dog type: Just as you dress for your body type, it is essential to think about your pet's body. If it's a furry dog like a Pomeranian, for instance, you may want to skip clothes and go with a simple collar or bowtie.
Dog personality: You know your dog well. Does it hate clothes and tries to wiggle out of them each time? In this case, go with something simple and comfortable such as a bowtie.
Dog role: Is your dog playing a unique position in the wedding, such as a ring bearer or the best man? This may require you to up the attire game.
Dog's gender: This goes without saying, but your dog's gender will determine how you dress it for the wedding. Male dogs look great in tuxedos and bowties, while the females look glamorous in ribbons, bows, a dress, or floral crowns.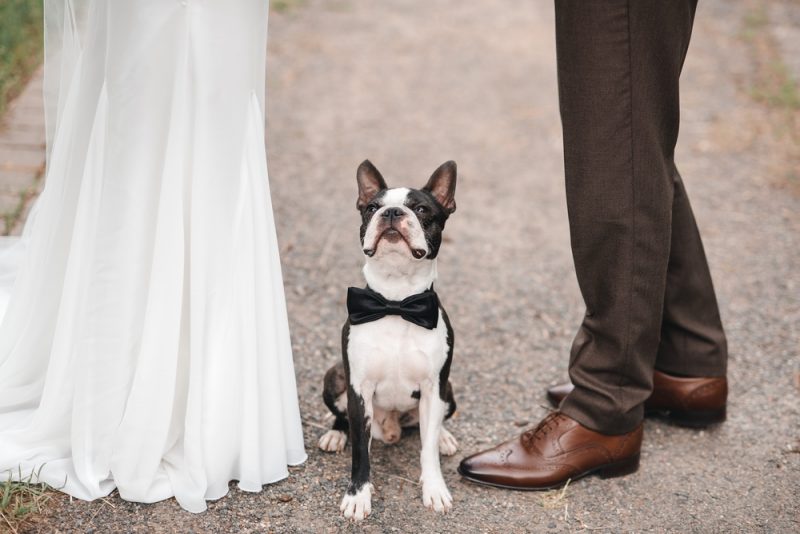 6 Cute Ways to Dress Your Dog for a Wedding
After considering all the relevant factors in choosing an outfit for your dog, it is now time for the fun part- choosing the actual attire. Some of the trendiest options available include:
Dog Wedding Tuxedo/ Dress: If you are having a formal wedding, go with a classic tuxedo and bowtie for your male dog or a dress for the princess. For brides who aren't afraid to share the limelight, have the dress match yours for extra cuteness. You can have these custom-made using your pet's measurements so that they fit well and match your wedding colors. Of course, you must go with fabric that will make your dog feel comfortable.
Dog Wedding Bow Tie: Less is always more. If your dog doesn't like clothes, or if it has particularly thick fur, a fancy bow tie might do the trick. When buying a bowtie for your dog, consider its size and shop appropriately. You can also pick a bowtie that matches the groomsmen's outfits for added appeal. If you have more than one dog, dress them in matching bowties and watch them grab all the attention.
Dog Wedding Collar: There are countless options available when it comes to dog collars, ranging from plain to glamorous. But, of course, if ever there was a time to go all sparkly such as with a gold dog chain collar

, it is during a wedding.

You may also choose to go with a natural collar made out of greenery and flowers. These flowers can be in line with the theme of the day. For example, you adorn the dog's regular collar or leash with tasteful flowers from the bride's bouquet. Regardless of the material or type of dog collar you choose, it must be comfortable, safe, and properly fitting.
Dog Wedding Bandana: A bandana can be pretty cute, particularly if your dog doesn't like clothes. Choose one that reflects the wedding theme colors or perhaps carrying a message for the couple. Some bandanas come with a dapper bow tie attached at the bottom, making your dog look even more put together. You will find numerous ready-made options for bandanas in plains or prints and with adorable messages. If you would like something unique and custom-made, this option is available too.
Dog Wedding Harness: If your dog already wears a harness, then all you have to do is up your game for the wedding. You can pick the theme color, material and even adorn it with bling such as pearls or lace. To kill two birds with one stone, get a tuxedo harness to give your dog a complete look.
Dog Wedding Ribbon: Ribbons can be pretty fancy, particularly for the furry princesses. If the rest of the bridal team is wearing ribbons, getting a matching one can make your dog blend right in. If she is the ring bearer, tying the ring pillow with a beautiful ribbon and bow is a sure way to add an extra touch to the special moment.