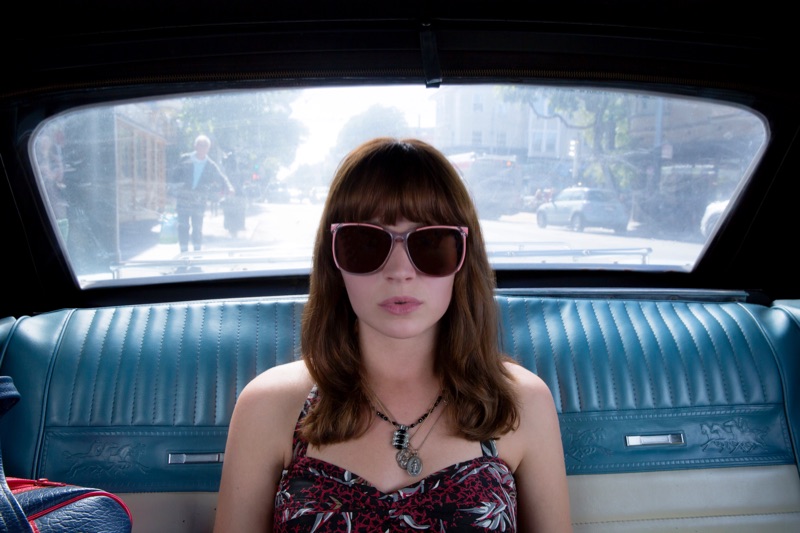 Streaming now on Netflix, the half-hour series 'Girlboss' tells the fictional story of Nasty Gal founder Sophia Amoruso's rise from vintage seller to multi-million dollar success. Britt Robertson takes on the role of Sophia in a colorful tale set in San Francisco from 2006 to 2008. And of course, since the story focuses on fashion, the show had to deliver on the style front. 'Girlboss' costume designer Audrey Fisher recently opened up about outfitting the story in an exclusive interview with FGR. From her favorite outfit to working with the real Sophia and the challenge of dressing the mid aughts, discover the full Q&A below.
"Each outfit that I created for the character Sophia had to have a unique, casually chic statement—even if she was just hanging out at her apartment her costume had to speak volumes about her commitment to personal style." — Audrey Fisher
Interview: Costume Designer Audrey Fisher on 'Girlboss'
How did you get started in costume design? What was your education?
From a very young age, I was always making costumes for myself, my friends, and my family. My path to costume design was intuitive, creative and methodical although not academic. However in college, I was drawn to language, and I studied English Literature and German. I was fascinated by the theater, and interested in a career in dramaturgy and theater studies.
After graduating, I pursued that dream, landing internships with two prominent avant-garde theaters in New York City, and then began graduate studies at NYU's Tisch School of the Arts to continue my education. And even in my extremely challenging graduate program, I was making costumes in my spare time. It was all connected: I was interested in how costumes can tell stories.
Based on some theatrical hats I was making for an art class, a German director in my Tisch program asked me to design the costumes for her production of 'Medea' at an East Village theater. That's when costumes became both my passion and my profession, with that first small but exciting production in the early 1990s.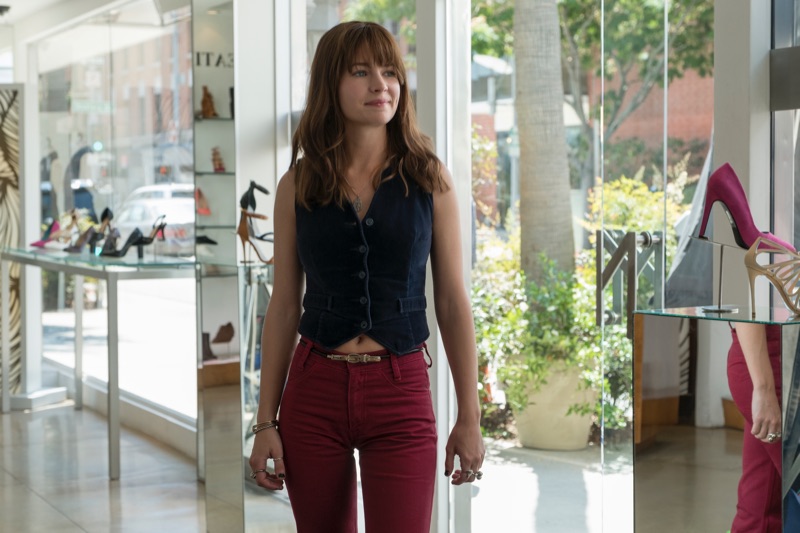 Since vintage clothing is a big part of the Nasty Gal story, did you use a lot of vintage pieces?
Of course! Sophia's story is built on racks and racks of vintage clothes, so it was my mandate as a designer building a closet for the character Sophia to honor that history. Sophia herself favored a sexy and strong 1970s silhouette, and there were references both in her book and in the script to very specific details that I got to recreate in our show, like those favorite red jeans…and that East West leather jacket!
I scoured all my favorite vintage stores, and reached out to vendors I've worked with for years to find pieces that would work for our Sophia, portrayed by Britt. I tried to use as much vintage as possible on Britt, but sometimes TV production has special needs, like multiples of certain pieces because of a stunt, or rain, or a photo double…so in that case I would try to use contemporary pieces that were 70s-inspired. Also I built a lot of costumes for Britt…and that is always the most rewarding because I can really design what works for the actor, the scene and the character…triple crown!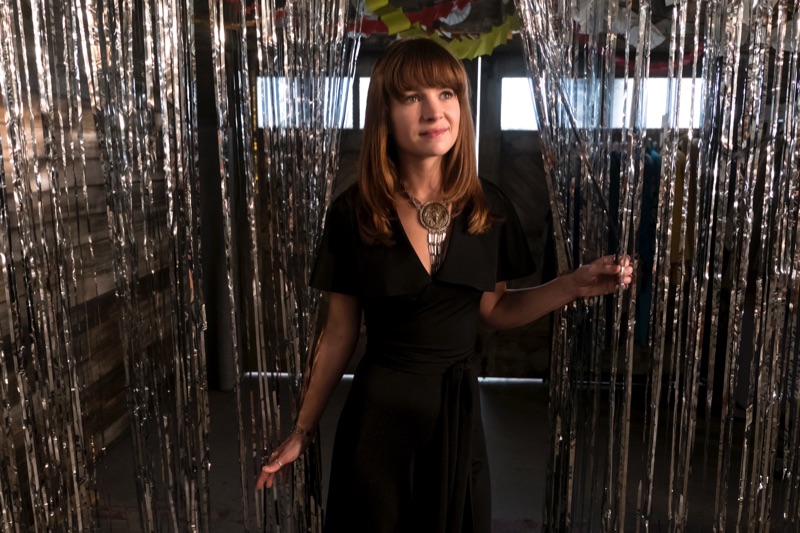 How much input did Sophia Amoruso have for the show's costumes?
From the beginning, Sophia Amoruso was very generous with sharing her time, her personal photos and letting me see actual clothes she wore during that time of her life! She gave the production a library of amazing snapshots of her, and her chic friends, hanging out in SF in the mid-2000s, and those photos were a great road map for me. Very inspirational.
But the most powerful tool Sophia gave me was a walk through her own (jaw-dropping) closet! Early on, I went to her elegant home…and then we dove in. I took photos of everything, and made a "Sophia Bible"—an album of all those clothes: some vintage she wore in her personal photos, many pieces she simply cherished, and newer items that helped to illustrate for me the arc of her love of design. Every time I needed inspiration, I scrolled through that Bible, and found the spark I needed to dress Britt for another great scene in the show.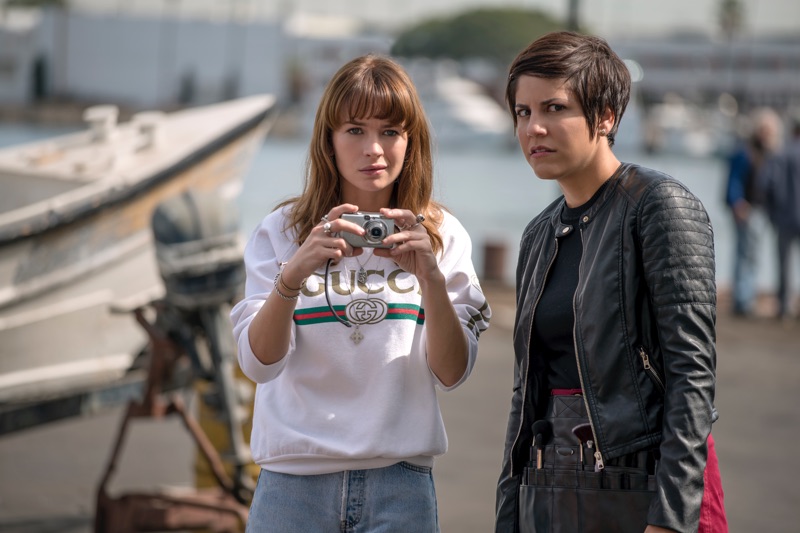 Since the show is only set a decade ago, was it a challenge to pull looks together from the 2006-2008 era of fashion? Did you want to focus on trends of that time?
Yes. More recent fashion silhouettes are not as instantly recognizable to the viewer. For instance, we all have a visual short hand for even 60 year-old fashion from the 1950s—tiny waist, poodle skirt; and even for the more recent 1980s–shoulder pads! But the closer you get to our current time, in general the silhouette hasn't yet become as recognizable or easily named.
In 50 years, the mid-2000s silhouette might be a huge Halloween favorite! The mid-aughts did have their own strong trends and sartorial flare: trucker hats, ironic tee shirts, fashion cowboy shirts, low-cut, wide waistband boot cut jeans, satin cargo pants, long peasant skirts, little vests, cropped jean jackets…I could go on. I tried to paint a strong mid-aughts look on the background performers, to ground the pieces in that time, and focused on Sophia's 70s look, Annie's retro vibe, and more timeless looks on the guys.

What advice would you give someone looking to get started in costume design?
My advice is always the same: Dive in. Follow your passion. Be responsible and kind. Say yes to all opportunities because you never know what relationships will lead to more exciting design jobs. Make yourself indispensable to your team! Come up with the most creative ideas! And be joyful…because striving to design costumes for a living is straight up, official joy. Very Girlboss!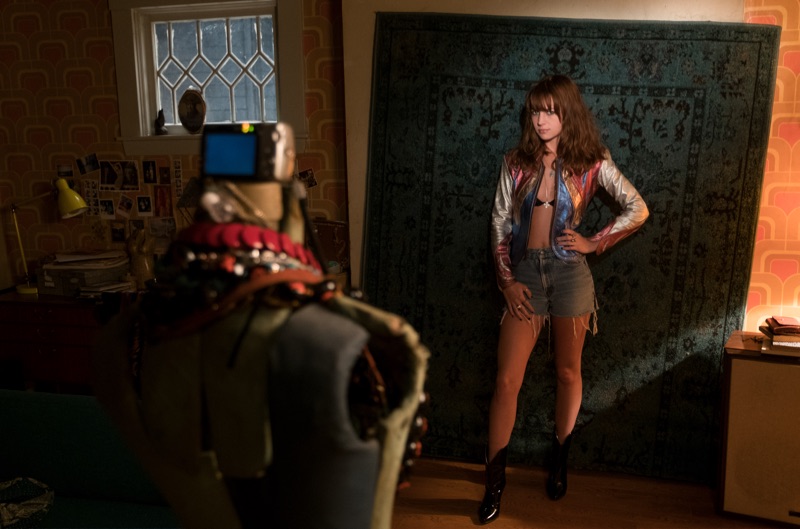 How was the collaboration like on set?
Girlboss was about me collaborating with Kay Cannon and the writers, being inspired by their incredible scripts, and working closely with the other creative department heads to support this story, while being energized by Sophia's honest, soulful journey. And my own stellar Team—assistant designer Kristine Haag, Supervisor Sara Castro, Key Costumer Yuki Tachibe, Costume Buyer Mayumi Masaoka, Set Costumers Nick and Lorie, Extra Buyers, and PAs Ross and Zoa—were all dedicated to creating the detailed world that you see on screen!
What was your favorite look from the show, or one that stands out the most?
It's hard to choose a favorite among so many distinctive looks! Each outfit that I created for the character Sophia had to have a unique, casually chic statement. Even if she was just hanging out at her apartment her costume had to speak volumes about her commitment to personal style.
But the costume that I really love for how it transcends this story and winks at the real Sophia is the denim jumpsuit that we built for Britt. It's SO Sophia, fit like a glove, and is like a super-chic fashion "work" uniform. I knew I wanted to create a denim jumpsuit for the character especially because the real Sophia always rocks a jumpsuit in her current life with such panache! So that costume was a chic, lucky charm, linking the fictional and the real Sophia.