Korean Acting Challenge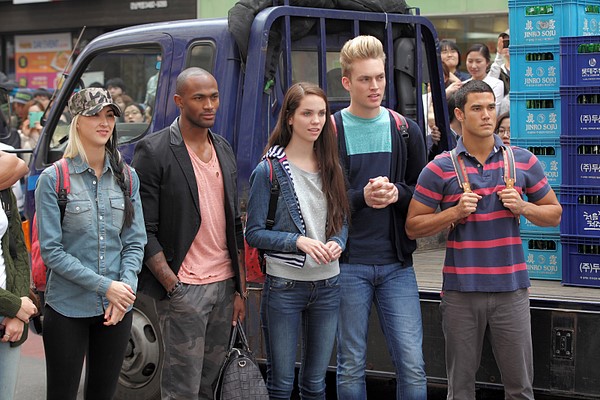 We're now on to the top five for cycle 21 of "America's Next Top Model". Who has the most booch or tooch to win? The episode begins with J. Alexander telling the models they have to do an acting challenge inspired by Korean television dramas. Actors Jong Hoon Yoon and Clara will help participate in the challenge. The only catch is that they have memorize some lines in Korean. According to Adam, he only needs twenty minutes to remember his lines and he is going to "rage" the challenge. What does that even mean? No seriously, what does that mean? While everyone else seems to be struggling on memorizing the lines.
Once the tape rolls, Will appears to flop because he is nervous about not being seen as masculine enough. On the other hand, Lenox could not remember her lines at all. Shei does alright. And Adam who said he would be the best at the challenge looks uncomfortable in front of the camera AND he messes up his lines. As for Keith, he is declared the winner of the challenge despite not getting any of the lines right. Looks like his charm made him a hit with Clara.
Elvis Presley & Marilyn Monroe Shoot
The next day, the contestants are taken to the Gungham district where Yu Tsai and Tyra Banks instruct them that they will be recreating iconic pictures from Marilyn Monroe and Elvis Presley. Tyra will also work on makeup. In an awkward moment, she talks to Adam and he admits the other week that when she smelled his breath for alcohol, he thought she wanted to kiss him to loosen him up. What?
Will was up first and had to recreate an image where Elvis was rocking out on stage, and with his dance experience you would think he would ace it, but he struggled. On the other hand, Adam, who is from Memphis, looked to rock his frames. Keith who won the acting challenge flopped as Tyra had to teach him time and time again how to nail his pose.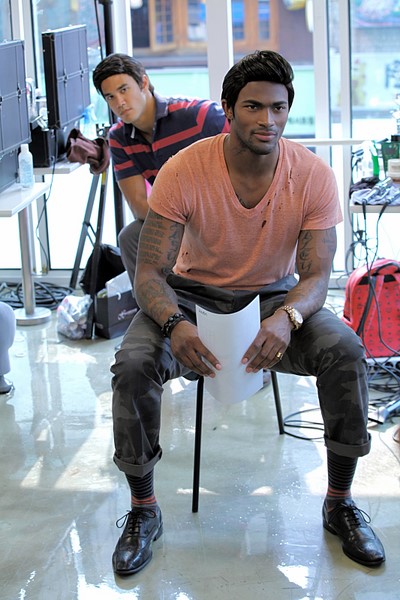 For the two remaining female models, Shei had to recreate a pin-up pose by Marilyn Monroe while Lenox did the iconic "Seven Year Itch" scene where Marilyn poses over a grate. Lenox appears to lack the confidence to play the sex symbol while Shei seemed to not have that "spark" during her shoot.
Judging Panel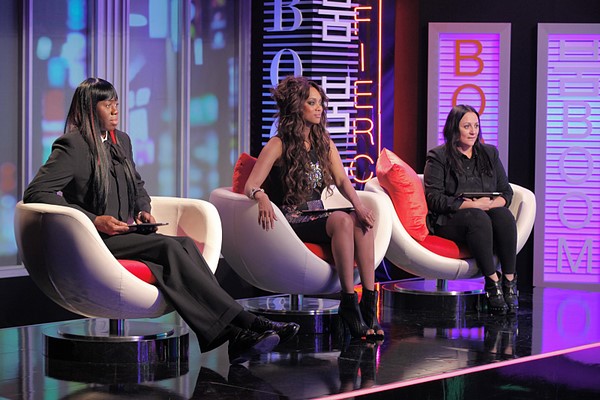 Time for panel, and it turns out that Adam got a great shot after being called "Stiffy Doo" by Tyra last week. Keith's picture found a fan in Kelly Cutrone while Tyra and Miss J seemed to disagree. On the other hand, Lenox got mixed reviews but still got a total score of 24 from the judges. Shei was told she did not bring enough life into her picture and got a 22. Is it just us, or are the judging scores kind of a non-factor this season? It seems to be rare that anybody gets less than a seven…
So who won for the week? Adam. The judges said that he looked like a model while still connecting with the fans. The bottom two end up being Shei and Lenox. Tyra said that Shei did well at challenges but did not have that many great images. While Lenox was told that she takes good photographs but lacks in things like acting and going out of her comfort zone. Ultimately, Shei—the black and white haired dynamo—was sent packing.
Check back in two weeks when the final four get cut down to the final three.