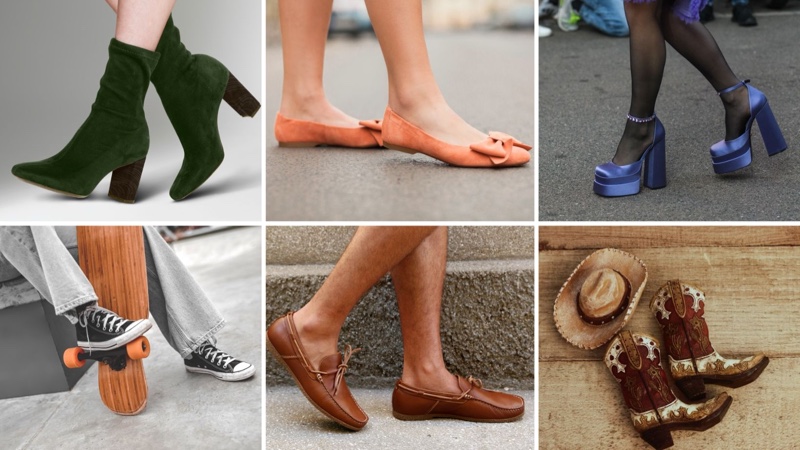 When it comes to footwear, there are many different types of shoes spanning from athletic sneakers to stiletto heels and comfortable loafers.
Whether you're a fashion enthusiast or simply looking for comfort, understanding the different styles of shoes can help you make informed choices and elevate your style.
In our guide, we'll explore the various categories of shoes for men and women, providing you with the knowledge you need to navigate the world of footwear. So, let's dive in!
Types of Shoes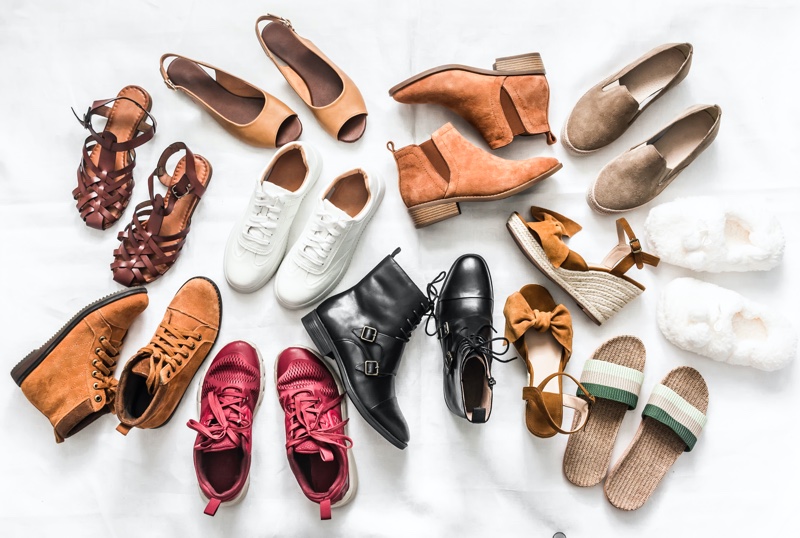 Let's embark on a journey to see the many categories of shoes. And just as the saying goes, "the journey of a thousand miles begins with a single step." In this case, that step is a deep dive into the world of shoes.
Athletic Shoes: The Perfect Blend of Comfort & Performance
Athletic shoes are made to provide comfort, support, and performance during physical activities. Whether you're a professional athlete or a fitness enthusiast, having the right athletic shoes is essential. Let's take a closer look at some popular types of athletic shoes.
Running Shoes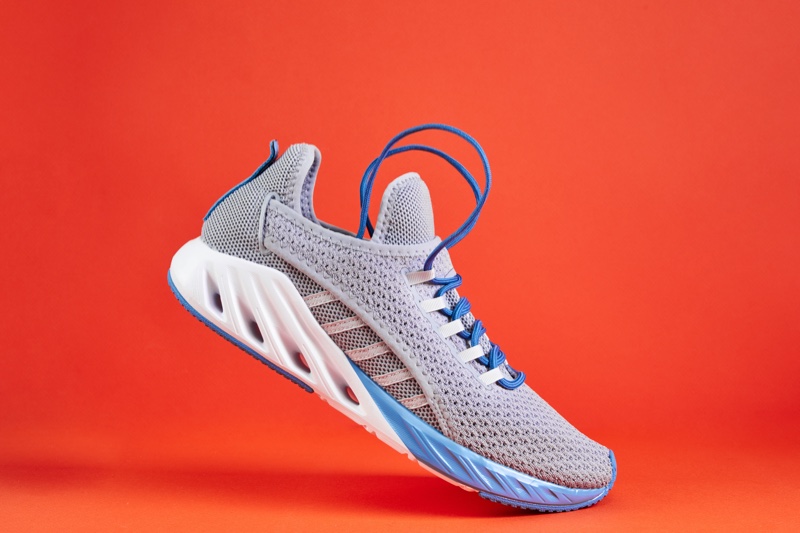 Running shoes serve a specific purpose: to absorb impact and offer cushioning while engaging in running activities. These shoes usually feature a flexible sole and lightweight design, enhancing speed and agility.
Whether you're a marathon enthusiast or enjoy a leisurely jog, investing in reliable running shoes is essential to optimize your performance and maintain foot health.
Basketball Shoes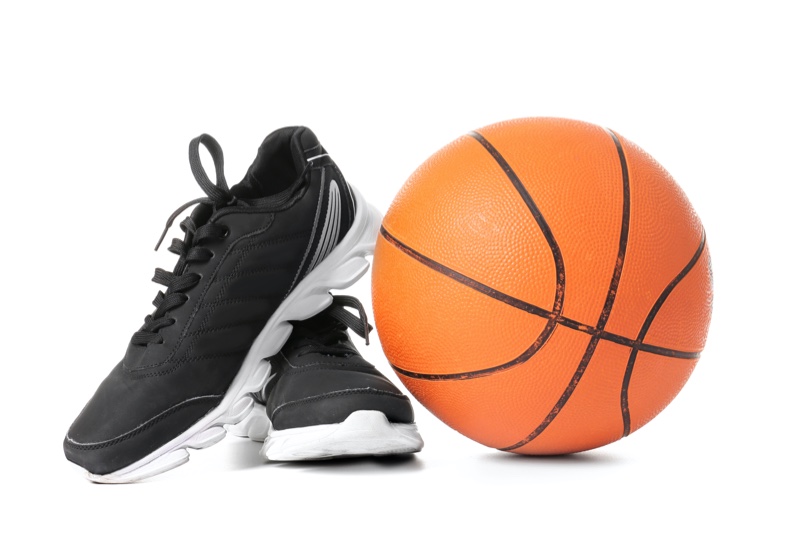 Basketball shoes are crafted to deliver unparalleled ankle support and stability, specifically catering to the demands of rigorous court movements.
These specialized shoes incorporate cutting-edge cushioning technology, expertly engineered to absorb impact and shield the feet from the strain of high-impact jumps and swift lateral motions.
For passionate basketball players, securing a top-notch pair of basketball shoes is a game-changer, elevating performance and mitigating the likelihood of potential injuries.
Soccer Shoes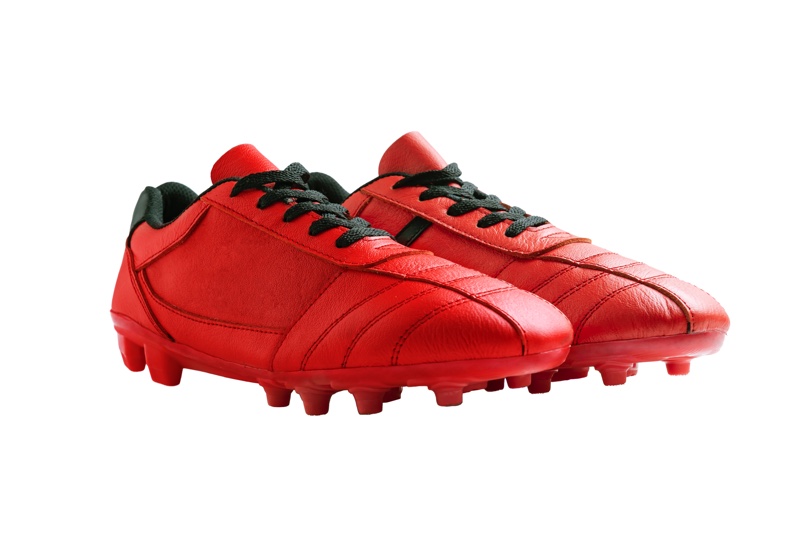 Soccer shoes, commonly called football boots, are engineered to elevate your performance on the soccer field. They are available in different styles, such as cleats with studs, turf shoes with small rubber studs, and indoor shoes with flat soles.
The playing surface and your preferences should influence your selection of soccer shoes. These shoes offer exceptional traction, support, and control, empowering you to maneuver with precision and finesse throughout the game.
Hiking Boots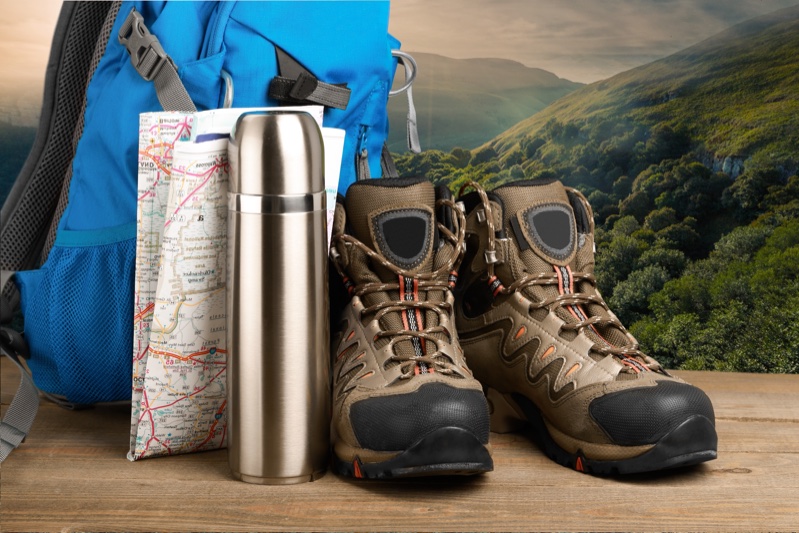 Hiking boots are designed to provide stability, support, and protection during outdoor adventures. They often feature sturdy construction, waterproof materials, and aggressive tread patterns to ensure traction on various terrains.
Whether trekking through rugged mountains or exploring scenic trails, investing in high-quality hiking boots will keep your feet comfortable and protected.
Golf Shoes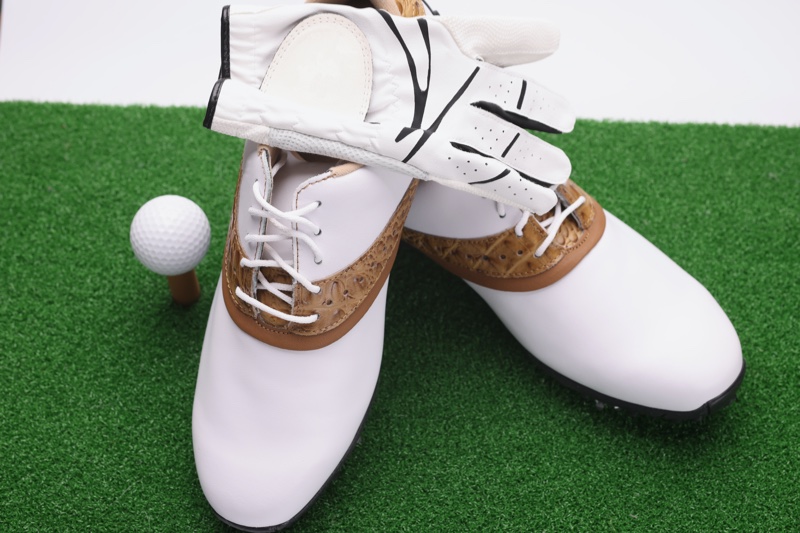 Tailored for the golf course, golf shoes are crafted to offer unbeatable stability and traction. These shoes often have spikes or lugs on their soles, significantly enhancing the grip and preventing slips during swings.
Moreover, golf shoes are commonly fashioned from waterproof materials, ensuring your feet stay dry even in damp conditions. With their winning combination of style and functionality, golf shoes are an essential asset for every golfer seeking to elevate their performance on the course.
Climbing Shoes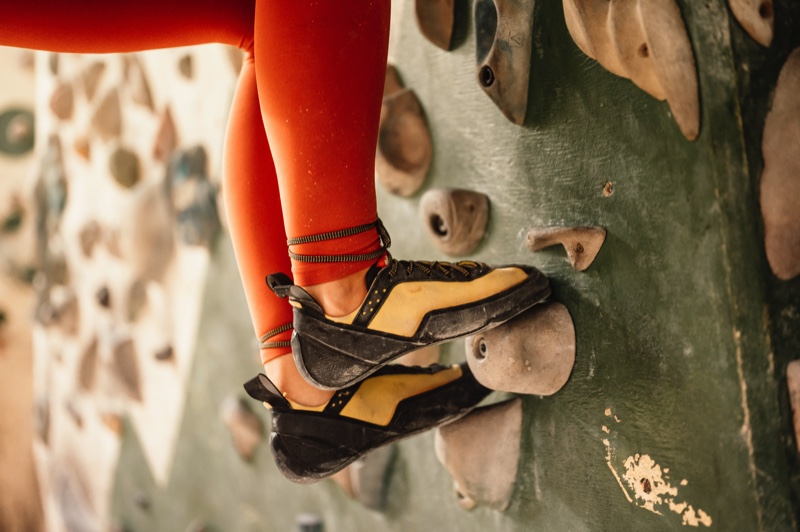 Climbing shoes are specifically designed for rock climbing and indoor climbing activities. They have a snug fit to provide maximum control and precision on the climbing surface.
Climbing shoes often have a sticky rubber sole to enhance grip and allow climbers to cling to small footholds. Whether a beginner or an experienced climber, investing in a pair of climbing shoes is essential for your safety and performance.
Tennis Shoes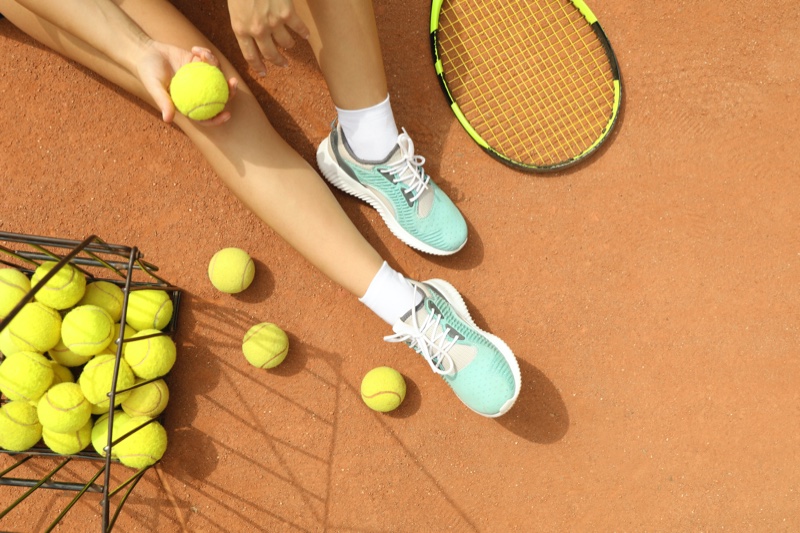 Tennis shoes are built to deliver unmatched support, stability, and precise sideways movement control throughout tennis matches. These shoes are made with a robust outsole, ensuring they can withstand the demands of quick stops and starts on the court.
Tailored to specific playing surfaces, tennis shoes come in various styles, such as clay, grass, and hard court shoes. These types of shoes have the power to elevate your on-court performance while safeguarding you from potential injuries.
Skate Shoes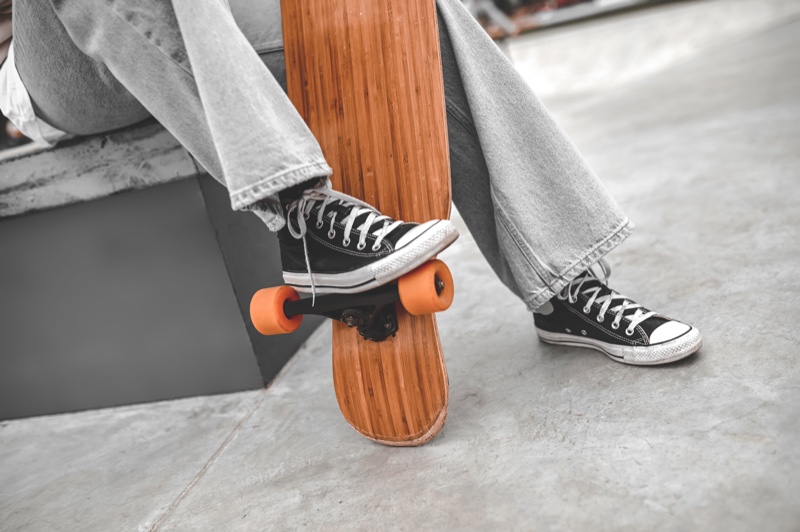 Skate shoes are specifically created for skateboarding and other action sports. They often feature a flat sole, reinforced toe caps, and extra padding to withstand the impact of skateboarding tricks.
Additionally, skate shoes have a grippy outsole to provide traction on the skateboard deck. Whether you're a skateboarder or love the style, investing in a pair of skate shoes will give you the necessary comfort and protection for your adventures.
Sneakers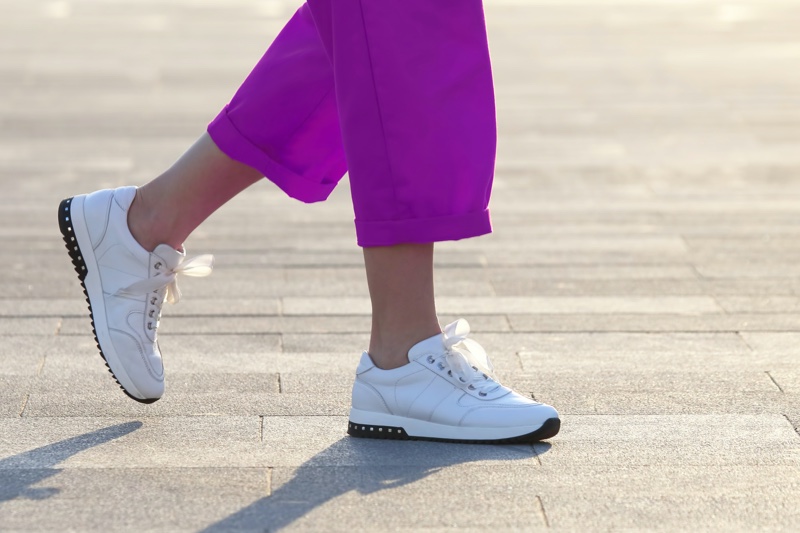 Sneakers, also referred to as athletic shoes or trainers in various parts of the world, are footwear primarily designed for sports or other types of physical exercise. From high tops to low tops, there are plenty of options.
They have flexible soles made of rubber or synthetic material and an upper part made of leather, synthetic substitutes, or cloth. Casual sneakers are created to provide comfort, support, and durability. However, in the modern era, they have also become a significant part of fashion and everyday casual wear.
Boots: Stylish & Functional Footwear
Boots are one of the most versatile footwear styles, blending style and functionality effortlessly. With an array of lengths and designs, they prove suitable for a wide range of occasions. Now, let's delve into the popular boot types.
Ankle Boots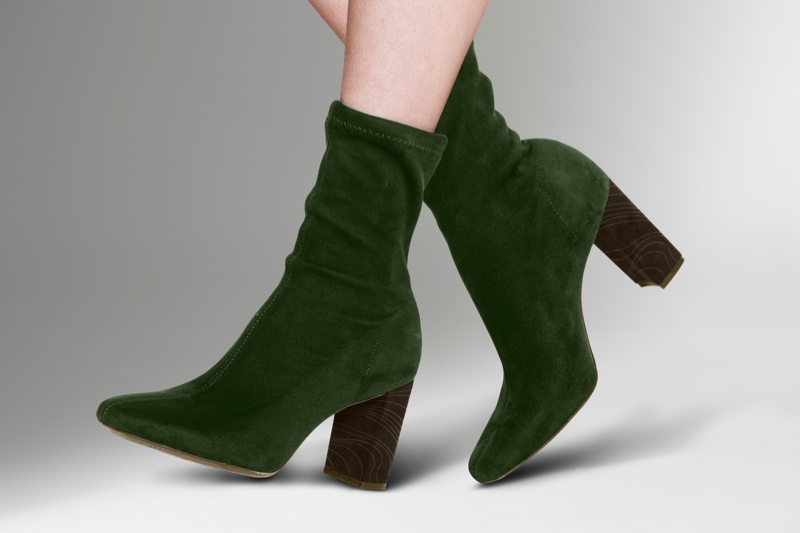 Ankle boots, as the name suggests, cover the ankle and provide a sleek and stylish look. They come in various styles, including Chelsea, lace-up, and zip-up boots. Ankle boots can be paired with skinny jeans, skirts, or dresses, making them versatile for casual and formal wear.
Knee-High Boots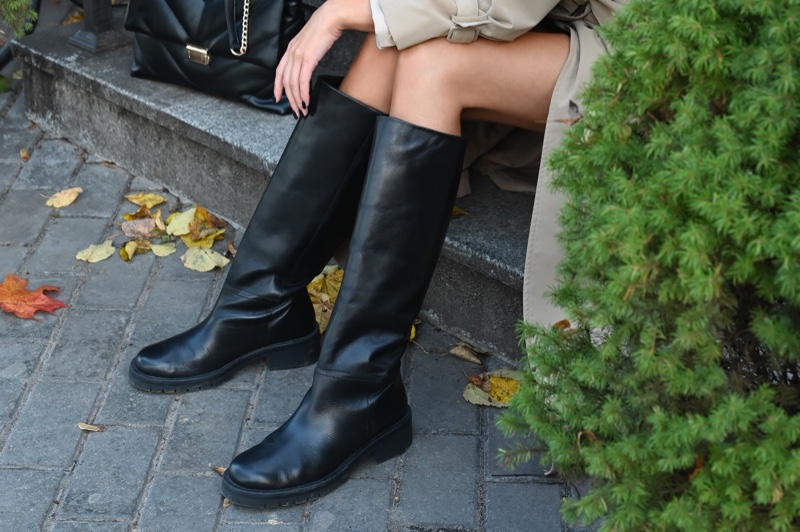 Knee-high boots extend up to the knee or just below it, adding a touch of sophistication to any outfit. They come in various styles, including riding, heeled, and flat boots. Whether you're dressing up for a night out or looking to elevate your everyday style, knee-high boots are a fashionable choice.
Combat Boots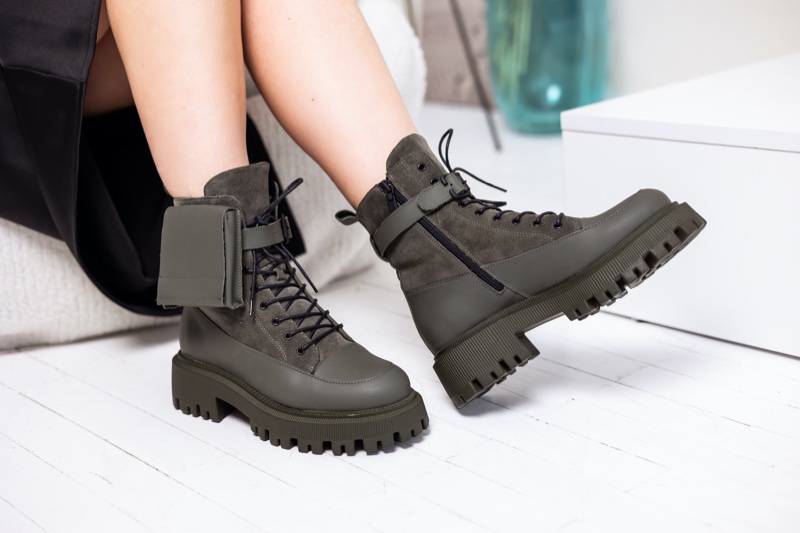 Combat boots, also known as military boots, are famous for their rugged and edgy appearance. Initially designed for military personnel, combat boots have become a trendy fashion statement. They often feature laces, buckles, and chunky soles to provide durability and a rebellious aesthetic. Often associated with grunge or punk style, they are an edgy choice.
Work Boots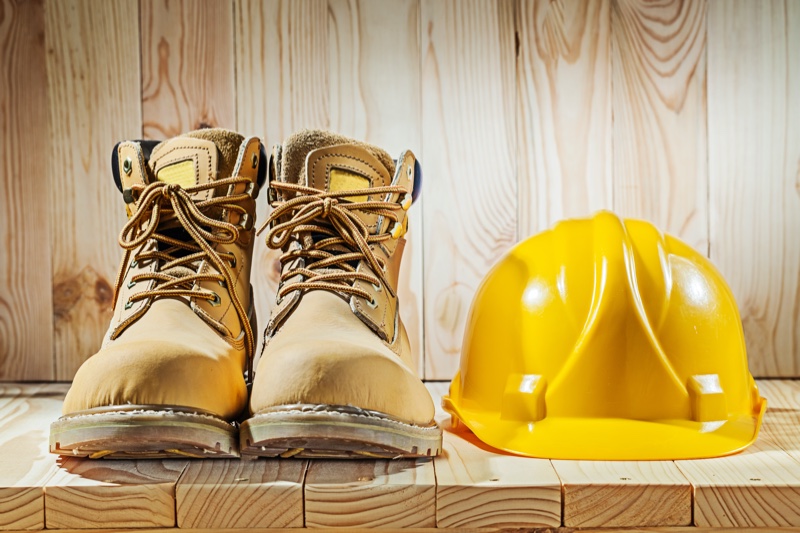 Work boots are designed to provide protection, support, and durability for individuals working in labor-intensive industries. They typically include steel toes, slip-resistant soles, and waterproof materials to ensure safety and comfort in hazardous work environments.
Investing in high-quality work boots is essential for your safety and well-being if you're a construction worker, mechanic, or landscaper.
Chelsea Boots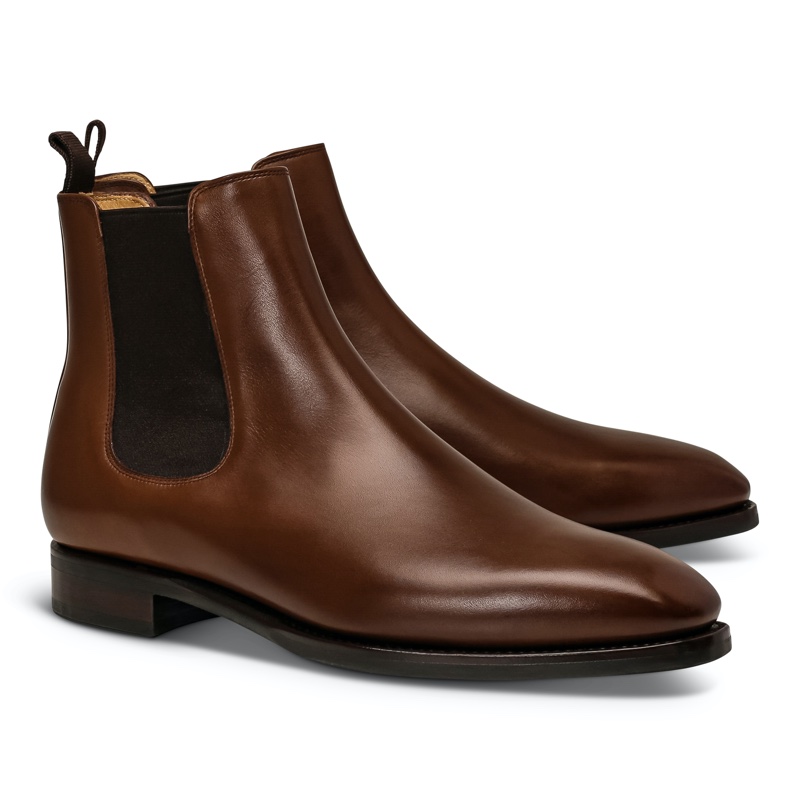 Classic and timeless Chelsea boots originated in the Victorian era. They feature an elastic side panel and a loop at the back, making them easy to slip on and off.
Chelsea boots are versatile and can be dressed up or down, making them suitable for various occasions. Whether attending a formal event or going for a casual outing, they are an excellent option.
Cowboy Boots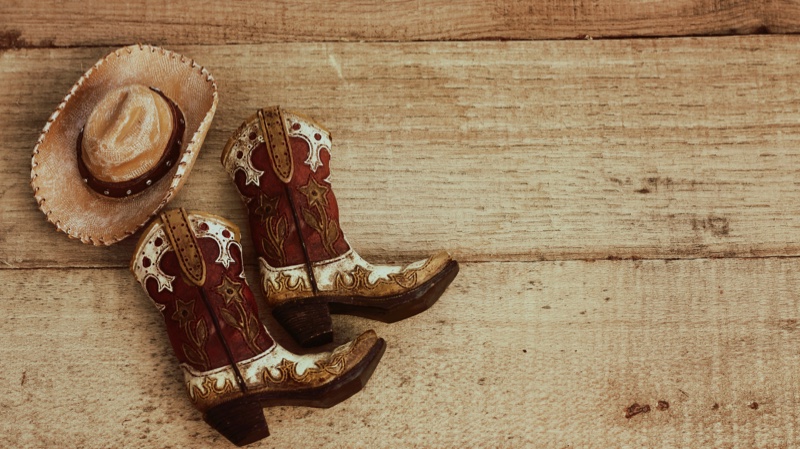 Cowboy boots are iconic footwear that originated in the American West. They feature a distinctive design, including a high shaft, a pointed toe, and decorative stitching.
Renowned for their durability and exquisite craftsmanship, cowboy boots are usually crafted from premium leather. These boots pay homage to the Western heritage and make a distinct and stylish statement, appealing to both country music enthusiasts and those eager to embrace the iconic Western fashion.
Wellington Boots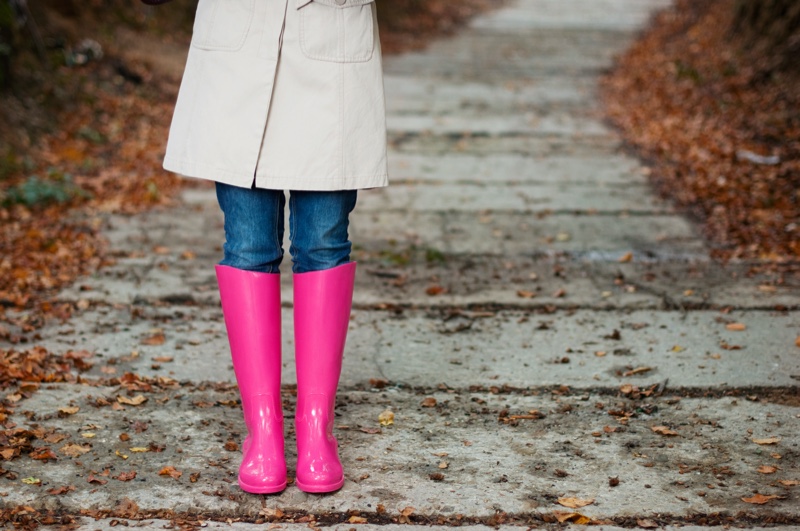 Wellington boots, also known as rain boots or gumboots, are designed to keep your feet dry and protected in wet weather conditions. They are created from waterproof materials, such as rubber, and often feature a sturdy sole and a tall shaft.
These types of boots are practical for rainy days, gardening, or outdoor activities. With their vibrant colors and patterns, they add a fun and playful element to your outfit.
Snow Boots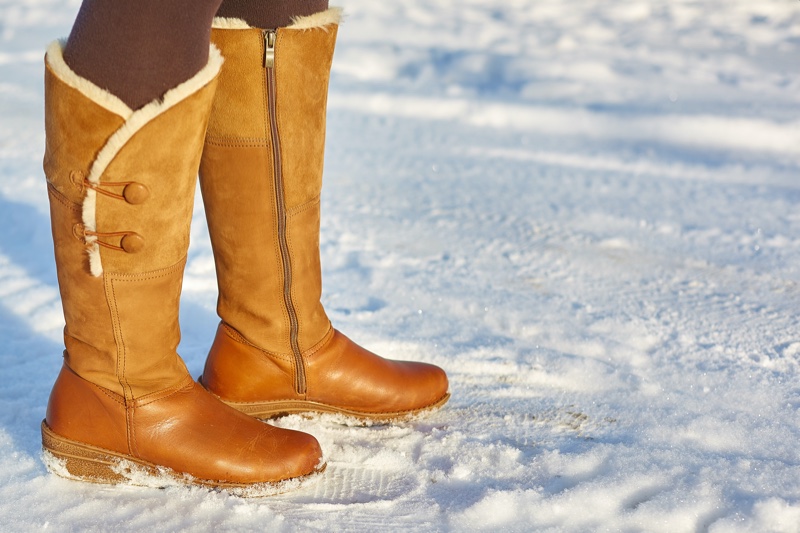 Snow boots are a practical design that provides insulation, warmth, and traction in snowy and icy conditions. They usually feature a waterproof and insulated construction, a thick sole, and a high shaft to keep your feet dry and protected from the cold.
Snow boots are essential for winter activities, such as skiing, snowboarding, or simply enjoying a stroll in the snow. With their practical design and cozy comfort, snow boots are a must-have for winter.
Heels: Elevate Your Style
Heels, the embodiment of grace and femininity, exude an air of elegance while elevating height and confidence, all while infusing a hint of glamour into any ensemble. Now, let's explore some of the most popular types.
Stiletto Heels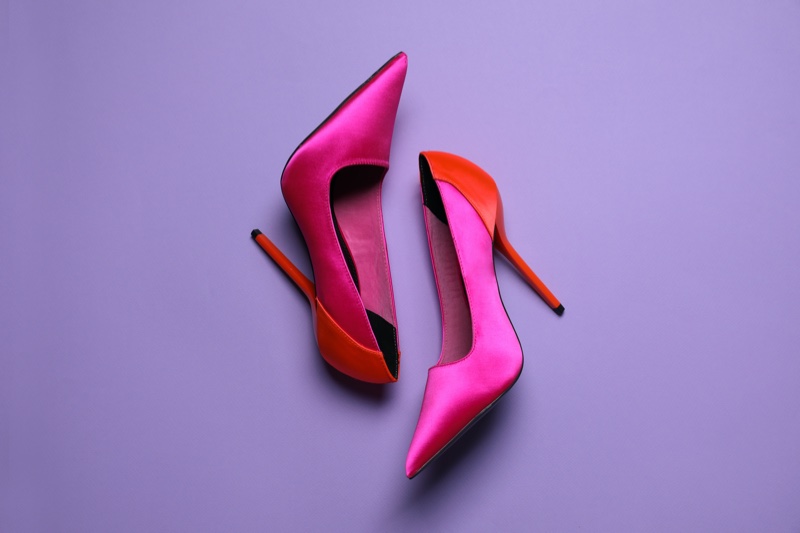 Stiletto heels are known for their slender and high-heel construction. They exude sophistication and elegance, making them a popular choice for formal events and special occasions.
These heels can be paired with dresses, skirts, or tailored pants to create a stylish and feminine look. However, remember that stiletto heels require practice and may not be suitable for extended periods of walking or standing.
Wedge Heels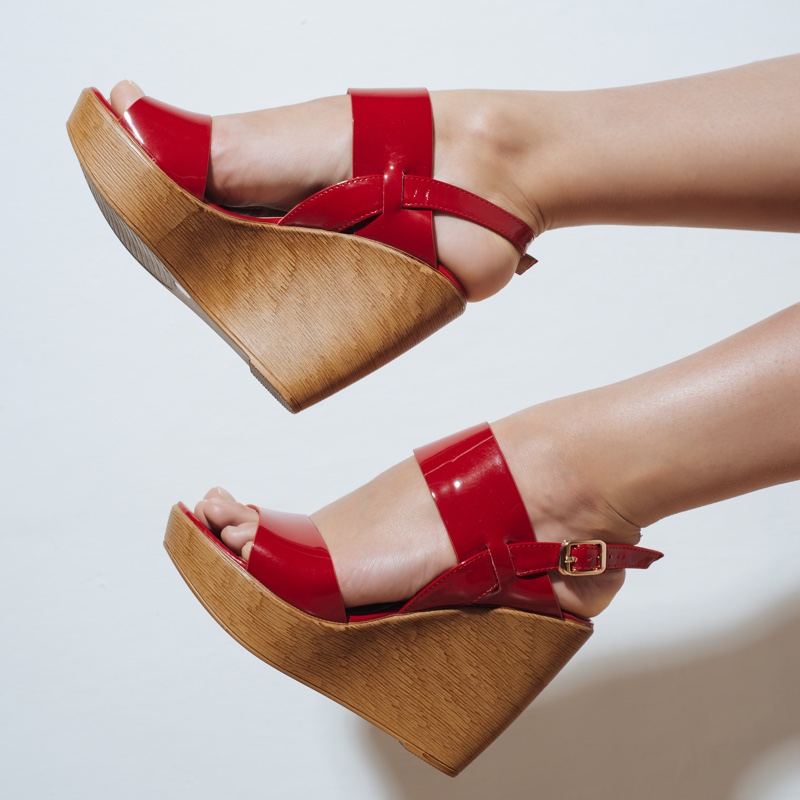 Wedge heels feature a solid heel that extends from the back to the front of the shoe, providing stability and comfort. Unlike stiletto heels, wedge heels distribute the body weight more evenly, making them a comfortable choice for extended wear.
They can be worn with various outfits, from dresses to jeans, and are suitable for casual and semi-formal occasions.
Block Heels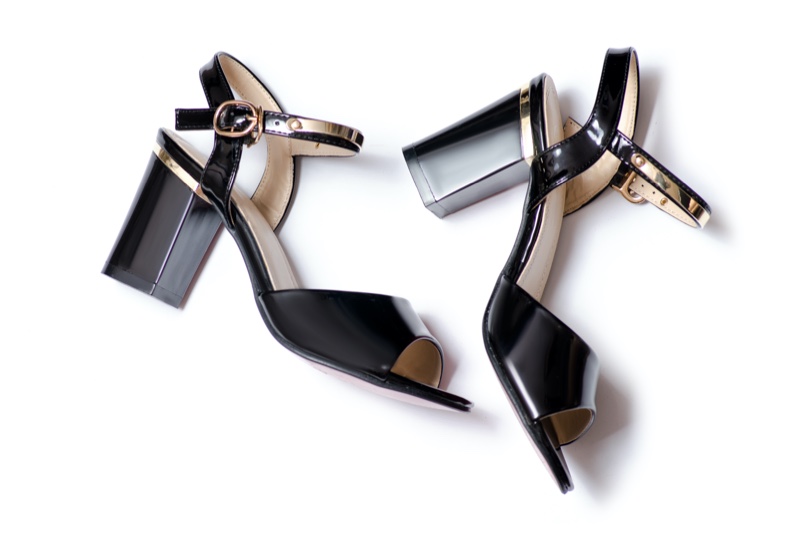 Block heels have a chunky and wide construction, providing stability and support. They offer the height and style of traditional heels without sacrificing comfort.
Worn with a wide range of ensembles, block heels add a fashionable appeal to both casual and formal attire. Whether attending a wedding or going for a night out with friends, these heels are versatile and keep you comfortable all day.
Kitten Heels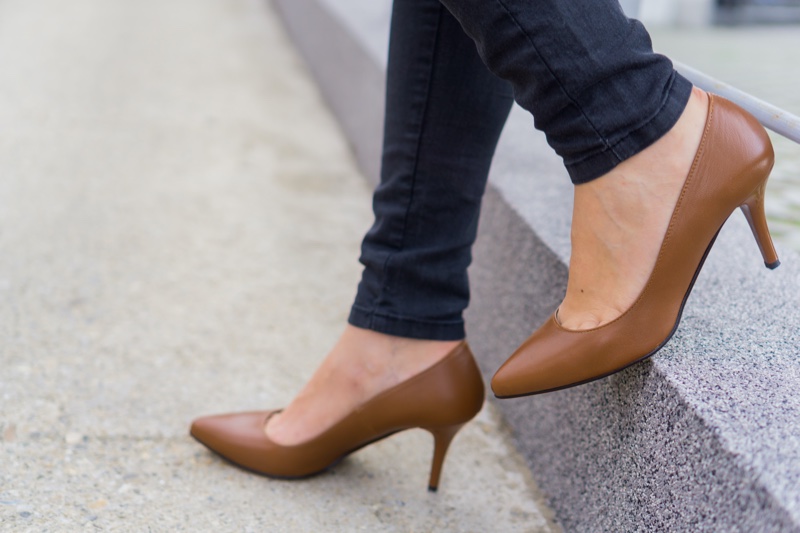 Kitten heels are characterized by their slender and low heel, typically ranging from 1 inch to 2 inches in height. They deliver a subtle lift and add some sophistication to any outfit.
Suitable for both professional settings and social gatherings, kitten heels remain a popular option. They can be paired with dresses, skirts, or tailored pants, creating a chic and polished look.
Platform Heels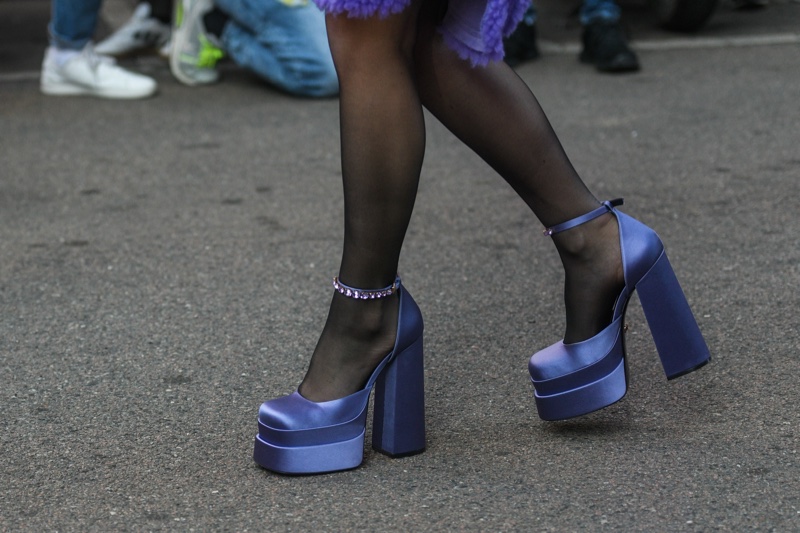 Platform heels boast a distinctive design, featuring a thick sole that elevates the shoe's front and back, resulting in a stylish platform-like effect.
These heels provide an appealing boost in height and deliver extra comfort and stability. Their versatility shines through as they effortlessly complement various outfits, ranging from dresses to jeans, making them a sought-after choice for parties and events.
Flats: Comfortable & Versatile
Flats, cherished by both men and women, reign supreme as the ultimate choice when comfort and versatility are non-negotiable. Now, let's take a closer look at some well-loved types of flats.
Ballet Flats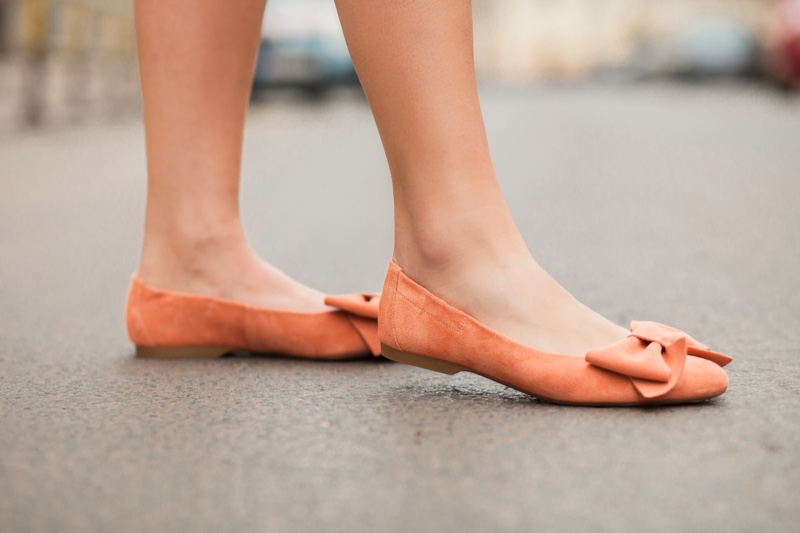 Drawing inspiration from the footwear of ballet dancers, ballet flats enchant with their flat soles, rounded toe, and effortless slip-on design. Their comfortable and versatile nature makes them perfectly suitable for casual and formal affairs.
From jeans to dresses or skirts, ballet flats effortlessly elevate any ensemble, infusing it with timeless and graceful elegance.
Loafers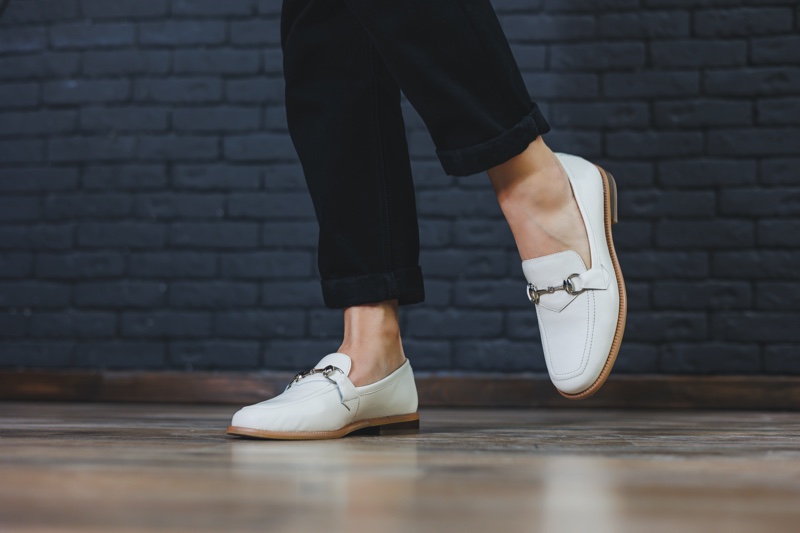 Loafers, with their origins in men's footwear, are slip-on shoes known for their low or no heel and charming decorative elements like tassels or metal buckles.
Exuding sophistication and polish, loafers effortlessly complement both formal and casual settings. Whether paired with trousers, skirts, or dresses, these timeless dress shoes infuse your ensemble with a classic and refined flair.
Flip Flops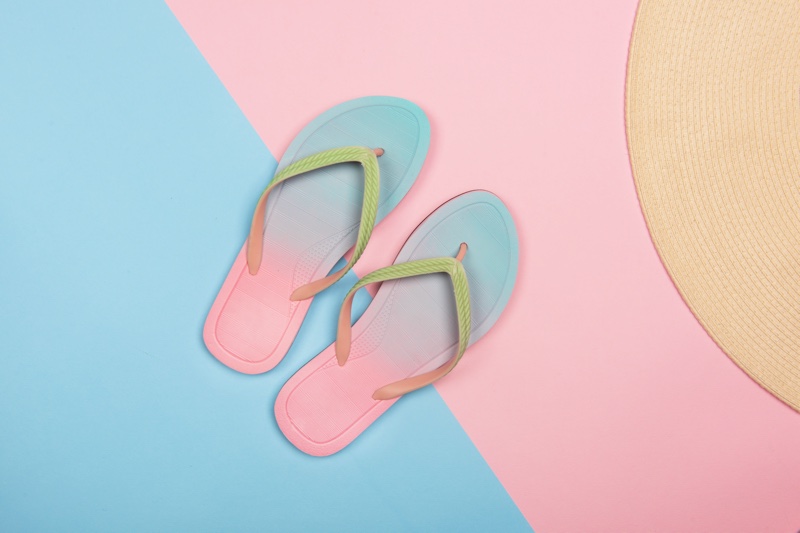 Flip flops are lightweight, open-toe sandals perfect for warm weather and casual occasions. They feature a Y-shaped strap that goes between the toes, providing minimal coverage and maximum breathability.
These sandals are designed from rubber or foam materials and offer unparalleled comfort and effortless wearability. These beloved footwear options are favored for beach trips, poolside relaxation, or laid-back casual outings.
Espadrilles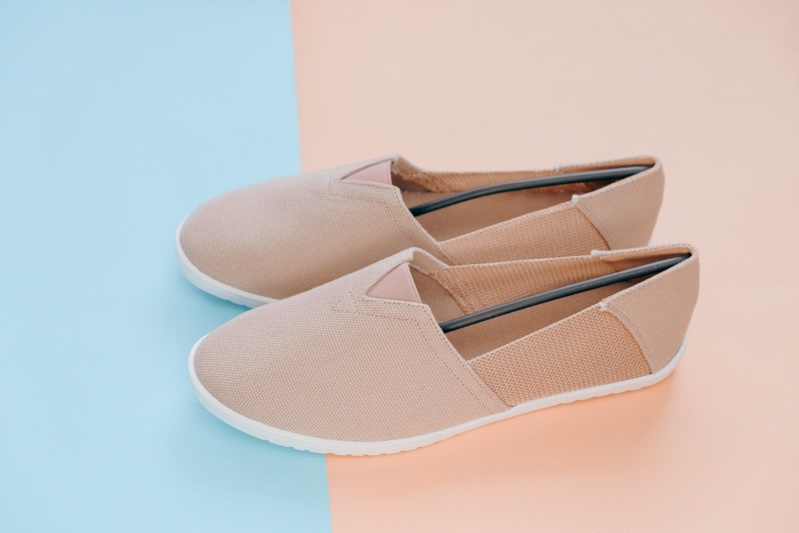 Espadrilles are casual shoes originating from the Pyrenees region of France and Spain. They feature a canvas or fabric upper and a flexible sole made from jute or rope.
Espadrilles are lightweight, breathable, and perfect for warm summer days. They can be paired with casual outfits, including shorts, dresses, or skirts, adding an effortless and laid-back vibe to your summer style.
Sandals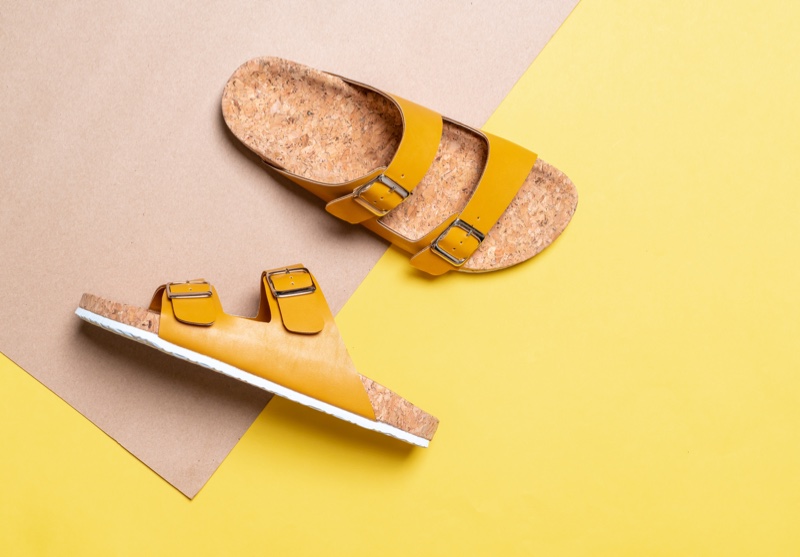 Sandals, a staple of summertime ease, stand out because of their open design. They offer a breezy comfort unmatched by other footwear. From strappy gladiators to the chunky, futuristic platforms that defy tradition, sandals truly embody versatility.
Whether paired with airy sundresses or denim shorts, they improve any ensemble. Ideal for beach escapades, leisurely city strolls, or backyard gatherings, sandals serve foot-friendly fashion.
Moccasins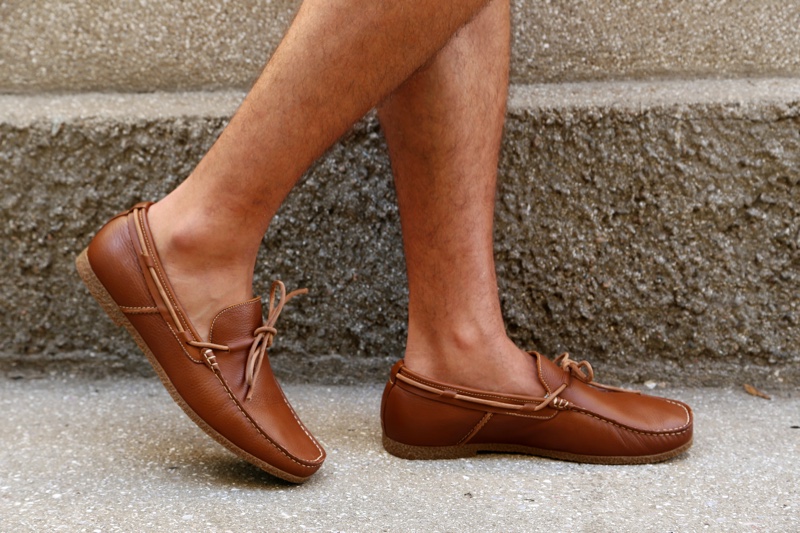 Rooted in Native American footwear, moccasins are gentle and easy-to-wear slip-on shoes. Crafted from leather or suede, they showcase a distinctive stitched design.
These shoes offer the perfect blend of comfort and flexibility, making them a beloved option for casual and outdoor pursuits. Whether paired with jeans, shorts, or casual dresses, moccasins infuse your outfit with rustic charm.
Final Words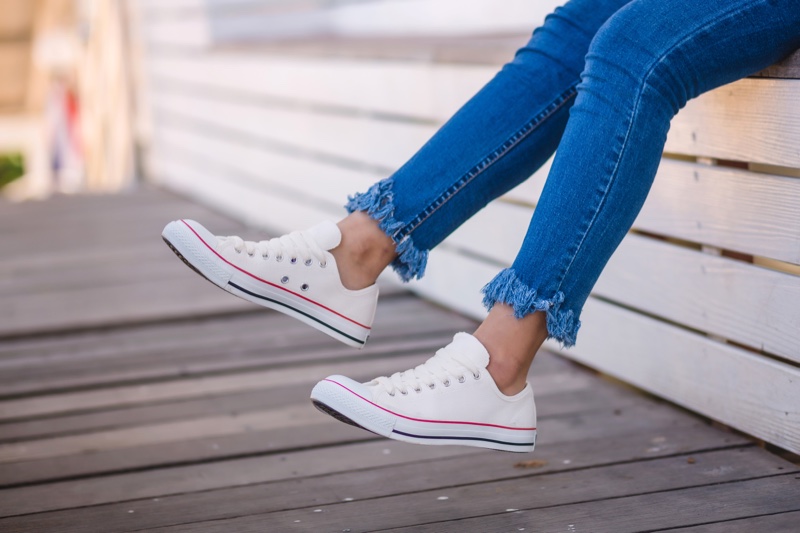 The world of footwear presents many different types of shoes for men and women. From athletic shoes to boots, heels to flats, there's a shoe for every occasion and personal style. Understanding the various types and their unique features can help you make informed choices that balance comfort and fashion.
The right pair of shoes can make a big difference whether you're going to the gym, enjoying a night out, or taking a relaxing walk in the park. Take your time to explore the many options and find the perfect shoes that match your personality and meet your needs.
​Frequently Asked Questions
What are the different types of shoes available for women and men?
Both women and men have a wide range of shoe styles to choose from. For women, some popular types include high heels, flats, sneakers, boots, sandals, wedges, loafers, and ballet flats. Men can choose from options like sneakers, oxfords, derbies, brogues, loafers, and boots.
Which types of shoes are suitable for formal occasions?
Women can opt for elegant high heels, classic pumps, or dress sandals for formal events. Men can choose formal shoes like oxfords, derbies, and monk straps, which complement business suits and dressy outfits.
What are the best styles of shoes for everyday casual wear?
Women can enjoy the comfort and versatility of flats, sneakers, and ballet flats for everyday activities. Men can go for sneakers, loafers, and casual slip-on shoes for relaxed and casual looks.
What are shoe styles suitable for warm weather or summer months for women and men?
For warm weather, women can choose comfortable and breathable sandals, wedges, and open-toe flats. Men can opt for canvas shoes, boat shoes, and slip-on loafers, which offer comfort and style.