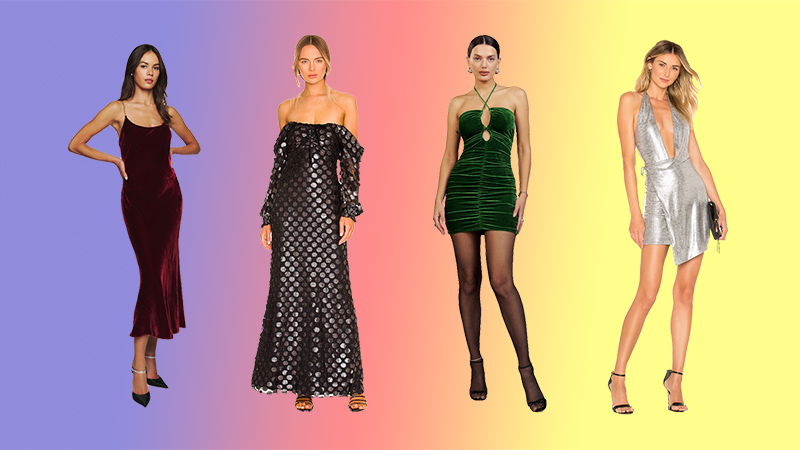 The holiday party season is here. And with so many options available this season, it can be challenging to choose just one. That's why we've compiled some of our favorite party dress trends to wear during Christmas, New Year's Eve, and more events.
Whether you're looking for a classic look or want to try something different, these party dresses will surely get you excited. Choose from top brands like Reformation, Zimmermann, h:ours, House of Harlow 1960, and more. These designs are sure to turn heads from velvet to silver to black and embellished holiday party dresses for 2022.
Cute Women's Holiday Party Dresses for 2022
Silver Dresses
Silver dresses are always an excellent option for Christmas parties, and they're also perfect for New Year's Eve. A silver dress will easily add sparkle to any look and is versatile enough to be worn for almost any occasion.
There are many different styles of silver dresses, and you can choose the one that best fits your personal style. A classic long-sleeved dress is always a good choice for a formal event but opt for a short-sleeved look if you want something more fun and casual.
Velvet Dresses
Velvet dresses are the perfect choice for the winter holidays. They're a great way to stay warm, and you can also make them look stylish with a statement necklace. Choosing the right pair of heels or boots is essential—a thick heel is best for comfort, but if you want your outfit to be more casual, opt for flats or even upscale sneakers. Jewel tones like emerald and ruby are an excellent choice for velvet holiday party dresses.
Black Dresses
The little black dress is the ultimate go-to for any party, and it's been a classic look for years. The little black dress is timeless and elegant, but it can also be modern and fun—it's all in how you style it!
One of our favorite ways to wear this timeless classic is to pair it with an embellished belt. This way, you get the look of a fancy cocktail dress without breaking the bank!
Embellished Dresses
Embellished dresses are a great way to add sparkle to your holiday outfit. Embellishments can be anything from sequins and beads to feathers, jewels, or crystals. Wearing an embellished dress to a party can also be an easy way to skip out on wearing jewelry. No doubt these holiday party dresses will have you ending 2022 on a high note.